A new study released this week by the University of Texas Austin reveals that up to 15% of Paycheck Protection Loans might contain fraud. That is about 50% higher than fraud experts initially thought might contain fraud.
Around 1.8 million of the program's 11.8 million loans – which accounts for more than 15% of loans – totaling over $76 billion had at least one indication of potential fraud.
The title of the paper, Did FinTech Lenders Facilitate PPP Fraud?, blames Financial Technology lenders for most of the problem and cites that 9 of the top 10 lenders with the highest rate of suspicious fraud were Fintechs.
Fintechs Accounted For Most of The Fraud
To perform the study, UTA pulled in all the SBA PPP loans from April of 2020 to May of 2021. They then joined that data with outside sources of data including business registries, labor data that looks for jobs reported, and salary comparisons.
They identified 4 red flags that they tracked by a lender to determine a suspect fraud rate. These factors included:
Appearance in business registry
Multiple loan submissions
High Implied Compensation
EIDL loans greater than PPP Jobs
The paper concluded that Fintechs made up approximately 29% of the program's total loans, but accounted for over 50% of the fraud.
The rate of red flags between FinTechs and Traditional banks was astounding and show that Fintech's had far higher rates.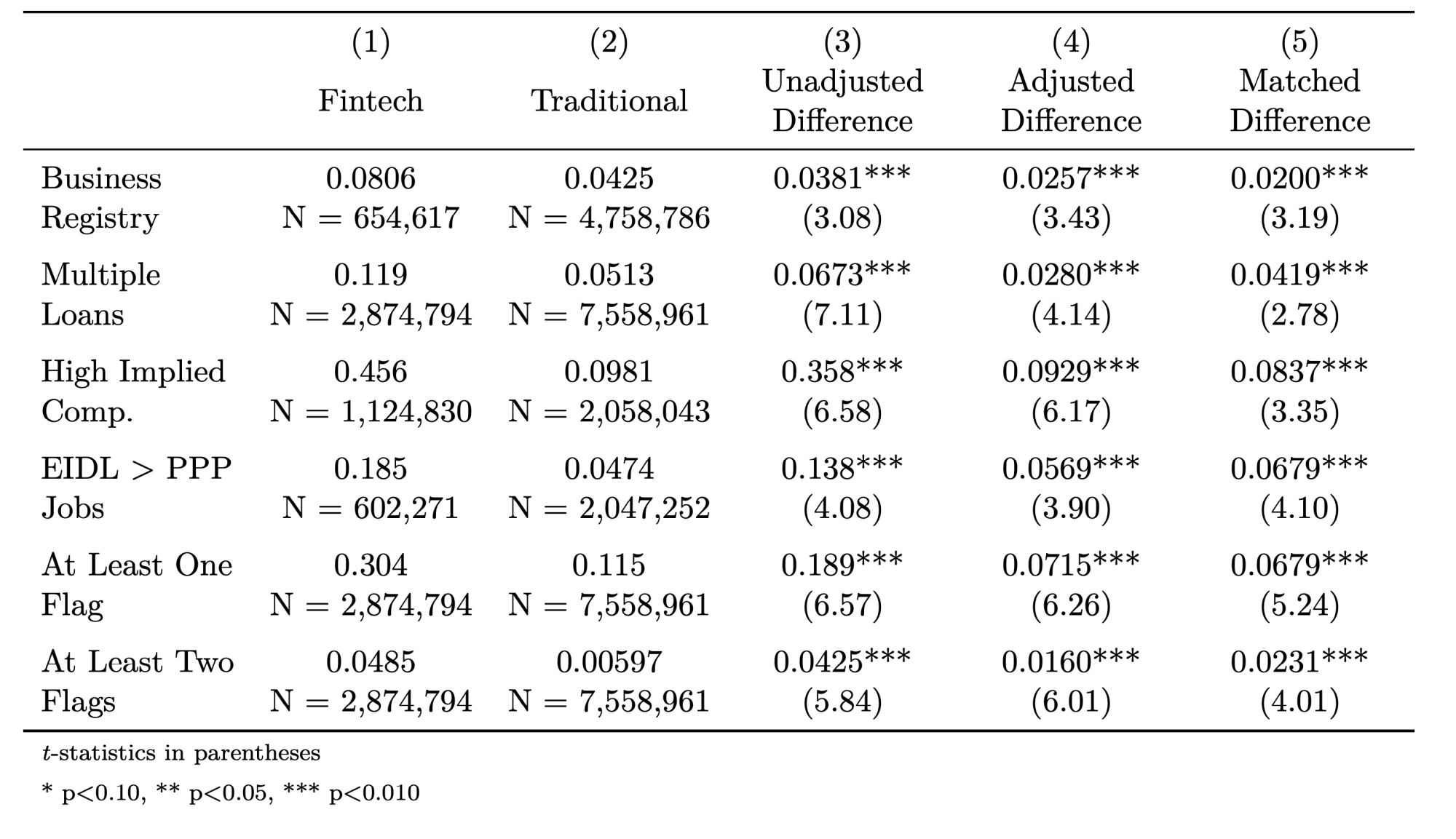 4 Lenders Really Stood Out As Particularly Bad
Their report indicated that 2 lenders, Capital Plus and Prestamos, had primary red flag rates of 51.7% and 46.5% respectively.
Capital Plus is particularly striking because it is the second-largest FinTech lender and fourth-largest lender overall with 380,377 loans. Cross River (largest FinTech lender and second-largest overall lender with 471,609 loans) and Harvest (third largest FinTech lender and fifth largest overall lender with 377,620 loans) are also well above the average flag rate with primary flag rates of 28.7% and 38.2%, respectively. While most of the FinTech lenders cluster among the lenders with the most suspicious loans, there are a few exceptions.
These lenders also all reportedly used Womply. I wrote about Womply being targeted by fraudsters and scammers earlier this year which you can read here – Is Womply Getting Womped With Fraud?
According to a New York Times article on the subject; All four lenders said they strongly objected to the study's methodology, data, and conclusions. At the same time, they emphasized that the populations they focused on — particularly solo entrepreneurs and tiny companies, including those without traditional business banking relationships — were inherently riskier.
3 Lenders Did Particularly Well
Square, Intuit, and Capital One on the other hand had misreporting rates that are well under the average misreporting rates across all lenders. Their suspicious fraud rates were particularly low according to the study.
These lenders tended to only do PPP loans to their existing customer base which substantially reduced the likelihood of fraud.