A woman in Kansas City was surprised to see a letter in her mailbox from the Unemployment Office sent to her address but to a name she did not recognize.
Then, she got another letter, and another letter, and another and another, and another. By the end of the week she had received 70 different letters in her mailbox, all sent to different names but all sent to her address.
Brooke Watson never filed for unemployment, so she was shocked to be receiving so many letters and she knew something was amiss.
She immediately contacted the Kansas City Unemployment office and spoke with the Fraud Department there who confirmed that the letters were due to fraud claims against the agency.
With 70 letters being sent to her address, she wondered how bad the problem must be. For 1 person to get 70 letters, she was sure this must be a huge problem for the agency.
Kansas Has Seen Spike in Recent Unemployment Fraud Claims
As it turns out, Brooke Watson is not alone. In fact, the Kansas Department of Labor says it is seeing a spike in identity theft tied to unemployment claims.
For the first 2 weeks in July for example, over 35% of the claims submitted to the agency were fraudulent.
The trend is not unique to Kansas, and in fact, fraud rates of 50% or more have been reported by unemployment offices around the country. The wave of fraud was initiated by Nigerian fraud rings in April and has caught on as less well organized fraudsters have begun attacking the unemployment offices across the country.
Painful Lesson of What Happens When You Remove Fraud Controls
Washington State, recently reported that as many as 56% of the unemployment claims that were submitted to their agency during July were from fraudsters using stolen identities.
We have never before seen such a sweeping wave of unemployment fraud in this country and it seemed to start in Washington. It is also a painful lesson of what happens when you remove fraud controls.
This chart shows the fraud rate on unemployment benefit claims submitted to the state each week from February to July. In February, the rate of fraud on claims was 1.6%, but in early March, with the lockdowns looming the sate decided to relax some of their fraud controls to put the money into the hands of those who needed it quickly. It didn't take fraudsters long to start testing the agency and by the end of March the fraud rate had increased 10 times.
And then things got much worse. By May, the agency was being attacked by Nigerian fraud rings and the flood gates opened up. A staggering 56% of claims were fraud to the agency.
It was until the end of May when they instituted more stringent fraud controls back in the process that they were able to get a handle on the problem.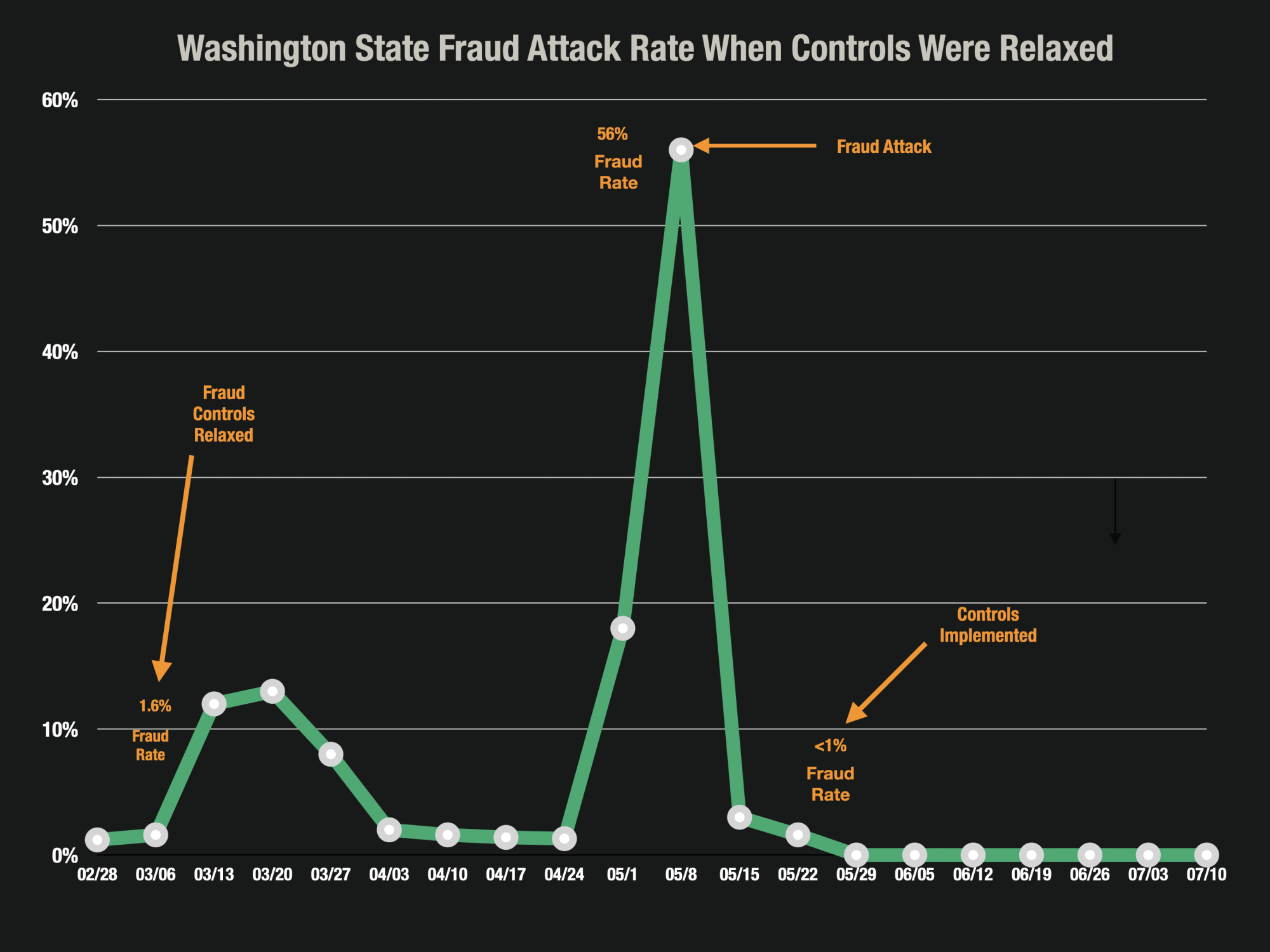 A Dramatic Wave of Unemployment Fraud
A wave of unemployment fraud has swept over the entire US, spurred by increased federal assistance and massive rates of unemployment.
Unemployment fraudsters continue their attack against states that are ill-prepared to deal with identity verifications.