If you don't have the nerve to lie to online merchants about a package you "never received" – don't worry. Friendly fraud hitmen are standing by to serve you.
For a small fee of course.
Professional refunders are sprouting up everywhere offering to help you get your money back for orders you placed online, and received. They will contact the merchant after you receive the item, claim fraud, and get your money back for you. They'll do the dirty work, so you don't have too.
The fee for the service? Typically, anywhere from 15% to 40% of the total refunded amount.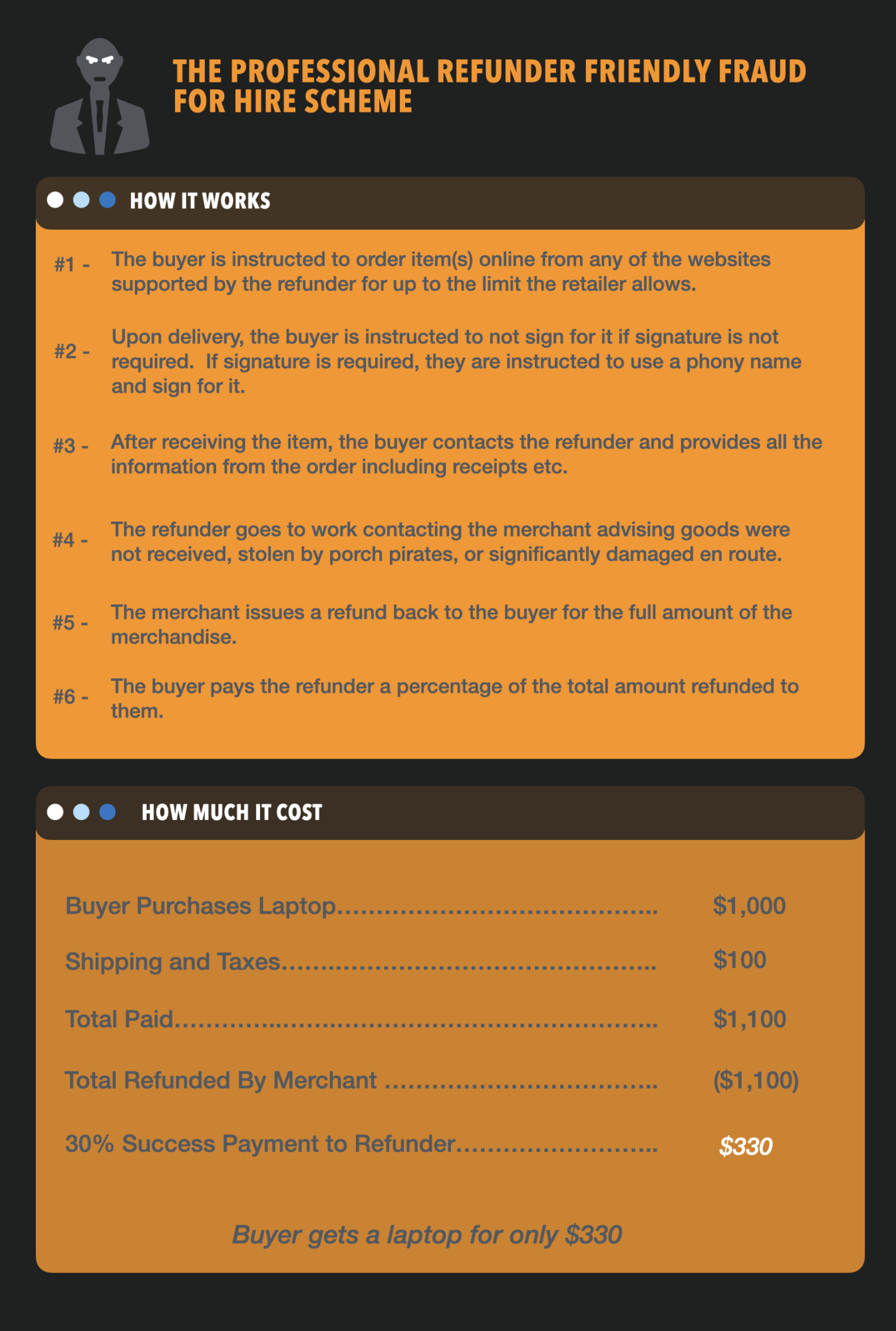 A New Report Finds Professional Refunding Company Growth Is Exploding – Over 150% In Since COVID
Professional Refunding fraud first hit on the fraud scene in 2014 and fraud experts like Karisse Hendrick and Brett Johnson began to sound the alarm bells years ago on this devious fraud.
But a new report released by Netacea finds that these professional fraud hitman for hire is exploding post COVID.
According to Dark Reading, Netacea's research report revealed some surprising growth in the number of refunders that are now in operation:
Over 540 new refund fraud service adverts were identified in the first three quarters of 2022
Refund fraud services increased by almost 150% from 2019 – 2021
There Are Now 1,600 Professional Refunding Fraud Companies Selling Services
As a result of this growth there are now over 1,600 Professional Refunding Companies providing their services to consumers all over the US.
There are hundreds of refunders in the market today. A scroll through Telegram and Reddit reveals a large and growing group of them pitching their services.
Each of the refunders specializes in different types of merchant exploitation. Some will specialize in getting you free food on Instacart, while others focus on helping you exploit Amazon's refund policies.
In about 15 minutes, I was able to locate all of these services, each with thousands of subscribers.
The Refund Brothers
The Refund General
The Refund Depot
Radiant Elite
The Refund Bar
The Refund Outlet
Smetona's Refunds
Slitz Refunds
Refunders's
RefunderPro
Refa's Refund Service
Amazon and More Refund Service
Gamayayuns Refund Service
Exploit Refunding Group
Refund.wtf
Zippy Refunding
NX Services
Black Friday Will Result In More Risk According To The Firm
Netacea believes that the risk of professional refunding fraud is only going to grow in the next 2 months.
In a quote provided to Dark Reading, Cyril Noel-Tagoe, Principal Security Researcher, Netacea provides a warning to retailers.
"As shown in the rise of ransomware-as-a-service attacks, cybercriminals have shifted to a service-based economy — and refund fraud is no exception" said Cyril Noel-Tagoe, Principal Security Researcher, Netacea. "As we approach Black Friday and the holiday season, e-commerce stores should take the necessary steps to reduce their risk of refund fraud, including educating employees on the methods and tactics fraudsters take."