Hawaii is a beautiful place, and not where you would ever consider ground zero for one of the largest SBA loan frauds this year. But today, prominent CEO Martin Kao of Navatek was arrested and charged with fraud on millions in PPP loans.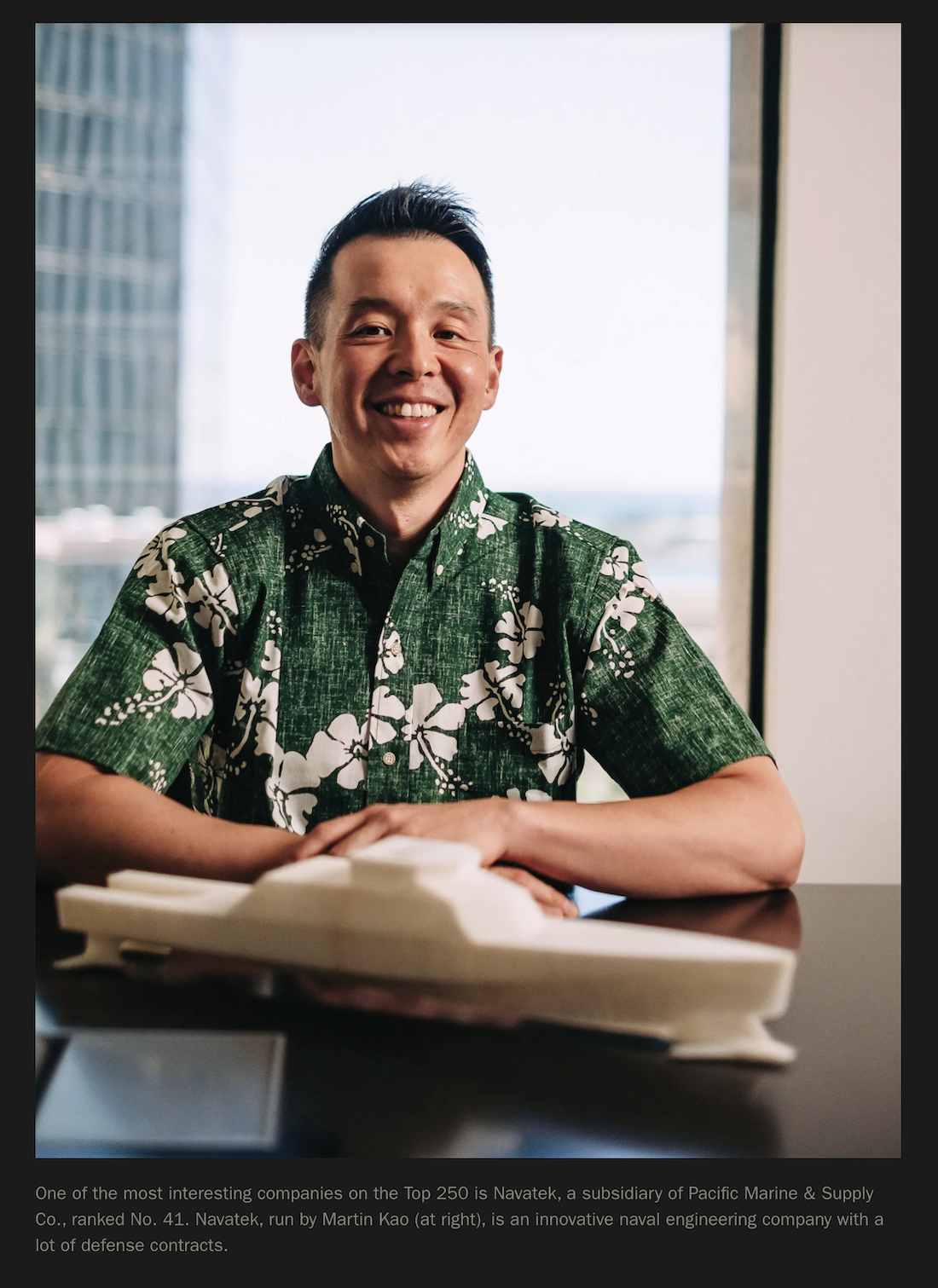 In total, Kao received approximately $12.8 million in PPP funds, over $2 million of which he transferred to his own personal accounts.
According to the charges which were announced by the DOJ, Kao falsely inflated the # of employees on the loan application and falsely certified that the applicant and its affiliates would not receive, and had not received, another PPP loan.
His Company Was Navatek, a Defense Contractor
Navatek, which was listed as one of the fastest-growing companies in Hawaii, recently rebranded this last week and changed its name to Martin Defense Group.
Interestingly, the company has been expanding rapidly. This week they reported that they had increased their workforce size by 60 percent over the past five months and expanded its operations across five states, including the establishment of a facility in South Carolina that houses engineers, scientists and interns.
All this, while taking out PPP loans from the government.
Kao Inflated The Number of Employees to Get Larger PPP Loans
The most common PPP loan fraud is inflating the payroll to get excess funds. And that is exactly what Kao did here according to US Attorney for the District of Hawaii Kenji Price.
He submitted his first application for a PPP loan to Central Pacific Bank and claimed he had 490 employees and an average monthly payroll of $4,072,000. He also certified he would not take another PPP loan in that same application. But the claims were false.
"Martin Kao's claim that Navatek had 490 employees was false because Navatek … only had 140 employees combined," Price said, in a news conference.
Investigators were able to match his claim against ADP's end of the year payroll and discovered he had only 138 employees the prior year.

He pressured The Bank to Approve the Loan Quickly
To get the loan approved quickly, Kao sent an email to the SVP of the bank urging them to approve the loan quickly.
"I would like to highlight something VERY IMPORTANT in our payroll cost numbers. . . . Navatek now has a significant and growing presence and employees" in several states."
He stated that "he worked very closely" U.S. Senators from those states who had "championed" the CARES Act, and he "expected to provide an update shortly to each of them."
He strongly urged the bank to process Navatek's application as quickly as possible, so he could give great praise to how CPB was able to administer quickly the intent of Congress and the President, in helping Navatek keep its jobs and payroll in each of their states.
He also stressed to the bank that they merely had to do simple checks of information and mathematical accuracy and that the bank was ABSOLUTELY empowered to rely on the information and certifications he made on the application – all of which later turned out to be fraudulent.
He Applied for Multiple Loans and Deposited Money into His Personal Accounts
After much pressuring, Kao eventually received that loan from Central Pacific Bank for $10 million.
After getting a $10 million loan through the program, Price said, Kao deposited $2 million into his personal bank account.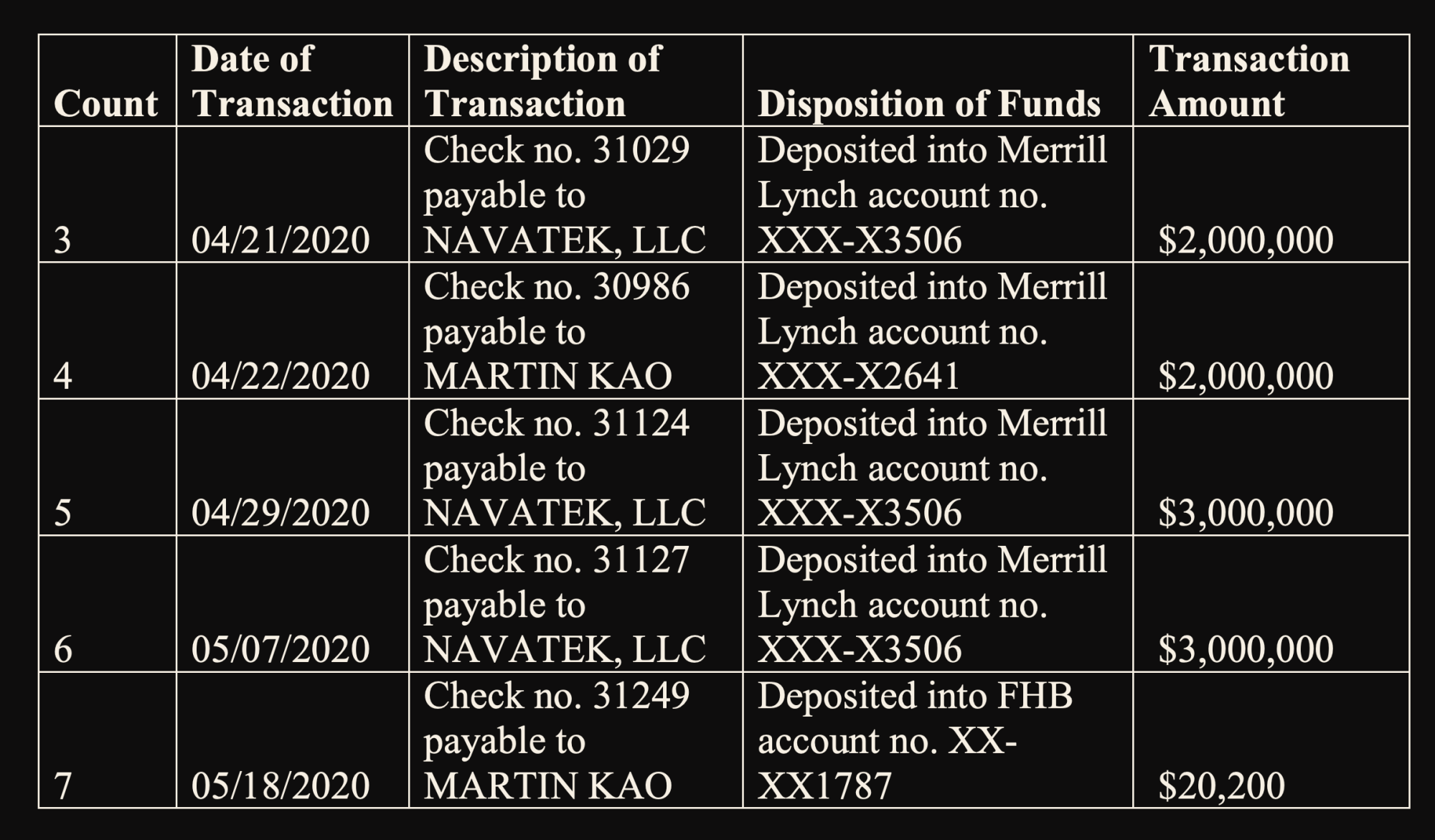 But his fraud didn't stop there. He applied for another loan for $2.8 million with Radius Bank in Washington DC. As he did before, he began pressuring Radius to approve and fund the loan as quickly as possible. He was quickly granted the additional $2.8 million loan from Radius.
And he continued from there applying for other PPP loans with Bank of Hawaii. Ironically, he claimed to have only 122 employees in those applications with monthly payroll cost of only $552,935 – far less than what he had reported to other banks.
The loans he made to Bank of Hawaii were rejected because they were able to locate the other 2 approved loans that Kao had already received.
Kao Was Secretive About The Loans With Others in the Company
When investigators interviewed the President of Navatek about the loans. He learned of the loans in July of 2020 when he read a news article about Navatek being one of the largest recipients of PPP loans in the state of Hawaii.
He was surprised the government would grant the loans because the company was not impacted by the pandemic, in fact, they were growing and opening new offices over the last 6 months.
The President, also was surprised when he went to the SBA website and it indicated that Navatek had 490 employees which he knew to be untrue.
Certifications Are Proving Not To Work As A Fraud Deterrent
The SBA's Paycheck Protection Loan Program is proving to fraud professionals yet again that certifications do not work as a method to avoid borrower fraud.
Borrowers will always act in their own self interest and will inflate the truth to obtain the maximum loan possible.
This has been true since the beginning of time and it is why relying on things like "stated income" on applications for mortgages and car loans is inherently flawed. 1 in 4 borrowers will inflate their income substantially to qualify for a loan.
All stated facts on an application have to be vetted through outside sources. A simple check of Kao's payroll through outside sources could have helped banks avoid the $12 million in fraudulent loans Kao obtained in this case.