There are real ghosts haunting auto lenders loan portfolios, and they are causing substantial portfolio losses when they are not exposed. The spirits I am talking about are loans without any substance or truth behind them. The buyer, the seller, the car, and often the dealer information is completely fabricated and the lender is fooled into giving money to a scammer or fraud ring. Far too often, these loans often result in unexpected early payment default losses, even when the borrowers appear to have stellar credit.
What I am referring to is the problem called Phantom Auto Loan Fraud, and by all indications, it is a multi-million-dollar problem for lenders around the country.   The scheme is sophisticated. And it is sinister, often involving many fraudsters networking to create transactions that appear completely legitimate.   The problem is, they are not.
Phantom Loans Are Not What They Appear – Nothing is Real
A phantom loan occurs when collateral is fabricated or misrepresented on an auto application, and the seller is either a private party or fabricated dealership, and the buyer of the car is a straw borrower using falsified identity, income and employment information.  They're called phantom loans because almost everything on the application is not real and the buyers and sellers seemingly "disappear" after the loan closes and funds are dispersed.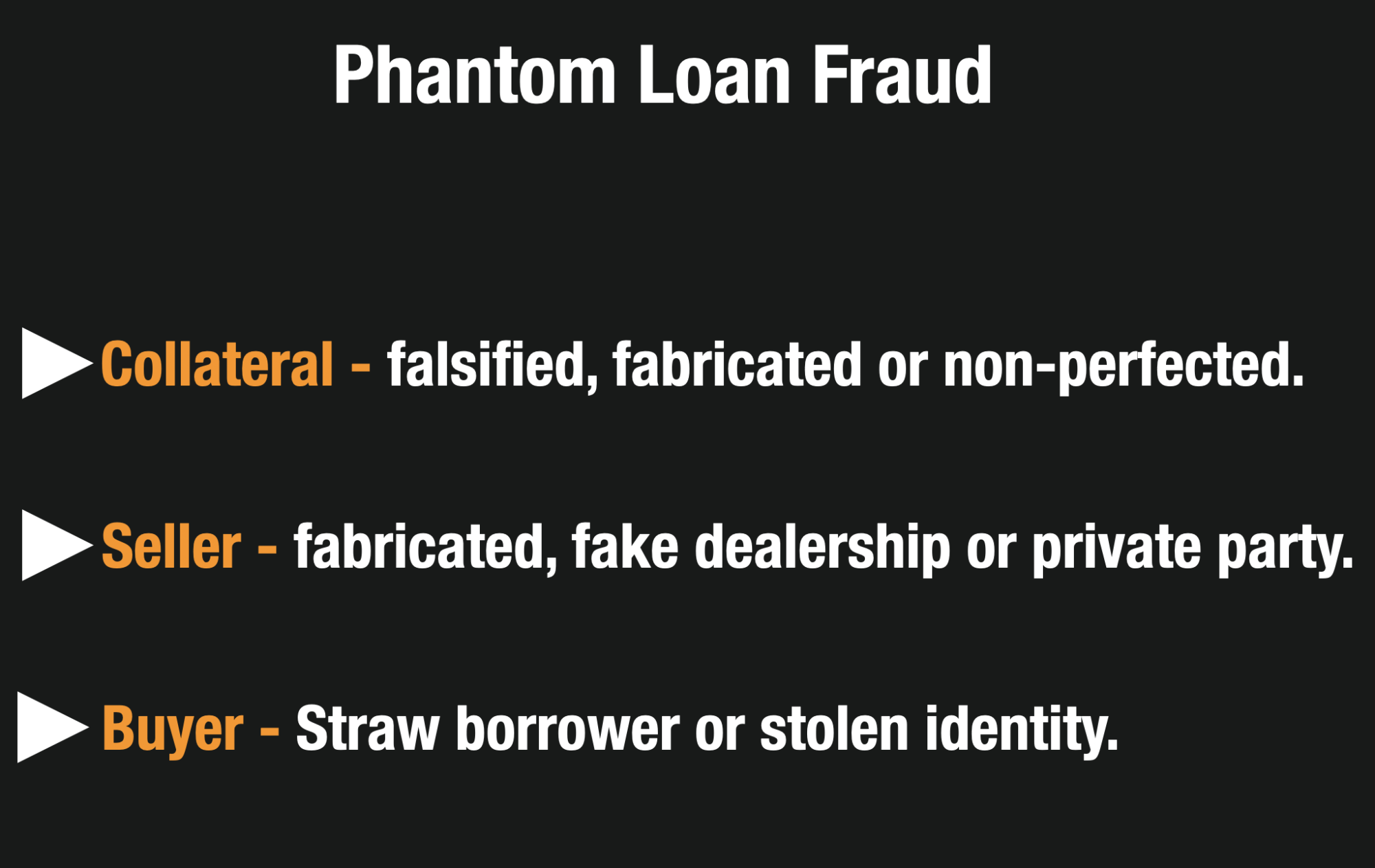 Credit Unions Are Most Often The Targets
Credit Unions are most often targeted by Phantom Loan fraudsters because they operate differently than traditional banks or lenders.
Credit Unions have friendlier auto lending policies for their members, often loaning to consumer with lower credit scores and often letting their consumers choose the dealership and car after they are approved.
Fraudsters also target Credit Unions, because unlike bigger banks, they may be ill-equipped to handle sophisticated fraud schemes because they have never seen them before and have never invested in fraud tools to stop them. Over the last 7 years, Credit Unions have been hit by these phantom loan schemes, over and over.
A Massachusetts Man Pled Guilty To Defraud 7 Credit Unions With A Phantom Loan Scheme
The DOJ is cracking down on this type of fraud. This month, Hiancarlos Mosquea-Ramos, 28, admitted that he participated in schemes as the seller or the buyer of used vehicles, defrauding 7 different credit unions with a Phantom Loan scheme – Merrimack Valley Credit Union, Sharon Credit Union, Digital Federal Credit Union, Metro Credit Union, Direct Federal Credit Union, RTN Credit Union, and Workers Credit Union.
He admitted that by using his own personal identification information along with counterfeit earnings statements, fabricated automobile purchase and sales agreements, and counterfeit motor vehicle titles, he obtained at least $92,000 in fraudulent loans to purchase  fictitious cars.
His co-conspirator, Jonathan A. Pimental, 29, of Lawrence, MA, was allegedly listed as the seller of the cars. Pimental is awaiting trial on a charge of conspiracy to commit bank fraud.
Additionally, Ramos admitted that he posed as the seller of various used cars. Rolando E. Estrella, 33, allegedly prepared false purchase and sales agreements and counterfeit automobile titles naming Ramos as the seller of the vehicles.
The 7 Credit Unions approved a total of more than $275,200 in used car loans, disbursing checks made payable to Ramos. The checks were quickly deposited and the funds quickly withdrawn and divided among participants of the fraud conspiracy.
A Complicit Car Dealer Was Also Allegedly Involved
Roland Estrella, who used to operate the Estrella National Auto dealership, was also involved in the scheme according to the DOJ.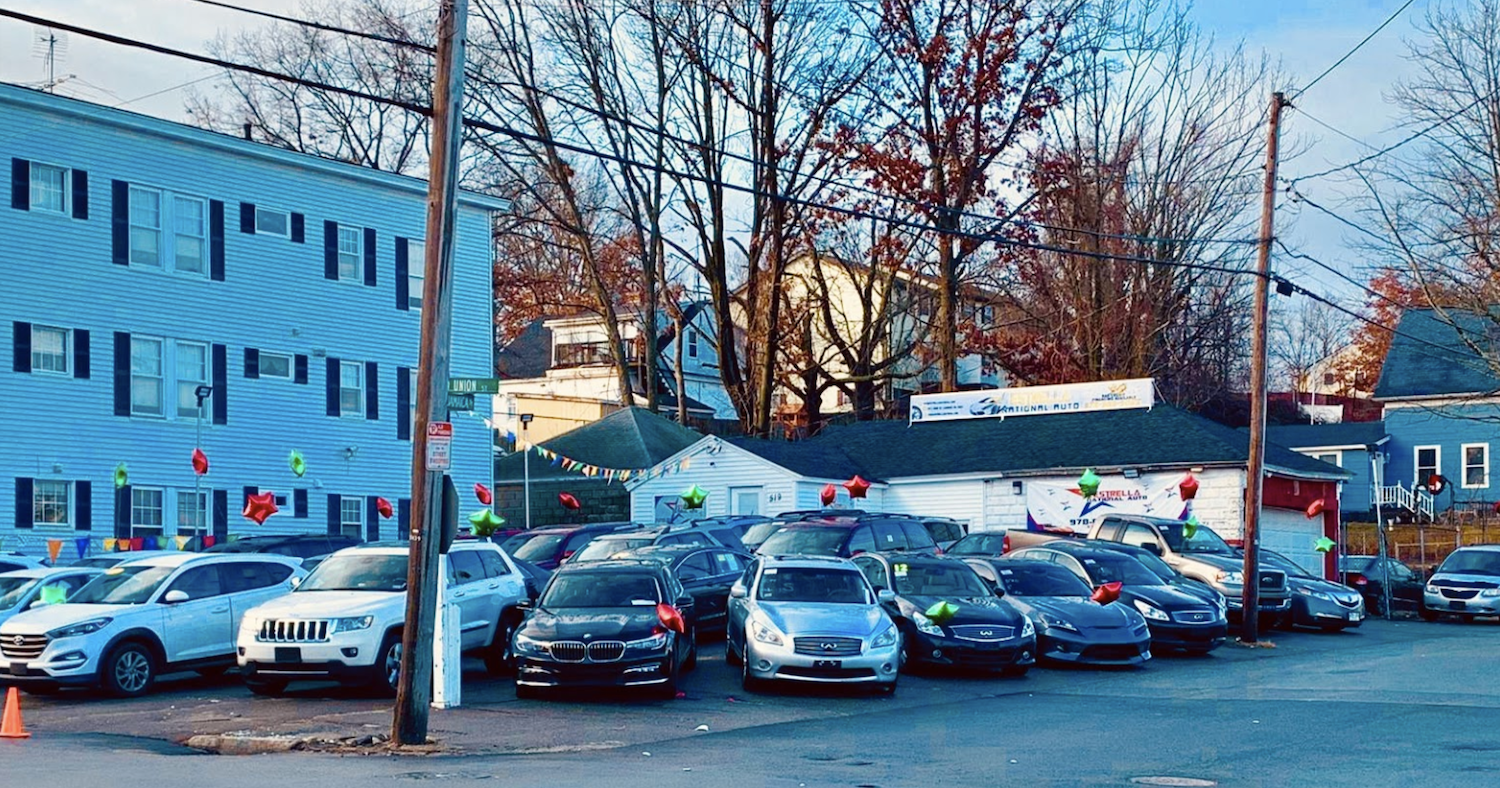 The dealership which no longer appears to be in operation was also located in Massachusetts.
He was accused of using the dealership to facilitate using individuals' personal identifying information to open bank accounts with major banks and smaller credit unions. 
Using that information along with counterfeited documents including automobile titles, Estrella and others applied for used car and truck loans which were then deposited into bank accounts opened in the "seller's'" names, after which the proceeds were quickly withdrawn. 
Estrella and the other men posed as sellers of vehicles, and created shell used car companies to get lenders to extend loans that were supposedly for the purchase of vehicles. Fake bills of sale, titles, pay stubs and proof of employment were created to aid the ruse, according to prosecutors