A reality TV personality who stars in Love & Hip Hop: Atlanta, has been arrested on federal bank fraud charges arising from a Paycheck Protection Program (PPP) loan that he obtained in the name of Flame Trucking.
Maurice Fayne, aka Arkansas Mo, 37, of Dacula, Georgia, was charged with bank fraud and made his initial appearance this afternoon before U.S. Magistrate Judge Justin S. Anand.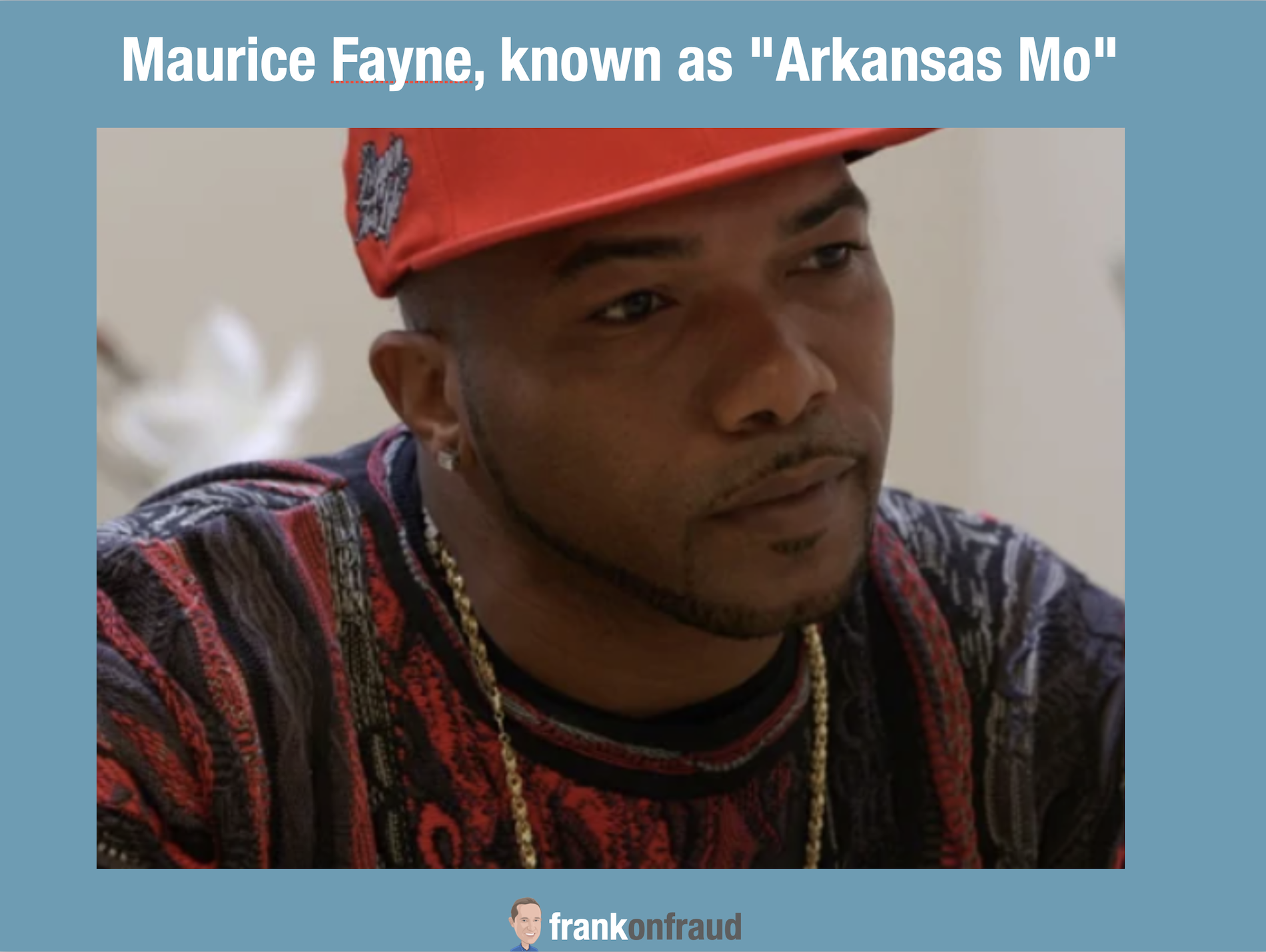 He Used PPP Money to Buy Jewelry, Watches, and Pay Child Support.
He obtained a PPP Loan for $2,045,800 from UCB Bank under false pretenses claiming that he needed the money to pay his 107 employees of his trucking company. Within days however, he had allegedly used more than $1.5 million of the PPP loan proceeds to purchase $85,000 in jewelry, including a Rolex Presidential watch, a diamond bracelet, a 5.73 carat diamond ring for himself, and to pay $40,000 for child support.
According to the charges and other information presented in court, Fayne is the sole owner of a Georgia corporation called Flame Trucking. On April 15, 2020, Fayne signed and submitted to United Community Bank (UCB) a PPP loan application in the name of Flame Trucking stating that the business had 107 employees and an average monthly payroll of $1,490,200. In seeking a loan in the amount of $3,725,500, Fayne certified that the loan proceeds would be used to "retain workers and maintain payroll or make mortgage interest payments, lease payments, and utility payments, as specified under the Paycheck Protection Program Rule."
The address and location of "Flame Trucking" sure doesn't appear to be the type of place that would have annual payrolls of over $17 million. The business appears to be registered to a house.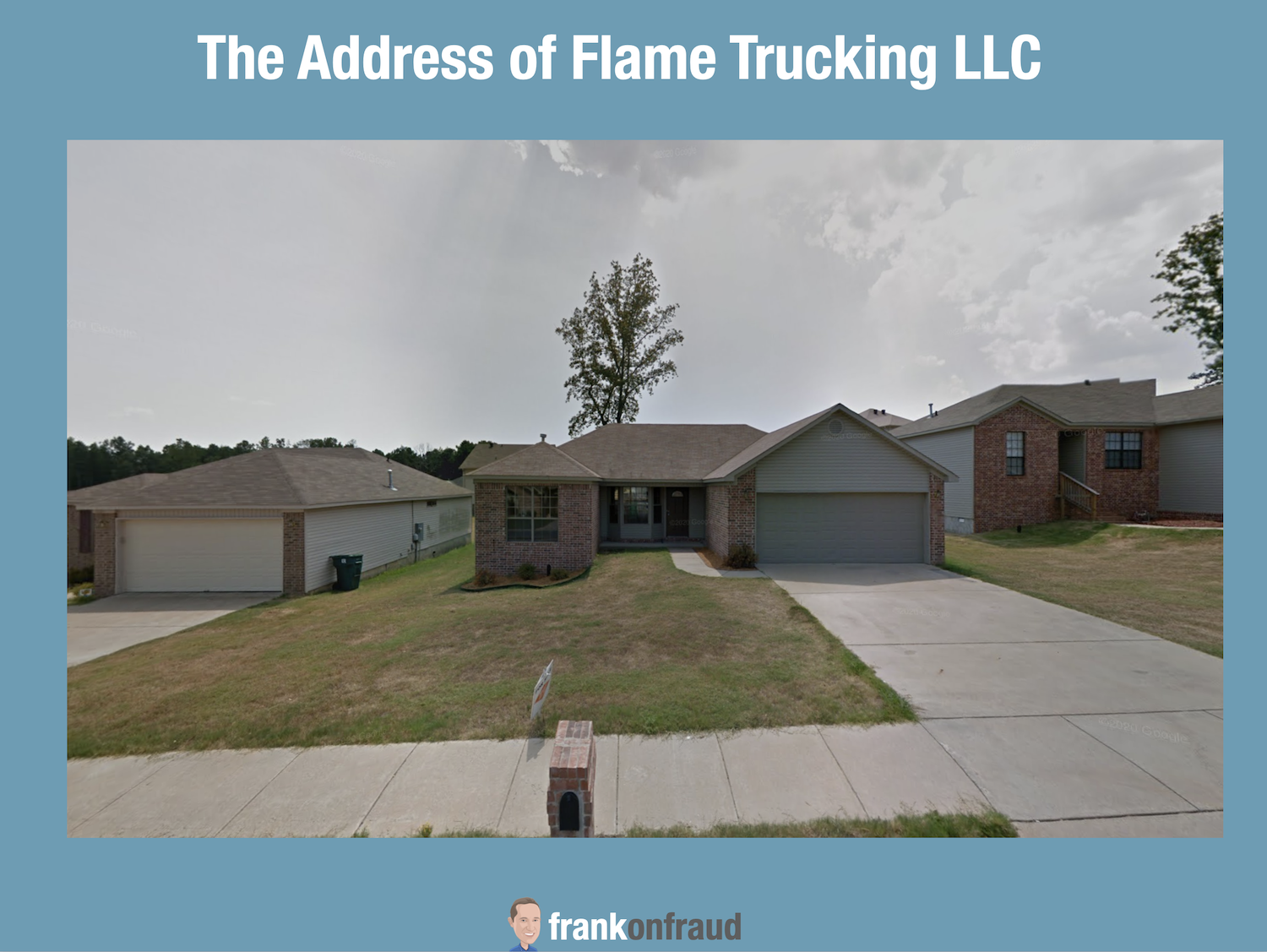 The bank that manages the Flame Trucking bank account advised that the account was closed over 6 months ago in September 2019. It is highly unlikely that Flame Trucking has any viable business whatsoever.
On May 6, 2020, Fayne was interviewed by federal agents and admitted that he submitted a PPP loan application on behalf of Flame Trucking.  Fayne claimed that he used all of the PPP loan proceeds to pay payroll and other business expenses incurred by Flame Trucking and denied using any of the PPP loan proceeds to pay his personal debts and expenses.           
On May 11, 2020, agents executed a search at Fayne's residence in Dacula and seized approximately $80,000 in cash, including $9,400 that Fayne had in his pockets, and the jewelry he purchased with the PPP funds, and further discovered a 2019 Rolls-Royce Wraith, which still had a temporary dealer tag on it. Agents also executed seizure warrants for three bank accounts that Fayne owned or controlled and seized approximately $503,000 in PPP funds.
The BreakFast Club Discusses Mo
The BreakFast Club broke down the story here and discussed it here as they named him "Donkey of the Day".
Maybe He Was Confused?
CNN spoke with Fayne's attorney who expressed that maybe it was just confusion with how you could spend the money.
"There has been considerable confusion among small business owners about PPP guidelines — particularly around the question of whether and how business owners are permitted to pay themselves a salary or take an owner's draw. I hope these issues to be better fleshed out in the weeks and months to come," attorney Tanya Miller said in a statement."For obvious reasons, we cannot try these allegations in the media," Miller said. "We will provide the appropriate response in the proper forum once all the information has been provided to us."
And she may have a good point. When I browsed the SBA's Paycheck Protection Program there was no explicit language in the guidelines that indicated you could not spend the money on extravagant gifts for yourself and luxury cars.
In all seriousness, I would say the attorney is really stretching it if she expects us to buy that argument…