I finished checking out my basket at the local grocery store last week and there was something taped next to the cash register that caught my eye.
It was this warning from the FTC.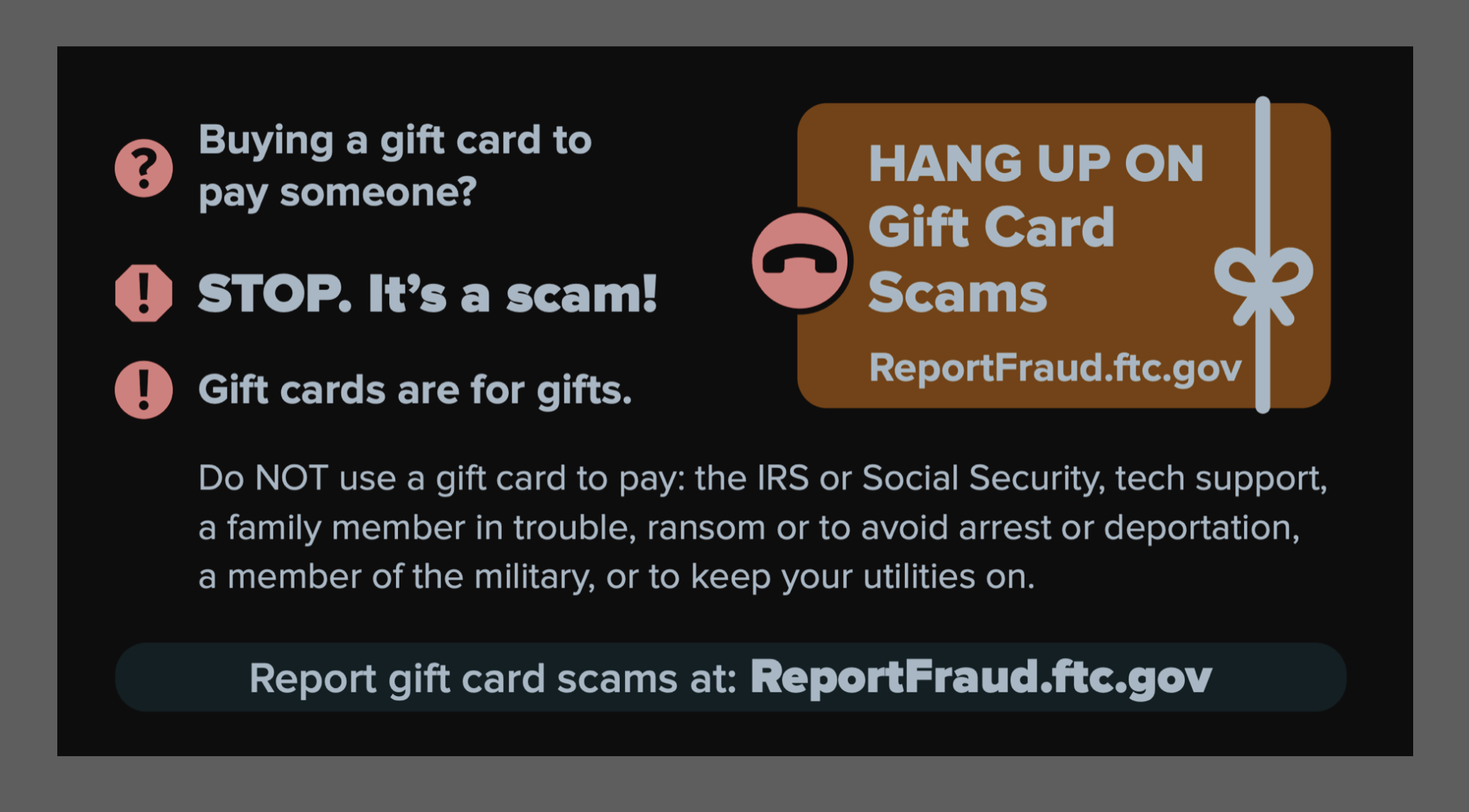 This same warning is appearing at tens and thousands of grocery stores, Walmarts, Targets, and home improvement stores across the nation and it's the FTC's counterattack on what they see as one of the most significant threats to US Consumers – Gift Card Fraud.
And as it turns out gift card fraud – like all other fraud this year is on the rise in a big way as scammers go into overdrive taking advantage of the hundreds of millions of vulnerable consumers and businesses across the country.
The LockDowns Pushed Digital Gift Card Sales To New Heights
Digital gift cards were all the rage in 2020, driven primarily by the lockdowns which forced many people to stop shopping in stores and start shopping online.
One company, RiseAi thinks that it was also part of a unique "gifting trend" that emerged during the pandemic.
Purchasing gift cards was one-way consumers supported local businesses during the pandemic. Also, more corporations were giving gift cards to employees to help small and medium businesses too. It pushed gift card sales through the roof.
In fact, one Wisconsin restaurant owner Adolfo Melendez whose restaurant is called – El Mezcal – used their entire marketing budget to buy gift cards for other restaurants in the area to support them in the Pandemic.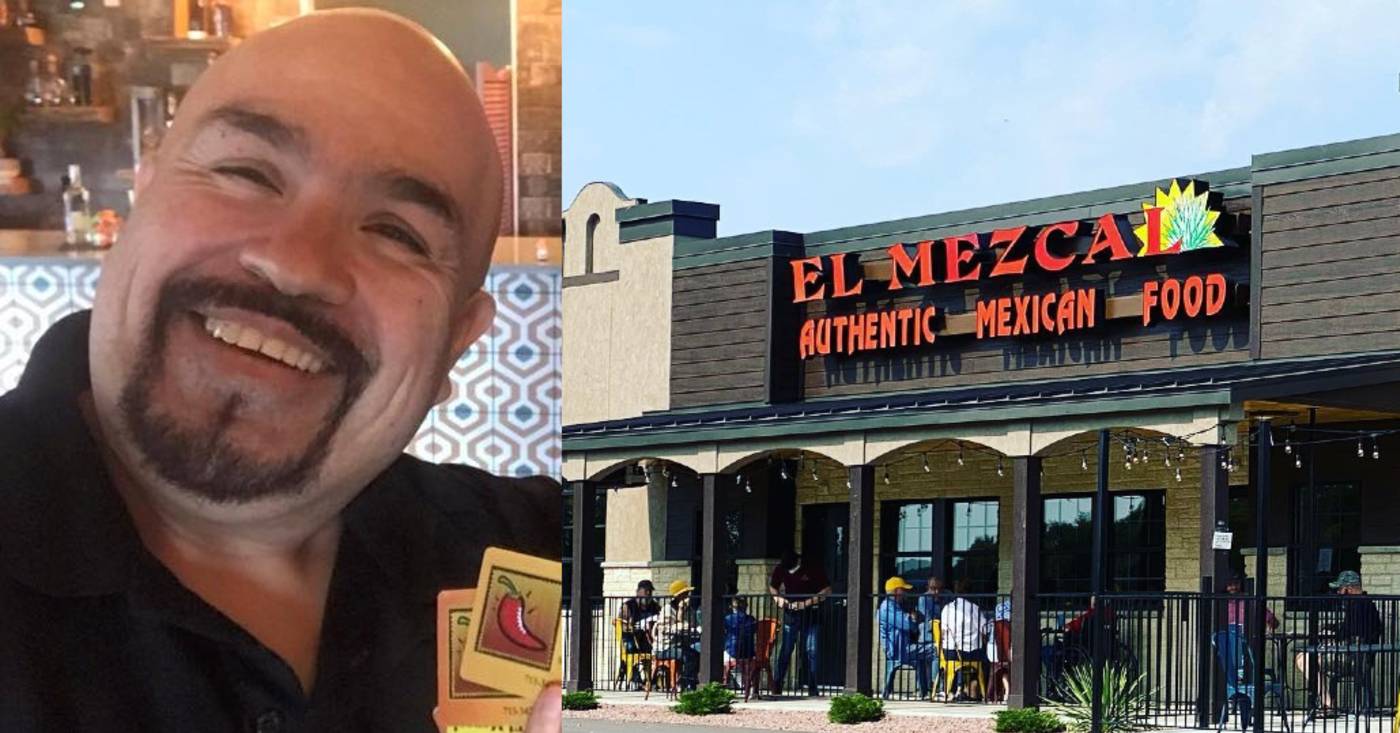 The pandemic brought out the best in people and giving was in full force. Rise.AI tracked the meteoric rise in gift card sales across retailers and found 114% more digital gift cards in the third quarter of 2020 compared with Q3 2019. That according to data from 1,182 U.S. stores that they surveyed.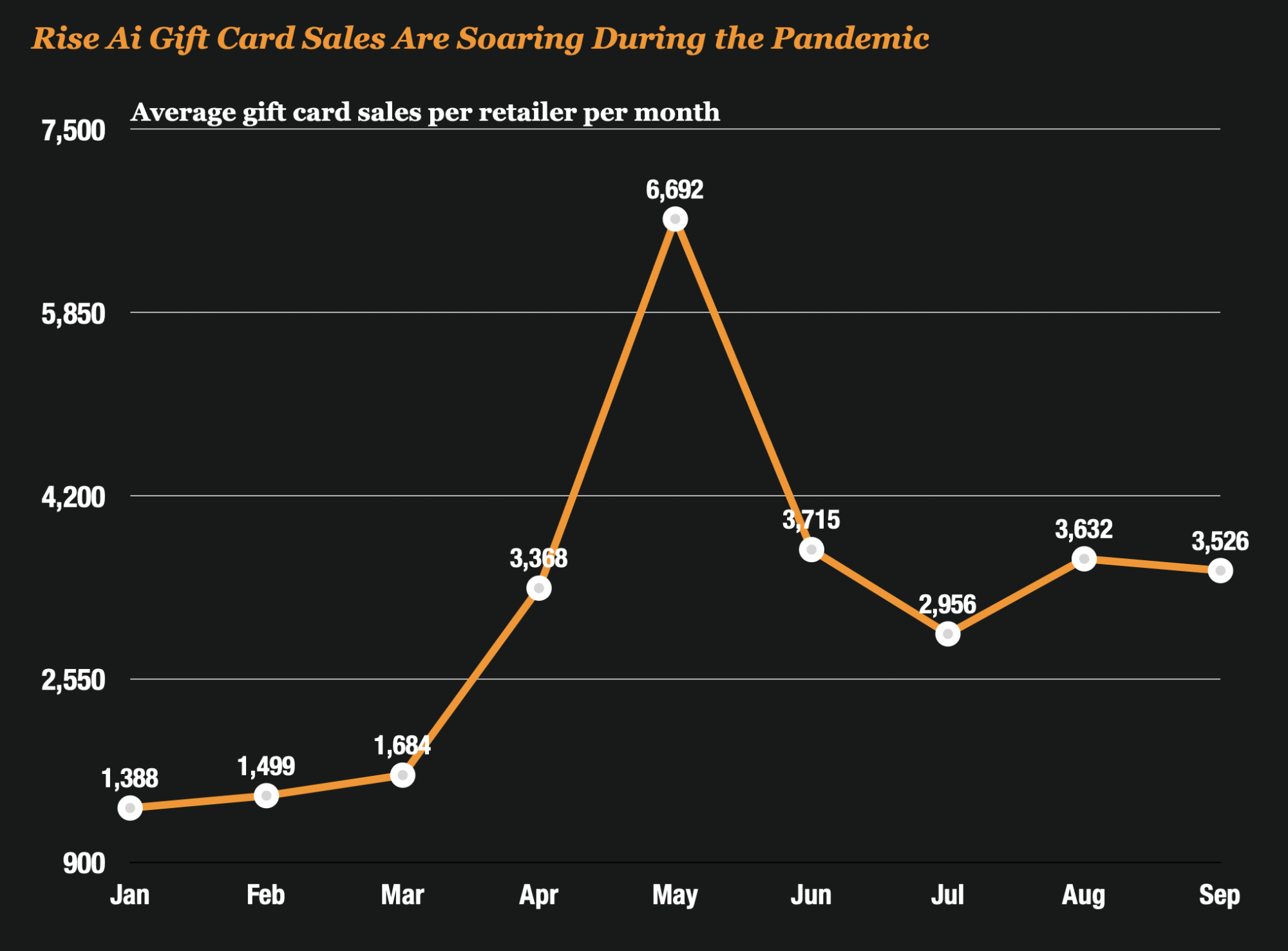 Gift Card Fraud Increased By 74% During the Pandemic
But with growth, comes fraud. And that is exactly what happened last year.
Scammers and fraudsters have been gravitating to gift cards over the last 10 years as one of their primary payment methods of choice.
According to the FTC, when people report losing money to a scam, 26% of those people report that they use gift cards to pay the scammer. Just 5 years ago, that number was on 14%.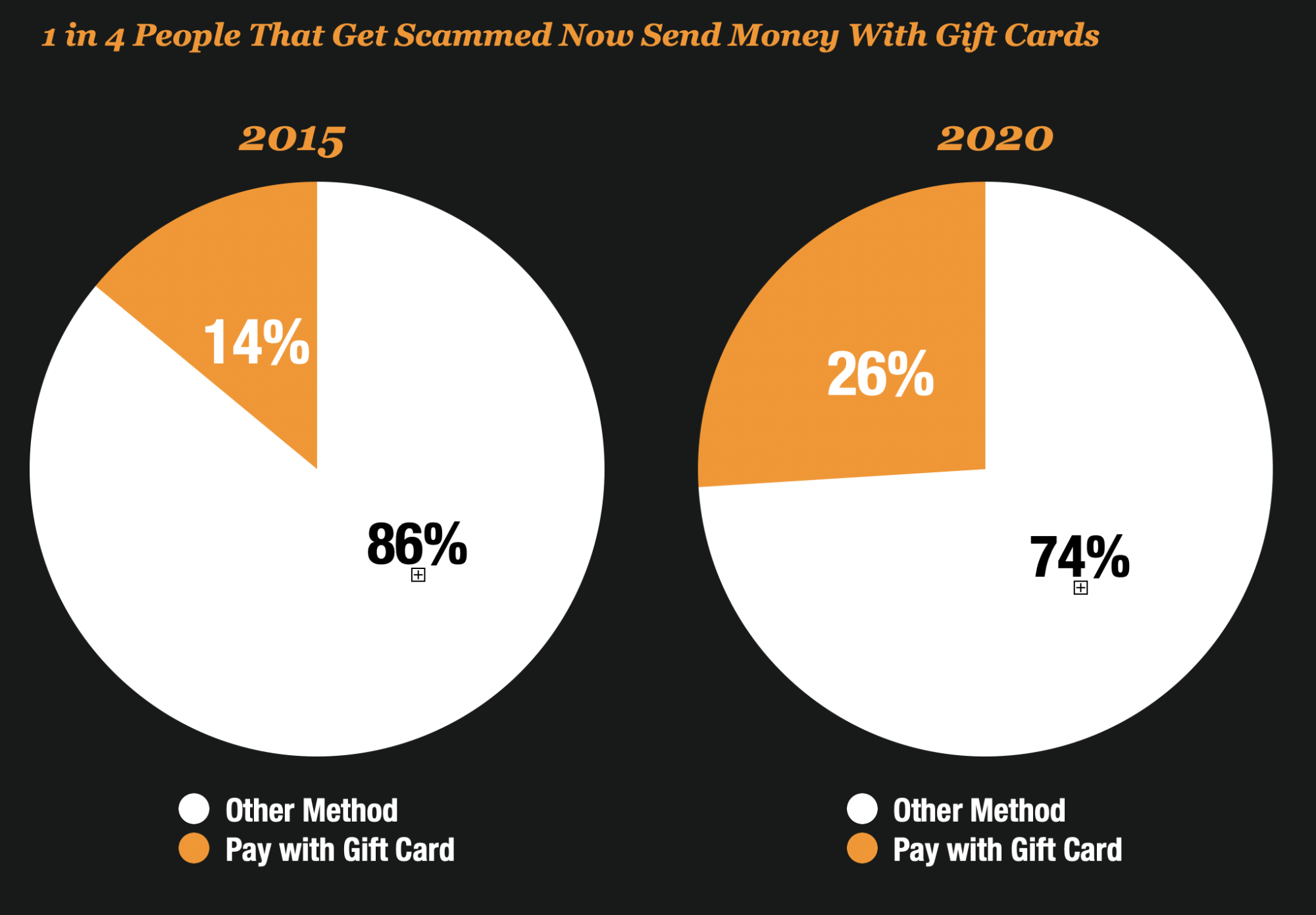 And those scammers are busier than ever. During 2020, over there was an estimated 45.9 billion robocalls to consumers – about 50% more Robocalls than 2017.
And many of those Robocalls are scam attempts originating internationally from Call Centers trying to extort US consumers with IRS Scams, Social Security Scams and even Utility Shut off scams over the phone.
True Caller estimates that there was approximately $20 Billion lost to scams over the phone in 2020 – a dramatic 90% increase over 2019.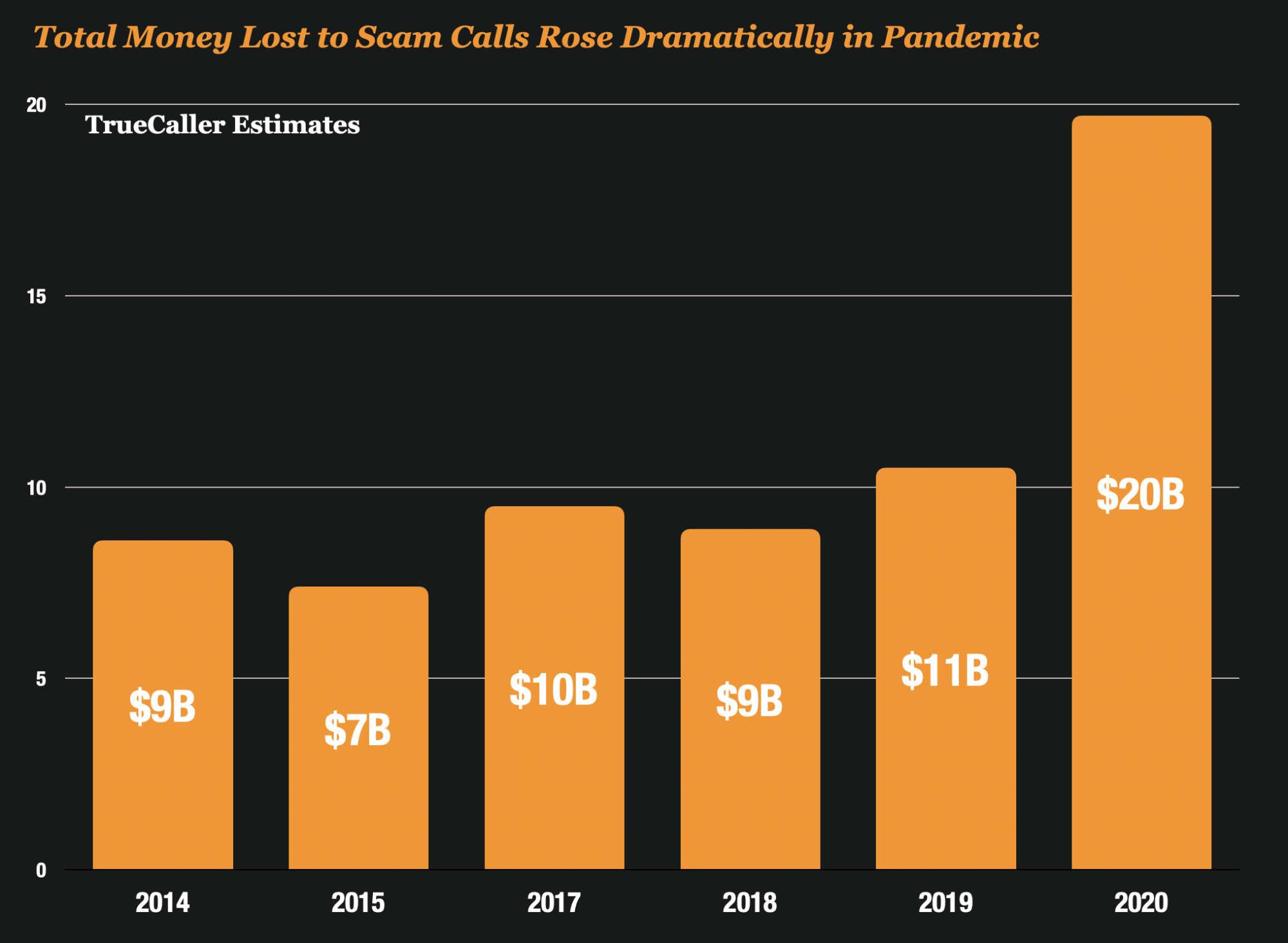 The FTC which released their Fraud Sentinel Report a few weeks ago had similar findings. They saw a significant spike in reported Gift Card Fraud losses last year by over 70% to $124 million for the year.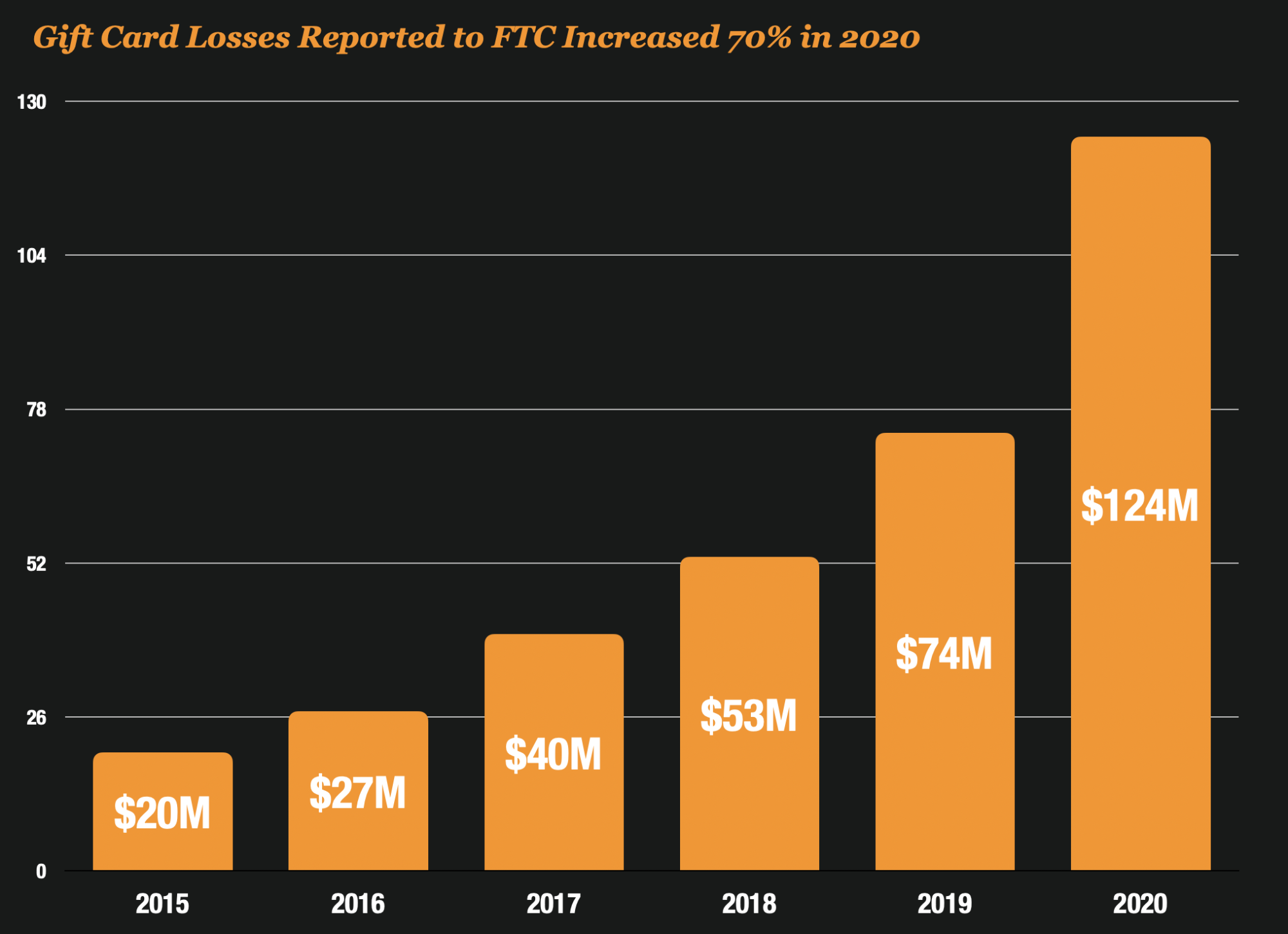 The 5 Big Ways Fraudsters Stole Money on Gift Cards In 2020
In 2020, fraudsters used 5 primary methods of stealing from consumers, retailers, and gift card providers.
Card Not Present

– With COVID, fraudsters used gift cards to convert stolen credit numbers into cash. And purchasing gift cards were a key way that fraudsters did just that.

Victim Assisted Fraud

– Scammers went into overdrive targeting consumers' vulnerability to hammer them with fear-based extortion attempts including social security administration schemes, IRS Tax Fraud schemes, and Utility schemes to steal hundreds of millions from consumers.

Account Takeover Fraud

– using credential stuffing, social engineering, and other techniques fraudsters would steal gift card balances from customers' accounts.

Gift Card Refunding

– Fraudsters purchased merchandise using stolen credit cards and then return the items seeking to have the refund balance sent on Gift Cards that they would later sell for cash.

Site Automation Attacks

– In these attacks, fraudsters would brute force gift card sites trying to find a valid combination of Gift Card numbers that have balances on them. They often use the "check balance" functionality of a site to do these schemes.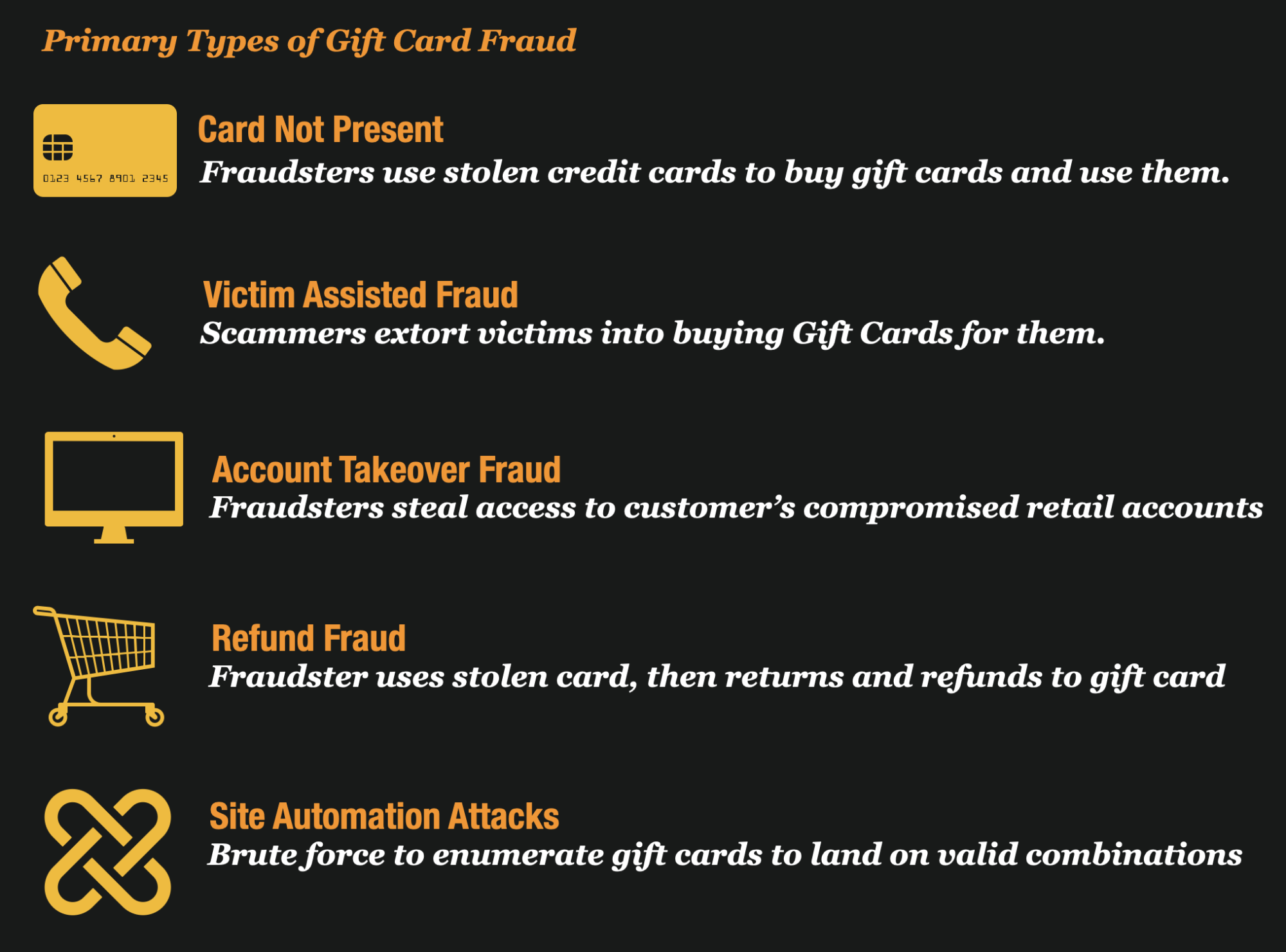 Retail and Gaming Are Hottest Gift Cards For Scammers
According to Bolster.ai, a fraud prevention company that tracks gift card scams across industries, the hottest gift cards for scammers are retail and gaming gift cards.
These types of gift cards are the most sought after and can fetch the highest resale prices in the secondary market.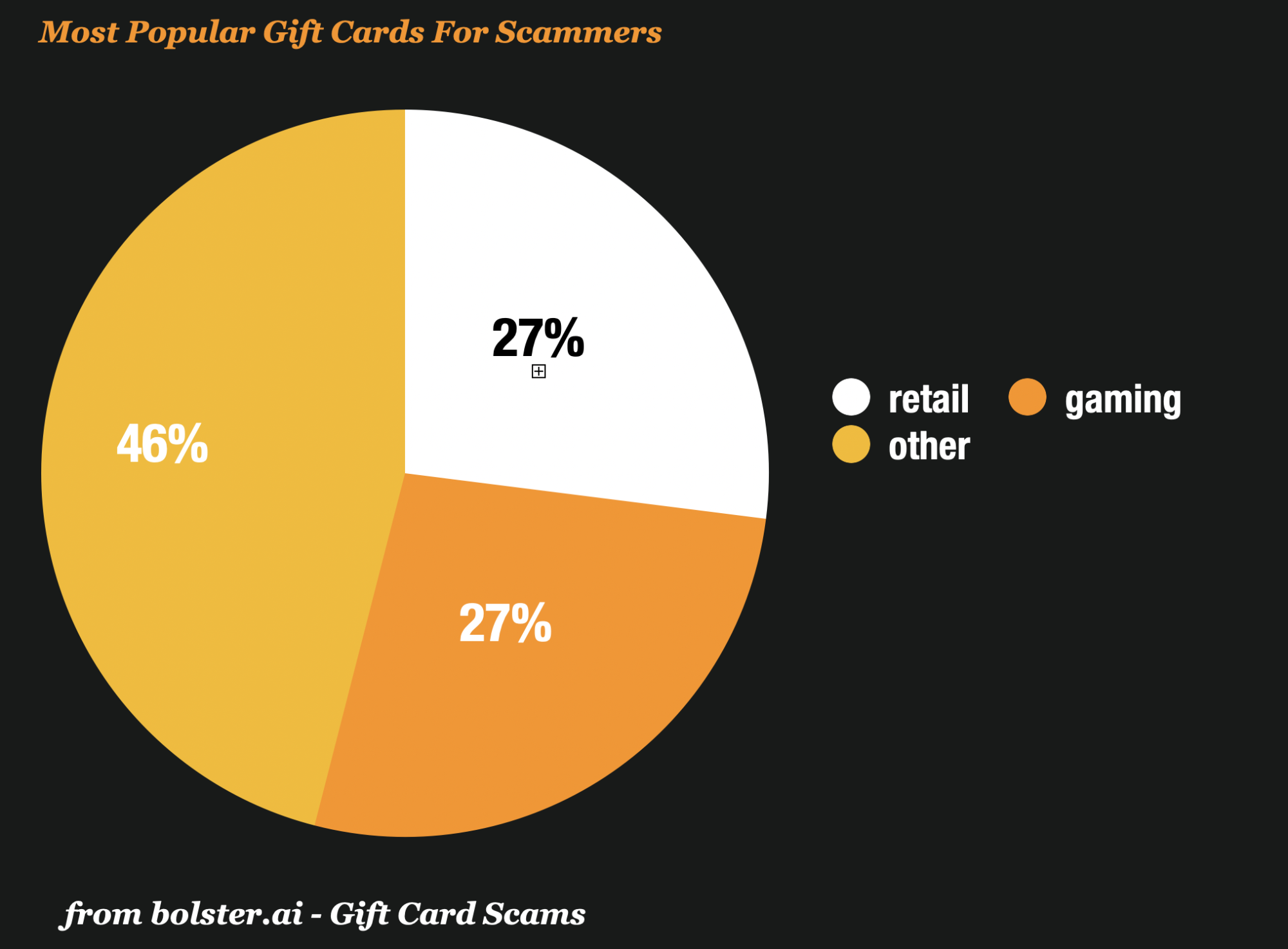 An Ideal Way for Scammers to Get Paid
Scammers have been gravitating to gift cards because they are so lucrative. Arielle Caron, an industry fraud expert who has tracked fraud for years says scammers think of them as the ideal way to get paid.
"Gift cards have high residual value so they can be resold for lots of money when the scammers want to cash out.," she remarked, "And on top of that they can be received by the victim whether they are in the same city or sitting in some internet cafe across the world. They are untraceable and easily transferrable. Gift cards are sought after because they so convenient and convenience always attracts fraudsters."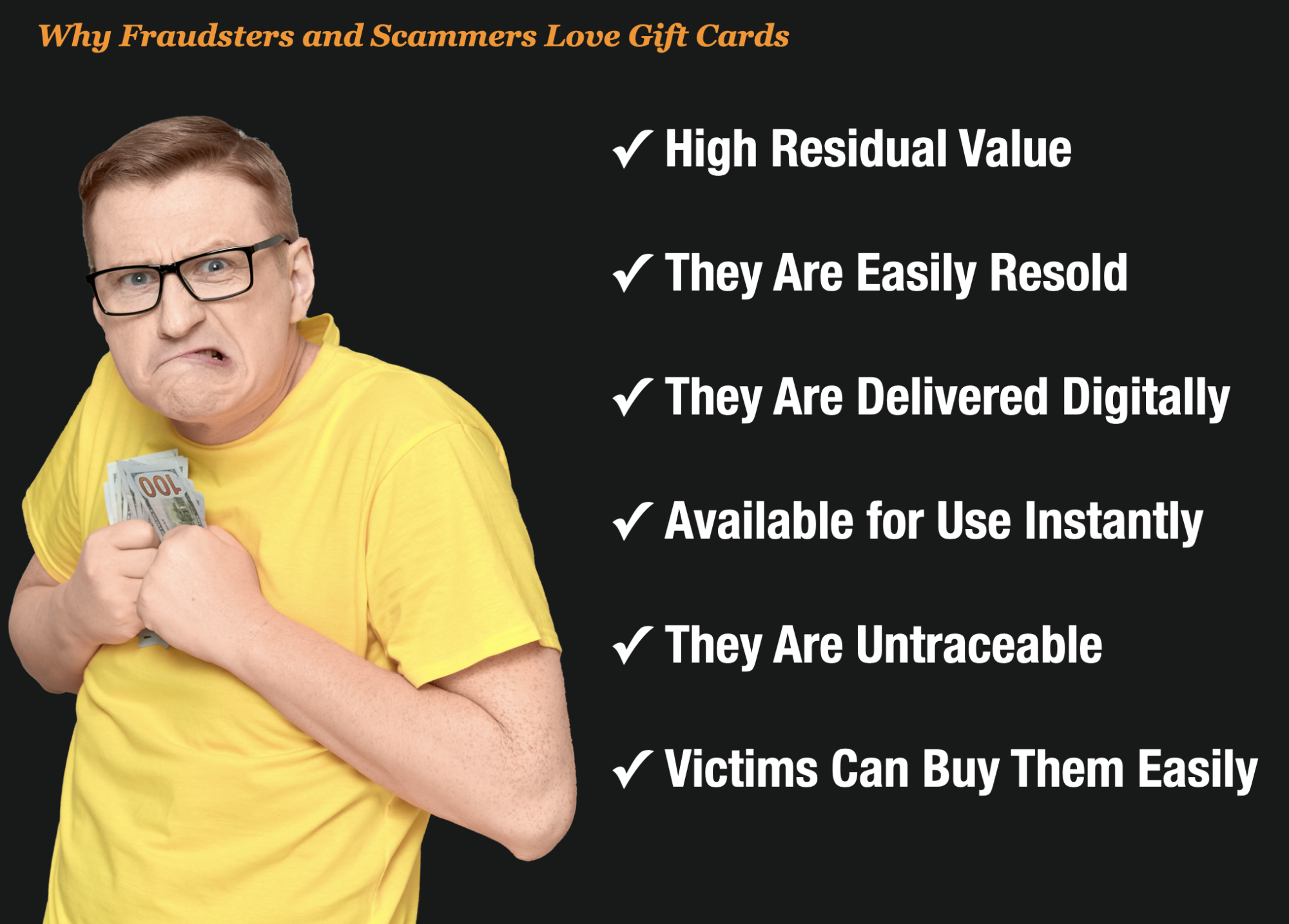 A Doubling Of Gift Card Fraud During Corona Due to Victim Assisted Scams
Caron reveals that her firm BlackHawk Network which issues 340 million gift cards annually across over 280,000 store fronts saw a 100% increase in attack rates immediately after COVID lockdowns.
She attributes many of those attacks to what she calls "Victim Assisted Fraud" where scammers contact vulnerable consumers and con them into sending Gift Cards as a form of payment or extortion. These types of fraud as a proportion of all Gift Card fraud nearly doubled due to new scams such WHO and CDC scams.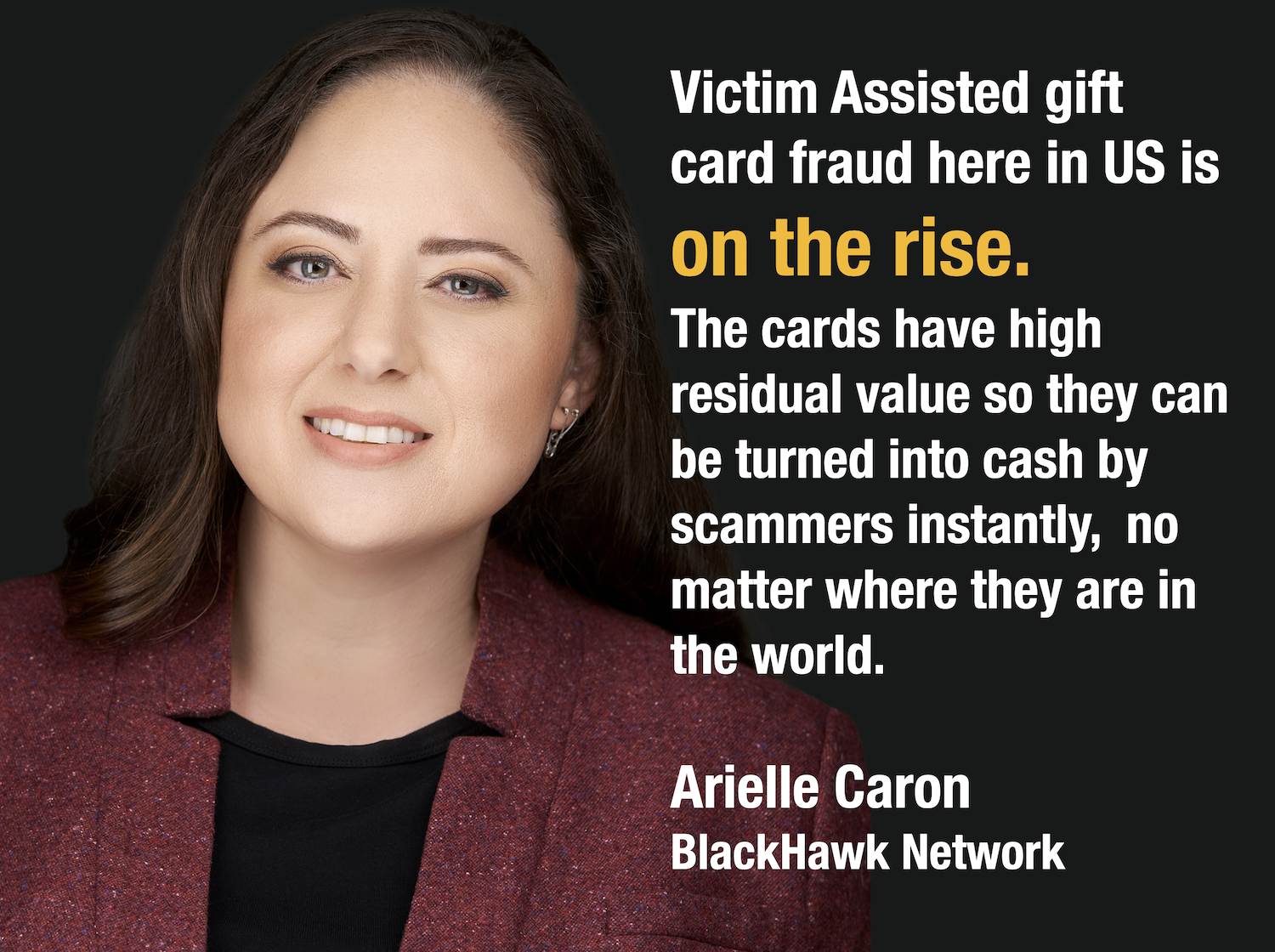 Gift Card Spoofing Sites Exploded in 2020
As Gift Card use and fraud flourished in 2020, fraudsters continued to find new ways to exploit vulnerabilities.
Bleeping Computer reported on a trick fraudsters began to use to lure victims to fake sites that check the balance on their gift cards.
According to a fraud prevention company called Bolster, about 220 fake websites that allow consumers to check the balance on their gift cards began to sprout up each month after the pandemic began. These sites would harvest valid gift cards and then scammers would drain the balance from the cards.
These sites used the retailers branding and believable URL's such as applegiftcardbalance.com
Here is an example of one of the fake realistic websites.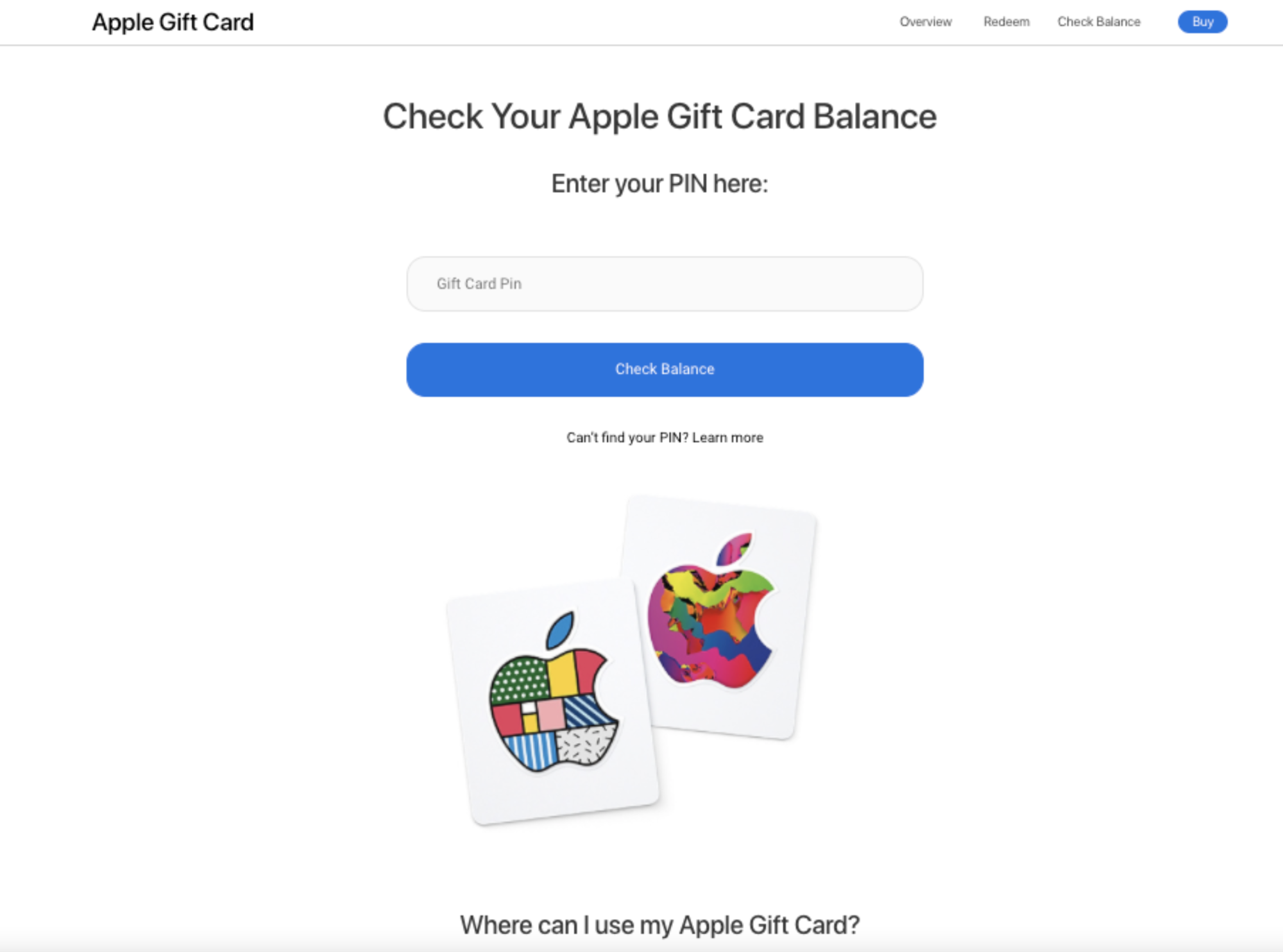 Target Gift Cards were also targeted with fake websites that were registered in India. Once the user would type in the card number and hit submit, the timer would spin indefinitely – a trick used to keep the user on the site while the scammers drained the gift card balances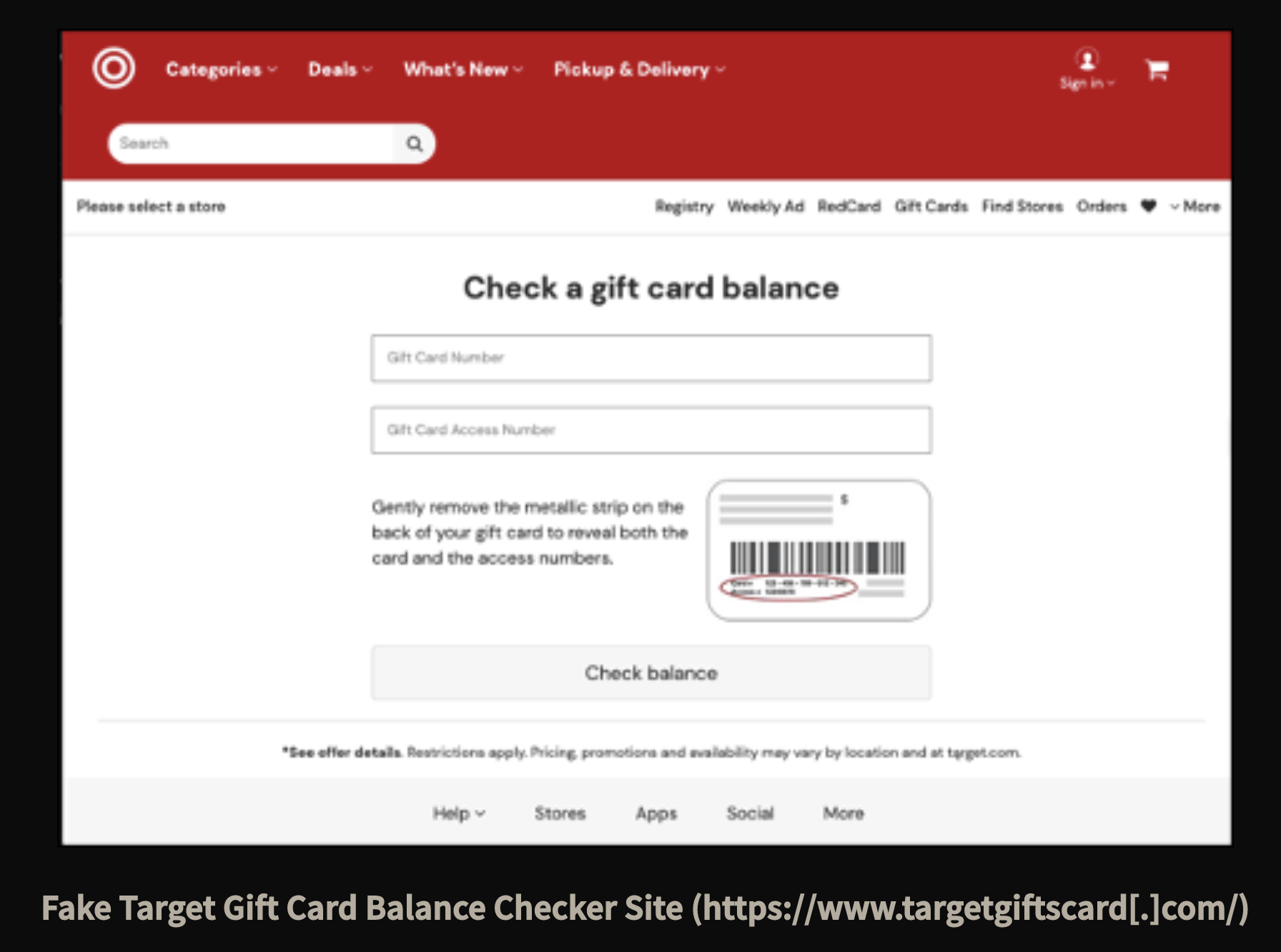 In another trick, scammers would lure in unsuspecting victims with the promise of getting a gift card if they fill in a survey. They would choose popular brands like Google, Pizza Hut, Amazon, or Walmart.
The victims would be required to enter personal information such as name, address, phone number and email addresses and then scammers could call them and try to scam them. Bolster.ai located 1,000 of these websites.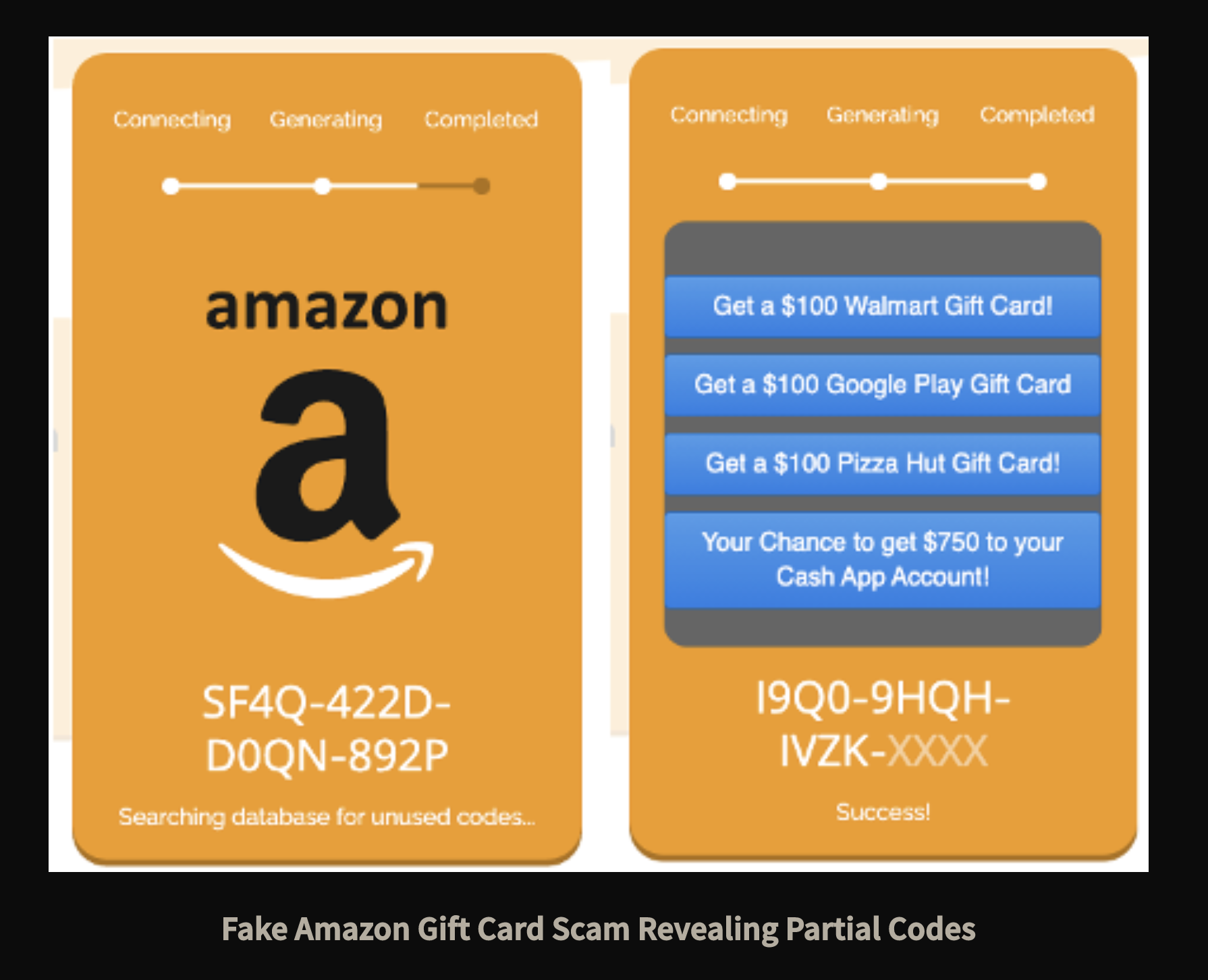 The activity began to explode in August and ramped up through the holiday shopping season.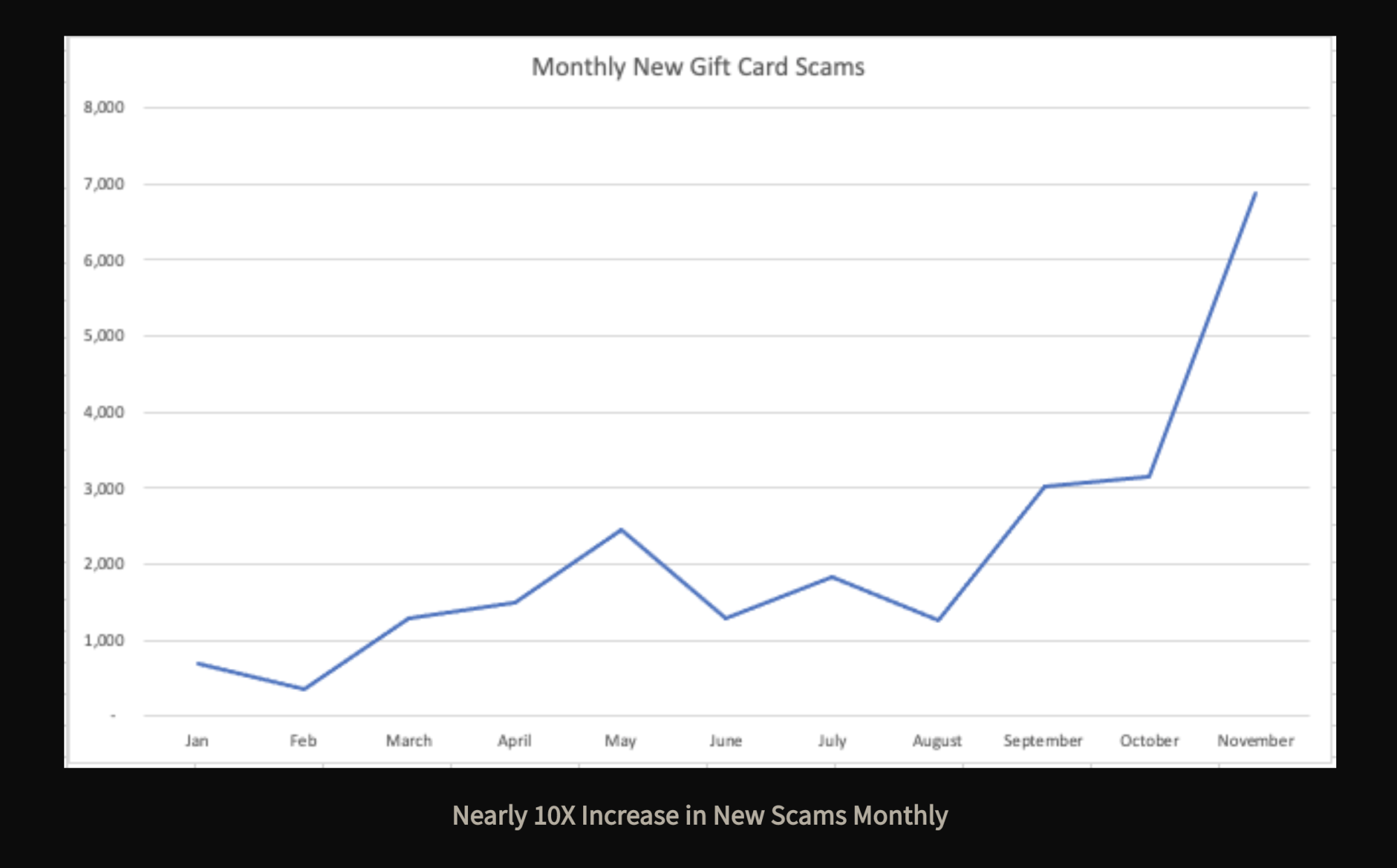 Fighting Gift Card Fraud Is A Matter of Awareness and Education
Experts are recommending that fraud teams and organizations stay vigilant for Gift Card Fraud.
As a consumer, here are the top ways to protect yourself from Gift Card Scams
Buy gift cards from sources you know and trust. Avoid buying gift cards from online auction sites, because the cards may be counterfeit or stolen.
Inspect a gift card before you buy it. Check that none of the protective stickers have been removed. Make sure that the codes on the back of the card haven't been scratched off to show the PIN number. Report any damaged cards to the store selling the cards.
Keep the receipt with the gift card. Whether you're giving or getting, try to keep the original purchase receipt, or the card's ID number, with the gift card.
Read the terms and conditions of the gift card. Is there an expiration date? Are there fees to use the card, or for shipping and handling? Will fees be taken out every time you use the card, or after it sits unused for some period of time?
Use the card as soon as you can. It's not unusual to misplace gift cards or forget you have them. Using them early will help you get the full value.
Treat gift cards like cash. If your card is lost or stolen, report it to the card's issuer immediately. You might not get back the money left on the card – or you might get some, perhaps for a fee. You might need to show the receipt and the ID number on the card. Most issuers have toll-free telephone numbers you can call to report a lost or stolen card – find it on the card or online.
Where to Report Gift Card Fraud
If you are a victim, here are some ways you can report the fraud as supplied by the FTC.
Amazon
Call 1 (888) 280-4331
Keep the Amazon card itself and your receipt for the Amazon card.
Report fraud here.
Ebay
Call 1 (866) 305-3229 right away. Say "representative" after the first prompt. Then say "gift card" after the next prompt to connect with a live representative.
Forward suspicious emails about Ebay gift cards you bought to [email protected]. Include the first 9 digits of your Ebay gift card.
Keep the Ebay card itself and your receipt for the Ebay card.
Report fraud here.
Google Play
Call 1 (855) 466-4438
Report gift card scams online here.
Keep the Google Play card itself and your receipt for the Google Play card.
Report fraud here.
iTunes
Call Apple Support right away at 1 (800) 275-2273. Say "gift card" to connect with a live representative.
Ask if the money is still on the iTunes card. If so, Apple can put a freeze on it. You might be able to get your money back from them.
Keep the iTunes card itself and your receipt for the iTunes card.
Learn about iTunes gift card scams and how to report them here.
Steam
If you have a Steam account, you can report gift card scams online here.
Keep the Steam card itself and your receipt for the Steam card.
Learn about Steam gift card scams and how to report them here.
MoneyPak
Call 1 (866) 795-7969
Keep the MoneyPak card itself and your receipt for the MoneyPak card.
Learn about MoneyPak gift card scams and how to report them here.
Thanks for reading!