If you thought Stimulus Fraud fueled business loans were unique to the United States, think again.
The Times reports today that the National Crime Agency has warned that emergency taxpayer-backed loans for small businesses are being targeted by criminals.
Bounce Back loans are the UK's equivalent to Paycheck Protection Loans here in the US and they provide a 100% guarantee to lenders who offer low-interest loans of up to £50,000 to small companies whose trade has been damaged by the Covid-19 crisis. If the company defaults, the government will cover the losses.
About $38 billion has been loaned with the program so far but banks have been leery to engage in the loans because traditional credit policies have and fraud controls have been thrown out the window to get money into the business owners' hands quickly.
Over 1.1 million businesses have been granted these $50,000 loans through the program so far.
Types of Fraud That Have Been Uncovered So Far in the Bounce Back Loan Program
Widespread criminal gang activity has been discovered by police throughout the country. As the UK Daily Mail reported last month, some of these schemes include:
Fraudsters are stealing identities of legitimate businesses and using that information to apply for and receive bounce back loans.
Fraudsters are setting up fake businesses and successfully applying for bounce back loans with no intention of paying the money back.
Fraudsters are applying for, and receiving multiple different bounce back loans from different banks in quick succession in a fraud that is referred to as loan-stacking.
Fraudsters were caught advertising to solicit mules that would engage in fraud and take out bounce back loans using false and misleading information.
A fraudster was caught by a car dealer, trying to buy a luxury Porsche using proceeds gained through a fraudulent bounce back loan.
Fraudsters are recruiting money mules to hold funds in their bank accounts that have been gained through fraudulent bounce back loans.
Loss Rates Could Be 65% or Even Greater
The Department of Business, Energy and Industrial Strategy (BEIS) published a surprising report this week that indicates the loss rates on the program could be 65% of the total amount loaned. That means that losses could already be $22 billion for the fledgling program.
British Business Bank Warned Of This Back in May
The warning bells on the program have been ringing for a while. Keith Morgan, chief executive of the British Business Bank, wrote a letter back in May warning of the very real fraud risk.
In the letter, he warned that the self-certifications and lack of traditional fraud validations would create an environment ripe for fraud with organized crime.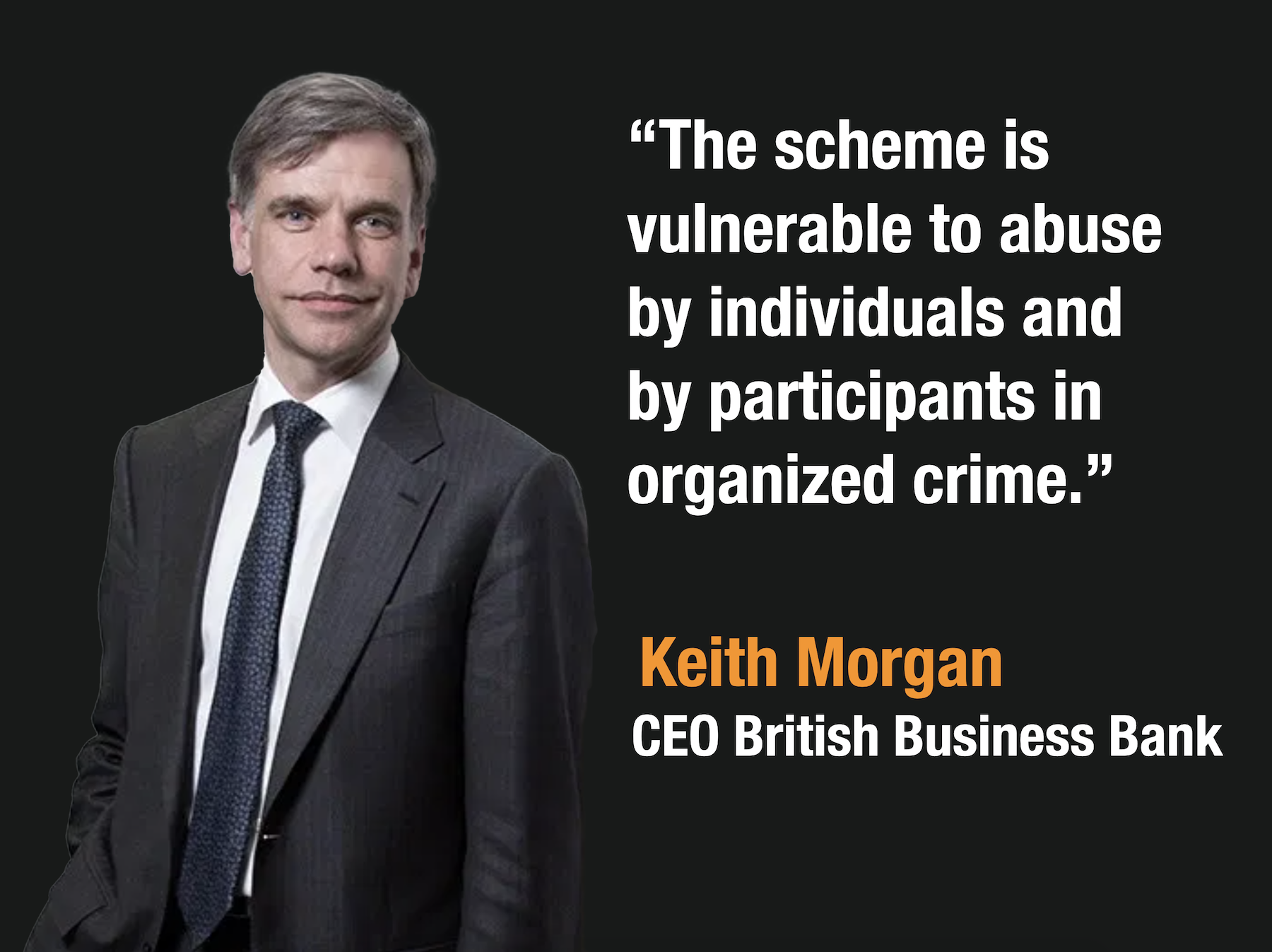 It sounds like the UK is fairing a bit better than their US counterparts who expect to lose between $65 billion and $75 billion in their COVID business loan programs.