The $2 Trillion Dollar stimulus package has a treat for small businesses. It offers extraordinary loans for up to $10 million that will be forgiven as long as they promise not to lay employees off.
It's designed to protect millions of Americans that work for small businesses and to keep them employed for at least the next 60 days.
On Friday morning, 30 million small businesses around the country will clamor to apply for these loans which could be a lifeline during the Coronavirus Pandemic.
The Small Business Loans Will Be Targets of Fraudsters and Scammers Too
But there will be wolves at the gate as well.
And those wolves will be disguised as sheep. Fraud rings and sophisticated criminals will be looking to score big time as these small business loans can line their pockets with millions in cash.
As we have experienced in previous disaster relief programs, the seedy element always emerges to grab as much money as they can.
Scammers will be looking to profit off legitimate business owners by offering "scam loans" that do not exist. And Fraud rings will be looking to apply for and steal money posing as legitimate business owners.
CNN Reports Law Enforcement is Organizing To Combat Fraud
CNN reports today, that behind the scenes, conversations have begun with law enforcement partners around the country to ensure that the Small Business Administration's expansion of loans is disbursed to the people intended to receive the funding.
"The Office of Inspector General recognizes that we are facing unprecedented times and is alerting the public about potential fraud schemes related to economic stimulus programs offered by the U.S. Small Business Administration response to the Novel Coronavirus Pandemic," the document reads. "Fraudsters have already begun targeting small business owners during these economically difficult times."
SBA Loans are MineField of Issues for Banks
As of Thursday, America's largest banks are unsure of how to proceed with the small business loans and were actively notifying customers the loans could be delayed.
Chase emailed customers this week to say the company "will most likely not be able to start accepting applications on Friday, April 3rd as they had hoped."
Perhaps part of the issue is that SBA loans are complex, could be rife with fraud, and could present money laundering challenges the banks are unable to sufficiently verify in the minimal amount of time that they have to fund the loans.
"These loans are a minefield for lenders," Paul Kupiec of The American Enterprise Institute said. They are "chocked full of qualifying requirements that much be checked and certified," he said, adding that its "not hard to imagine there might be unscrupulous businesses that stretch the truth to get a bigger loan than allowed by law."
Banks Want to Know Who Is On The Hook for The Fraud
One of the most significant issues for banks is dealing with the flood of loan volume all at once and the high rates of potential fraud that could exist on those loans.
Government programs are notorious for pushing loans back to banks if there is any hint of fraud or impropriety on the loan. For banks to lend money with the accelerated time periods the government has outlined, they want to make sure that they are not on the hook for the losses.
Lenders have asked for assurances that they will be "held harmless" if borrowers use inaccurate data in their applications and want clarification on who will be on the hook for fraudulent loans, according to people with knowledge of the discussions according to an article and CNBC sources.
$18 Billion Could Be Lost to Fraud with Paycheck Protection Loan Program
The SBA has estimated that approximately 52 basis points a year is lost to fraud with their loan programs. But other government officials estimate that fraud on stimulus programs typically runs about 10% of the program's total budget.
Given this information, I am estimating that approximately $18 Billion in fraud will occur on the Paycheck Protection Program alone in the next year.
We know it's not going to be 53 basis points, and the government estimates of 10% fraud losses might be on the high side. So my estimate is somewhere in the middle – 5% or 18 billion dollars. If the government releases more money into the program – which it very well might, that estimate will rise accordingly.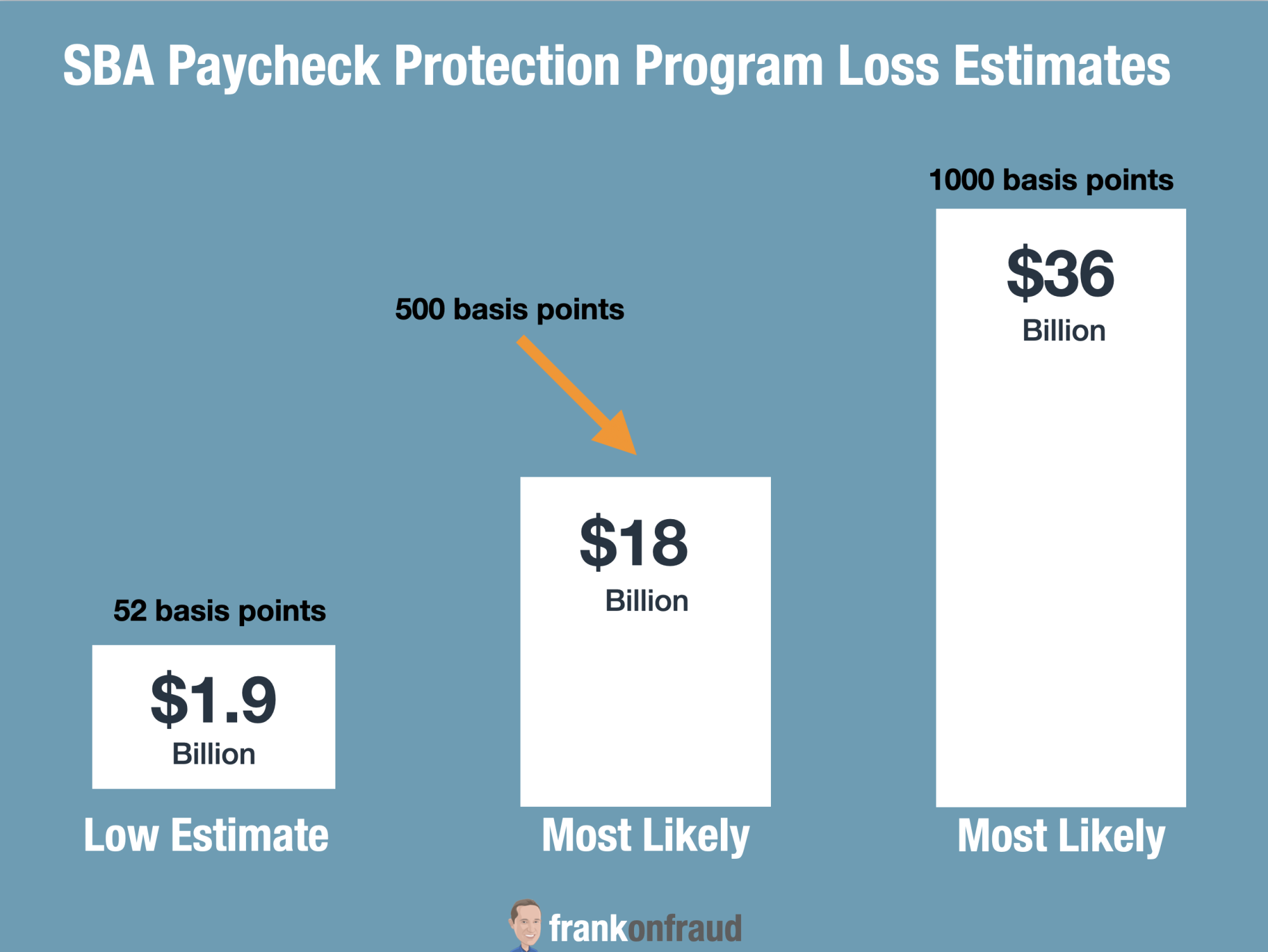 Both Business Owners and Banks Will Be Victims of Scams and Loan Fraud
The SBA will be offering small business loans under several different programs. The first program offers disaster relief for particularly hard-hit areas and the second program offers paycheck protection to keep employees on the payroll.
The SBA and US Chamber of Conference is preparing for a wave of fraud and scams against small businesses and lenders and they are warning everyone to be on the lookout.
"It is a very scary and a real issue," said Tom Sullivan, the vice president of small business policy at the US Chamber of Commerce. "It is our responsibility to tell small businesses: do not respond to an offer for financial help that is not initiated by yourself…If you don't initiate the conversation, then be really, really careful."
Here are The 5 Things Business Owners Need to Watch Out For
#1 – Watch Out If Someone Contacts You For A Grant
SBA does not initiate contact on either 7a or Disaster loans or grants. If you are proactively contacted by someone claiming to be from the SBA, suspect fraud.
#2 – Watch Out For Up Front Payments
If you are contacted by someone promising to get the approval of an SBA loan, but requires any payment upfront or offers a high-interest bridge loan in the interim, suspect fraud.
#3 – Watch Out For Excessive Broker Fees
SBA limits the fees a broker can charge a borrower to 3% for loans $50,000 or less and 2% for loans $50,000 to $1,000,000 with an additional ¼% on amounts over $1,000,000. Any attempt to charge more than these fees is inappropriate.
#4 – Don't Give Personal Information Out Through Email
If you are in the process of applying for an SBA loan and receive email correspondence asking for PII, ensure that the referenced application number is consistent with the actual application number.
#5 – Watch Out For Phishing with SBA Logo
Look out for phishing attacks/scams utilizing the SBA logo. These may be attempts to obtain your personally identifiable information (PII), to obtain personal banking access, or to install ransomware/malware on your computer.
Here are the 6 Things That Banks Need to Watch out For Before Funding Loans
Small Business loans will be subject to a variety of fraud types that lenders will need to be on the lookout for.
#1 – Inflating Number of Employees or Salaries
With the paycheck protection program, small businesses will be able to borrower more based on the number of employees within the business. A small business can borrower up to 2.5 times their monthly salaries up to $100,000 annual salary per employee.
Business owners can inflate the number of employees on payroll, or inflate the salaries of employees in order to boost the value of the loan.
They will create fake documentation and paycheck stubs to inflate the number of employees in the business to extract more money from the SBA
#2 – Shell Company Loan Fraud
Shell companies will be created with the express purpose of obtaining fraudulent small business stimulus loans. These companies may create false websites or false storefronts and create fictitious and forged documentation to obtain a loan under false pretenses.
#3 – Business Account Takeover Loan Fraud
With so much at stake, fraudsters will attempt to take over small businesses bank accounts or identities to be able to receive fraudulent loans. Most often these takeovers will be initiated based on phishing emails designed to fool businesses. In many cases, these emails could look to come from the SBA themselves.
#4 – Business Identity Theft Loan Fraud
Perpetrators will act as the owners of the business and will create forged documentation to apply for a loan using the brand of the business. The perpetrators may be difficult to spot from the genuine business because they will appear to be used very similar information.
#5 – Small Business Loan Agent Fraud
A prospective borrower or a lender sometimes pays a loan agent to prepare documentation for an SBA loan application and/or refer the borrower to a lender.
In some cases these loan agents will manipulate the transactions to siphon funds by shotgunning the loan, charging excessive fees or assist the borrower in obtaining the loans through fraud.
#6 – Small Business Borrower Loan Fraud
Borrower fraud will also be common. This includes different types of misrepresentation that plague most lending.
False equity injection and gift funds
Overstating income,
Understating or failing to disclose liabilities and debts,
Overvaluing collateral,
Failing to disclose a criminal record,
Making false claims of U.S. citizenship,
Failing to disclose true ownership of the business,
Using false Social Security numbers to conceal poor credit histories,
Submitting altered tax returns,
Providing fraudulent standby agreements, and
Creating false work histories.
Infographic on Small Business Loan Fraud
Here is a handy infographic to share on what types of fraud and scams to watch out for. Download the infographic here – Small Business Loan Fraud.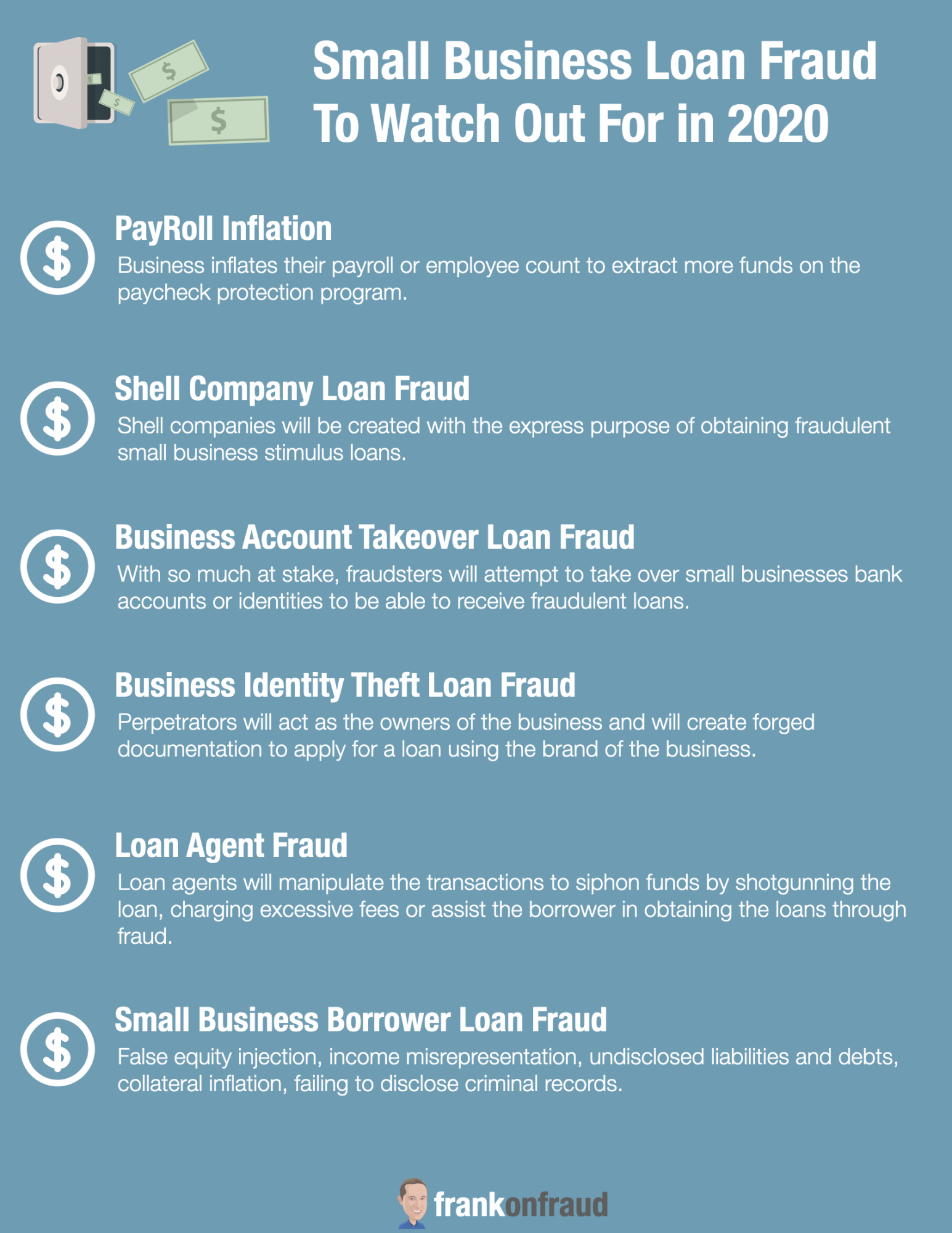 How To Avoid Going To Prison for Paycheck Protection Fraud
This great article appeared in Forbes this week, "How to Avoid Going to Prison for Paycheck Protection ProgramLoan: Advice from Former Federal Prosecutors"
Dave Callaway, Derek Cohen, and Grant Fondo, former federal prosecutors now with the law firm Goodwin Procter, investigated and prosecuted individuals who committed crimes relating to the Troubled Asset Relief Program (TARP) and other funding programs offering crisis aid. As you may recall, TARP was set up during the financial crisis of 2008–2009. Below is advice from these attorneys on avoiding potentially serious legal problems related to the PPP.  Heed their insights to avoid the risk of prison—or at the least an embarrassing, costly, and time-consuming government investigation.
If you're thinking about getting a PPP loan, check out this article first to make sure you comply because the government will be looking for fraud in all shapes and forms.