It may be one of the most shocking cases of fish fraud in recent history.
All hell broke loose earlier this week when two fishermen were caught stuffing weights and fish filets into their contest-winning catches at a fishing tournament held in Cleveland this week.
"We got weights in Fish!, screamed Jason Fisher -the tournament director- as he lifted a 1-pound iron weight out of one of the fish they claimed to have caught.
The small crowd of other fishermen in the contest gathered and began screaming obscenities at the accused – Jake Runyon and Chase Cominsky.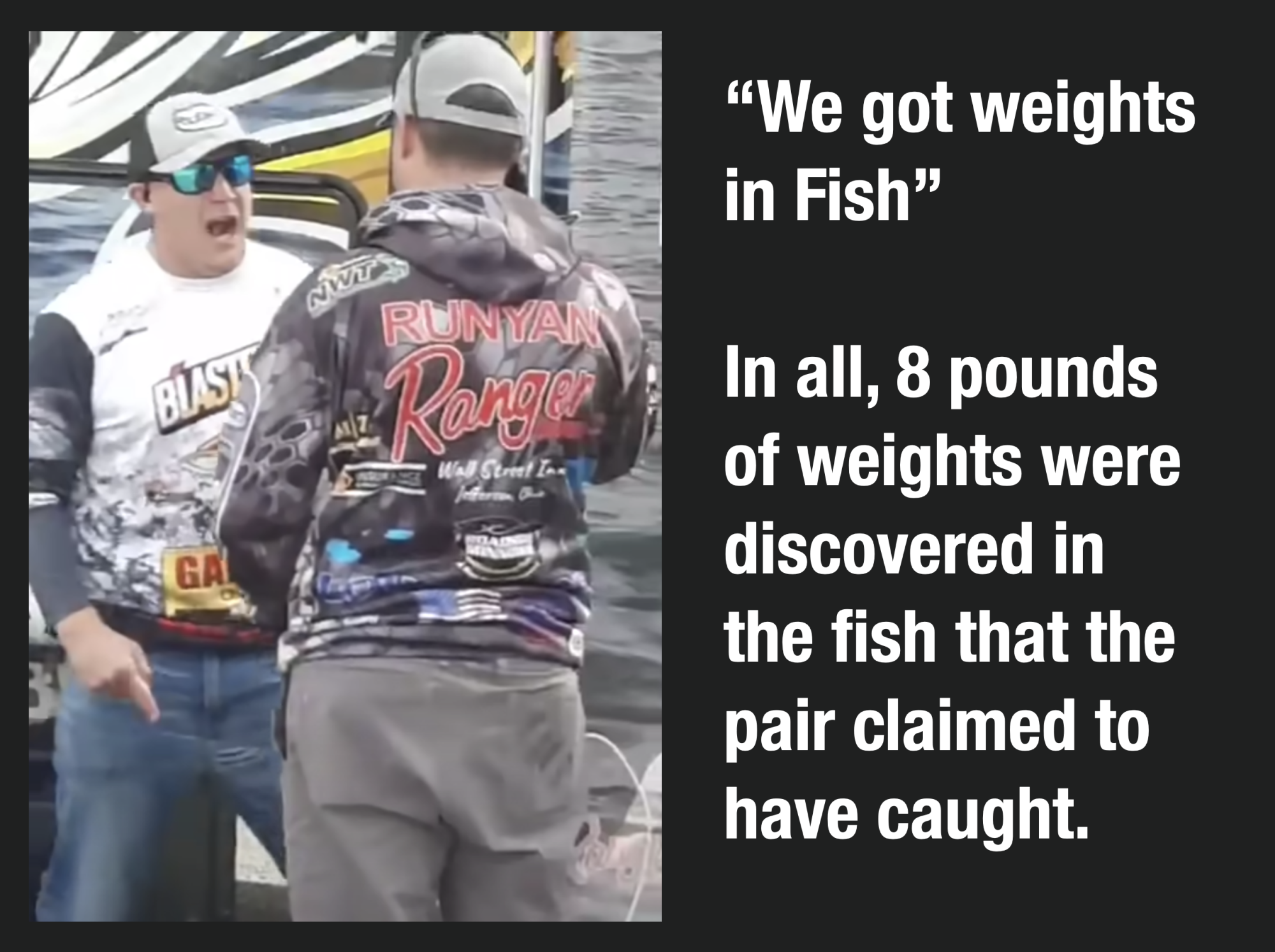 The Fishing World Erupts – They Should Be In Jail!
Runyon and Cominsky had thought they had claimed victory after their 4 Walleye were weighed in onstage at the Lake Erie Walleye Trail's (LEWT) final event of the 2022 fishing season.
But after the weigh-in, Jeff Fisher, who doubles as a police officer, decided to cut the fish open. As he did, he found lead weights.
Beat Red, he screamed, "You're Out of Here," like an umpire and pointed furiously to Runyon. But it wasn't just a single weight he found. They were immediately disqualified from the tournament.
He found a total of 8 pounds of lead weights and even fully fileted fish filets that had been stuffed down the fish's gullet to increase their weight.
You can catch the whole drama in this video.
Shouldn't We File a Police Report?
The crowd's anger, which was becoming more like a mob, was palpable. Many of these fisherman had traveled from across the country, spent thousands of dollars, and felt like they had been personally defrauded.
"Shouldn't we file a police report?" someone in the crowd could be heard asking.
If a report is filed, which it very well could be, the pair could be in some serious trouble. According to attorneys, their crime would be considered "Theft By Deception," and they could be in some hot water.
With the winning of this tournament, they stood to win over $300,000 in cash and prizes – not a small sum, making this a potential felony.
Not The First Time, They Were Suspected of Fraud And Cheating
In the video, some of the crowd can be heard mumbling, "We Knew It!". They are referencing the long-standing suspicion that many had about Runyon and Cominsky being involved in cheating for a long time.
According to Fox Sports, They claimed victories across several LEWT events in 2021, including the season-ending championship.
But it reached boiling point when the pair won the Lake Erie Fall Brawl fishing event in 2021 and stood to reel in $AUD156K in cash and prizes, according to the Toledo Blade, having topped the scales with their fish.
But the duo was disqualified from the event without any explanation from tournament organizers as one of them failed a lie-detector test.
It's safe to say these championship fisherman may need to find another line of work after this fishing fraud fiasco.