This may be the largest odometer fraud case in history.
Each year 40 million used cars are sold, and over 450,000 have odometers that were illegally altered.
And the impact to consumers is huge – approximately $1 billion a year according to industry estimates.
And this year may be its biggest year ever, thanks to a massive odometer fraud lawsuit that was reported in Auto News.
FedEx and another company are accused of systematically rolling back the odometers of their old delivery trucks and selling those trucks at inflated sales prices.
Both Holman Automotive And FedEx Named In Odometer Tampering Lawsuit
According to the lawsuit, FedEx and other logistics companies will destroy trucks after the odometer exceeds 350,000 miles. But FedEx decided to stop getting rid of the trucks and decided to start to try to remarket them through Holman Automotive Group.
According to the suit, "In 2011, FedEx pursued another revenue stream by remarketing the fleet vehicles instead of destroying them. Holman is accused of mutually agreeing with FedEx to commit odometer fraud as part of the remarketing enterprise.
FedEx was accused of not only resetting odometers but of failing to disclose vehicles where the odometers were replaced altogether which may have happened thousands of times.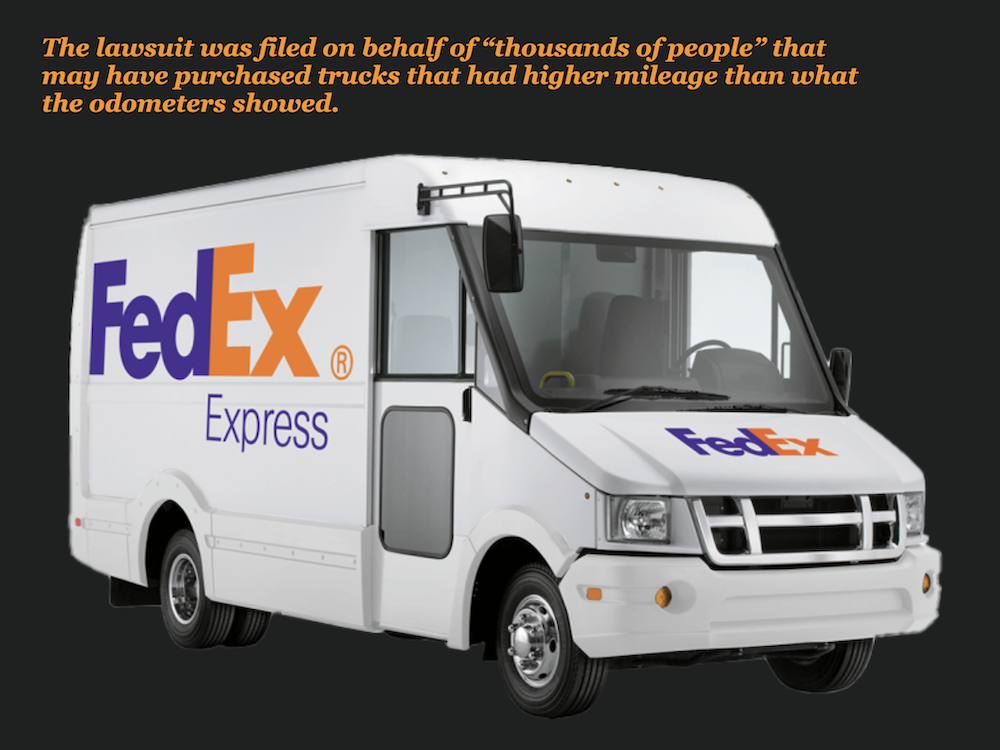 When Holman sold the cars, they sold them for more than they were worth because the mileage of the trucks was incorrect.
According to Auto News, "The suit is potentially on behalf of thousands of people across the country who purchased one of these vehicles."
The Lawsuit Alleges FedEx Turned The Miles Back To Zero By Replacing Odometers
Surprisingly, the lawsuit claims that "FedEx systematically and surreptitiously replaced odometers on thousands of used diesel fleet delivery vehicles." There was no reason all the odometers were changed, it was merely to hide the true mileage of the vehicles according to the lawsuit.
The new odometers display zero miles even though they knew that the trucks had been driven hundreds of thousands of miles.
When FedEx and Holman sold the trucks, they did not disclose the actual miles of the trucks even though FedEx keeps meticulous records on the mileage of trucks and maintenance.
When they sold the trucks at auction, they were supposed to disclose the mileage or use terms like "TMU" (true mileage unknown) or NAM (not actual miles) but they never did.
The Story First Broke Two Years Ago
Two years ago, Tom Layton of Las Vegas noticed this scheme developing.
"What brought us here today is I'm a commercial truck dealer," Tom Layton says in the article. Layton is based out of Henderson and has been buying and selling trucks for 36 years.
Layton made the discovery in March 2017 when he sold a Freightliner delivery truck to a FedEx contractor in Washington state.
"About a month after the sale, the FedEx contractor contacted me and said, 'Hey! What are you trying to pull here?' And I said, 'What's wrong?'" Layton explains. "And he said, 'I took this into Freightliner and had the vehicle hooked up to the computer. And it has over 400,000 miles. And your odometer says 180,000 miles.'"
He immediately bought the truck back and tried to determine why the readings didn't match up.
In court records, he alleges that it was a widespread practice, "Through the course of our litigation of the 400 or 500 vehicles that I've purchased, we've found that approximately 96 to 100 of them has had their odometers replaced."
Read the Lawsuit Here
If you want to read the entire lawsuit you can read it here.