They sell high end luxury cars to the rich and famous in California, but things seemed to have soured for the once reputable dealer in recent months according to youtube videos and announcements by news media sources.
Police and the DMV confirmed that they are investigating a luxury car dealer – CNC Motors in Upland California – regarding complaints over cars that were sold on consignment by the dealer but owners alleged that they were never paid. In some cases, owners were paid with checks that later bounced.
The investigation was was reported by multiple news agencies including NBC News, this week but the alleged scheme was originally raised by a popular Youtuber – Normal Guy Supercar – over a month ago when he found many unhappy customers of the dealership.
Reputable Luxury Dealership But They Experienced Problems Recently
The dealership, which specializes in high-end luxury cars, allows owners to sell their cars on consignment in their showroom. Once the cars are sold, the dealership will take a cut of the final sales price and send the owners a check. It's a win, win situation for everyone.
The dealership had a good reputation and rating, but things seemed to change suddenly in October when owners started to complain their cars were sold, but they never received payment.
The Investigation Originally Kicked Off When Complaints Surfaced On Youtube
Suspicions about something going terribly wrong originally surfaced in March, when this video alleging a "massive fraud involving potentially 40+ fraudulent deals" was released.
Tens and Thousands of Dollars Are Allegedly Owed To Owners
And this week, NBC News released a story that confirmed the investigation had widened. Luxury and classic car owners across Southern California said they are owed tens of thousands of dollars from the dealership that they trusted to sell their cars on consignment.
Dozens of customers of CNC Motors have lodged complaints about the once-reputed dealership that have prompted public awareness campaigns on YouTube and an investigation by the Department of Motor Vehicles.
The DMV confirmed that they are investigating the dealership, but they would not discuss the case specifically or how many cases they were actually investigating.
Police Investigating the dealership as well.
The police confirmed that they are also investigating the dealership after receiving complaints. They issued the following statement;
"We are aware and have been involved with the investigation of the CNC Motors case. As with any investigation, we cannot provide details while the case is still ongoing. We must protect the integrity of our investigations, even if it means accepting unwarranted criticism the false perception that we aren't doing anything."
1 Star and Multiple Complaints on the Better Business Bureau
The latest problems at CNC Motors has put them on the Better Business Bureaus Radar with over 11 reviews and some complaints about the business such as this one.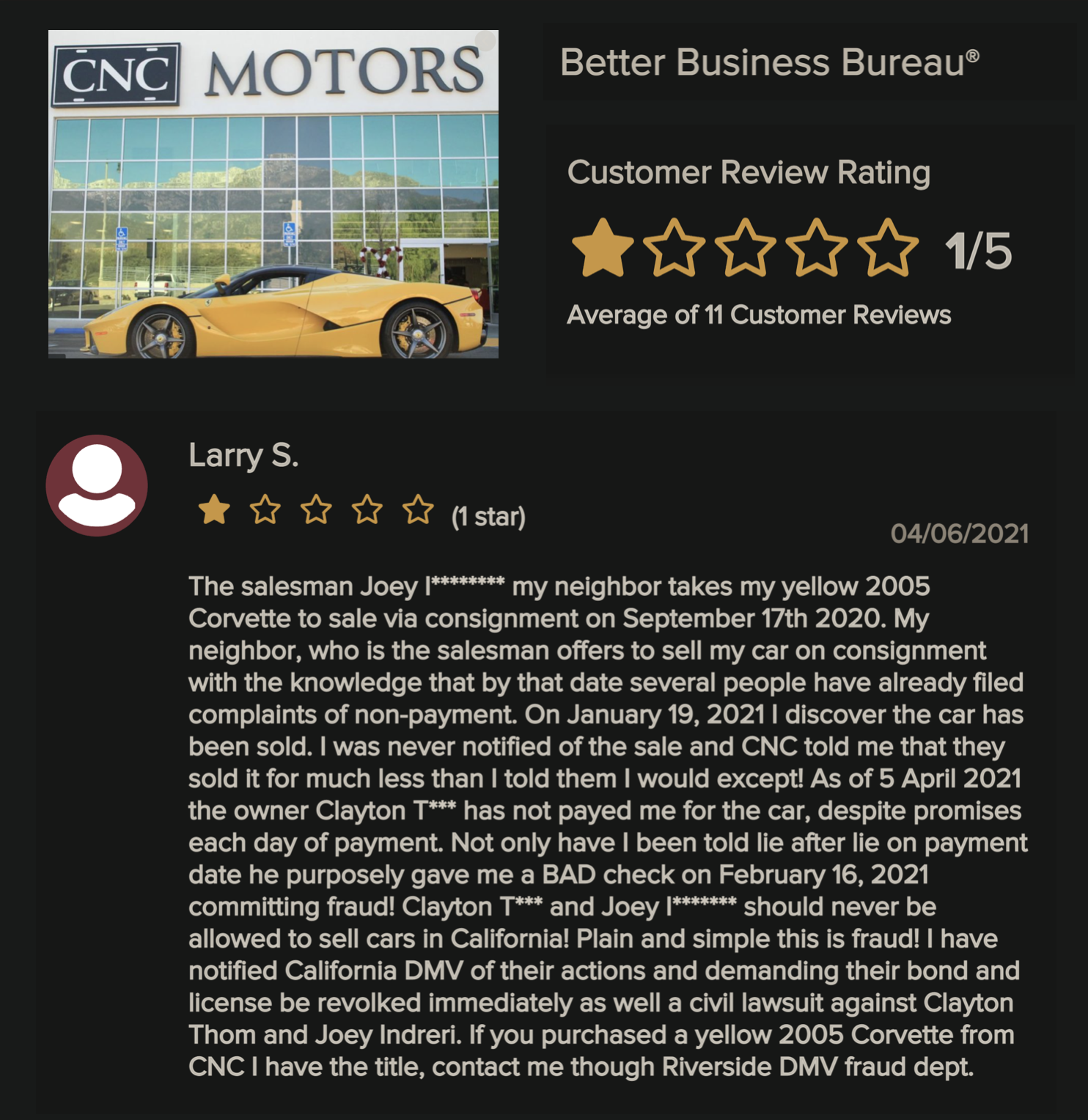 Bad Reviews on Google Spell Out the Issues Customers Had
The dealership had very few bad reviews overall, but that changed in October when the bad reviews started pouring in, many of which were complaints about the same thing. You can read them here.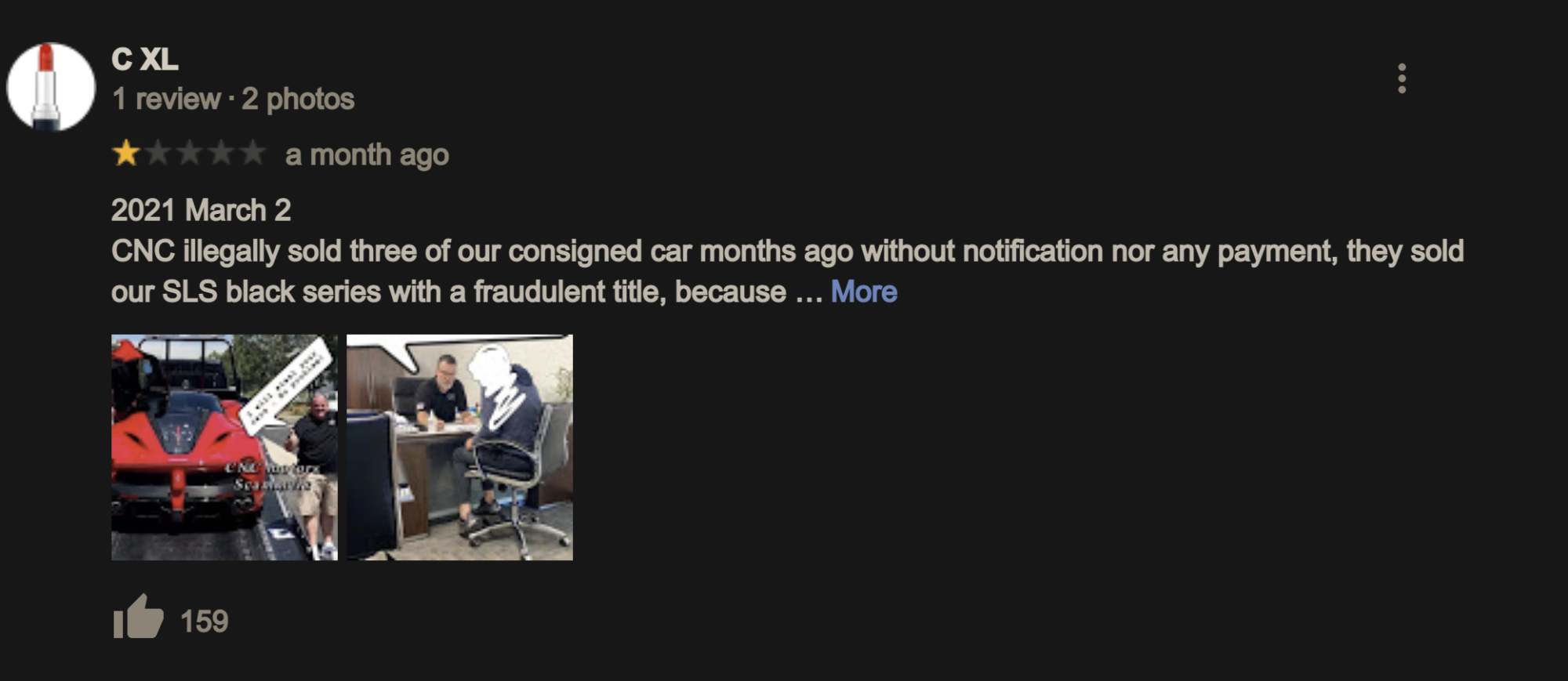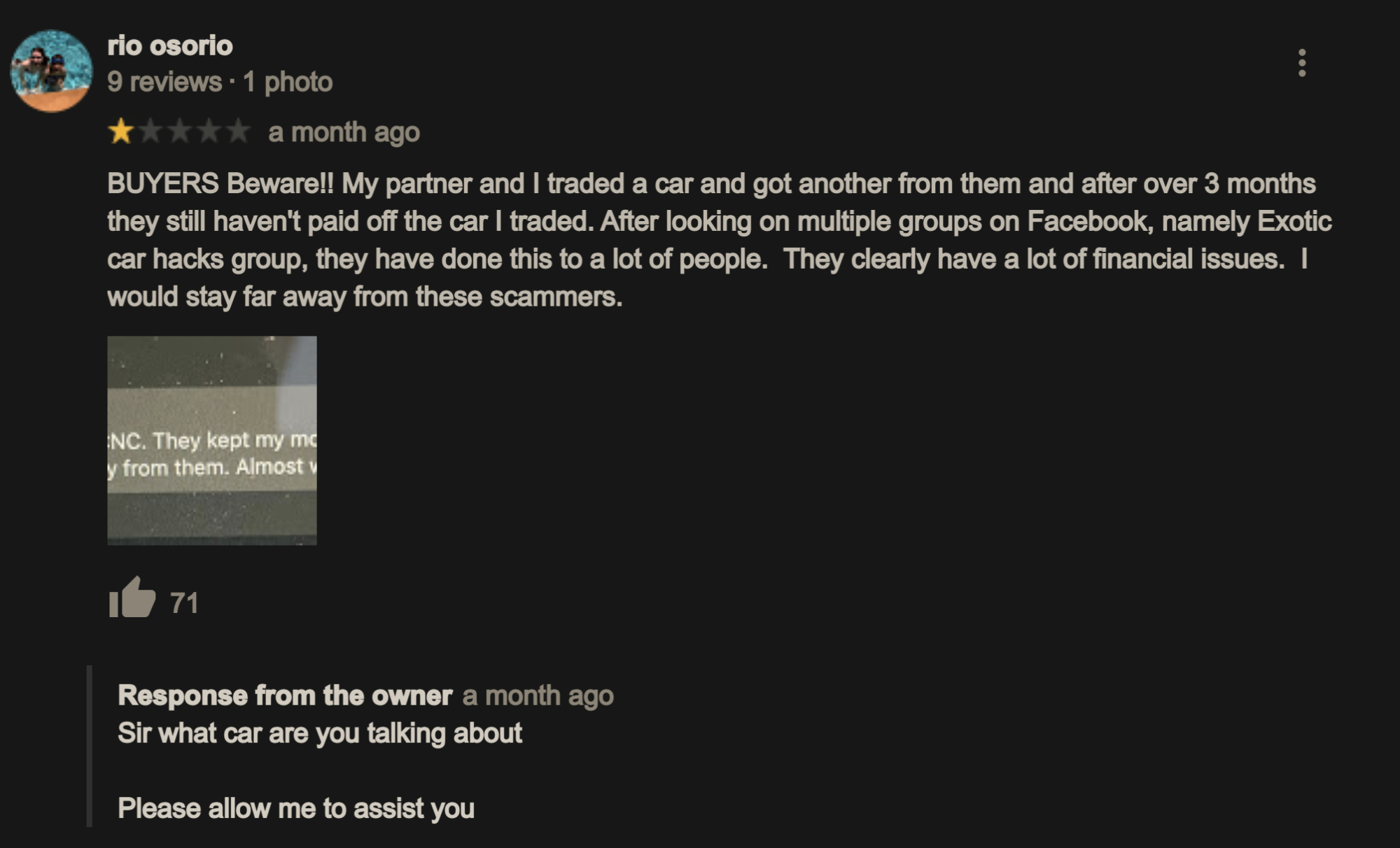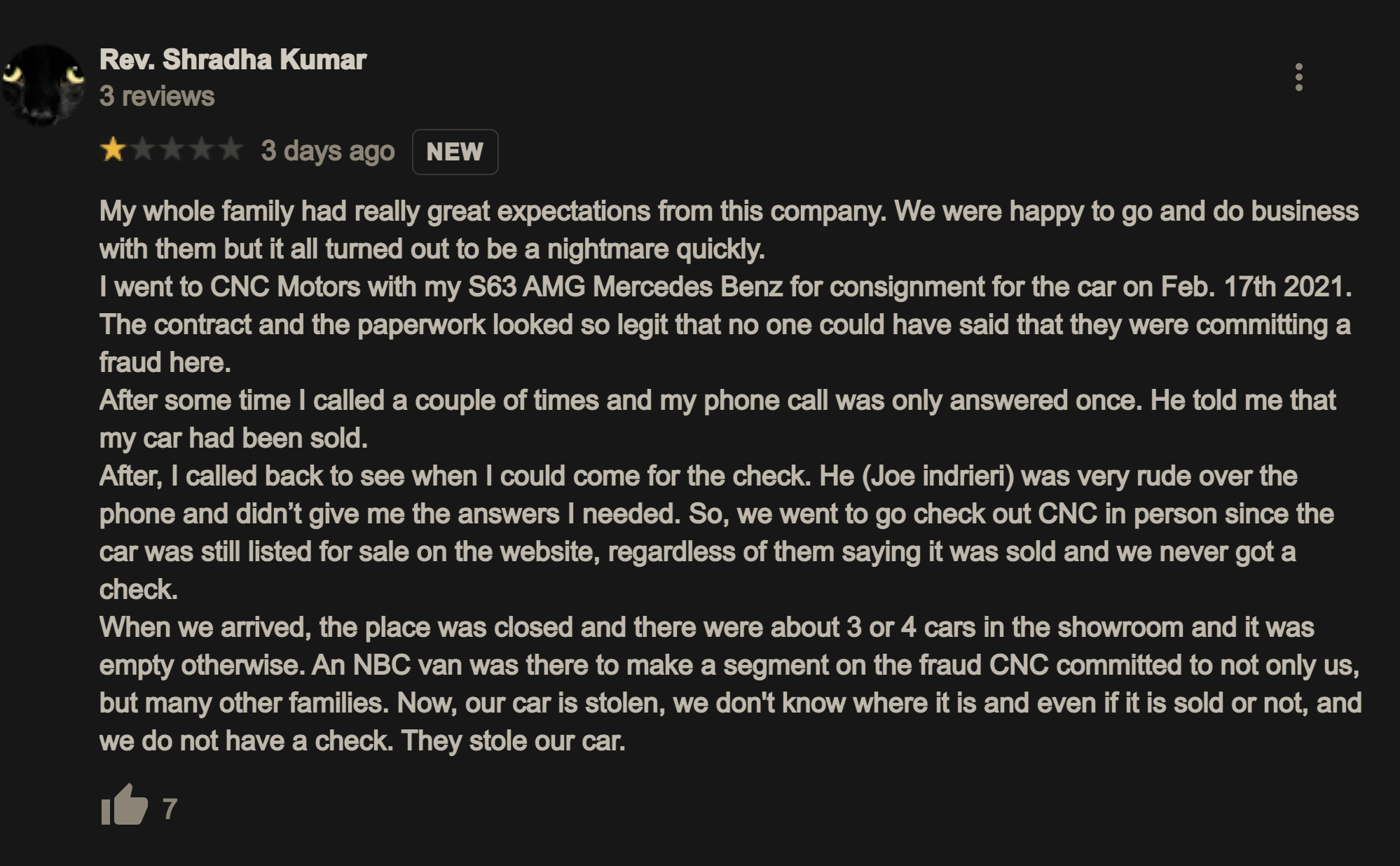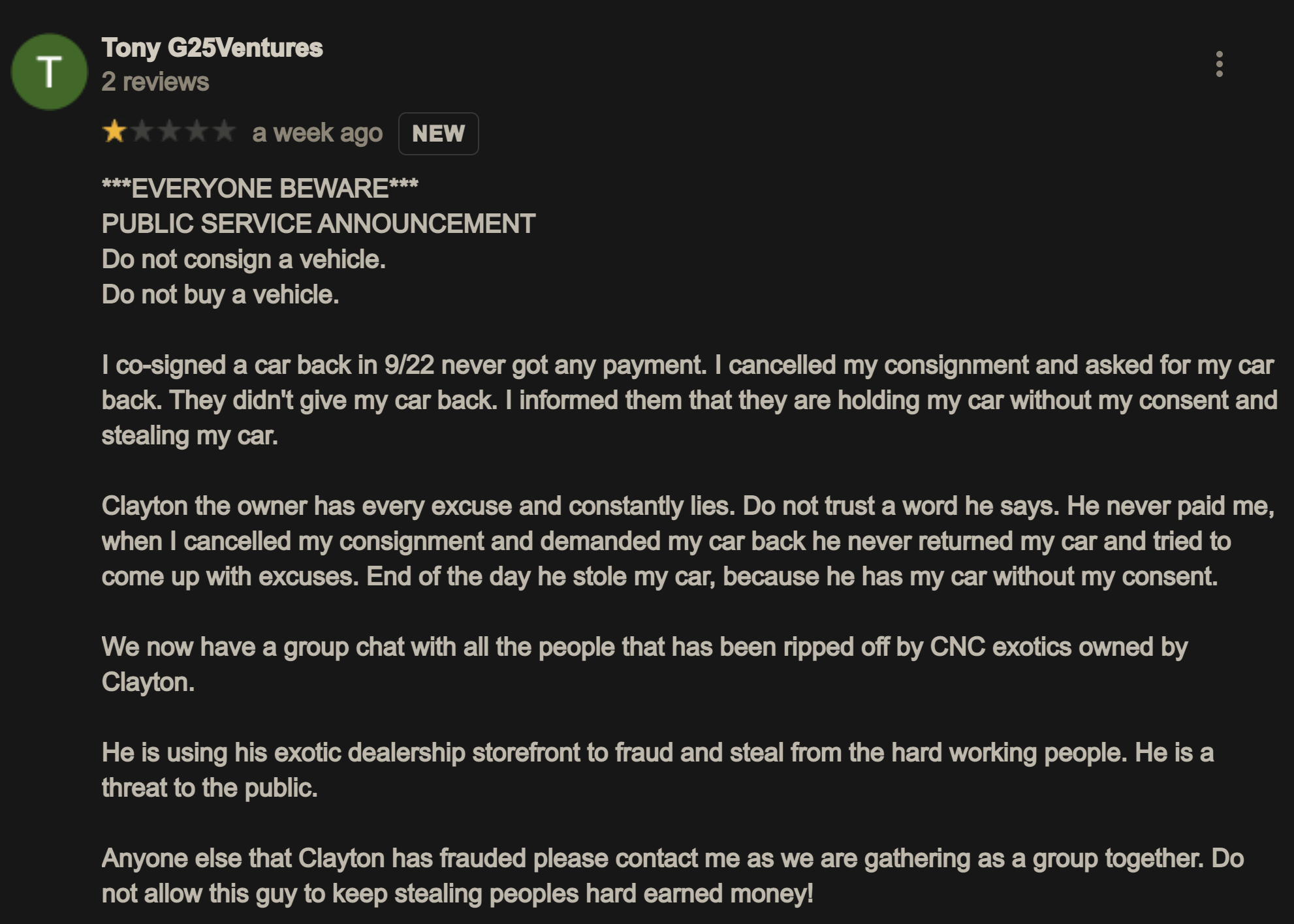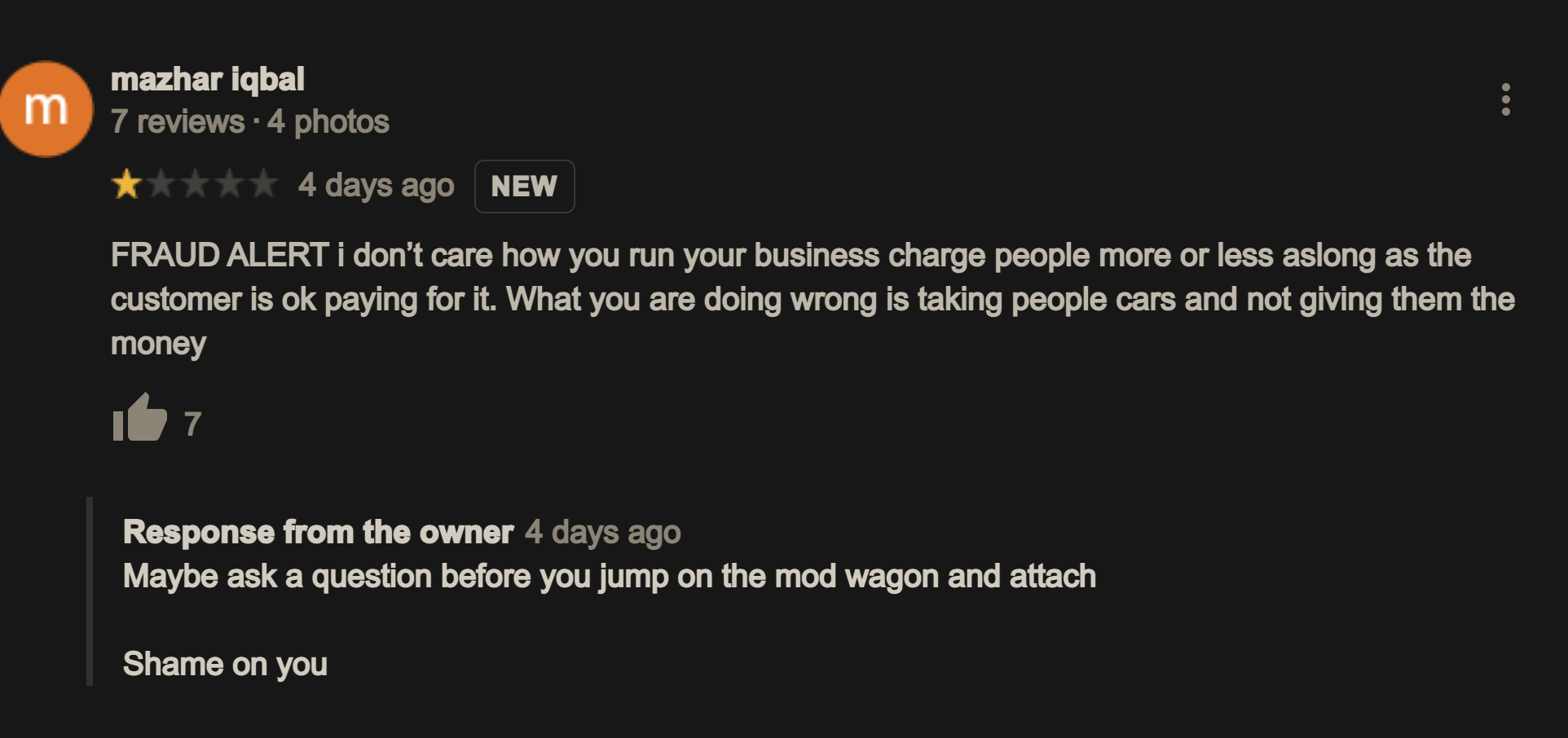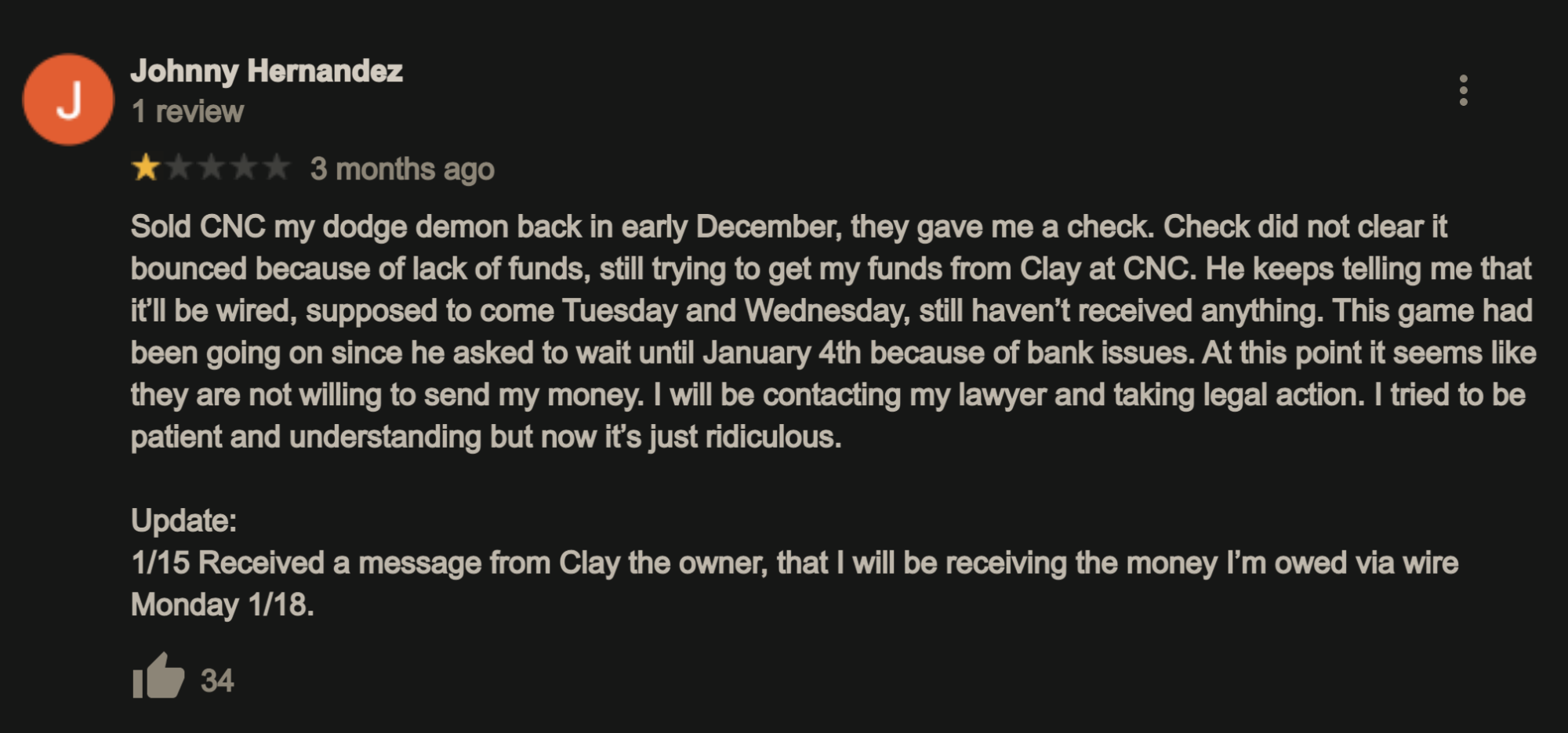 This Guy Claims to Have Almost Lost $800,000 From The Dealership
Normal Guy Supercar, has a channel that has focused on helping people that have lost money. In this video he estimated approximately $2 to $3 million in value regarding all of the cars involved.
Check out this video that describes the situation at the dealership by this one seller.
Another Victim Claims To Not Know What Happened To His Ferrari
Matt Salvo shares his story as well, which seems eerily similar to many of the other people that have dealt with the dealership.
This Guy Explains How He Got Scammed Too
It started with this guy back in August of 2020.
What Does the Owner of the Dealership Say About All of This?
The owner of the dealership, Clay, had the opportunity to refute the claims and you can listen to his video and explanation in this video.
His explanation was that the Pandemic had a big impact on his business and he had to lay off about 30 of his 45 employees.
There are always two sides to every story so it is good to hear what everyone has to say. I am sure this story will develop over time and we hope it is resolved satisfactorily for all involved.