Fraud has always been a bit of a political livewire ?⚡?? .
How many fraud fighters out there are afraid to use the "F" word in conversations with senior execs and instead opt to use milder terms that won't rile people up ✋?
We've all been there at one point or another. I can't tell you how often someone has told me in a meeting, "Don't call it FRAUD!"
And the "F" word of the day now seems to involve Zelle.
And if last week's activities are any indication, it's becoming far more political – and that's putting many banks on the defensive.
A Grilling Of CEOs On Zelle Fraud In Front of The Senate
Have you ever been in a meeting where you didn't have the fraud stats you were on the hook for? How did that go?
That's pretty much what happened last week when CEOs from many of the largest retail banks in the US appeared on Capitol Hill to get grilled on the impact of Zelle fraud.
Some of the CEOs appeared to be taken off guard when asked about how many frauds disputes customers have made since they launched the product in 2018.
Honestly, it got a little awkward.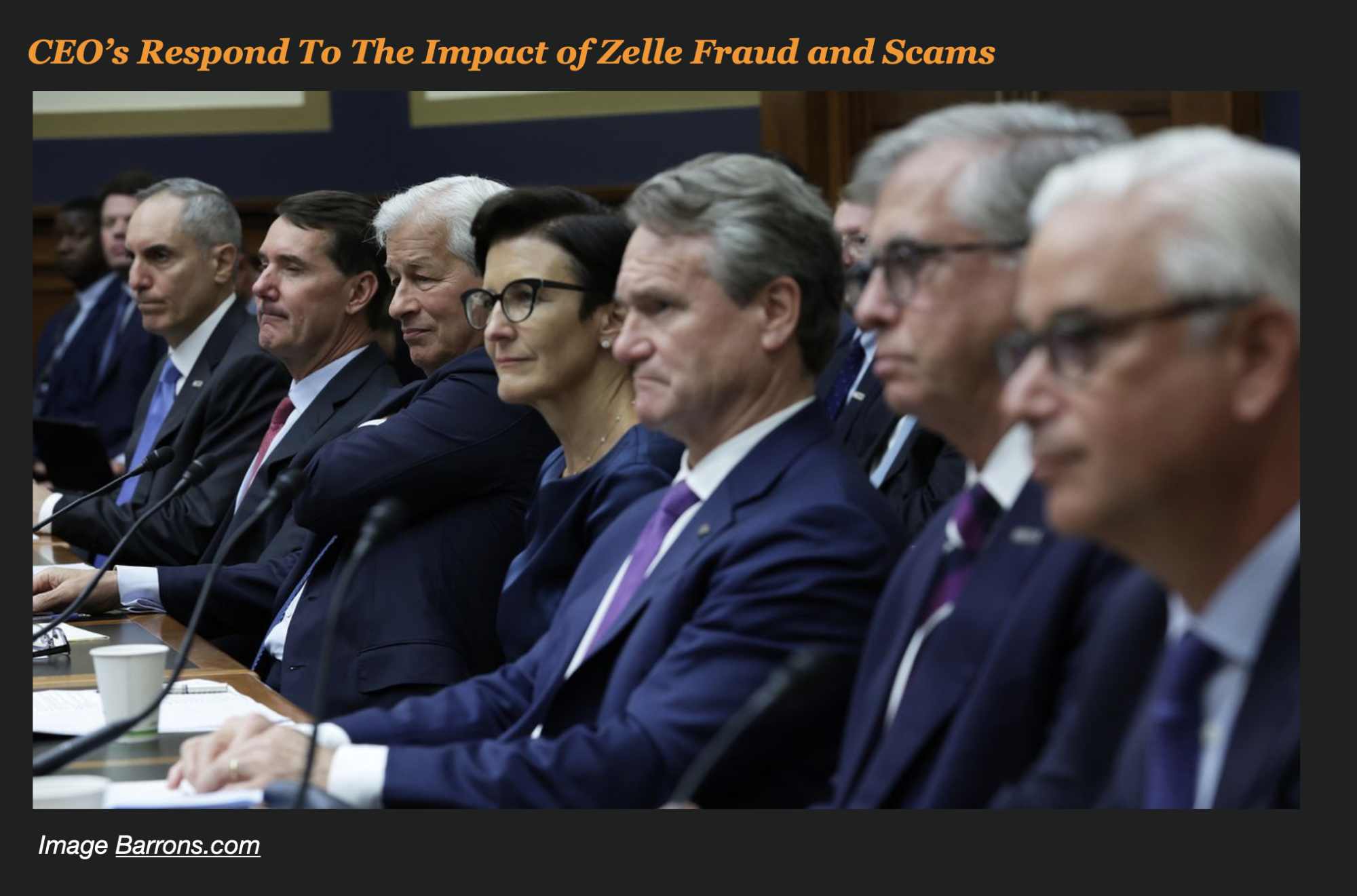 Prompted By Higher Scams and A Push To Reimburse More Customers
The hearings were called because Zelle is now under the microscope.
Zelle, owned by 7 of the largest banks in the country, has been under fire recently since it has become a popular target of scammers.
Banks, on the other hand, have been reluctant to make scam victims whole, citing most of the activity is actually authorized by the consumer.
While banks have been willing to reimburse victims that had their bank accounts hacked to send Zelle payments, most will still not reimburse Zelle payments when the victim is tricked into sending money to a scammer.
In the UK, these are called APP (Authorized Push Payments), and most banks there have reimbursed victims for several years since the government stepped in to force them to.
Many now think the US is headed in the same direction.
Senator Warren – You Created The Perfect Weapon For Criminals
Over the last decade, banks have become America's favorite punching bag. And last week was no exception.
Elizabeth Warren, the Democratic senator from Massachusetts, fired up on the CEO's during the hearing, calling the network "unsafe," claiming Zelle users were defrauded out of $500 million last year.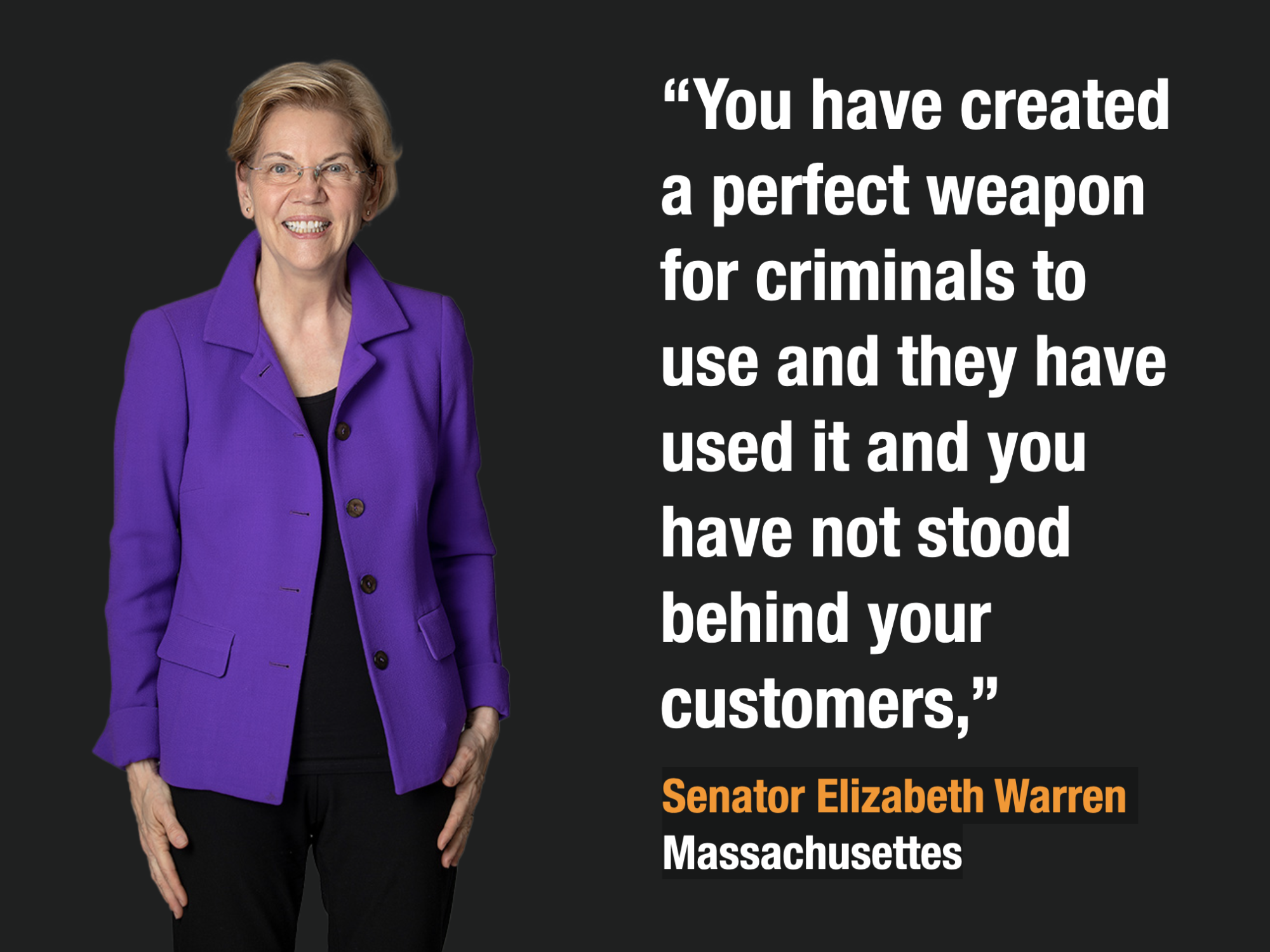 Her beef with the banks is that she believes that they are abdicating responsibility for fraud and shifting the responsibility to consumers.
Chase Bank – We Do Reimburse, But The Amount Of Fraud Is Relatively Small
Banks, on the other hand, don't agree with Warren and cite they do reimburse customers according to the Reg E guidelines.
Jaime Dimon, CEO of Chase, was one of those banks. "We pay anything that is unauthorized", he told the senator. And he added, "What you are really talking about is anything that is authorized transactions that we have an enormous amount of systems to stop. And the amount of fraud is relatively small for this free of charge service".
Warren shot back. "I appreciate the commercial for Zelle, but if I don't have any numbers, I don't have any way to verify that."
Dimon responded, "By the end of the day you will have it."
There Is A Big Gap Between The Bank's View of Zelle Versus Their Customer's Perceptions of Zelle Risk
The exchange between Warren and Dimon is extremely telling about the state of Zelle fraud here in the US for 3 reasons:
Consumers Don't Understand – Most consumers simply don't understand the distinction banks make between scams (authorized) and fraud (unauthorized) and why fraud is reimbursed and scams are not.
Banks Don't Seem To Be Able To Educate Consumers – Banks keep trying to explain the difference to consumers and keep repeating that fraud is not a problem because it is small.
There is No Industry Reporting – 6 of the 7 banks at the hearing couldn't provide the requested fraud reporting to Warren, making it appear that they might not understand the extent of the losses or impact themselves.
So is there a Zelle fraud problem or not? Banks keep saying they are not losing money. Yet consumers keep complaining they are.
In the end, maybe they are both right. And that is precisely the problem we have now.
So, Let's Look At The Zelle Fraud Numbers That We Know Of
The data doesn't lie, so let's look at the numbers.
Historically though, you'd practically have to be Sherlock Holmes to determine an actual fraud rate for Zelle.
There is no standard industry reporting, so you have to follow breadcrumbs, rely on fraud experts in the industry, and search like hell on google.
The senate hearings, however, shredded some light on at least some of the Zelle fraud numbers. EWS and some of the banks reported fraud rates as part of the process.
So here are the data points we have:
#1 – EWS Reported $490 Million in Zelle Fraud in 2021 – That is 9 Basis Points
According to EWS, the company that created Zelle, consumers sent $490 billion through Zelle in 2021, of which an estimated $440 million were lost through fraud and scams.
Using math, we can glean that accounts for about 9 basis points in total fraud and scams. Zelle claims that its platform is 99.9% fraud-free, and its self-reported numbers seem to confirm this.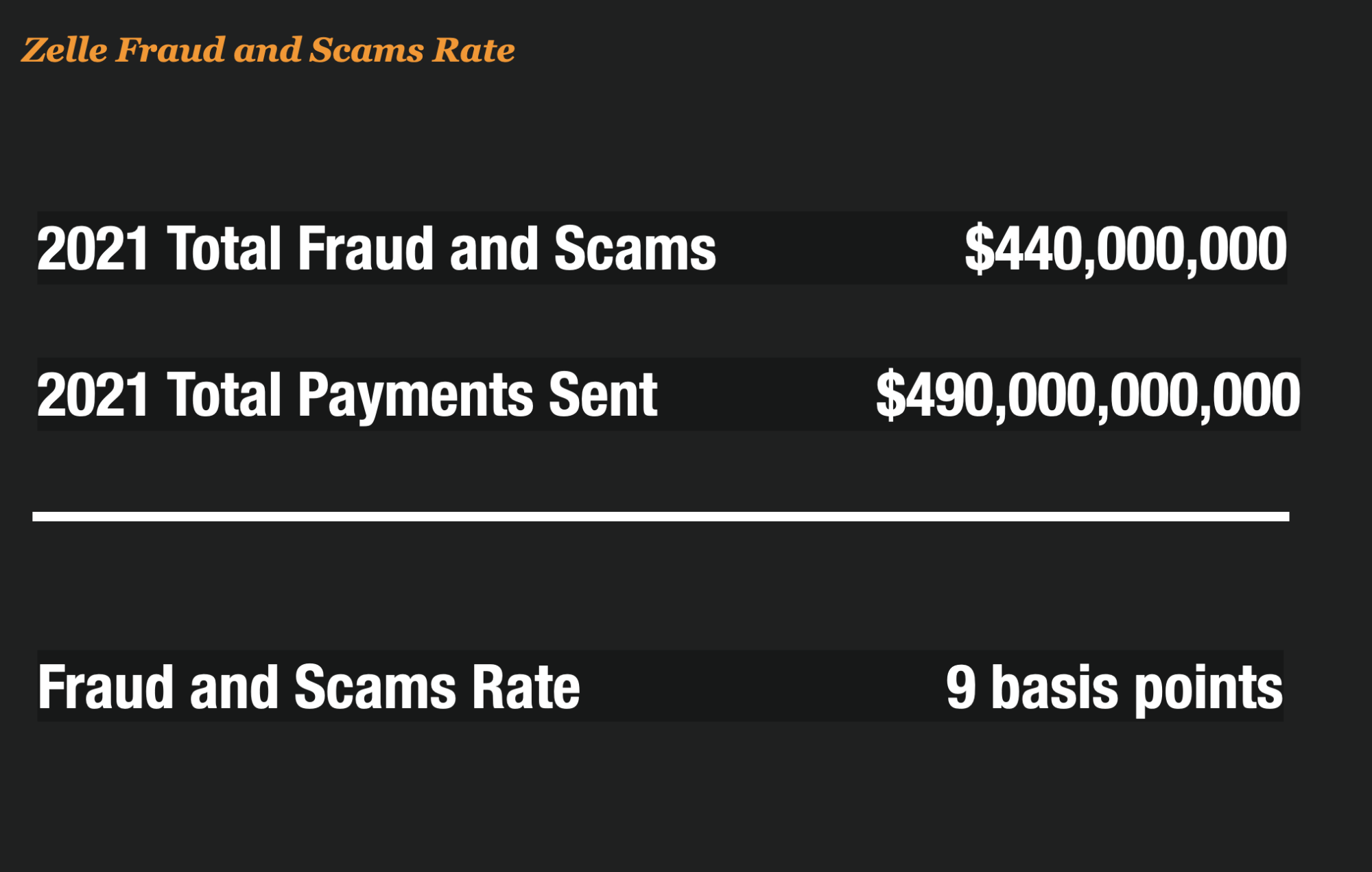 #2 – US Bancorp Reported 7 Basis Points on Fraud (About $9 Million A Year Estimated)
Andy Cecere, CEO of U.S. Bancorp, reported during the hearings that US Bancorp processes $1.1 Billion in Zelle monthly payments on 3 million transactions, of which 7 basis points have fraud involved. On an annual basis, that would be a little over $9 million yearly on about 25,000 disputes.
When asked, he also volunteered that they get about 5 basis points of transactions that are disputed for nonfraud reasons.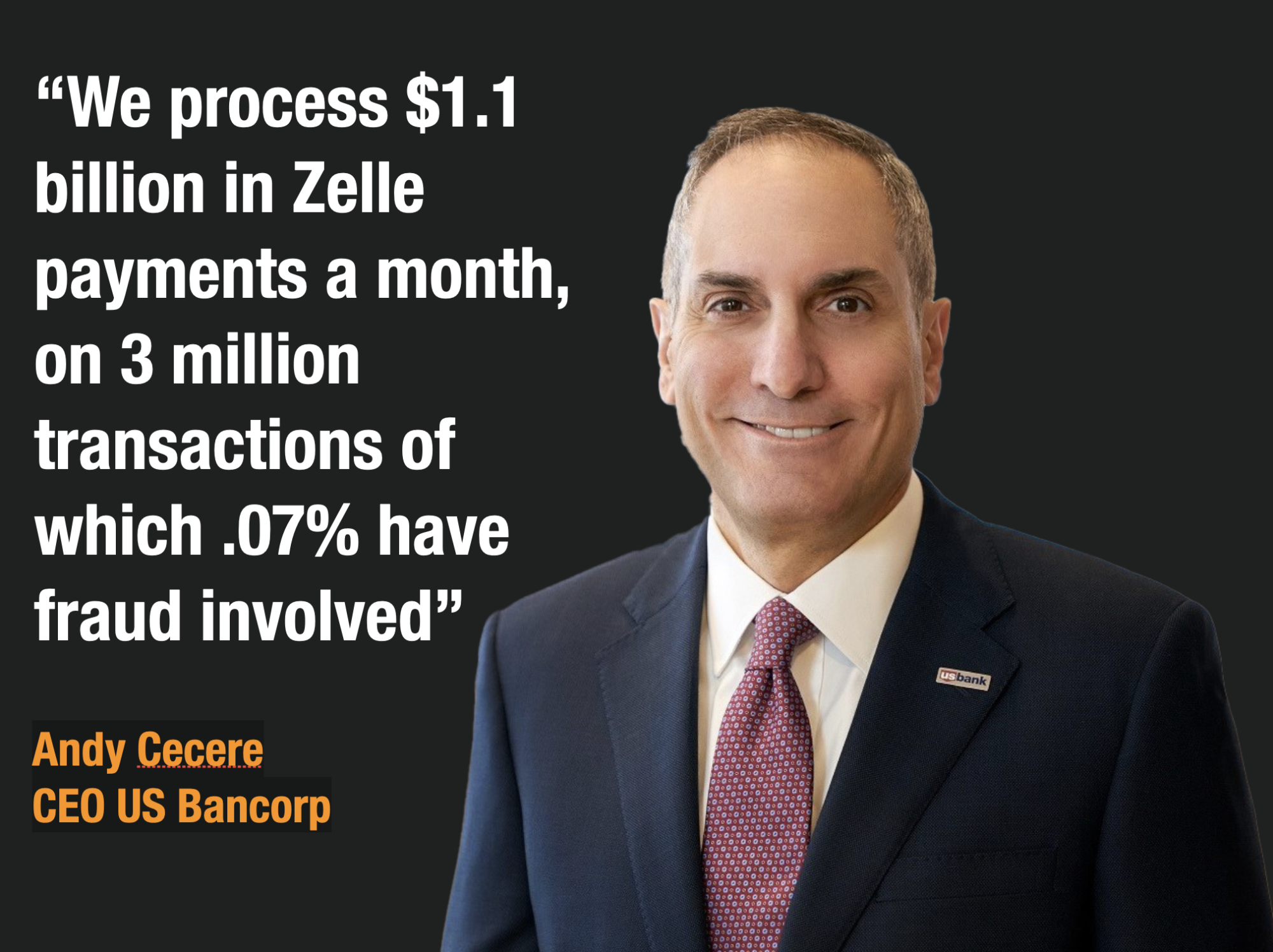 #3 – PNC Bank Reported 6 basis points in total Zelle Disputes
William S. Demchak, CEO of PNC bank, reported that total fraud and scam disputes at the bank run only 6 basis points. He also mentioned that fraud is much lower than scams.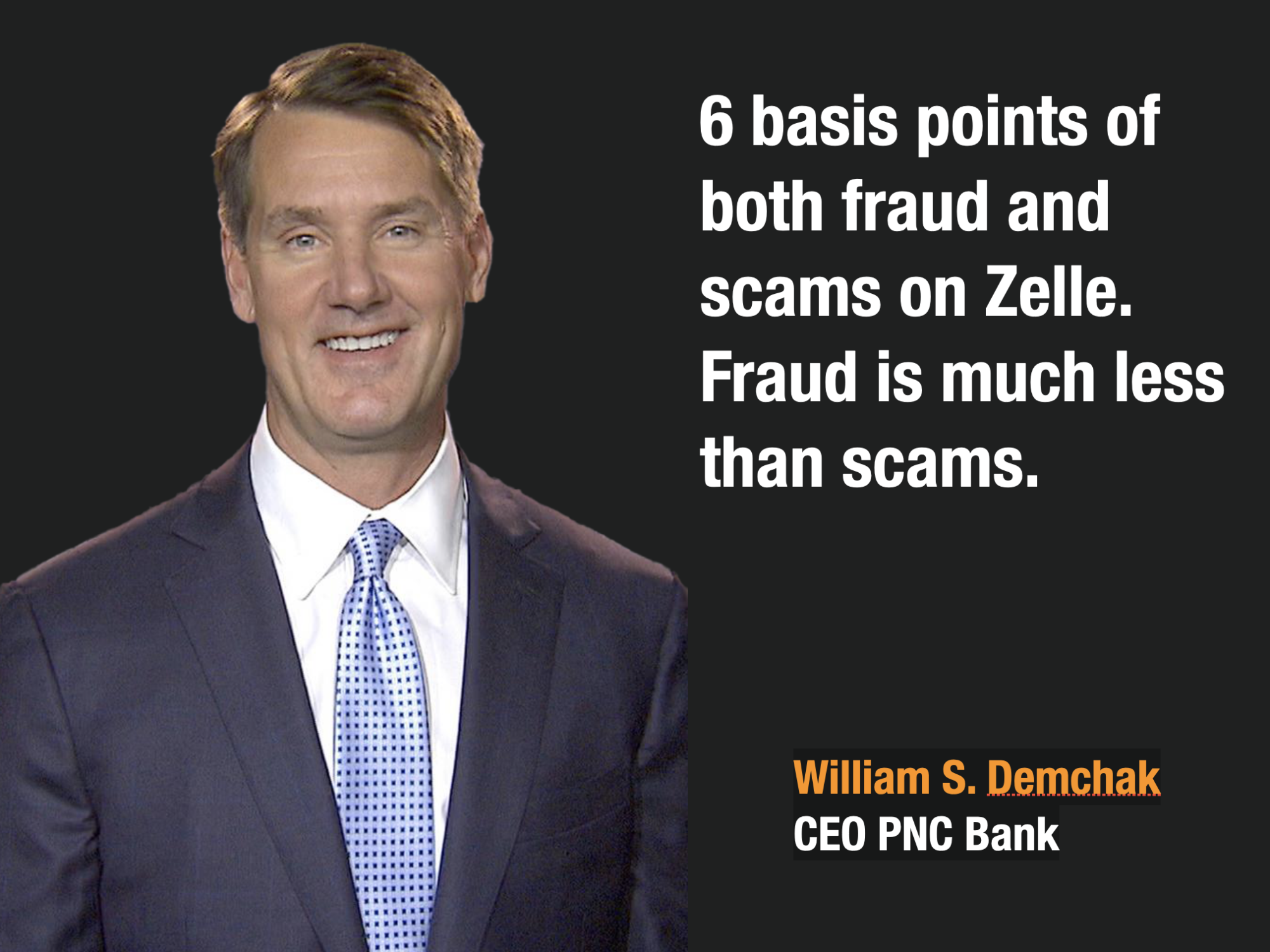 #4 – Truist Bank Reported $46 Million in Zelle Fraud Since 2018 No Basis Points Were Provided
The only bank to report a number that Warren seemed to like was Truist Bank. They self-reported $46 million in total Zelle fraud on 52,000 total claims since the service was launched in 2018.
That is an average of $844 per fraud claim.
If we take each of these data points at face value, then it appears that the fraud rate is somewhere between 6 to 9 basis points at large banks in the US.
These fraud rates would definitely fall within the acceptable range. What I mean by that is that they are not extraordinarily high.
The issue, however, is that smaller banks and credit unions often experience far higher rates of Zelle fraud, particularly when they first launch. For example, I've heard rumors that some unprepared banks have experienced fraud rates of 70% or greater immediately after they implement.
It's True – Zelle Fraud Is Relatively Low To Compared To Other Networks
When banks claim that Zelle Fraud is low compared to other payment networks – that claim appears to be true. At least based on the limited information available.
In 2018, Venmo reported that its fraud rate increased to 40 basis points from its baseline fraud rate of 25 basis points.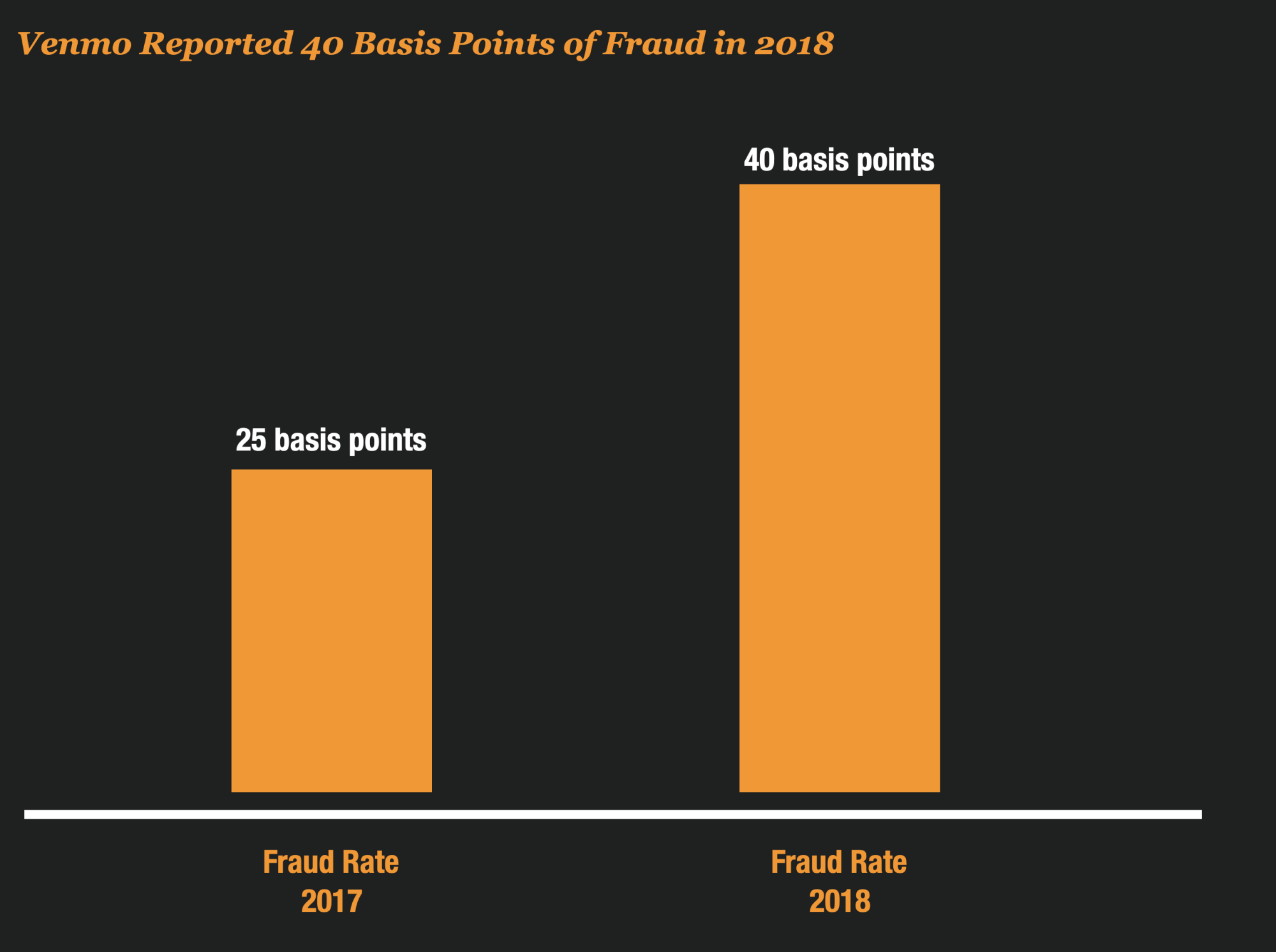 That means that the rate of fraud on Venmo could be 2 to 4 times higher than the rate that banks are reporting through Zelle now.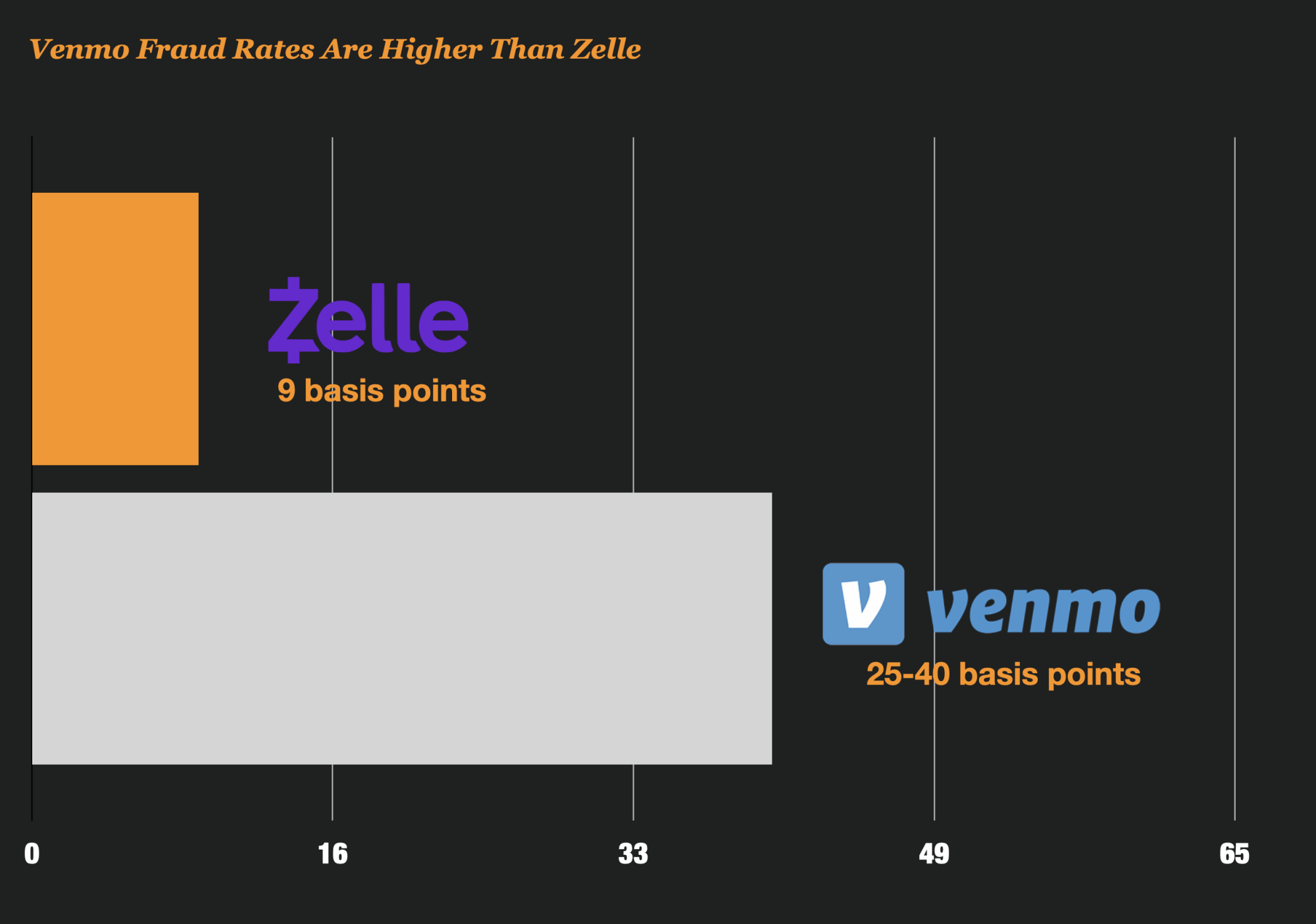 And when comparing the fraud rate against Cash App – the notoriously scam-friendly payment app – the relative safety of Zelle is probably even better.
But Zelle Fraud Is Not Low, Compared Other Banking Channels
While Zelle fraud may be lower than competing payment networks, it doesn't necessarily mean it is safer than other channels within the bank.
In fact, when comparing the Zelle fraud rates to other channels within a typical bank it could be considered high.
Credit card fraud runs 6 to 7 basis points (Nielsen)
Debit/ATM fraud runs 3 to 5 basis points (Nielsen)
Check fraud runs 5-6 basis points (2018 fraud to check volume)
In comparison to these other payment channels within the bank, Zelle is actually a higher and represents greater risk.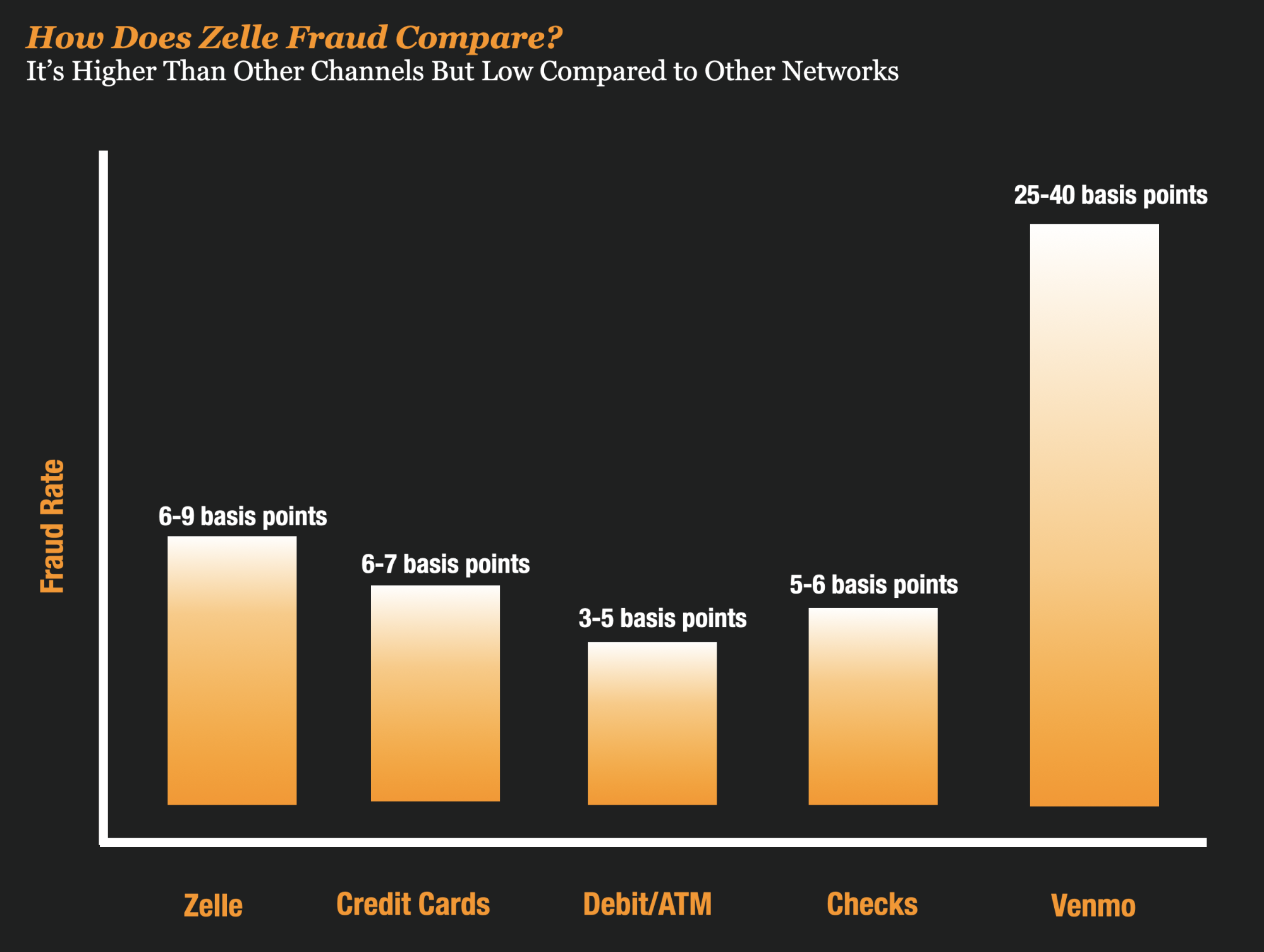 What makes Zelle such a hot button for consumers is that it is actually their own money that is being stolen from them.
So where they might be more forgiving of an instance of credit card fraud where it was never their money to begin with, they are infuriated when a Zelle fraud happens because it drains their bank account.
Zelle Fraud Is Still Low Because Volume Is Still Relatively Low
While the reported fraud losses are relatively low for banks now its important to remember that Zelle is still new. Last year Zelle accounted for about $490 billion in payments and $440 million in fraud.
By comparison, Americans wrote over $27 Trillion in checks last year for probably somewhere in the neighborhood of $16 billion in check fraud.
As Zelle grows, the scale of fraud will grow, and that will only raise the bar for banks as more, and more, and more consumers become victims.
Based on the current growth of Zelle, annual fraud could hit over $1 billion for the payment platform in the next 3 years.
That growth in fraud will only raise the bar for banks.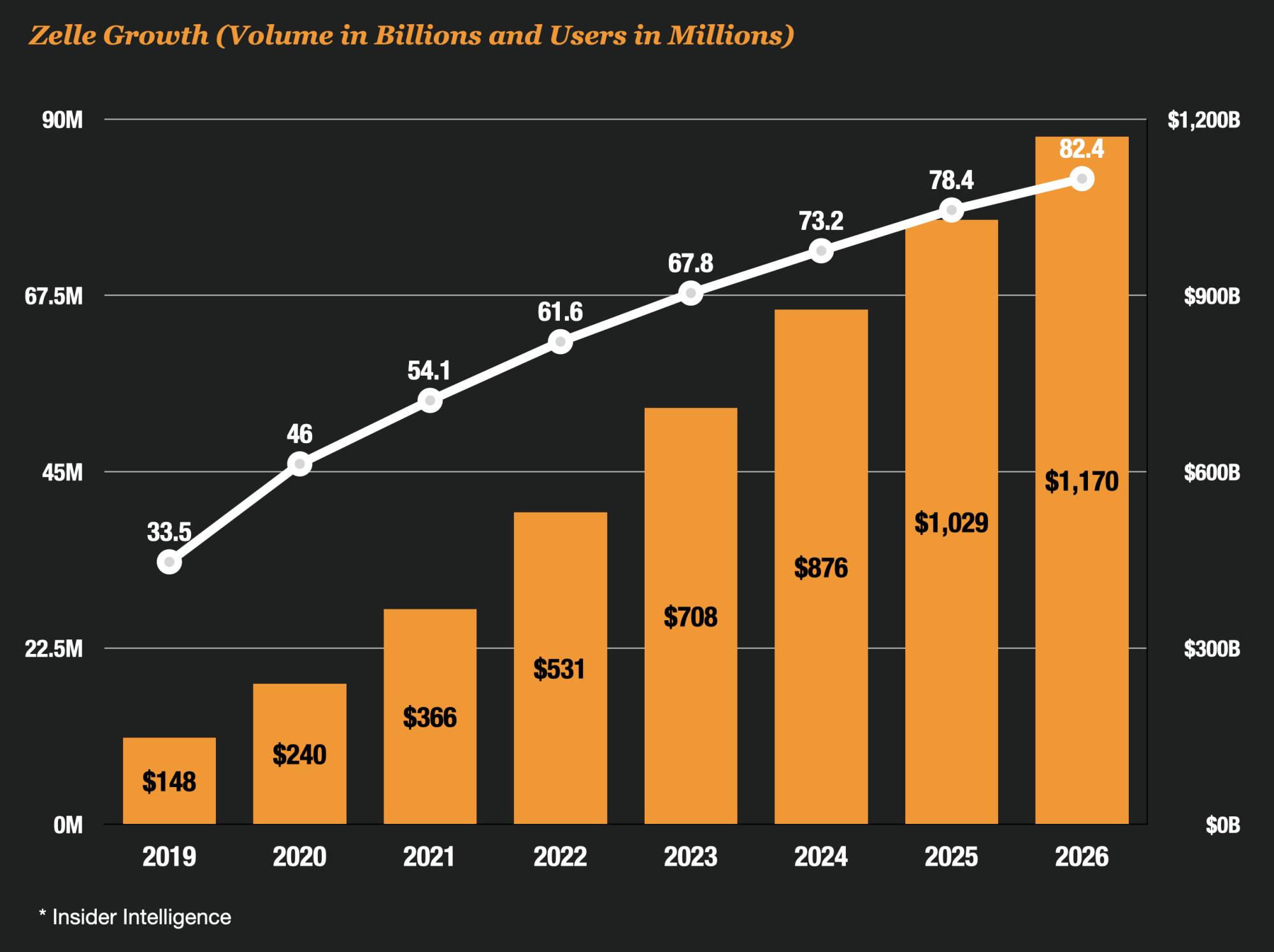 Mary Ann Miller – With Zelle, It's Not Just About The Fraud Rate
Experts like Mary Ann Miller, Global Fraud Fighter and VP at Prove, don't think the statistics quell consumer concerns.
The fraud perpetrated with Zelle payments is part of a wider net of pain consumers feel about fraud on their bank accounts.
"It's not just about the Zelle fraud rate," Miller states, "When Zelle fraud is left unchecked, it results in consumers being victimized far beyond just that Zelle payment. They are more likely to be victimized by identity theft, synthetic identity, check fraud and account takeover."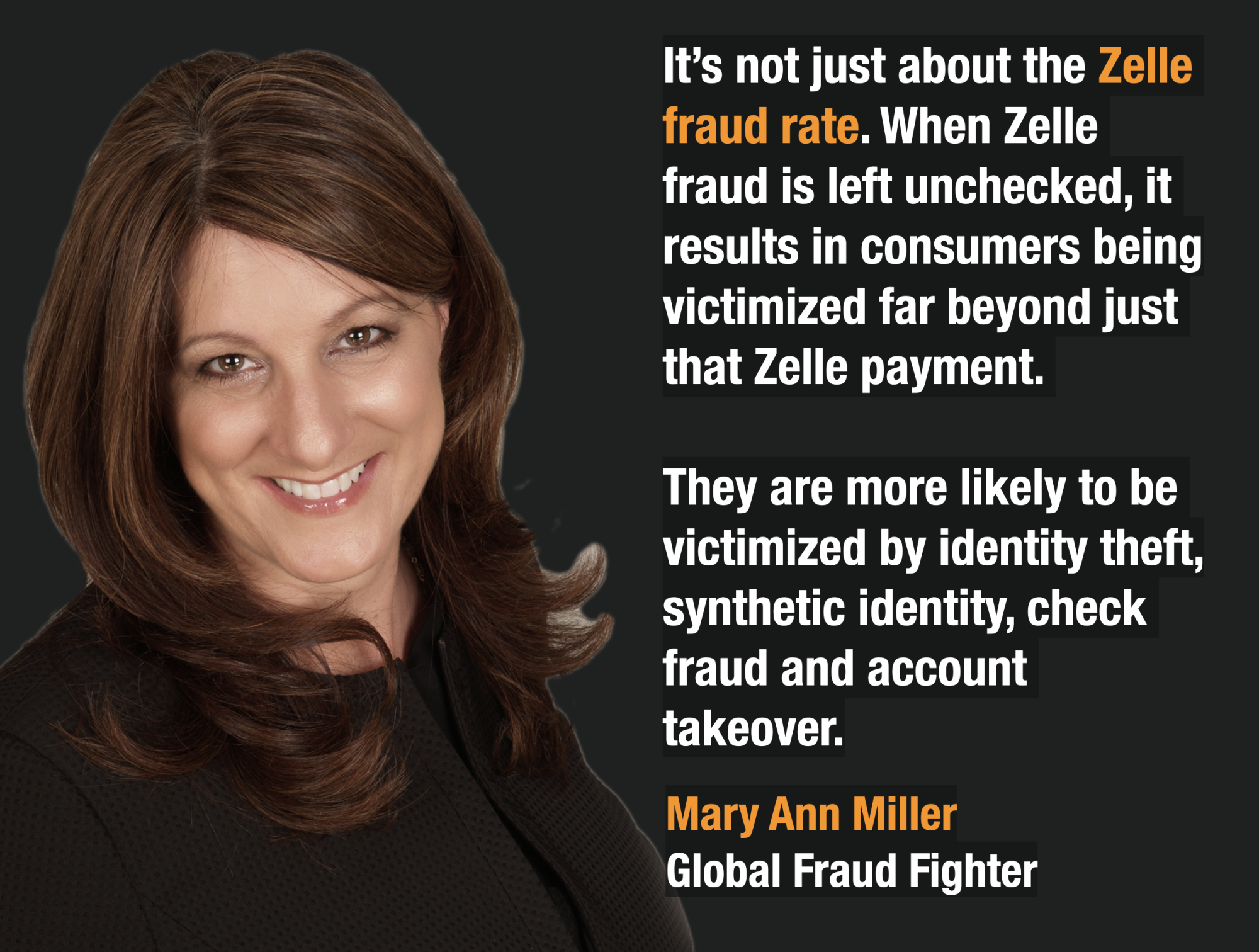 Jake Emry – This Is Bigger Than Zelle, This Is The Whole System
To Jake Emry, Fraud SME at Actimize, Zelle fraud is just the canary in the scam coal mine.
To Emry, it's easy to point the finger at Zelle and say, "that's the problem; get rid of it." But to Emry, that won't change a thing.
"The whole system needs to be scrutinized, not just Zelle, says Jake Emry, "Banks are often the targets of consumers' fury, but really, more attention should be given to the broader system in which these scammers thrive. We need to bring the Social Media platforms, Telco, Messaging platforms, and Search Engines into the fight against scams and not just have banks shoulder all the burden".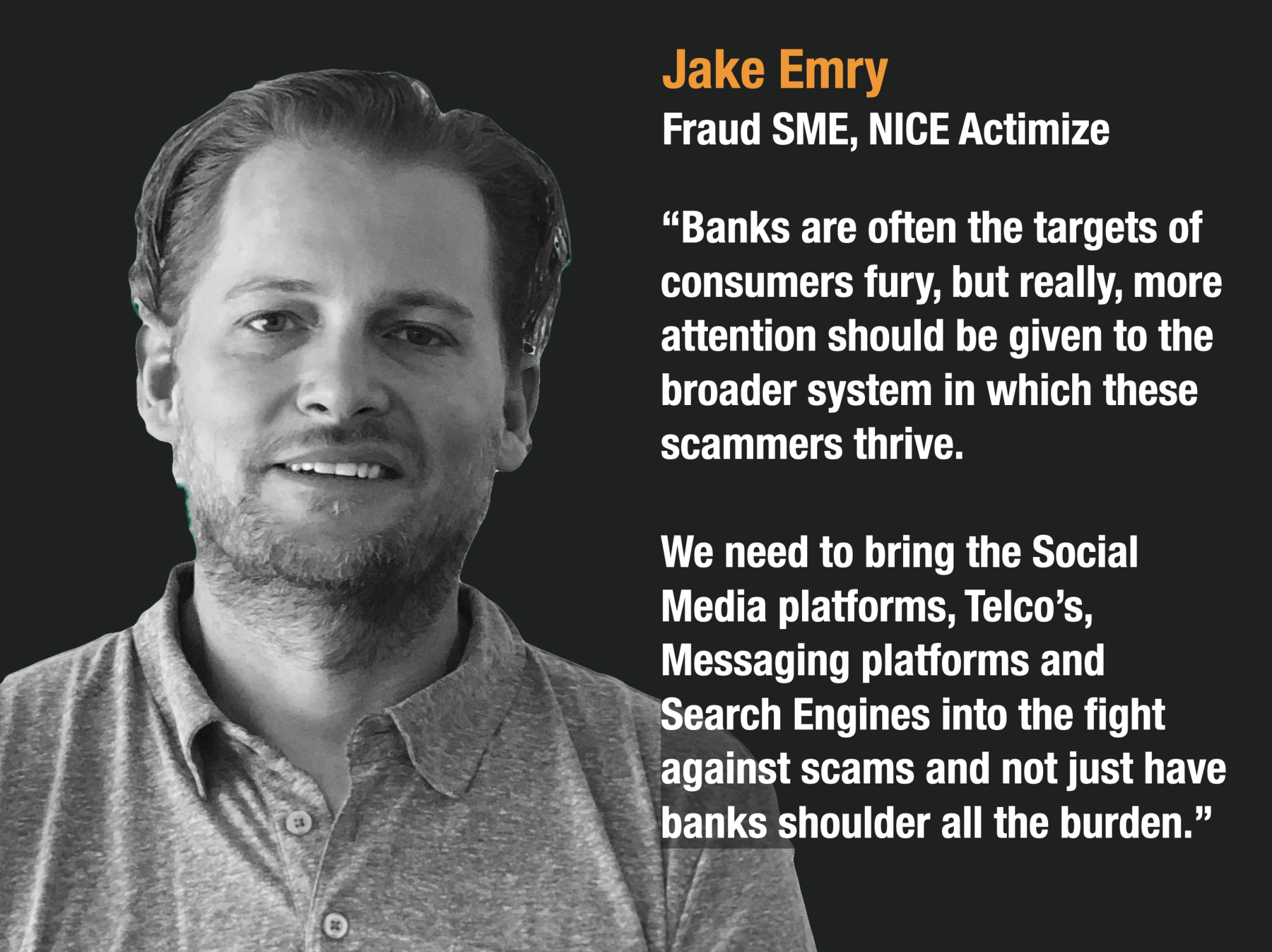 Consumers Don't Care About Fraud Rates – They Care About Impact To Them Personally
Perhaps the biggest learning for banks coming out of the senate hearings should be that the average consumer could care less about the relatively low rate of Zelle fraud.
Whether it's 7 basis points or 70 basis points, what matters to them is how it impacts them personally. What they want is for banks to protect their money. That's why they go to the bank in the first place.
As the Zelle product continues growing – as it should – the impacts of fraud and scams will only grow. And as they do, consumers' confidence in banks being able to protect their money will erode.
Banks might want to get ahead of that.