Australians are being scammed out of $33 Billion a year and the Labor Government is vowing to launch major initiatives to crack back on scammers.
A report by the Daily Mail, indicates that Australia's Cyber Security Centre has revealed scams more than doubled in 2020 before doubling again this year.
Things are getting bad down under.
A Flood Of Scams After COVID is Prompting Government Action
The rate of scam calls in Australia has exploded since the pandemic began.
Financial losses from phishing schemes that trick people into giving out personal information, for example, are up 261 percent in 2021, compared with last year.
And when people are scammed, the average loss has skyrocketed. The average loss for 2021 is about $11,000 compared to $7,000 for the same period in 2020.
Experts in Australia believe that the huge increase in scams is due to the fact that more Australians are working from home or are isolated and are much more prone to be victimized by scams.
More Needs To Be Done To Help Victims
Just like their counterparts in the US and the UK, the Australian government is stepping up efforts to push businesses to do more to stop scams.
The movement to push companies to combat scams now appears to be a global effort by governments world-wide.
Shadow assistant treasurer Stephen Jones thinks businesses and social media companies need to be penalized for not doing more to help consumers that are victims
Australians are being smashed by scammers and fraudsters, the government is either disinterested or incapable of doing about it,' he said.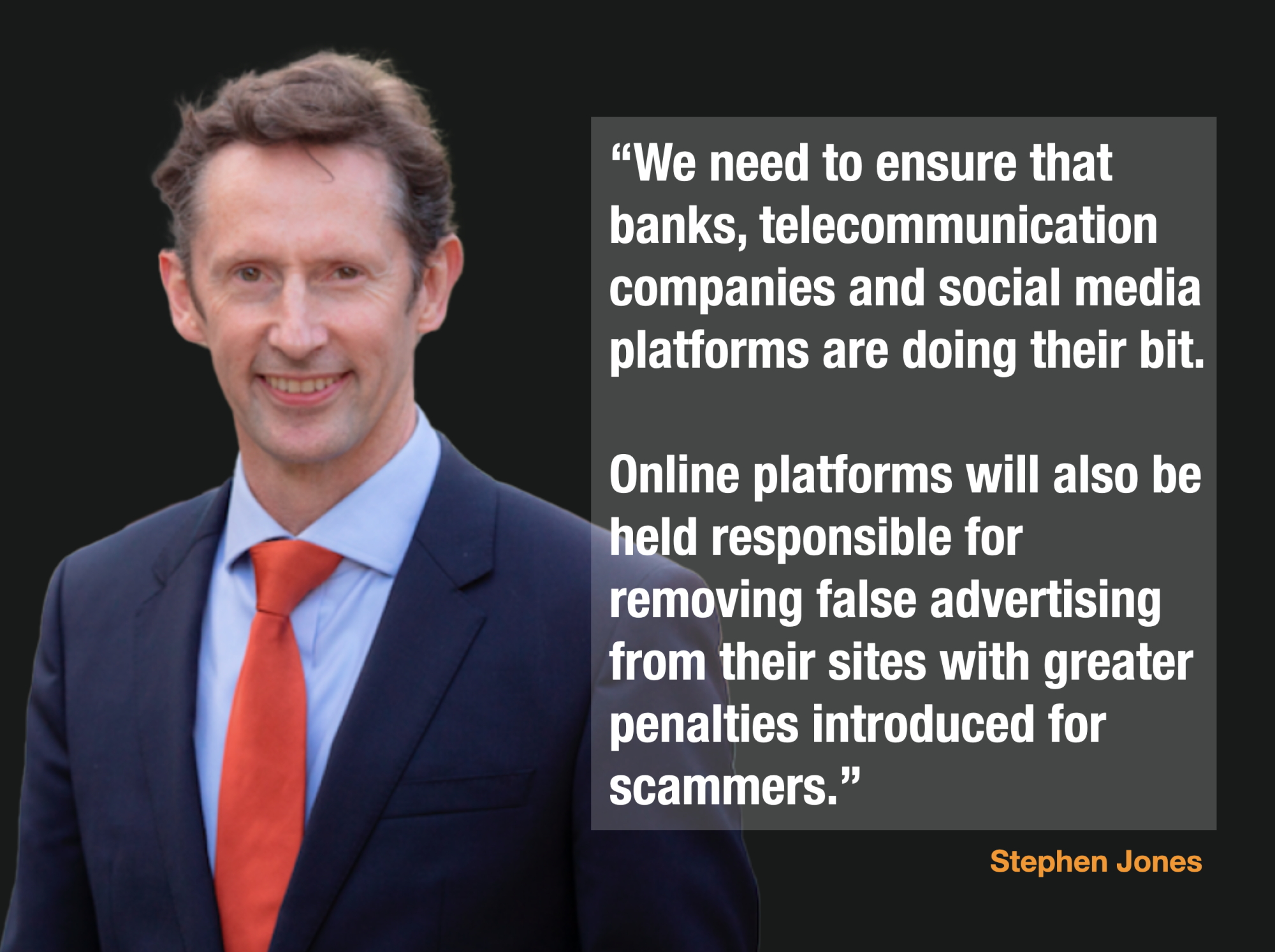 The Party Will Setup A National Anti-Scam Centre
One of the primary actions the labor party is setting up is an Anti-Scam center which will be modeled off of similar centers that were established recently in the UK.
The center will be a "Fusion Cell' and fuse efforts from law enforcement, banks, telecommunications providers, and consumer advocates to bolster national defenses.
The Scam Center Will Have 6 Additional Directives to Help Australians Fight Scams
But the party intends to go well beyond just setting up the center, they have vowed to take immediate action and engage in the following steps:
Double funding for identification recovery services to help Australians who have fallen prey to scammers get their stolen ID back quicker;
Work through National Cabinet to make it easier for government agencies to work together to recover people's government-issued ID, like licenses and passports;
Bring in tough new industry codes for banks, telecommunications providers, social media providers and Government agencies to clearly define responsibilities for protecting consumers and businesses online;
Review penalties for perpetrators and remedies for consumers currently in place for online fraud, misleading conduct and deceptive practices;
Ensure that technology platforms who profit from the sale of online advertising are made responsible for the prompt removal of scam advertising from their sites;
Task a Minister with direct portfolio responsibility for championing the protection of consumers and businesses online.
Each of these activities will significantly help Australians that have been victimized by scams.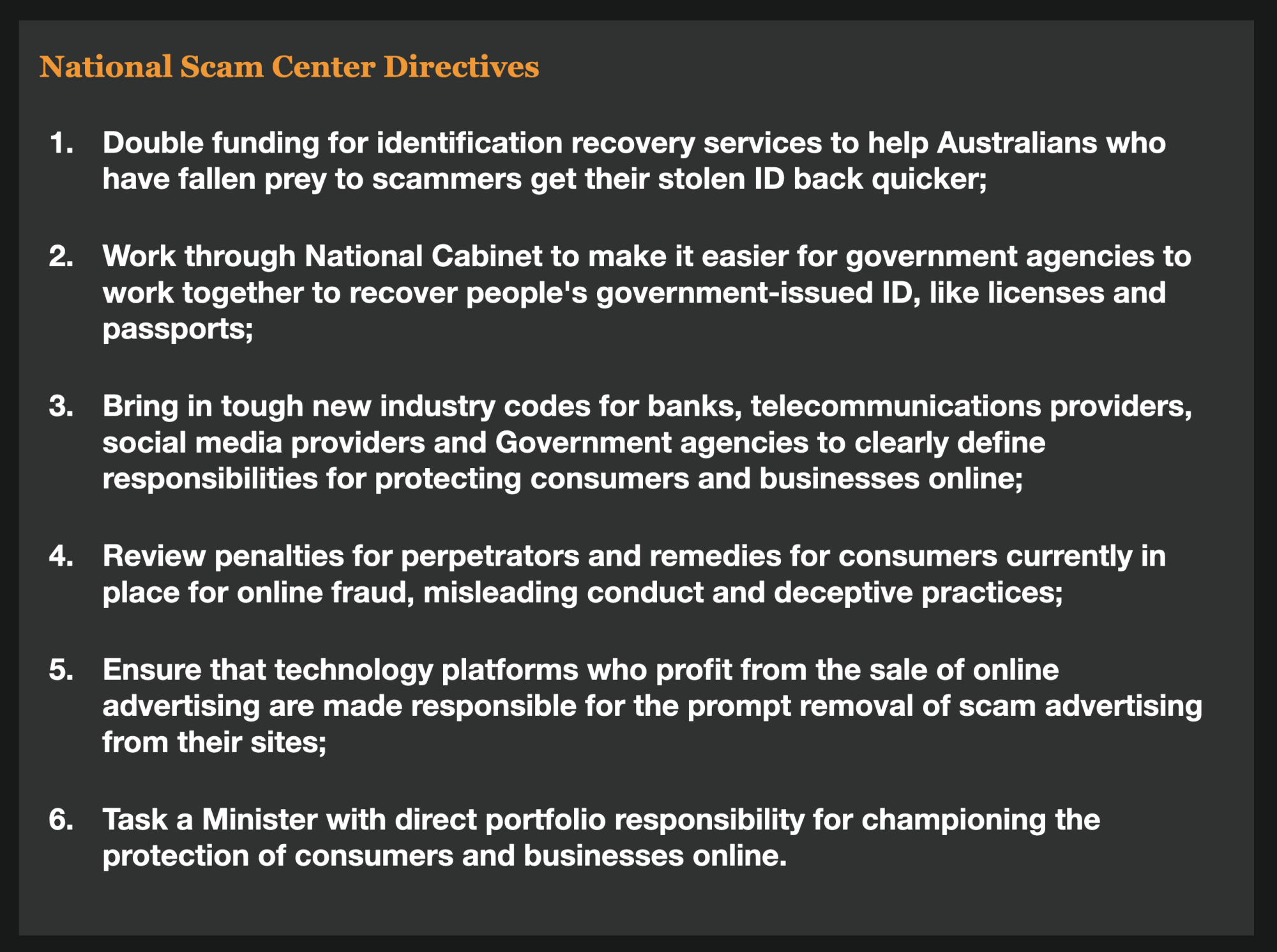 A Global Trend Is Shaping Up
Australia is yet another example of how governments are starting to step in as the rate of scam victims world-wide increases.
Here in the US, the CFPB has started issuing guidance to banks to protect consumers from scams, and in the UK the government has been pushing private companies and banks to do more since 2016.
We'll see if the trend continues.