Stimulus Checks. Everyone is anxiously awaiting them. And, if you are among the 264 million American's that will receive one you might want to be on alert.
Fraud experts are predicting that those $1,200 checks are a fraudsters delight – flooding bank accounts with potentially billions in dollars to steal.
And with the IRS opening up a website for nonfilers to put their bank account details, this is sure to be a doozy of fraud activity.
$290 Billion in Fast Funds Could Create Fast Fraud
Over $290 Billion in direct payments to individuals and families are expected to begin in as little as 2 weeks.
The sheer volume and speed of those payments will attract fraudsters that are looking to grab as much of those funds as they can.
"If there is anything we know from experience," advises Maryann Miller Global Fraud Expert, "is that fast money equals fast fraud. We can expect that each channel the government uses to send those funds will be attacked and that includes ACH, Prepaid Cards and the physical checks."
It's expected that 50% of Americans will receive their funds via ACH direct deposits into their bank accounts. Those people will receive their payments first and in the next 2 weeks.
For the other 50% of Americans that do not have direct deposit, the funds will be dispersed through Debit or Prepaid Cards or Physical checks mailed to their address. For those people, they can expect their payments in 3 weeks to 2 months.
The IRS indicated that they will set up a website to collect information from people that have not received direct deposits so that they can provide the necessary information.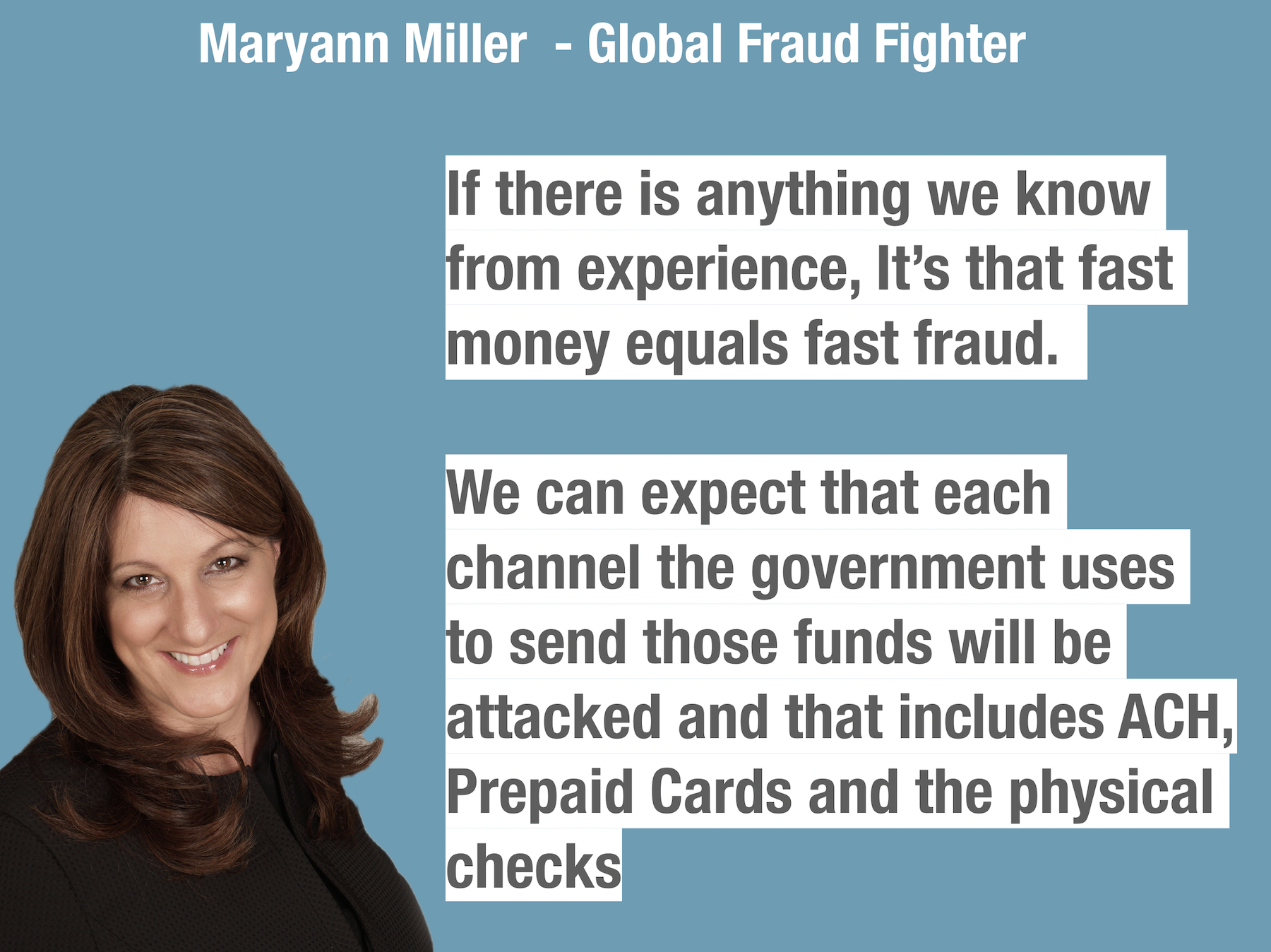 Fraud On Stimulus Payments Will Follow Classic Patterns
To understand the future of fraud, just look to the past. That's the advice that the Godfather of Fraud Consulting Wes Wilhelm, once gave to me many years ago.
Wes Wilhelm is somewhat of a legend in fraud, having consulted with hundreds of banks and companies on their fraud strategies.
"With the passage of the stimulus package, banks need to prepare for an influx in fraud due to counterfeit stimulus checks, remote deposit fraud, and prepaid card fraud." indicated Wes Wilhelm, "From my past experience when benefits checks have been sent out en masse we have seen high rates of manipulation and counterfeiting. Fraudsters will do things like change check amounts from $1,400 to $14,000, or counterfeit the checks and remotely deposit them across many banks in succession. We can expect tens of thousands, if not millions of attempts to defraud consumers and lenders with these stimulus checks"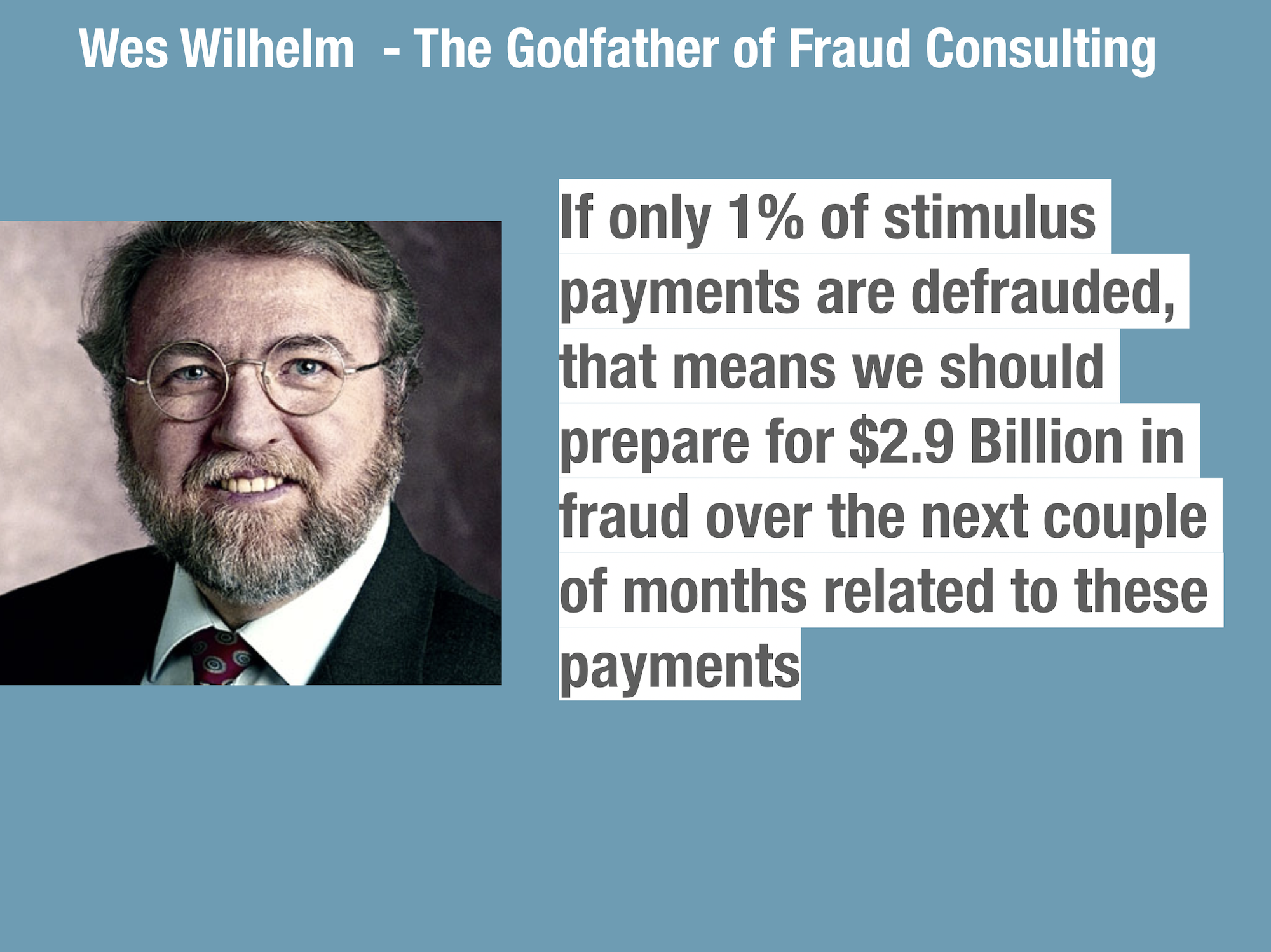 Top 7 Fraud Trends To Prepare For With Stimulus Payments
So what schemes should we prepare for? Our fraud experts outlined them out here.
#1 – Bogus Stimulus Check Fraud
Reports are already flooding from individuals receiving bogus stimulus checks in the mail. In one particular case, an auto dealership used the bogus stimulus check mailing to lure unsuspecting consumers the lot to purchase cars under the "Automotive Stimulus Program". The check looked real but it was actually a "discount" towards the purchase of a used car.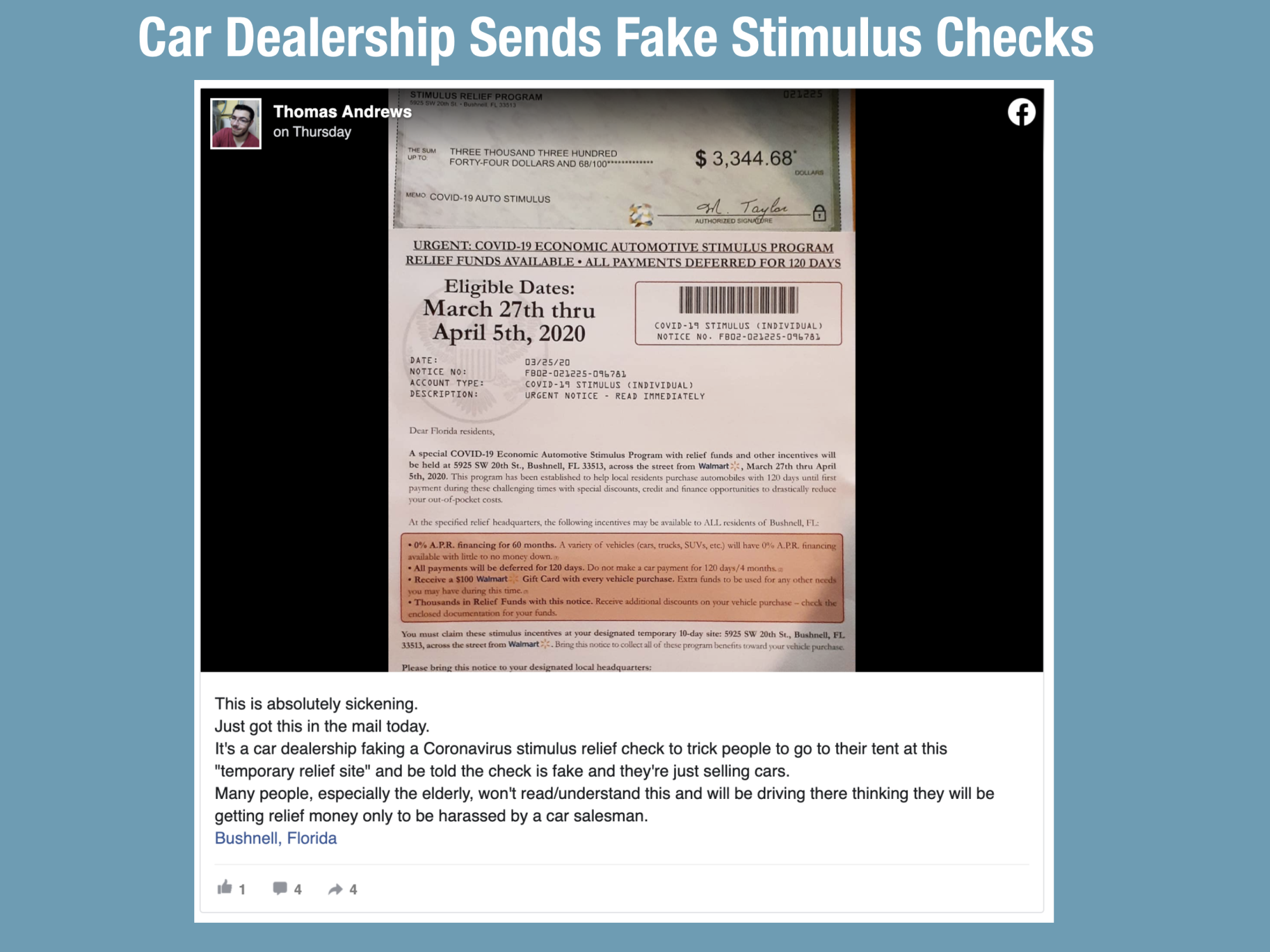 #2 – Counterfeit Check Fraud
Fraudsters will take advantage of the 240 million checks that will be in circulation to seed counterfeit checks in the system. They may rely on realistic-looking counterfeit checks using the same routing information into fooling banks and companies into cashing the counterfeited checks.
#3 – Altered Check Fraud
In the past, government benefit checks have often been altered to show a much higher amount. This could be the case with stimulus checks as well and experts are warning banks to be on guard.
#4 – Mail Theft Check Fraud
About 3 basis points of government checks are stolen in the mail each year. With an estimated 150 million stimulus checks being sent through the mail that means approximately 450,000 checks totaling $540 Million will be stolen and cashed or deposited into bank accounts.
#5 – Remote Deposit Fraud
With 2 billion in remote deposit fraud happening on US bank accounts, we can expect an influx in remote deposit fraud from borrowers depositing stimulus checks through multiple channels at the same bank, or through different banks in rapid succession through their banking apps.
#6 – Prepaid Card Fraud
The IRS will allow people to get their stimulus payments through a prepaid debit card in some cases. Fraudsters will use this feature to misdirect individuals' stimulus payments to themselves. Fraudsters prefer to use prepaid debit cards from Greendot or Walmart.
#7 – ACH Fraud
The IRS has indicated that they will set up a website for individuals that did not receive direct deposits to provide their information to receive their stimulus payments. Fraudsters have been using direct deposit for years for fraudulent tax refunds so expect them to do the same with Stimulus checks.
The most common scheme could be misdirecting stimulus checks to fraudulent or bogus bank accounts.
Update: Falsified Tax Returns and Web-Based Portals
The IRS continues to update its process for getting stimulus payments. The IRS indicated that individuals will not be receiving a check if they have not filed an IRS tax return in 2018 or 2019. This will inevitably lead to an increase in falsified tax returns and identity theft.
Additionally, the IRS will be launching a web-based portal where consumers can input their banking details. As you know, this will lead to high rates of fraud by diverting ACH to fraudsters accounts.
Here is a nice video that breaks down the IRS's process.
Download the Infographic
Download the infographic here – Stimulus Check Fraud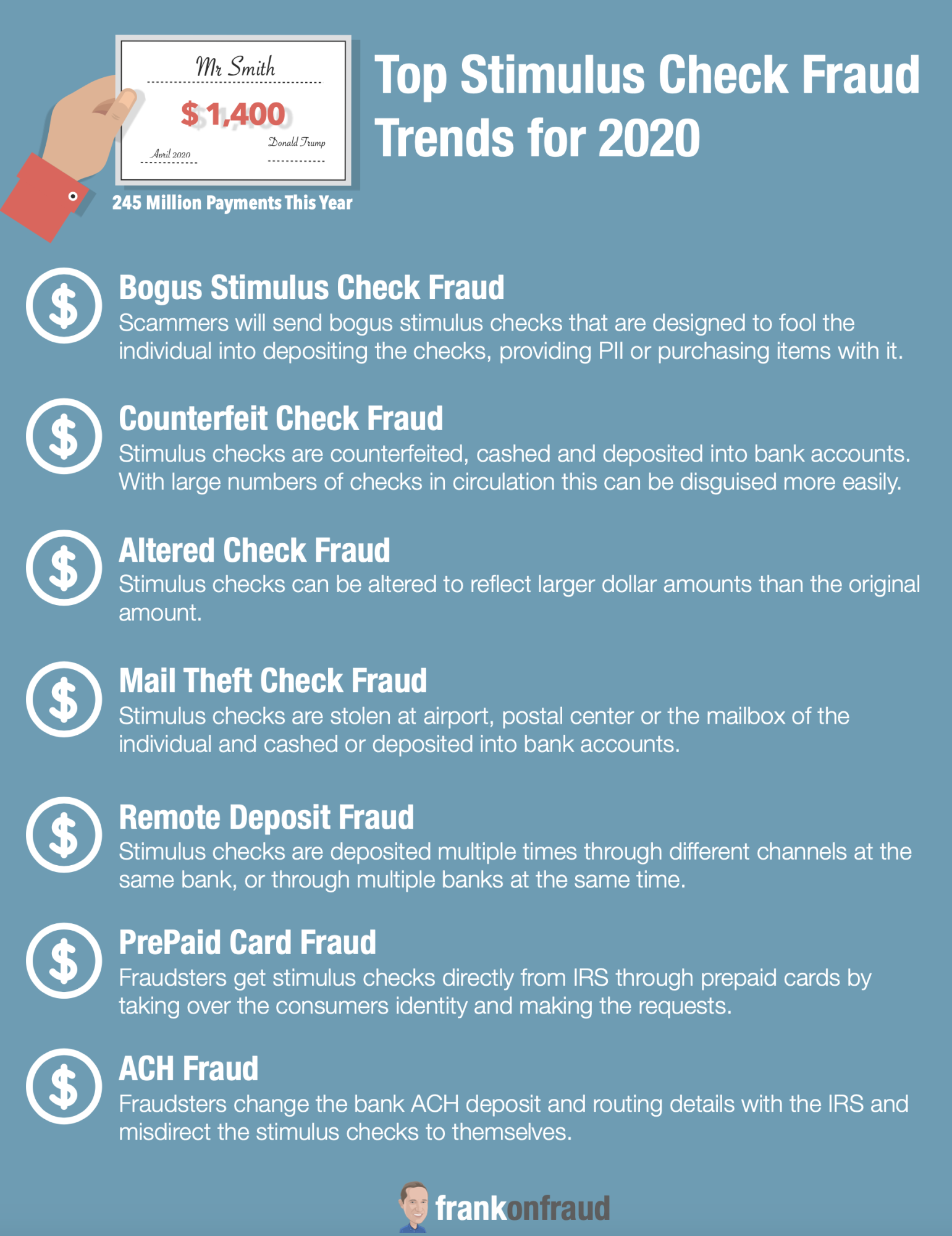 Thanks for reading.