It looks like Wells Fargo may finally be closing the chapter on some of the darkest days in their long history.
The fraud began over 18 years ago, and yesterday Wells began to close the chapter by admitting their wrongdoing and agreeing to pay a massive fine.
Yesterday the DOJ announced that Wells agreed to pay $3 billion to resolve their potential criminal and civil liability stemming from a practice between 2002 and 2016 of pressuring employees to meet unrealistic sales goals that led thousands of employees to provide millions of accounts or products to customers under false pretenses or without consent, often by creating false records or misusing customers' identities.
It could be called the largest identity theft case in history. And it wasn't orchestrated by a criminal empire, but by a bank with 70 million customers.
It Was Never Intentional Fraud, But A Toxic Sales Culture To Push 8 Products to Each Customer
This case of fraud was never the intention of the bank. But it was the outcome based on the toxic sales culture they created.
Wells Fargo wanted to become the #1 Cross-Selling Bank in the US and they were hell-bent on doing just that. So they created sales initiatives and targets.
Employees were badgered and pressured by managers to make sure that customers opened up multiple accounts at Wells Fargo since it was part of a program called "Gr-Eight" (a program to push to 8 products for each customer).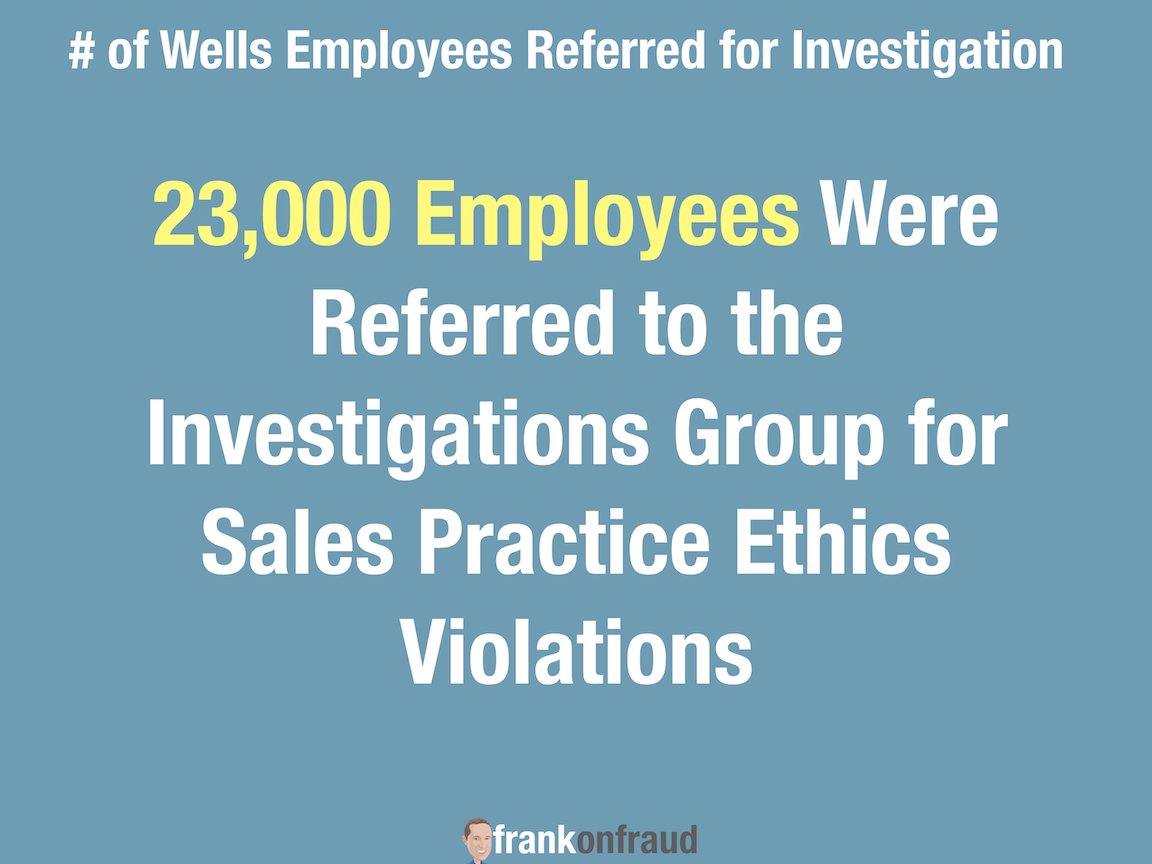 Employees would engage in multiple behaviors which would cause harm to customers such as;
SandBagging – Stockpiling applications for products that customers requested for the next sales cycle so they could maintain their quotas across time.
Pinning – Setting up ATM and PIN numbers for online banking accounts that the customer never requested. This often required the employee to fraudulently request new cards and supply fake information such as email addresses on the Wells Fargo system.
Bundling – Incorrectly advising customers that they could only get certain services if they bought other services that came in the bundle.
Between 2011 and 2016, over 23,000 Wells Fargo Employees were referred to the investigations team for sales practice ethics violations. That is literally 10% of the entire company.
So how did this widespread Ghost Account Fraud Nightmare happen?
Wells Spelled Out How The Fraud Happened In Detail Yesterday
A 16-page statement of facts accompanying Wells Fargo's agreement with the DOJ was released yesterday. The statement details Wells Fargo's course of conduct over 15 years which included "gaming the system".
Here are some of the admissions Wells made in that statement.
#1 – They Created A Cross-Sell Metric Which They Religiously Monitored
Wells Fargo reported to investors that they wanted to be the #1 Cross Sell Bank in the US. So they created a metric called the Cross-Sell Metric which is the ratio of the number of accounts and products per retail bank household.
That metric drove everything in the bank because it was key to Wells Fargo's stock price and growth.
#2 – Executives Were Paid Bonuses Based on This Metric Rising
Executives were compensated if the metric rose. Their bonuses were contingent on that Cross-Sell Metric rising each quarter.
#3 – Executives Were Made Aware of The Fraud But Ignored It
In a 2004 email, an internal investigation manager described his efforts to convey his concerns about increasing sales practices problems to executives but they ignored him. In his email he indicated that – "I just want the executive to be constantly aware of this growing plague." In 2005, the corporate investigations manager described the problem as "spiraling out of control."
#5 – Employees Created False Records and Forged Customers Signatures
Employees created false records and forged customers' signatures on account opening documents to open accounts that were not authorized by customers.
#6 – Employees Created False PIN numbers to Make it Look Like Customers Activated Debit Cards
After opening debit cards using customers' personal information without consent, employees falsely created a personal identification number ("PIN") to activate the unauthorized debit card. Employees often did so because the Wells Fargo rewarded them for opening online banking profiles, which required a debit card PIN to be activated.
#7 – Employees Simulated Funding of Accounts
Employees created false records by opening unauthorized checking and savings accounts to hit sales goals. They then transferred funds to the unauthorized account to meet the funding criteria required to receive credit for "selling" the new account. To achieve this "simulated funding," employees often moved funds from existing accounts of the customers without their consent.
#8 – Employees Created Ghost Credit Card Accounts
Employees opened unauthorized consumer and business credit card accounts without customer authorization by submitting applications for credit cards in customers' names using customers' personal information
#9 – Employees Created Ghost Bill Pay Accounts
Employees opened bill pay products without customer authorization; employees also encouraged customers to make tests or "token" payments from their bill pay accounts to obtain employee sales credit (which was only awarded for bill pay accounts that had made a payment).
#10 – Employees Changed Customers Contact Information, Often to Their Own To Prevent Detection by Customers
Employees at times altered the customer phone numbers, email addresses, or physical addresses on account opening documents. In some instances, employees did so to prevent the customers from finding out about unauthorized accounts, including to prevent customers from being contacted by the Company in customer satisfaction surveys. Millions of non-Wells Fargo-employee customer accounts reflected a Wells Fargo email address as the customer's email address, contained a generic and incorrect customer phone number, or were linked to a Wells Fargo branch or Wells Fargo employee's home address.
#11 – Employees Persuaded Customers To Open Accounts They Did Not Need
Employees also intentionally persuaded customers to open accounts and financial products that the customers authorized but which the employees knew the customers did not actually want, need, or intend to use. There were many ways in which employees convinced customers to open these unnecessary accounts, including by opening accounts for friends and family members who did not want them and by encouraging customers to open unnecessary, duplicate checking or savings accounts or credit or debit cards
#12 – 23,000 Employees Were Referred to Investigations Department for Sales Practice Investigation
Astoundingly, 23,000 Wells Fargo Employees were referred to the investigations department for sales practice violations in a 5 year period.
Wells Fargo has approximately 230,000 employees so 10% of their employee base was suspected of committing sales practice violations that required a fraud investigation.
In the end, 5,300 employees were terminated for egregious violations by the company.
Download the Statement of Facts Here
If you want to read the statement you can download it here.