Curbstoning is the act of selling used vehicles under the false pretense of being the car's owner in order to evade city or state regulations imposed on authorized automotive dealers. But it can also involve individuals that try to skirt state dealer licensing laws by "borrowing" legitimate dealers licenses to sell cars.
It's big business and some states are cracking back at Curbstoning individuals in a big way.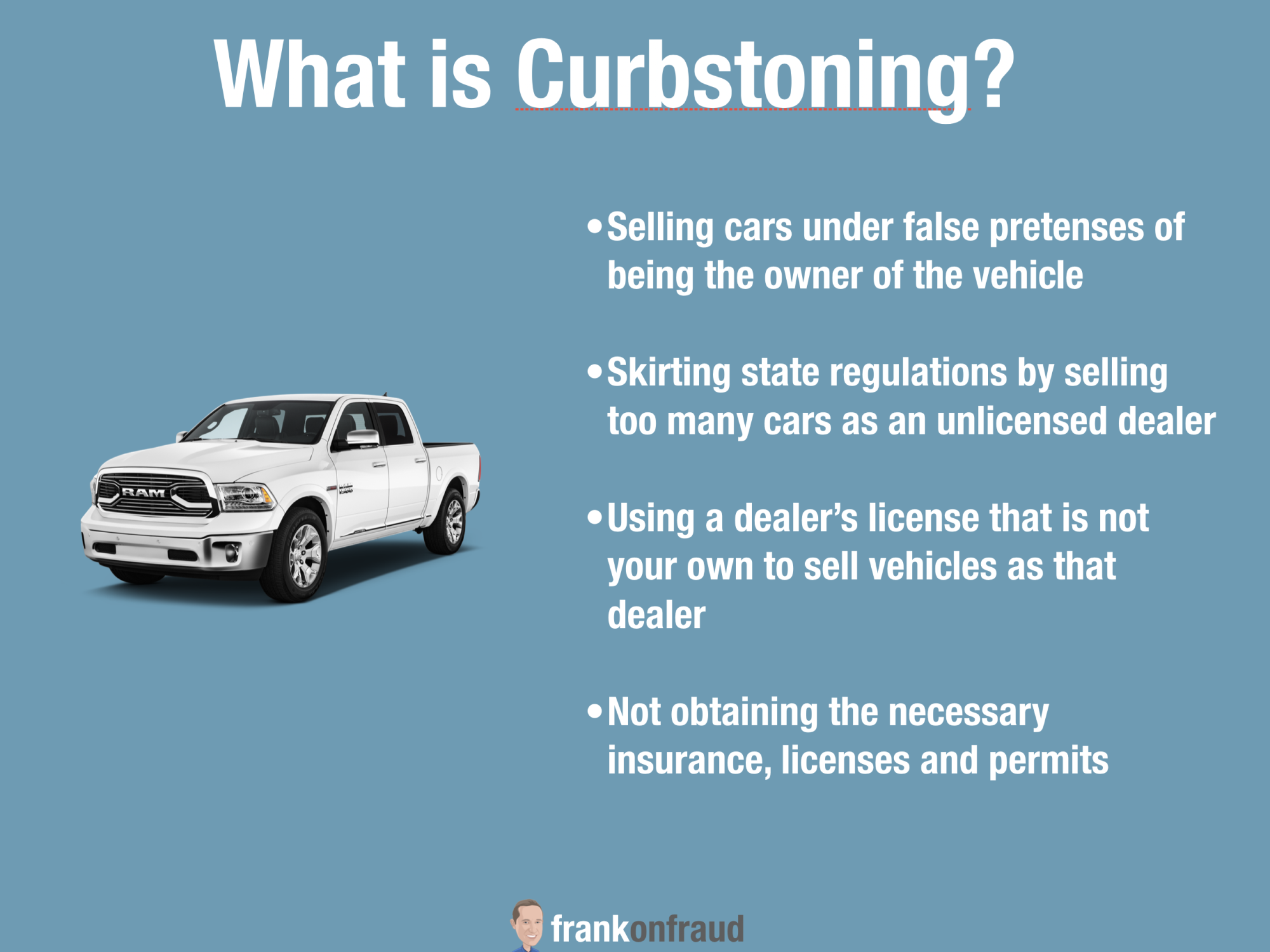 Biggest Case of Curbstoning in Arizona History
In Arizona this week, state investigators broke up the largest fraud ring of Curbstoners in history when they arrested 7 individuals that were involved in selling their dealer licenses to unlicensed sellers.
Under Arizona law, people are only allowed to sell, exchange or negotiate up to six vehicles in any consecutive 12 months. When an individual sells the 7th vehicle, they are qualified as an unlicensed automobile dealer and are subject to criminal prosecution.
And that is what appears to have happened here.
"In this case, licensed dealers are accused of illegally consigning their licenses out to other individuals in other states, allowing those individuals to bypass paying taxes, registration fees and laws regarding vehicle dealers," according to the release.
The operation also altered vehicle titles from these subscribers for about $100 per title to make it appear as though the individuals bought the vehicles from one of the suspects' 31 operations with dealer licenses. More than 31,000 titles were processed this way over the past couple of years, and many of the vehicles involved were never in Arizona.
The operation has generated around $7 million fraudulently over the past couple of years.
Investigators in the case were clued in when they received a report from California regarding Arizona auto dealerships who were renting out their dealer's licenses to unlicensed dealers.
Scott Bandy, James Johnson, Oscar Valenzuela, James Edward Fialko and Lon Isaiah Chaneyfield were named in the criminal complaint and apparently acted as ringleaders in the scheme.
They were charged with financing and conspiring with others to rent out auto dealership licenses to anyone who paid them a monthly fee, ranging from $199 to $450, and a startup fee of $545.
Once individuals bought the cars, they would mail the out-of-state titles to their Arizona partner and be sent an Arizona title for a $150 fee.
They advertised their services on several websites and got 1,530 subscribers in 42 states since 2015.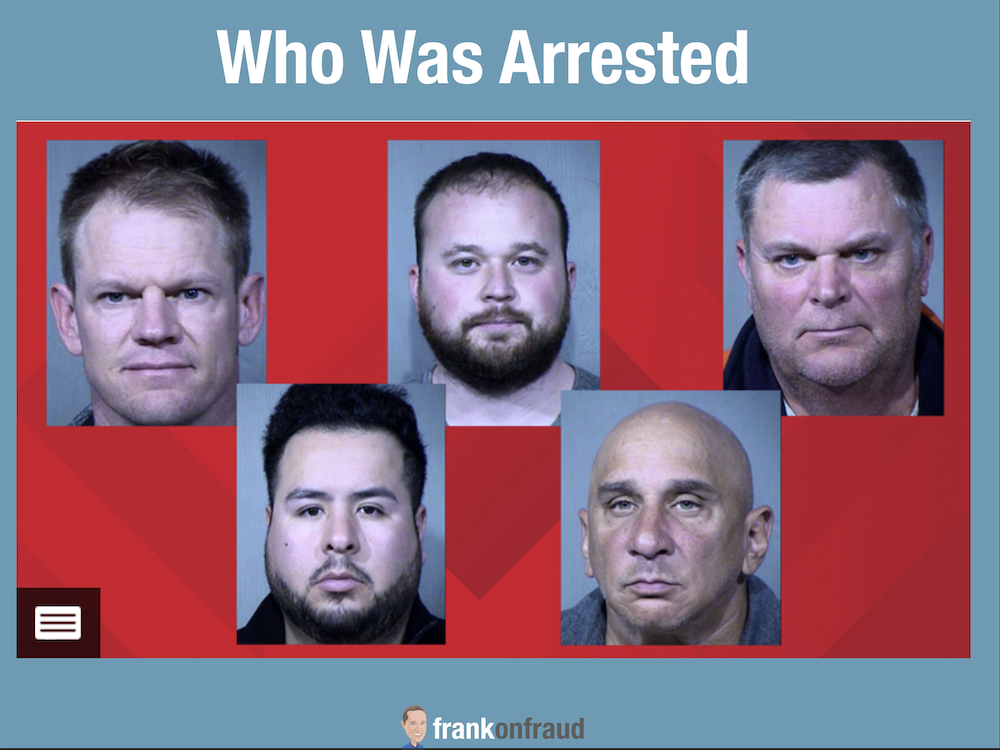 ADOT detectives and Department of Revenue investigators, joined by special agents with the Arizona Attorney General's Office, served search warrants at six locations last week, including homes in Chandler and Gilbert and at a storefront in Mesa, arresting the suspects and searching for further evidence. Each suspect is facing multiple charges, including the felonies of fraudulent schemes and artifices, money laundering and tax evasion.
Instant Auto Dealer
The case involves a scheme in which individuals allegedly subscribed to one of several websites identified by investigators to obtain wholesale and retail dealer license credentials from the suspects, rather than the state, for a monthly fee, usually in the hundreds of dollars. These credentials allowed about 1,500 individuals to attend and bid on vehicles at wholesale auctions in their states.
One website that appears to be owned by one of the dealers Scott Bandy is still live and shows how individuals could get instant access to a dealer license. The site is here – Instant Dealer Access.
The price list indicates what you could expect to pay for getting a subscription to a dealer license

InstantAutoDealer.com also appeared to pitch their services to people that wanted to skirt the state laws of not selling more than 7 cars a year as an unlicensed dealer. Check out this customer testimonial here.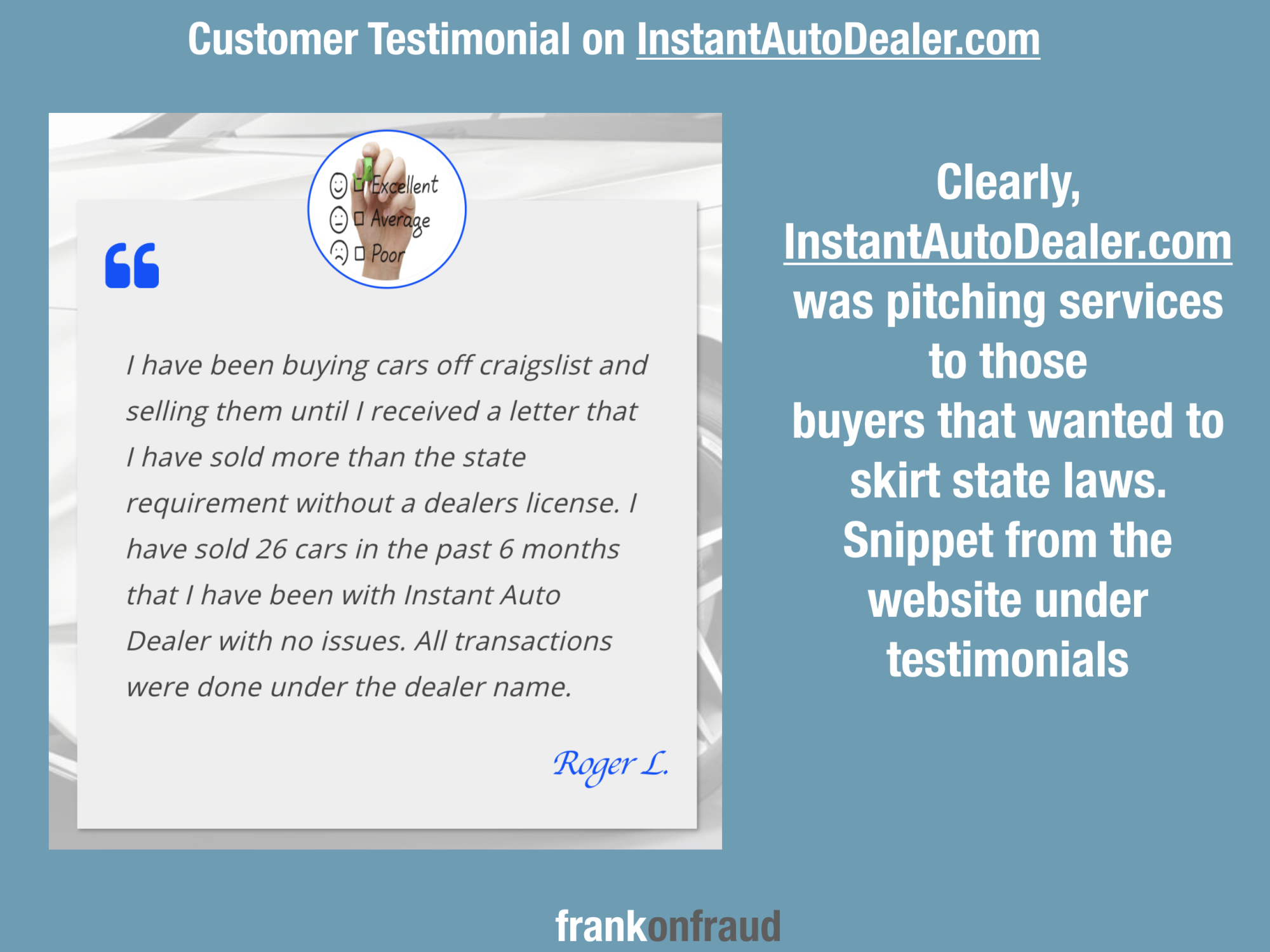 It looks like someone was suspicious of these site over a year ago and questioned it's legitimacy.
Thanks for reading!