The industry was rocked with another massive auto loan fraud perpetrated by criminals that engaged in a Phantom auto loan scheme.
Phantom loan schemes have emerged in the last 24 months and occur when borrowers and sellers collude to create fake loan transactions. In some cases, the perpetrators are unscrupulous dealers passing off non-existent cars, and in other cases, the loans are private seller transactions.
In most cases, Phantom loan fraudsters are targeting lenders with weak fraud defenses (like Credit Unions) since they often lack even the most basic fraud controls to target fraud.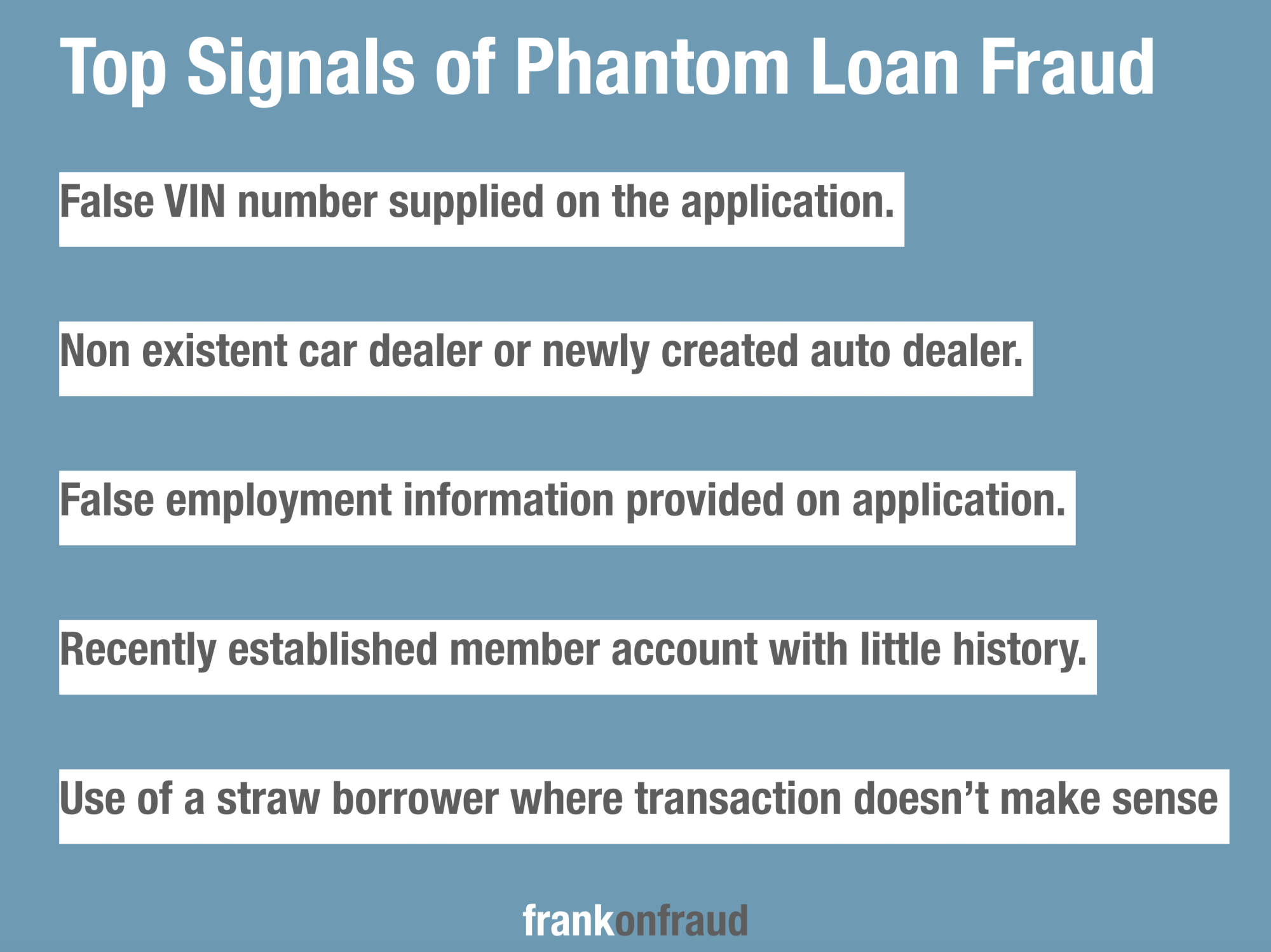 A $1.7 Million Dollar Auto Loan Fraud Scheme Involving Over 80 Loans
Today, the Department of Justice announced the sentencing of 6 individuals involved in a massive phantom auto loan fraud scheme.
Michael Miller and Melvin Goode Wentt have been sentenced for their roles in a bank fraud conspiracy involving seven defendants, over 80 fraudulently obtained auto loans, and $1.7 million in bank and credit union losses. Their scheme spanned 4 years from July 2013 through October 2017.
The defendants and their co-conspirators started the fraud scheme by incorporating businesses that, by name, appeared to be auto dealerships but, in fact, were just shell corporations. These fake companies had names like "Premier Luxury Motors," "Platinum Motors Auto Sales," and "5-Star Motorsports," but they had no employees, no cars, no car lots, and no dealership licenses.
100% of the information on the applications was completely falsified.
After establishing the fake companies, the conspirators recruited individuals to apply for car loans with banks and credit unions. The loan applicants would claim that they were purchasing a car from one of the fake companies and would supplement their applications with fake vehicle purchase orders created by the conspirators.
If a loan check was issued to the loan applicant, the proceeds would be deposited into financial accounts opened by the conspirators and held in the names of the fake companies. The conspirators and the loan applicants would then split the money and never pay back the lender. Because there were no cars to repossess, the lender would be left with nothing.
The scheme spanned approximately four years. Over that time, the conspirators sought over 80 auto loans, totaling approximately $2.7M in attempted fraud, and actually obtained about $1.7M
They Defrauded Multiple Lenders, Including Many Credit Unions
The fraudsters targeted credit unions and small lenders that didn't have the necessary fraud controls to detect and prevent the scheme.
The fraudsters victimized
USAA
Digital Federal Credit Union
Pentagon Federal Credit Union
Affinity Federal Credit Union
Air Force Federal Credit Union
NASA Federal Credit Union
The fraudster used Shell Corporations to hide their fraud and to create fraudulent employment and incomes for straw borrowers that they recruited. A table of the names, loan amounts and, Shell Corporations was identified by the FBI.
Judging by the size of the loans, the perpetrators were targeting more expensive luxury cars.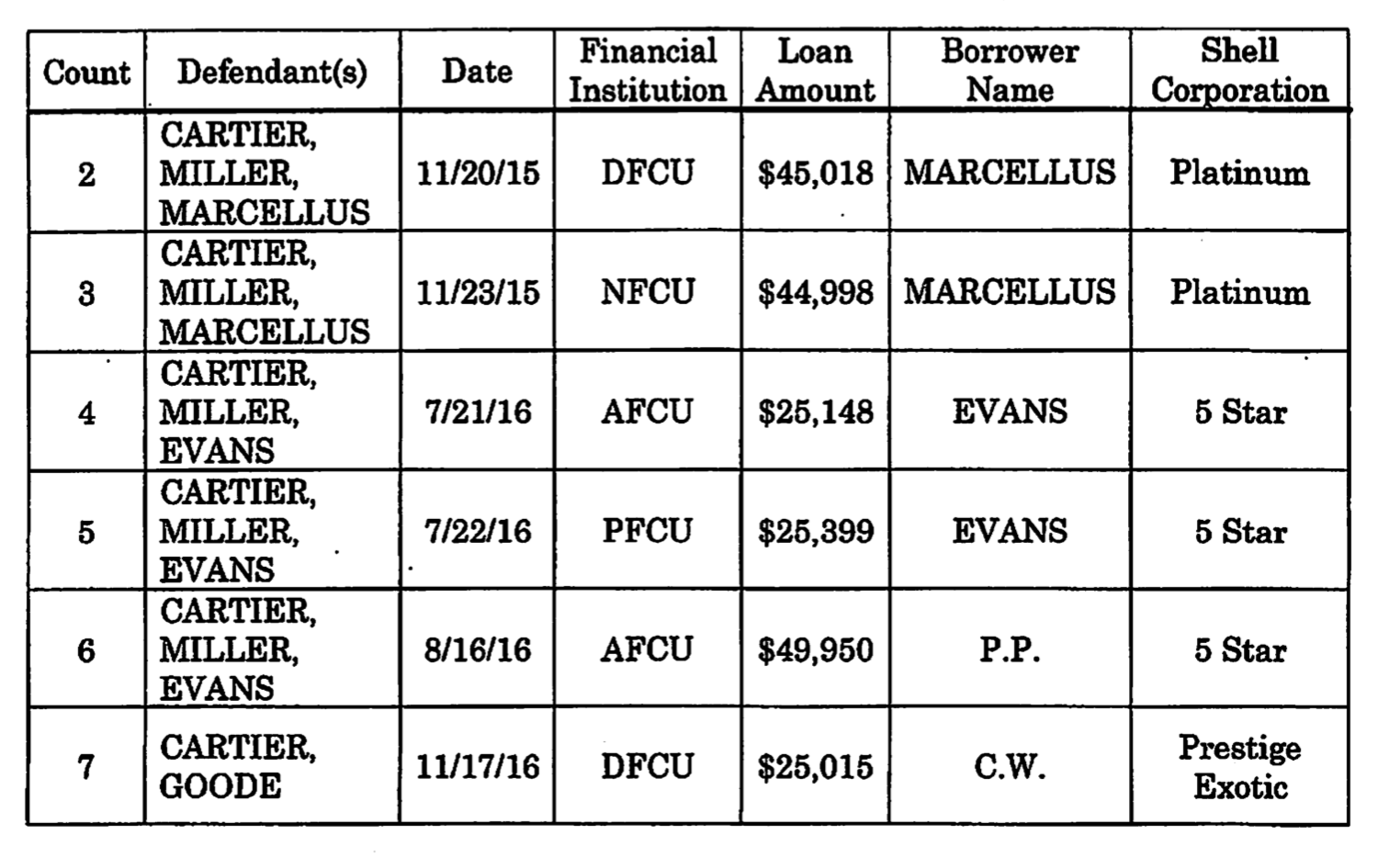 These massive loan schemes are becoming more and more commonplace and should be a wakeup call to auto lenders that they need to bolster their fraud practices as other industries have done over the last 20 years.