Fraud on new mortgage applications took a dramatic spike over the last quarter resulting in the highest level of fraud in over 7 years.  CoreLogic released their quarterly fraud index which tracks the fraud risk of applications submitted by lenders that use their fraud detection systems.
According to the Mortgage Fraud Report, there was a 12.4% year-over-year increase in fraud risk at the end of the second quarter of 2018.
CoreLogic Fraud Index Has Shown Fraud Risk Has Increased Every Quarter for Last 2 Years.
The index uses sophisticated fraud scoring and information from alerts generated by their fraud system to identify how fraud patterns are trending.   Based on the patterns in the data, the index is alerting the industry to heightened fraud risk which appears to be following a worrying trend upward.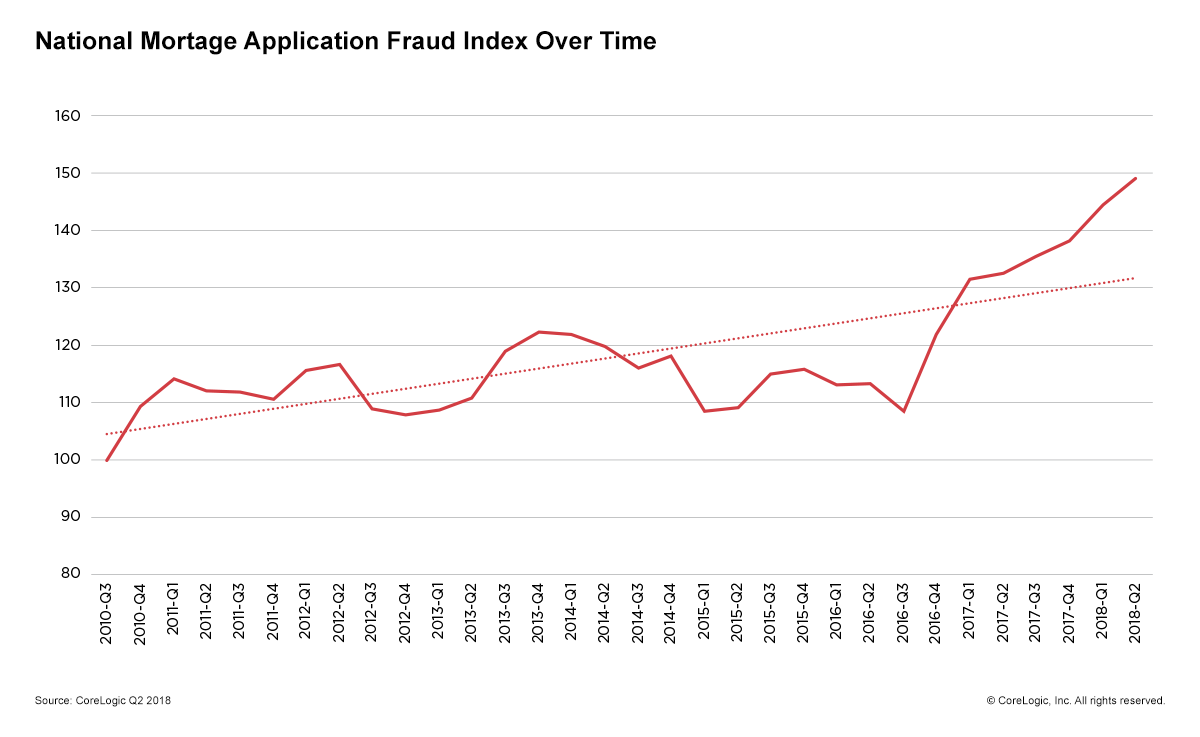 According to the fraud index, mortgage fraud has increased every quarter for the last 7 quarters increasing about 37% over that time period.
This data appears to show the sharpest year over year increases in mortgage fraud risk since prior to the financial crisis.
Sharpest Increases in Risk Were Due to Income Fraud
Bridget Berg explained to Housing Wire as the report was released "Because home prices are rising, and demand is strong, most mortgage fraud in this type of market is motivated by bona fide borrowers trying to qualify for a mortgage," Berg said. "Undisclosed real estate liabilities, credit repair, questionable down payment sources and income falsification are the most likely misrepresentations."
The industry has grappled with a Fraud For Housing Crisis back in 2005 when home prices soared out of reach of most borrowers.  As the home prices soared, so did their income claims.  At the end of the day, about 1 in 4 borrowers were guilty of significantly misrepresenting their incomes to qualify for a mortgage loan.
Out of State Investors Fueling Higher Fraud Rates
Mortgage News Daily reported that Out of Stated investors may be fueling part of the fraud problem.  According to their analysis with CoreLogic, out of state investors have significantly higher rates of fraud that the average loan.
Their analysis found that as the concentration of Out of State Investors (OOSI ) in a market increases so does the default risk on investment loans in that market.  Where the concentration was highest, the 90-day delinquency rate and the foreclosure rate were 80 percent and 114 percent higher respectively than where concentrations were low.   Fraud rates for investment properties are 88 percent higher than the baseline and are 140 percent higher when investors are from out-of-state.

The spike in out of state investors many times can be tied back to the increases in Airbnb which have fueled an investment boom in many vacation markets.
A copy of the Mortgage Fraud Trends Report can be requested here – CoreLogic Mortgage Fraud Index