In fraud, the drivers behind the numbers are sometimes more important than the numbers themselves.
This is particularly true when examining the complex nature of mortgage fraud risk which is driven by a number of underlying factors including the economy, interest rates, property values and, general market conditions.
Some people believe you would have to be a renowned economist to understand the dynamics of mortgage fraud which is precisely why an article by Mark Fleming – The Chief Economist for First American caught my eye. First, it's a respected name in mortgage I greatly admire, and secondly, since when does any fraud risk go down? I was intrigued.
In the recent article entitled, "How 2019 Became the Year of Declining Fraud Risk", Fleming breaks down the drivers that are resulting in an abrupt decline of mortgage fraud risk this year.
It turns out that there were 3 main drivers to the reduction in fraud which he lays out nicely in his analysis.
Stronger buyers' market conditions and a rising share of refinance transactions – that's what we need to maintain declining fraud risk momentum in 2019.

Mark Fleming First American Chief Economist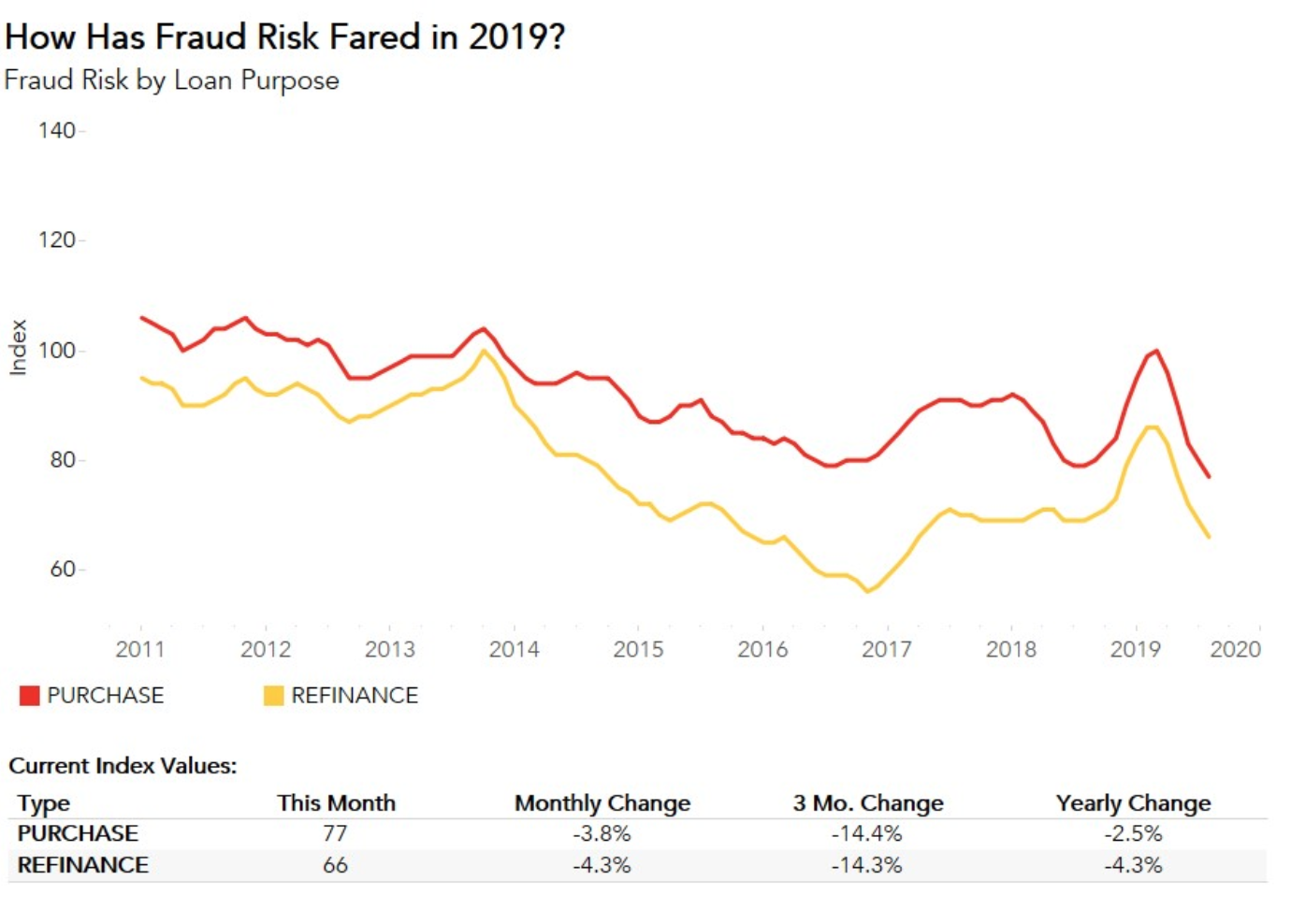 #1 Factor – It's a Buyers Market
Falling mortgage rates and a good economy has shifted the balance of power to buyers and away from sellers. His argument here is that home buyers feel less pressure to misrepresent information on a loan application when strong sellers' market conditions wane, as the market is less competitive.
Less competition means less fraud risk. I'll buy that.
#2 Factor – Increase in Refinance Transactions
Refinance transactions have less fraud risk, than purchase transactions. And there are a lot more refinance transactions in 2019. In fact, Fleming indicates that refinance transactions are up a whopping 148% in 2019 thanks to falling rates.
Defect and fraud rates on refinance transactions are less for a 2 fundamental reasons:
Borrowers are typically already established and making payments responsibly to be eligible for a refinance
Borrowers are motivated to improve their interest rates when rates fall so there is little motivation to lie.
According to an MBA survey, lenders indicate that mortgage fraud and defect risk is significantly less on refinance transactions than purchase transactions.
The First American Fraud Defect Index
First American also published their latest quarterly index which revealed the following highlights:
The frequency of defects, fraudulence and misrepresentation in the information submitted in mortgage loan applications decreased by 3.9 percent compared with the previous month.
Compared to August 2018, the Defect Index decreased by 5.2 percent.
The Defect Index is down 28.3 percent from the high point of risk in October 2013.
The Defect Index for refinance transactions decreased by 4.3 percent compared with the previous month, and decreased by 4.3 percent compared with a year ago.
The Defect Index for purchase transactions decreased by 3.8 percent compared with the previous month, and is down 2.5 percent compared with a year ago.
Thanks for reading!