UK Fraud Finance published their annual fraud report for 2020 and there is some surprising news on scams. In 2020, UK Banks reimbursed close to 50% of Authorized Push Payment losses back to consumers.
UK Finance began collating and publishing data on authorised push payment (APP) scams (also known as bank transfer scams) in 2017 so they have the only reliable source of data which tracks this scam.
What make APP scams unique is that in May of 2019, a coalition of 19 consumer brands covering over 85% of bank transfers voluntarily signed up to reimburse victims when this scam occurred.
Banks that are part of the scheme include Barclays; HSBC including First Direct and M&S Bank; Lloyds Banking Group including Halifax, Bank of Scotland and Intelligent Finance; Metro Bank; NatWest, including RBS and Ulster Bank; Nationwide; Santander; Starling and The Co-operative Bank.
So while 50% of scam victims are being reimbursed, industry groups are not satisfied. Why aren't 100% of scam victims being reimbursed?
Victims Still Taking A Hit on Scams
The group cited UK Finance figures which show £412.9 million has been lost in 189,000 cases of bank transfer fraud between the introduction of the code in May 2019 and the end of 2020 – amounting to £707,000 every day.
But in 2020, losses due to authorised push payment scams were £479 million in 2020. This was split between personal (£387.8 million) and non personal or business (£91.3 million).
In total there were 149,946 cases. Of this total, 143,259 cases were on personal accounts and 6,687 cases were on non-personal accounts.

This means that consumers were still on hook for at least £225 million pounds of fraud that UK banks elected not to reimburse.
In a recent report by the Lending Standards Board, the reason for the lack of reimbursement is that banks still find consumers responsible for being scammed up to 77% of the time.
Reimbursements Are Climbing However
Reimbursement levels in 2020 were higher for more sophisticated scams in which criminals impersonate other organisations to target their victims.
For police and bank impersonation scams, 53 per cent of all losses were refunded to the victim; the second highest of all eight scam types. Other impersonation scams had the highest reimbursement rate of all eight scam types, with 57 percent of all losses refunded to victims.
Reimbursement rates were also higher for APP cases involving higher, life-changing sums of money. 48 per cent of losses were reimbursed in those cases involving values of £10,000 or more, compared to 32 percent of losses reimbursed for cases involving values of less than £1,000.
Barclays Recently Published Their Reimbursement Rates
Barclays may be getting ahead of the bad publicity in the media and has actively started publishing their reimbursement rates.
Just last week, Barclay reported that in the first two months of the year, that 74% of customers who suffered losses because of APP fraud have been repaid.
Lloyds also issued a statement to the press indicating that they have reimbursed 99% of customers when they launched the Fraud Guarantee over 2 years ago.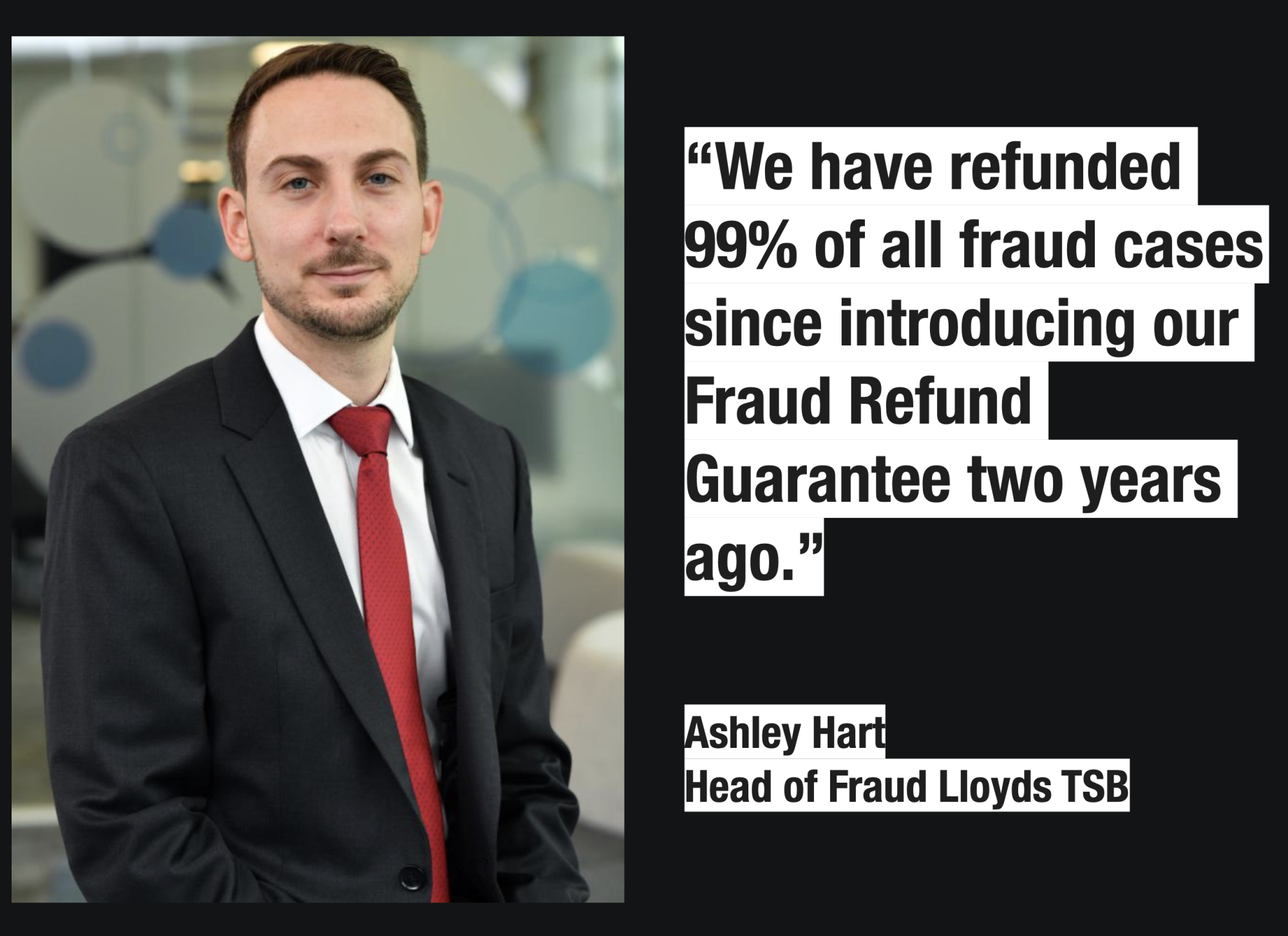 With two of the very largest UK Banks indicating that they are reimbursing a vast majority of scam victims, it makes you wonder, who is not giving money back to customers.
That question might be answered soon as Which is pushing for new guidelines for all banks to issue their reimbursement rates on all claims soon.
UK is Doing Very Well Compared To Their US Counterparts
While the UK Banks may seem to be lagging, they are actually doing exceptionally compared to their US counterparts. Here in the US, reimbursing scam victims is the exception.
In a vast majority of cases, banks will not reimburse scam victims and will hold them liable for 100% of successful scam attempts.