Internal fraud is on the rise across the US.
This week, the DOJ announced a massive loan fraud case involving Daniel Hernandez – a Regional Manager for TD – where he is accused of orchestrating 90 fraudulent applications for PPP loans.
According to the complaint, he assisted in over $30 million in PPP loans and $7 million in EIDL loans in the conspiracy. He allegedly made big money by charging up to 15% of the loan proceeds for each successful loan.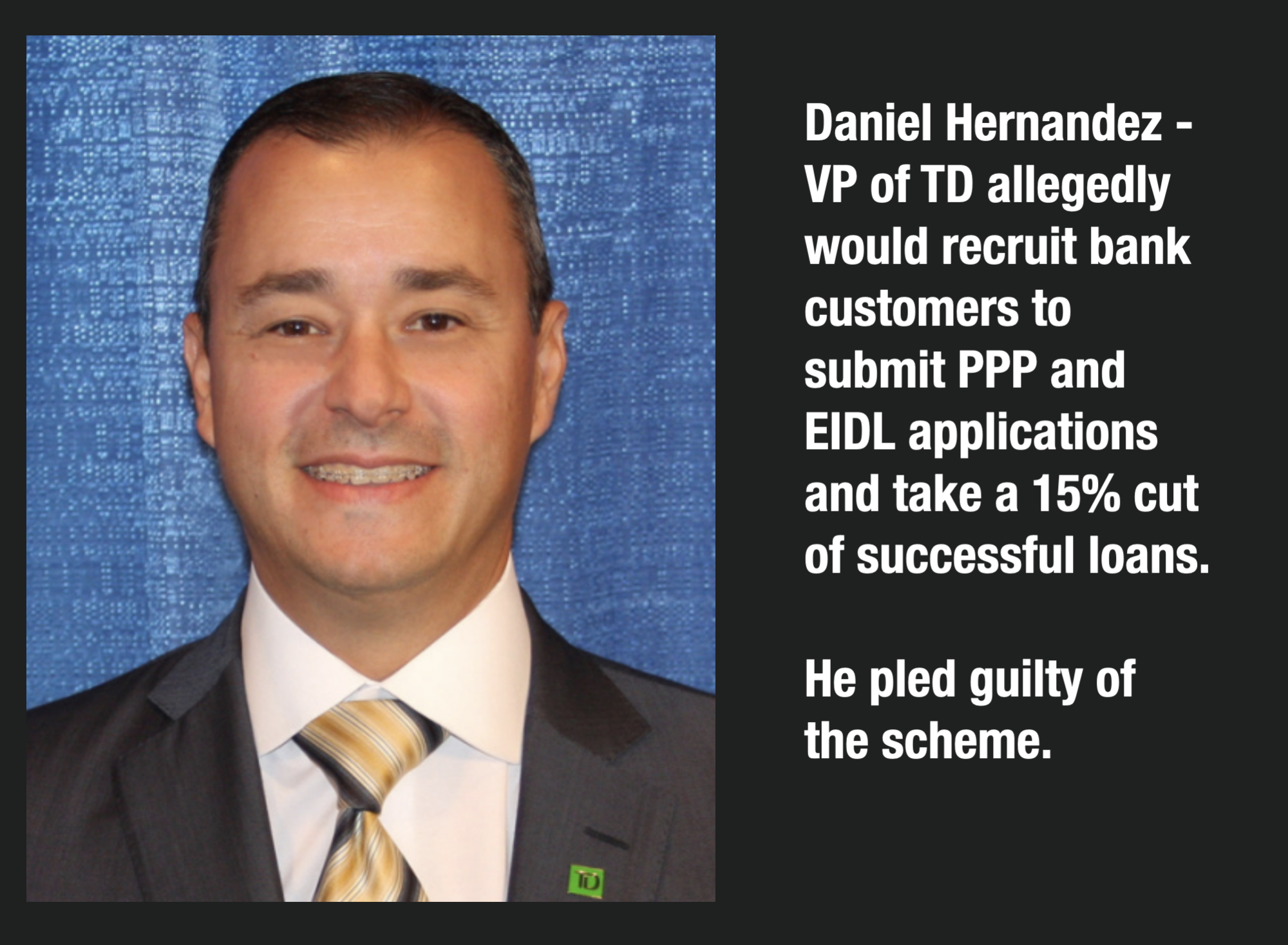 He Managed 80 Employees And Was A Formidable Executive In South Florida For The Bank
Committing such a massive fraud would be hard if you didn't have significant control over internal processes and employees.
According to the complaint, Hernandez oversaw 80 bank employees and 27 branches throughout South Florida. He was not a small-time player in TD but rather a high-level executive in the area. He was referred to as the "second highest point of escalation" for TD bank in South Florida.
He began working at the bank in 2015, but it wasn't until the PPP program began that his problems started. According to a Press Release from that time, Daniel "Danny" Hernandez was hired as a Vice President, Store Manager of the Brickell District store at 1103 Brickell Avenue in Miami.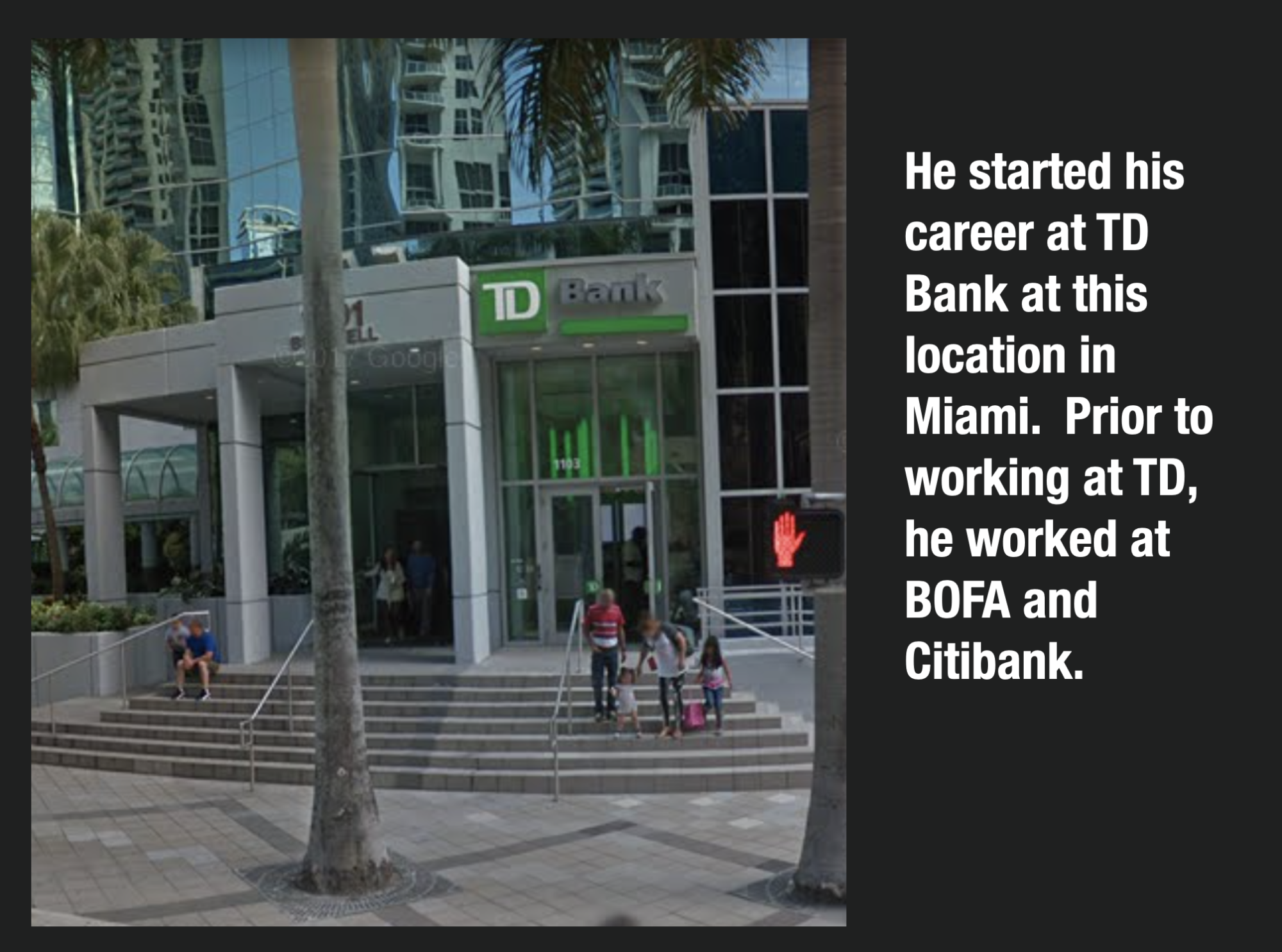 Prior to joining TD Bank, he served as a Financial Center Manager at Bank of America in Miami, and prior to that he held numerous leadership roles through Citibank International.
He Ran A Scheme To Defraud the SBA and Enrich Himself
He used his position to recruit bank customers and at least one former bank employee to submit over 90 fraudulent PPP loan applications. And he didn't stop there; he also helped customers file for fraudulent EIDL applications as well.
After the loans were funded, he advised applicants on how to launder the proceeds of the PPP loans to shield themselves from fraud and detection of the illicit loans.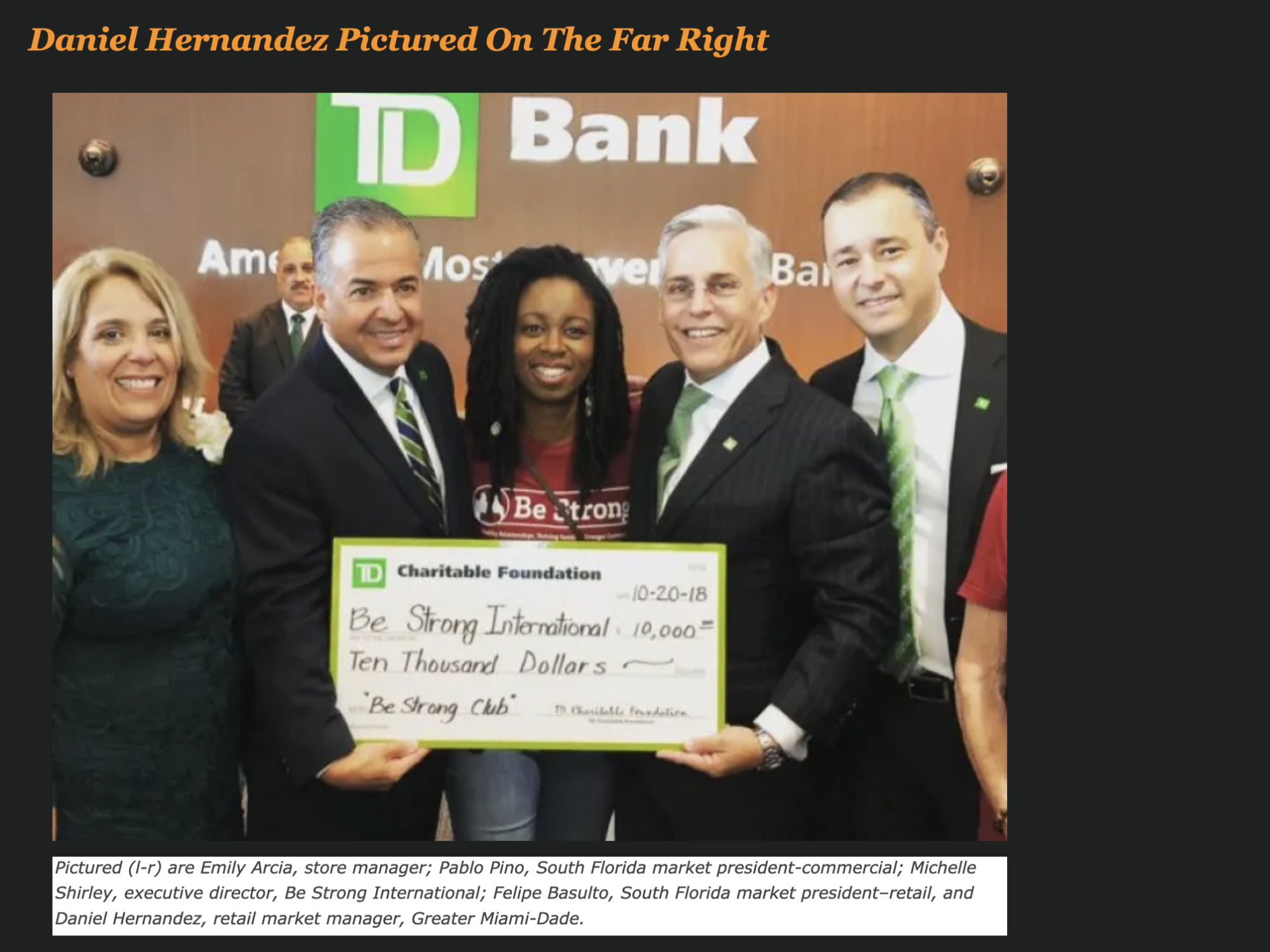 He advised the recruits on how to file the applications and what to include in them, then used his position at the bank to ensure the fraudulent loans were reviewed and, when possible, approved. The applications totaled over $30 million, and their investigation has identified over $15 million in fraudulent loans issued.
In Some Cases, He Helped Customers Open Accounts With The Bank Before Taking The PPP Loans
Most major banks in the US would not issue PPP loans if the person were not a customer of the bank. According to the affidavit, Hernandez would help customers obtain loans with TD Bank before they would apply for the loans.
He would help navigate them through the entire process.
He Took Up To A 15% Cut Of The Proceeds As Payment
According to the DOJ, Daniel Hernandez made money off the deal by taking a percentage of the loan proceeds as payment.
One of the co-conspirators kept a spreadsheet of the 80+ loans and marked when loans were successful. When a loan went through, he would get a payment along with his accomplice.
Allegedly, he would take between 10% to 15% of the loan value. If that is the case, then he stood to make approximately $1.5 million to $2 million in kickbacks for the scheme.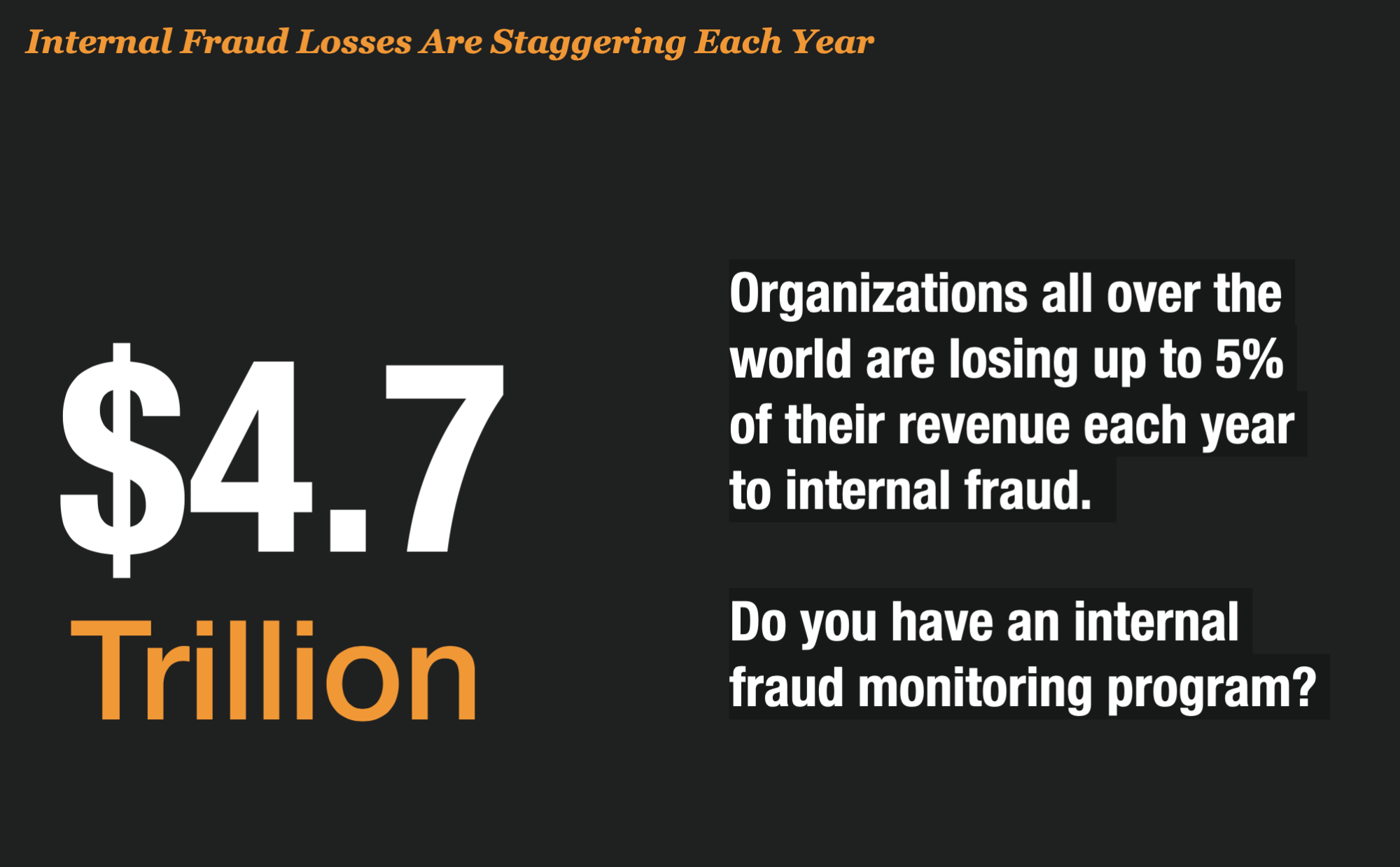 He Wanted To Charge Customers More To Have Loans Forgiven
In approximately June 2020, news articles began circulating regarding the forgiveness aspect of the PPP process. As part of that, Hernandez wanted to charge their applicants an additional fee to have their loans forgiven.
One of his conspirators objected, arguing that it was unfair to the applicants. Hernandez reportedly responded by saying something to the extent that the applicants were already receiving more money than they were entitled to.
Hernandez, 50, who was fired from his job at TD Bank before his arrest in August, pleaded guilty to one count of conspiracy to commit wire fraud in December and now faces up to 10 years in prison at his March sentencing.
"To protect our customers and the bank, TD has processes in place to identify, investigate and deter potential fraud," the bank said in a statement provided to the Miami Herald on Friday. "In this matter, we launched an internal investigation, cooperated with law enforcement, and fired Mr. Hernandez prior to his arrest."
Hernandez's defense attorney, Henry Bell, said his client had never been in trouble with the law before his fraud offense and accepted responsibility early in the process, pleading guilty just months after his arrest. "You can be sure that he will never get involved in anything like this again," Bell told the Herald.
3 Of His Accomplices Have Also Been Arrested
Some of his accomplices have also been arrested including a former employee of TD Bank
Armando Ariel De León, a former employee of TD Bank in Miami-Dade, admitted in his plea agreement that he colluded with Hernandez to help clients open TD Bank accounts and apply for bogus PPP loans, as well as other benefits of the Small Business Administration. De León received bribes from clients and from Hernández, according to court records. De Leon, 51, who was fired from TD Bank in 2021, pleaded guilty to wire fraud conspiracy in October.
William Alexander Posada Sandrea, president of Auténticos Auto Sales Corp. in Miami-Dade, also collaborated with Hernández and others to submit bogus PPP loan applications for his company and other businesses. Posada, 43, pleaded guilty to conspiracy to commit bank fraud in July but failed to appear at his sentencing hearing in November, court records show. He is free.
Erich Javier Alfonso Barata, president of two Miami-Dade companies, Black Hookah Inc. and EJ Networking & Security Service, is accused of collaborating with Hernandez and submitting bogus PPP loan applications. According to court records, Barata, 49, is expected to plead guilty to conspiracy to commit wire fraud.
Read the Whole Complaint Here
You can read the whole DOJ complaint here, it is extensive!
Thanks for reading.