Patrick Eckerle, Head of Analytics for SentiLink, posted an insightful blog that digs deep into the SSA's social security number verification program performance.
The blog dives into statistics on the over 134 million verifications the company has done for its customers since 2018.
You can read the full blog here.
Surprisingly, The MisMatch Rate Is Relatively High
The first notable stat of the program is that the mismatch rate is pretty high – about 7.7% of all request mismatches.
Some of these mismatches are due to maiden name mismatches, and others are just general typos. The SSA could probably fix these with some better fuzzy-matching logic.
41% of Mismatches Are Suspected Synthetics
But if the SSA's eCBSV program was designed to catch abuse and theft of social security numbers, it looks like the program is remarkably effective.
According to Sentilink, about 41% of all name-to-SSN mismatches are actually synthetic identity attempts.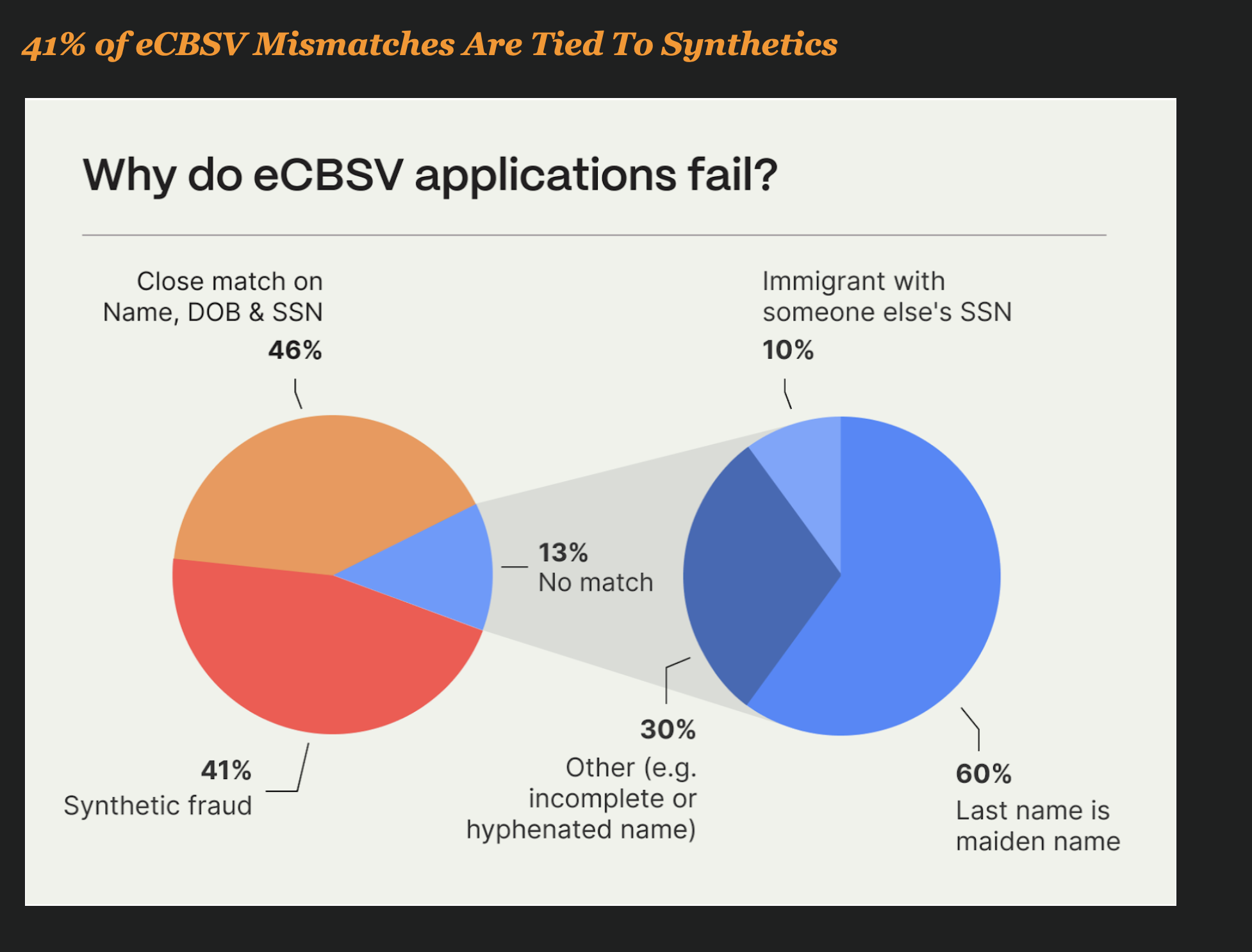 Interestingly enough, the company points out that about 10% of the mismatches appear to be immigrants that are using someone else's social security numbers.
This population has always been interesting to lenders because it is a segment of synthetic identities that actually seem to perform relatively well.
Indeed, Eckerle points out an interesting phenomenon. "As expected, eCBSV failure alone is not enough to differentiate between risky and safe customers. When looking at the tradelines for loans and credit cards, we actually find that eCBSV failures perform marginally better than eCBSV passes once the risk of synthetic fraud has been eliminated based on the SentiLink abuse score."
Check out the Blog Post – It's Great Insight
I think this analysis by Sentilink is pretty great and sheds light on the dangers of using a binary flag or hard and fast rule as a fraud strategy. Their recommendation is to use a combination of their score and the eCBSV result to eliminate false positives.