Washington State has recovered over $300 million in funds that were stolen by fraudsters filing fraudulent unemployment claims.
Employment Security Department Commissioner Suzi LeVine said that she could not yet reveal the precise amount that was paid in fraudulent claims, but said that the initial recovery — including $50 million set to be returned Thursday — was a result of the state's collaboration with federal law enforcement and financial institutions across the country.
LeVine said that the state is recovering additional money from some of the victims of the identity theft who contacted officials after they received debit cards with unemployment benefits they didn't apply for because the impostor forgot to change the address on the account. Duh.
Most of the funds apparently went to a West African fraud ring using identities stolen in prior data breaches. Those funds were being routed through checking accounts all over the nation by money mules scammed or recruited through social media.
Those scams commonly include romance scams and job offer scams according to banking experts.
14 Other States Have Come Forward
"This is a national attack by sophisticated criminals and isn't just happening to Washington state," LeVine said.
14 other states have come forward in the last week to report that they too have been targeted by the Nigerian fraud rings which include Scattered Canary.
Up to 30% of Prior Claims were possibly fraudulent
Washington indicated that for the week ending May 23, they received 48,445 initial claims for unemployment insurance, a decrease of nearly 68% from the prior week.
This begs the question; Were 30% of the claims from the prior week fraudulent? If that was the case, that would mean that approximately 22,000 fraudulent claims were filed from the prior week.
The state seems to believe so. The decline, the state's first in three weeks, was "in large part due to significant fraud prevention measures that were put in place over the past two weeks," according to an ESD statement.
The massive drop in claims can be seen in the weekly unemployment filings chart here.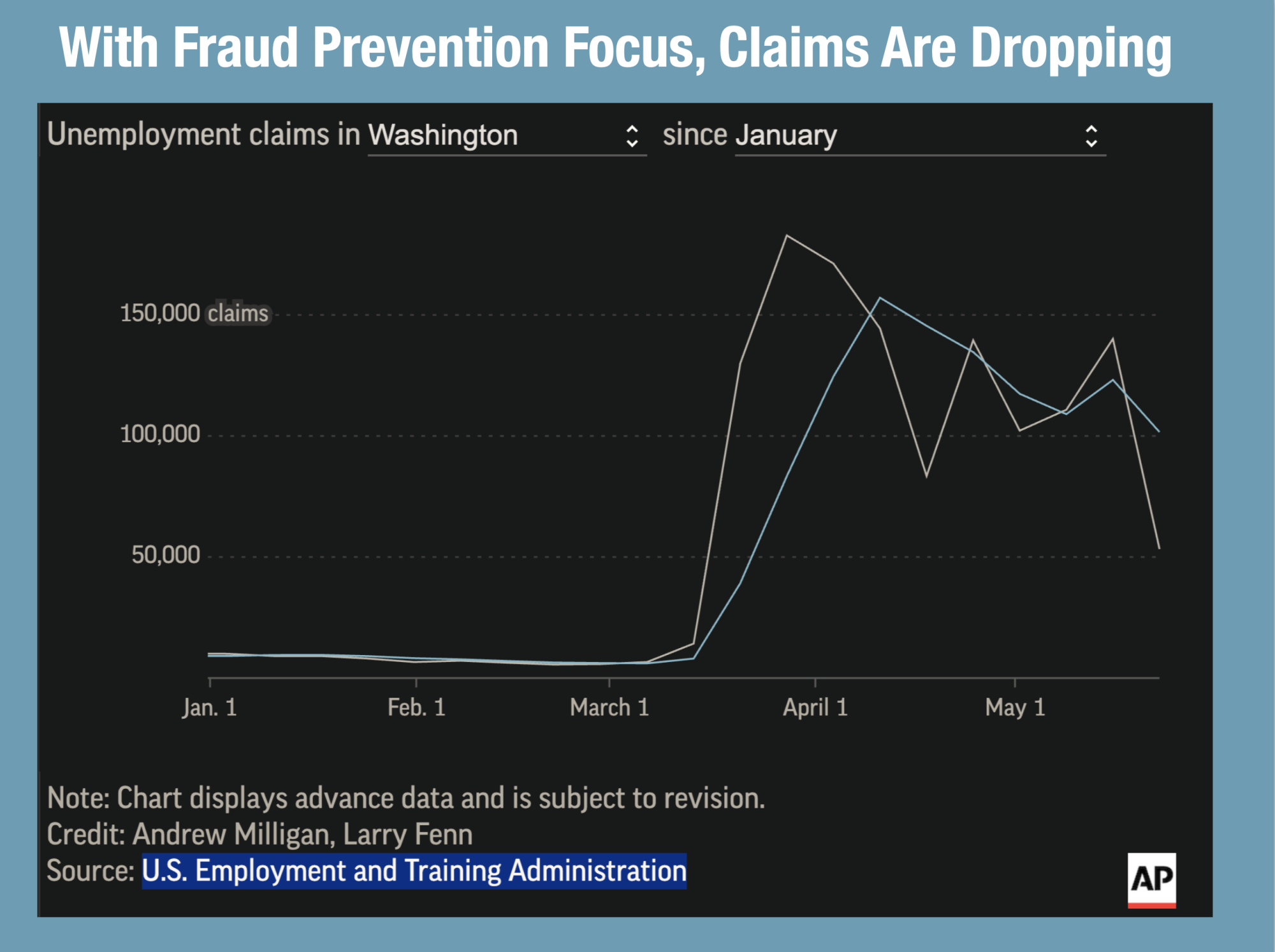 But in Maine, it was a different story. As the fraud claims in Washington dropped, the fraudsters have seemingly shifted their focus to other states that have not implemented sweeping changes in fraud controls.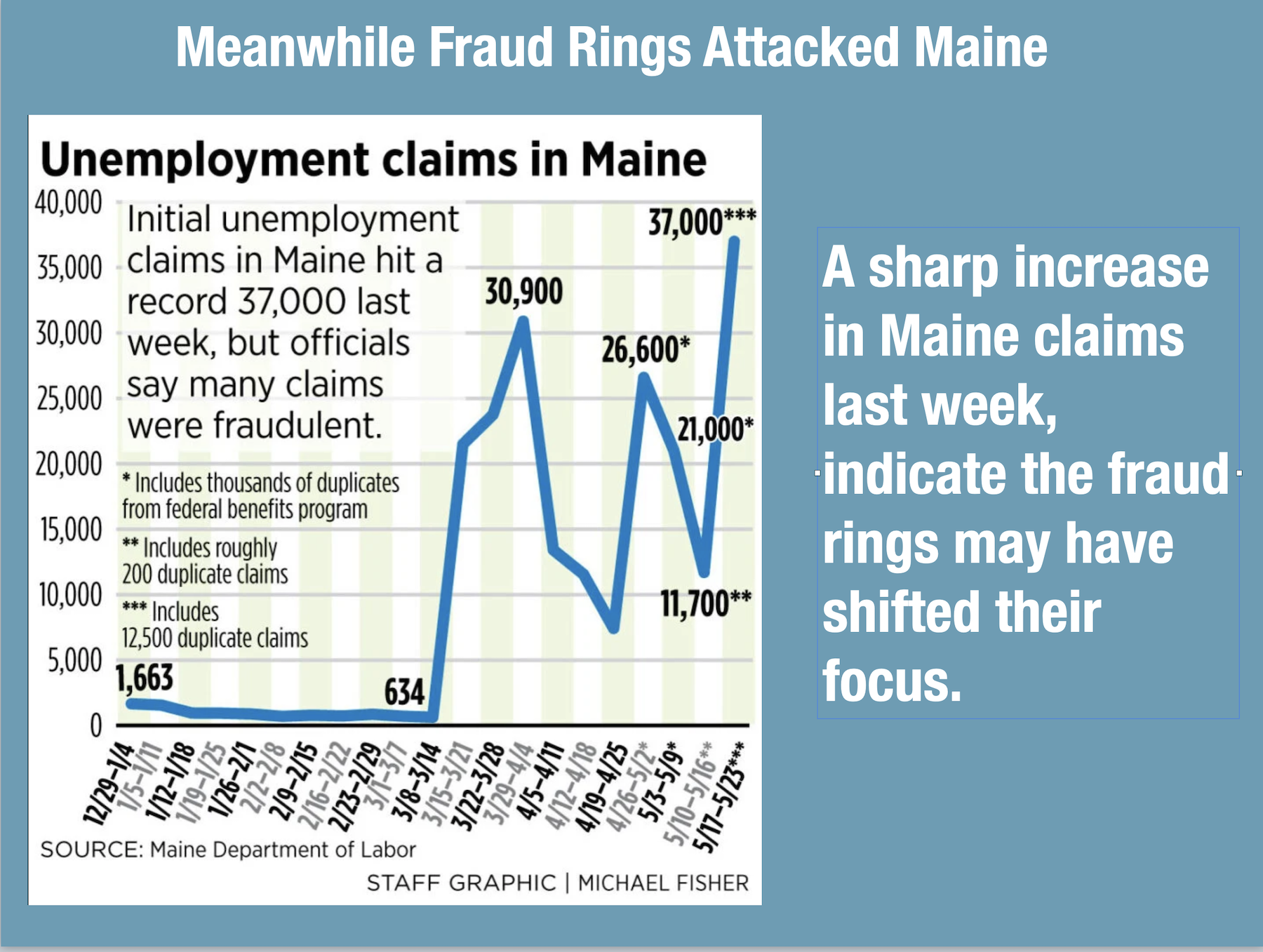 Washington State Has Been Busy Implementing Changes
Perhaps the reduction in fraud and claims has everything to do with the fraud prevention techniques that Washington put in place.
Washington State is getting serious about the fraud and has engaged in many initiatives to identify and thwart it going forward.
Dramatically increasing the number of agents on the fraud hotline; 100 more of whom just started Wednesday.
Hiring more fraud investigators.
Cross matching data with other state agencies and across the country to detect fraud activity.
Working with the U.S. Department of Labor to detect and prevent fraud.
The state saw a significant decrease in initial claims for unemployment benefits last week, something LeVine said is likely due to the extra anti-fraud efforts taken in recent weeks, including delaying payments by up to two days in order to further verify claims.