Fraud experts have always known that Cash App was a haven for fraud and scams but a new damning report also suggests that owners of the parent company – Block – may be profiting enormously off that fraud.
Hindenburg Research released a searing report today where former employees of Block claim that 40%-75% of accounts they reviewed were fake, involved in fraud, or were additional accounts tied to a single individual.
The report is long – over 17,600 words by the same short sellers that went after Nikola and The Adani Group. Both of those reports ended up tanking those company stocks when the fraud was exposed.
The researchers concluded that Block was willing to facilitate fraud so they could boost the value of the company and cash out on over $1 billion in proceeds due to an inflated stock price.
Block shares have now plunged 19% on the new report.
A Damning Report Claims No Magic Behind Cash App's Rapid Growth – Its Fraud
The report was a result of a 2-year investigation that concluded that "Block has systematically taken advantage of the demographics it claims to be helping.
While they claimed to help the "underbanked" what they were actually doing is facilitating a platform that enabled fraudsters to create accounts.
As part of the investigation, they interviewed former workers, partners and industry experts to understand what was happening behind the scene at Square and Cash App.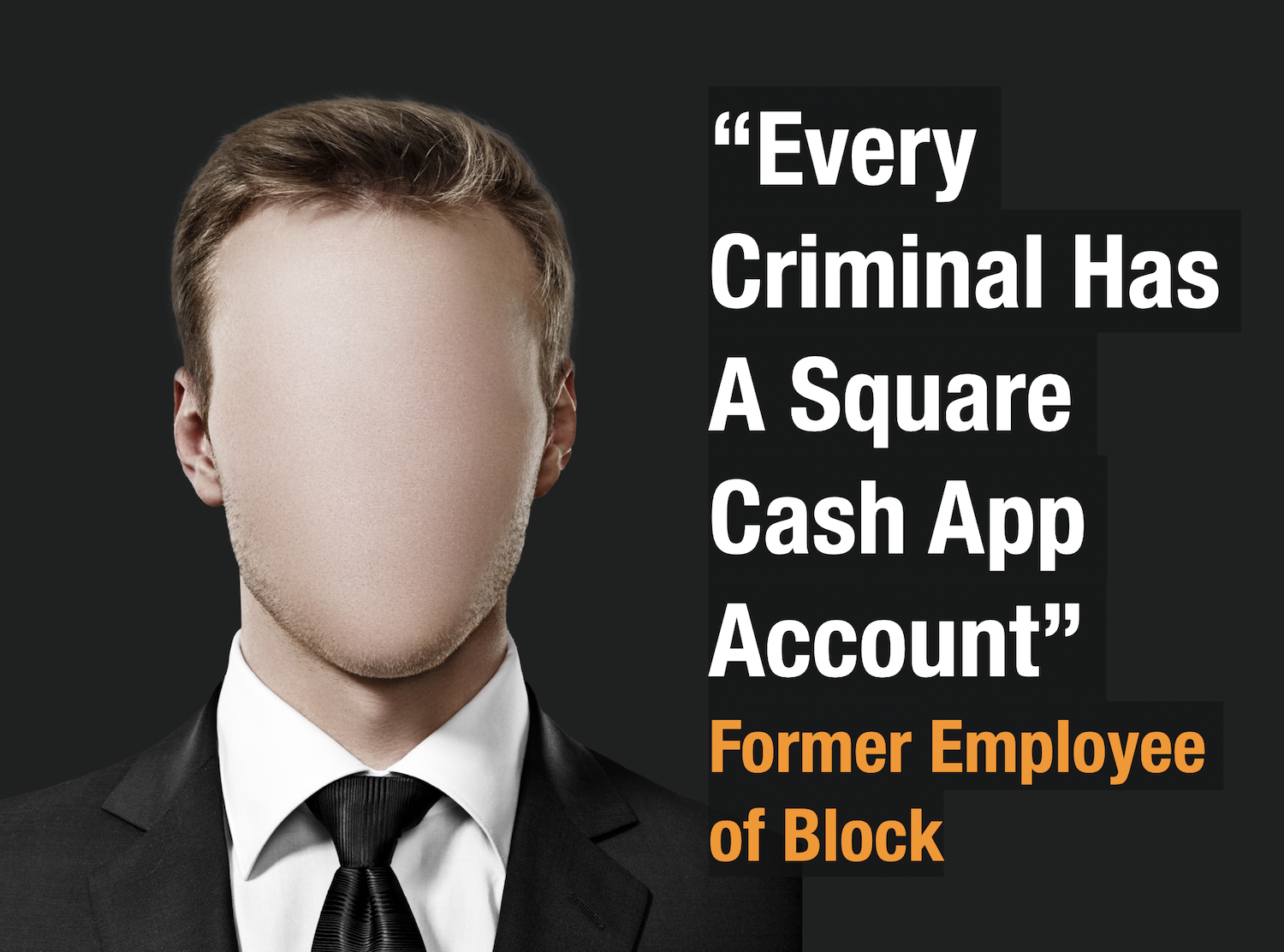 They claim that "The "magic" behind Block's business has not been disruptive innovation, but rather the company's willingness to facilitate fraud against consumers and the government, avoid regulation, dress up predatory loans and fees as a revolutionary technology, and mislead investors with inflated metrics."
A "Wild West Approach To Compliance" Enabled Synthetic and Identity Theft Cash App Accounts
Investigators found that Block's approach to serving the underbanked was actually only serving one demographic – Criminals.
They called Block's approach to compliance "A Wild West Approach" which made it extraordinarily easy for fraudsters to apply for accounts over and over again with synthetic and stolen identities as well as scams and then extract the money on those accounts quickly.
Former employees claim that it was easy to create blatantly false identities and said it was "Wide Open"
Earlier this year, Mary Ann Miller and I highlighted the problem of fake accounts which we believe were often used to bolster the valuations of companies that touted user growth statistics.
Indeed even Elon Musk felt that up to 20% of Twitter accounts were fake when he was valuing the company last year.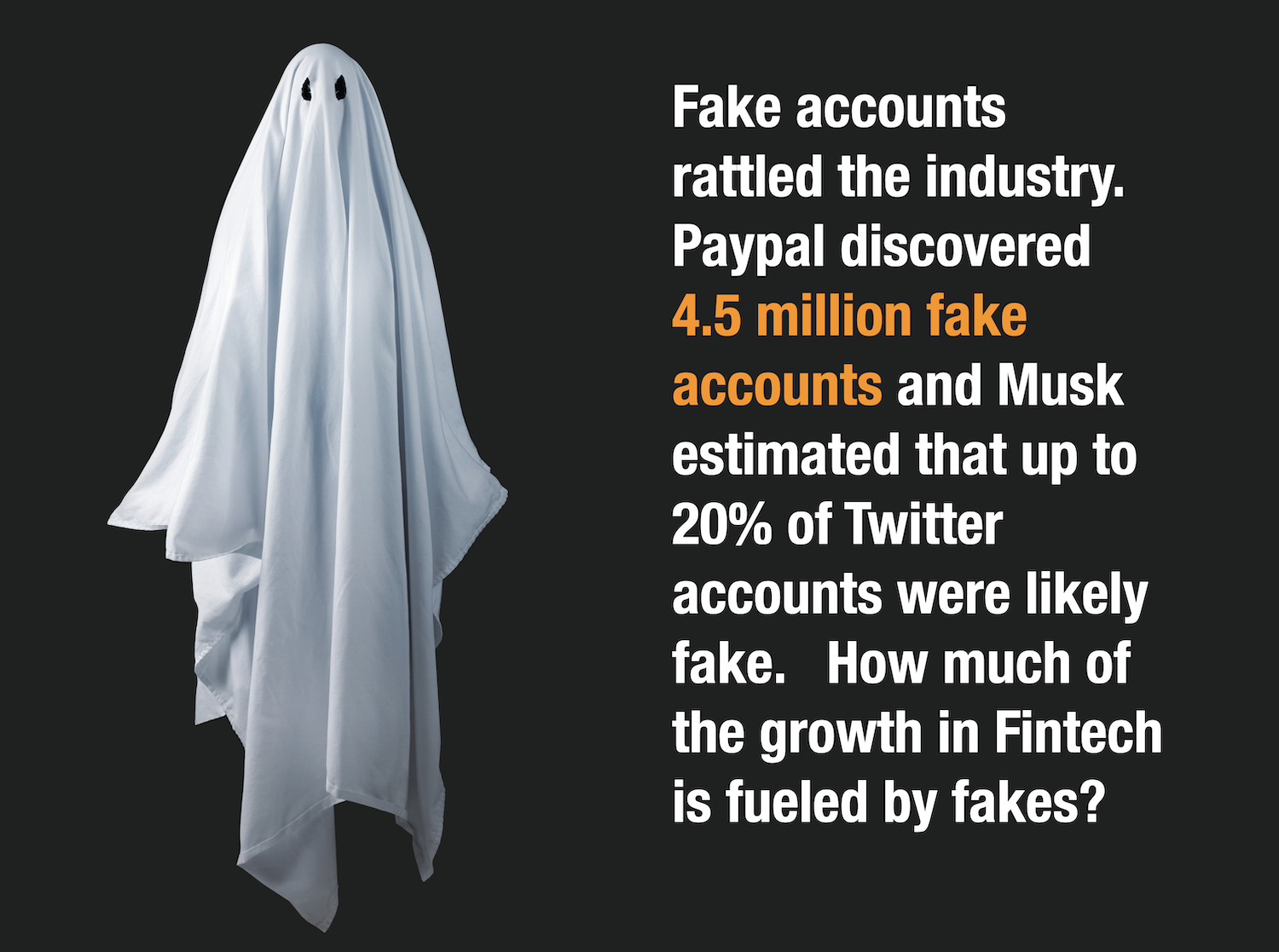 "A Web Of Lies"- They Would Not Ban Users, Just Block Accounts
Even after Block would find a user committing fraud, they would not blacklist the user, they would just shut down the account. Fraud experts no that blocking an account while not blacklisting the identity or user is completely ineffective.
Researchers spoke to a customer service rep from Cash App who shared screenshots showing how blacklisted accounts were "associated with dozens or hundreds of other active accounts suspected of fraud."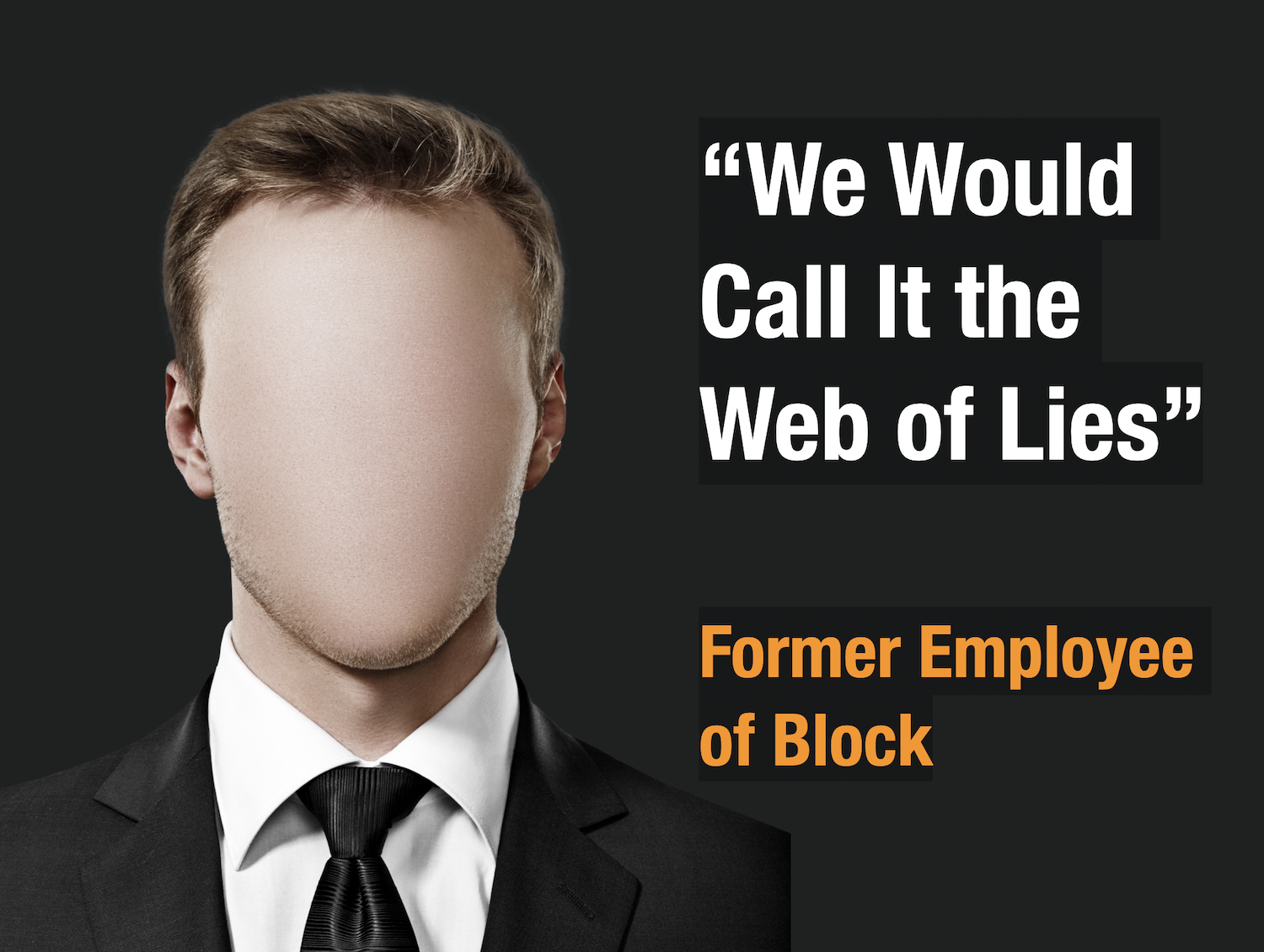 In fact, this was such a common practice that rappers would brag about this technique and how they could get multiple accounts with Cash App.
It appears that Blocks origination and fraud controls were completely ineffective in deterring and preventing the massive fraud attempts against it by criminals. Mary Ann Miller, fraud expert, spoke to Forbes about this problem over a year ago.
Cash App Bragged How Rappers Would Tout The Service, But Most Videos Are How To Use Cash App To Scam
One of the most damning parts of the report is how out of touch the CEO of Block – Jack Dorsey – was about the popularity of the app with rappers.
According to Hindenburg Research, "CEO Jack Dorsey has publicly touted how Cash App is mentioned in hundreds of hip hop songs as evidence of its mainstream appeal.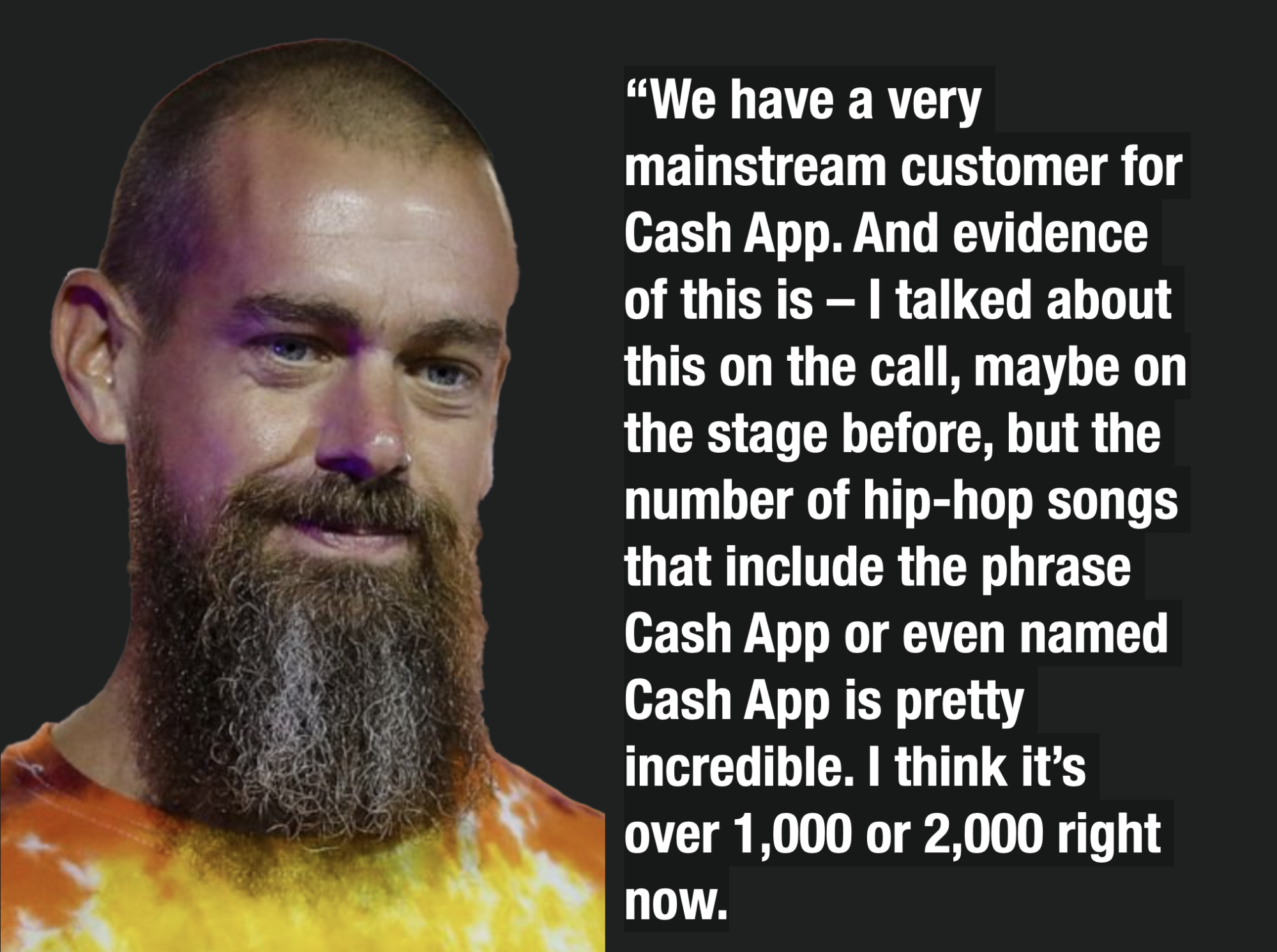 A review of those songs show that the artists are not generally rapping about Cash App's smooth user interface—many describe using it to scam, traffic drugs or even pay for murder."
"I paid them, hitters, through Cash App"— Block paid to promote a video for a song called "Cash App" which described paying contract killers through the app. The song's artist was later arrested for attempted murder.
Check out this compilation video.
Cash App Also Used For Sex Trafficking and Drug Trafficking
The report is not only damming for fraud but other crimes that are facilitated with Cash App like Sex Trafficking.
It is often cited by DOJ complaints and non profit industry watch groups as the "most used app" for sex trafficking including sex trafficking of minors.
In 2021, Seven people were charged with running a 'CashApp' drug trafficking ring in West Baltimore. Police were able to seize "large quantities of street level narcotics, firearms, and ammunition" during their investigation.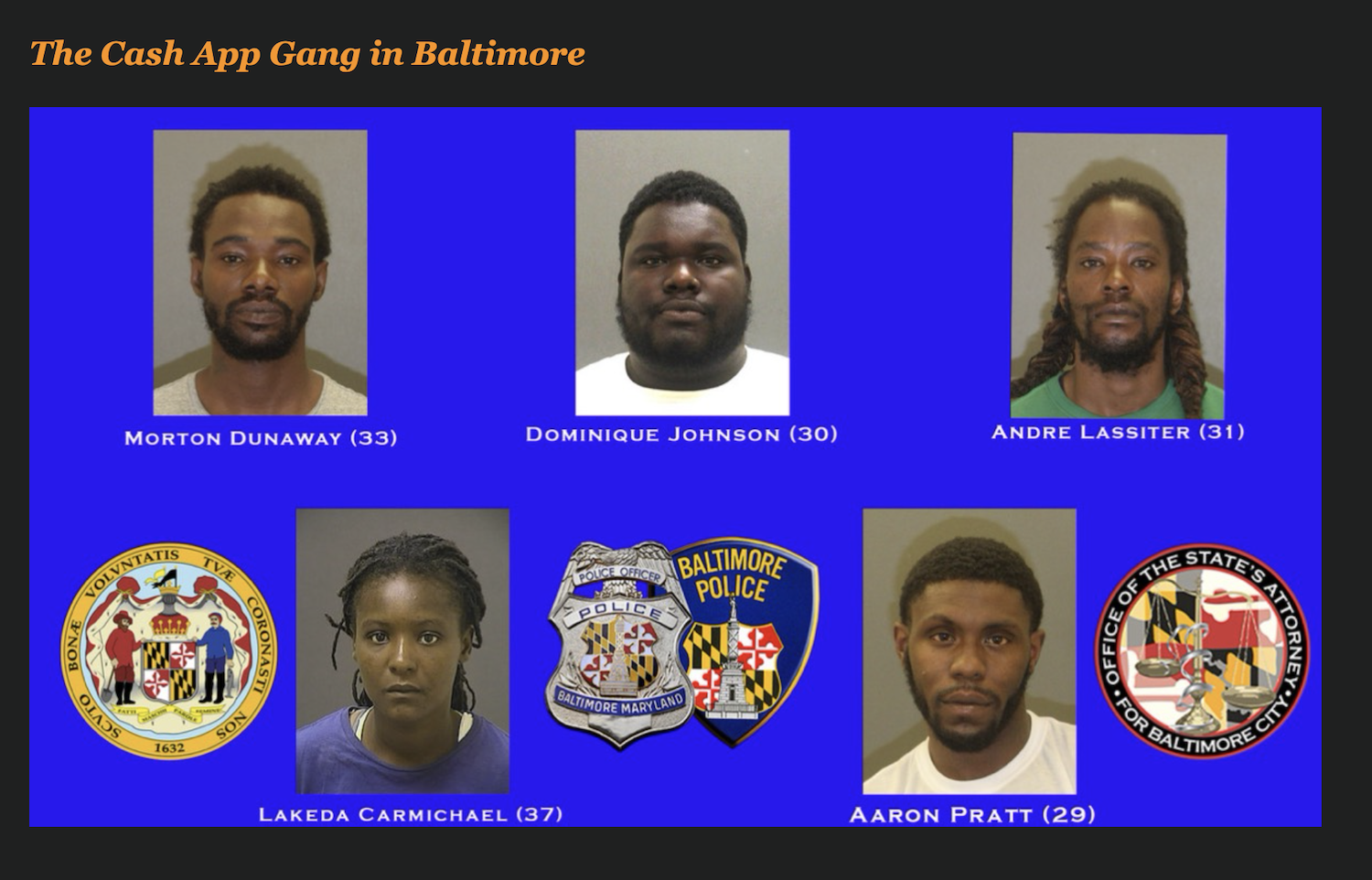 Cash App Was Used To Mule Stolen COVID Money
As the pandemic grew and fraud raged in the stimulus programs, Hindenburg Research claims that Cash App was often used to mule stolen funds from the program.
They claim that Cash App helped facilitate the movement of funds at a far higher rate than banks or other payment providers.
Employees of Cash App claim that Washington State wanted more than $200 million back from payment processors while Arizona sought to recover $500 million.
In Ohio, "Cash App's partner bank had 8x the suspect pandemic-related unemployment payments as the bank that processed the most unemployment claims in the state, even though the latter bank processed 2x the claims as Cash App's, according to data that researchers were able to get their hands on.
That data shows that compared to another bank in Ohio, the Cash App partner bank had over 10 times the rate of fraud as the other bank – this was a clear red flag that the service was being targeted by pandemic scammers.
Nuke Bizzle The Famous EDD Fraudster Rapper Used Cash App
And Ohio wasn't the only state with problems with Cash App. In California, they had problems as well.
Fontrell Antonio Baines the 31-year-old rapper known as 'Nuke Bizzle' bragged about getting rich on fraudulent unemployment benefits.
His rap titled "EDD" where he audaciously admits to defrauding the California Employment Development Department garnered over 500,000 views.
In the eventual complaint against the rapper, the only provider mentioned was Cash App.
Block Refutes The Findings Of The Report
For their part, Block issued a press release refuting the findings of the report.
"We intend to work with the SEC and explore legal action against Hindenburg Research for the factually inaccurate and misleading report they shared about our Cash App business today."
"Hindenburg is known for these types of attacks, which are designed solely to allow short sellers to profit from a declined stock price. We have reviewed the full report in the context of our own data and believe it's designed to deceive and confuse investors."
"We are a highly regulated public company with regular disclosures, and are confident in our products, reporting, compliance programs, and controls. We will not be distracted by typical short seller tactics."
Not Surprising To Fraud and Scam Experts
While the Hindenburg Research may be news to many, fraud and scam experts have long believed that something sinister was up at Cash App. With the sheer level of fraud and scams that have proliferated the platform for years, it's about time something is going to be done about it.
What do you think of this report?