Home sales are way down but fraudsters are not hitting the brakes on mortgage related fraud.
A new CertifID report finds that fraudsters are shifting their tactics and resorting to more lucrative mortgage fraud schemes including diverting closing funds.
The firm caught $1.9 million in attempted mortgage payoff fraud in Q1 2023. By Q2 of this year, that number rose 532% to $12 million, according to CEO Tyler Adams.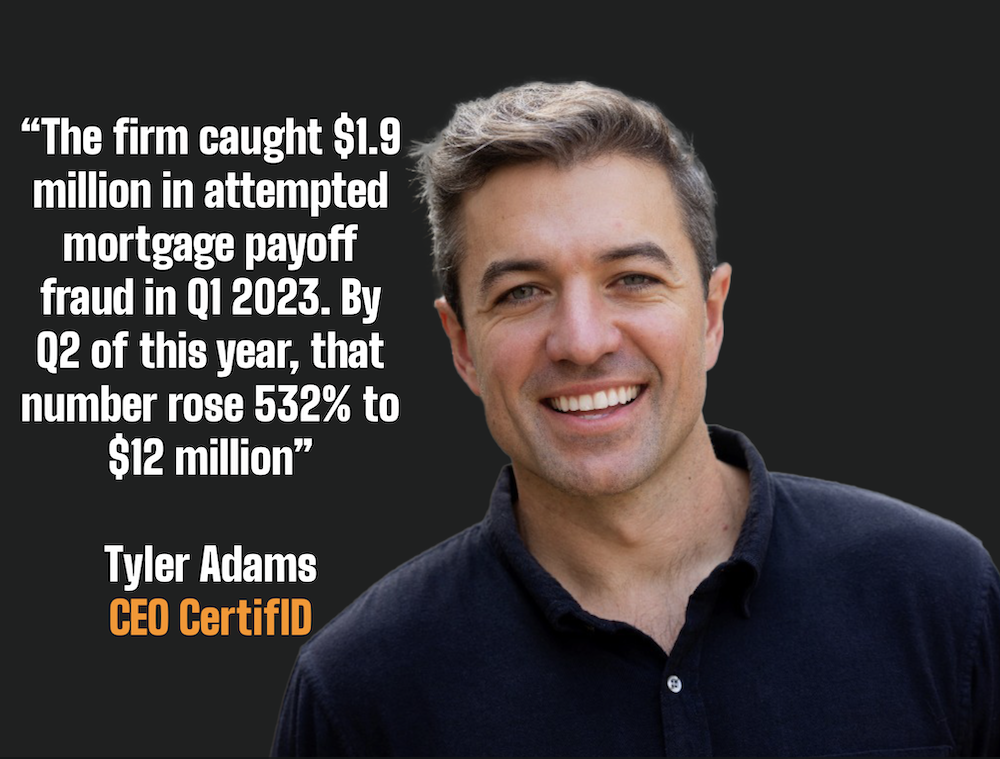 Mortgage payoff fraud occurs when a title company mistakenly sends a mortgage payoff to a fraudulent bank account after receiving wiring instructions that appear to be from the mortgage servicer.
The instructions, however, are actually from fraudsters.
Cooler Housing Market Is Driving Shift In Fraud Types
The housing market is way down. In fact 99% of metropolitan areas in the US are reporting sharp decreases in mortgage activity. Nationally mortgage lending activity has reached a 20 year low across the US.
And CertifID believes that is precisely why mortgage payoff fraud is on the rise.
When Adams spoke to HousingWire he pointed this out and "suggested the stark increase in mortgage payoff fraud was likely the result of a cooler housing market with fewer real estate transactions. Mortgage payoffs, which average more than $236,000, typically yield much higher payouts than wire fraud. They often are initiated through a business email compromise, with the target being the mortgage lender, he said."
"Fraudsters are really crafty when it comes to mortgage servicing, because a lot of the time they are able to send an e-fax to a title company and it replaces the current statement they have on file," he said.
In the mortgage servicer environment, minimal communication between title firms and mortgage servicers open up opportunities for fraudsters. It's also common for mortgage servicers to change the banks they use to receive mortgage payoffs, which, sometimes, can make it difficult to distinguish whether a change in wiring instructions is fraudulent or legitimate.
Fraudsters Shift Patterns Over Time, They Used To Target Refinance Mortgages
In 2019, Tom Cronkright, the former CEO and CoFounder of Certifid warned mortgage lenders of a serious new fraud trend. Certifid provides a secure platform to enable businesses and consumers to safely and securely wire funds to avoid fraud by third parties. They also offer up to a $1,000,000 guarantee against fraud.
Due to the drop in interest rates, borrowers were flocking to refinance their properties at low rates and in many cases, they are cashing out on equity to improve the property.
Times have changed and so have the fraudsters.
Handy Infographic Details Home Mortgage Wire Fraud
First American warned of this growing epidemic years ago as they saw the trend emerge. Here are a list of red flags to be cautious of.