It's hard to call an identity thief or an imposter a hero, but the story of Ferdinand Demara might come close.
Born in 1921, his impersonations included a naval surgeon, a civil engineer, a sheriff's deputy, an assistant prison warden, a doctor of applied psychology, a hospital orderly, a lawyer, a child-care expert, a Benedictine monk, a Trappist monk, an editor, a cancer researcher, and a teacher.
What makes this man so unusual is that he actually saved peoples lives while using the stolen identity of a doctor.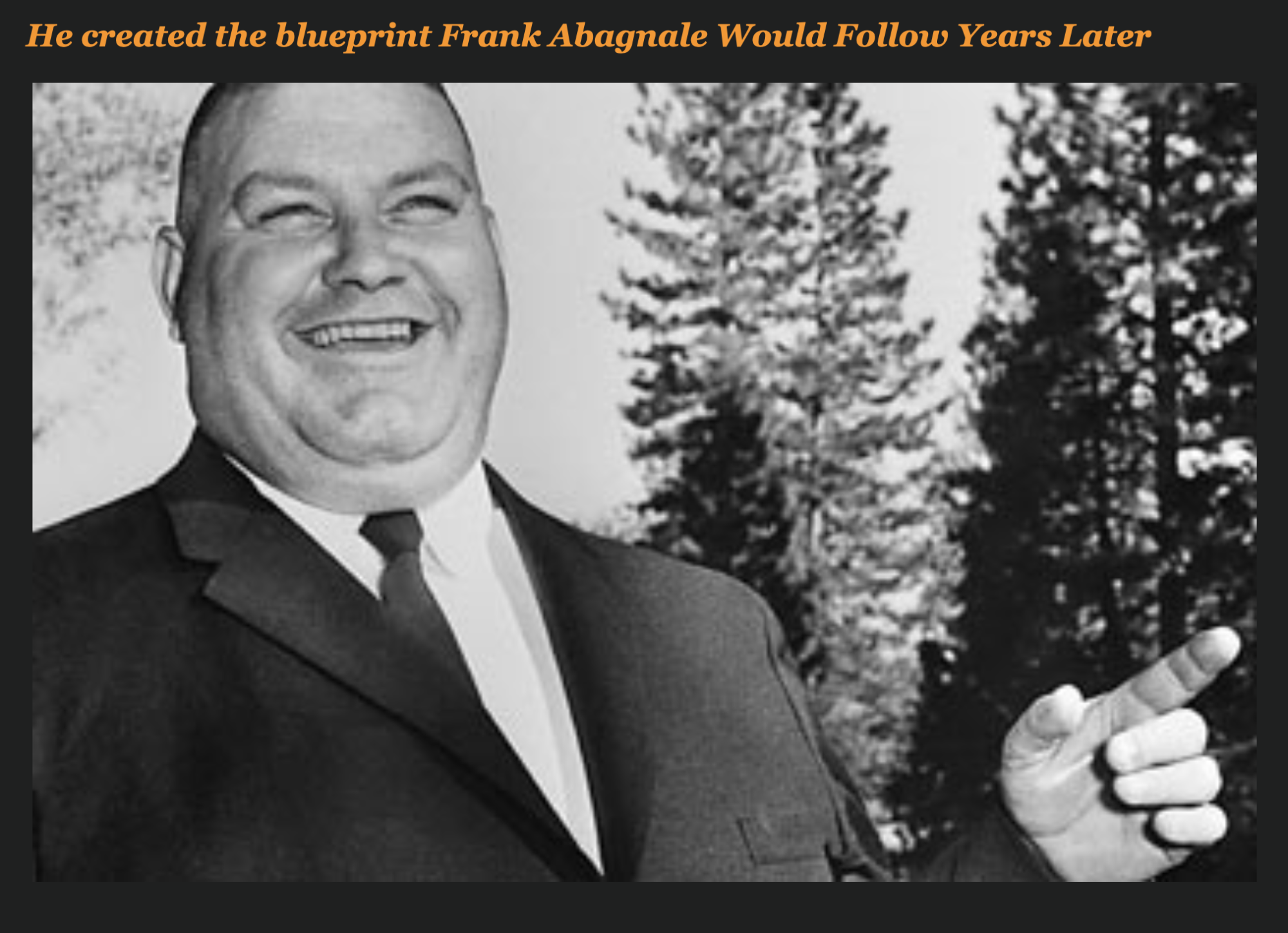 An Amazingly Intelligent Man That Always Wanted to "Be Somebody"
Demara was born into a middle-class family in Massachusetts. His father was a motion picture machine operator in a local theater, and then the family fell into hard times they were forced to live in one of the poorest parts of the country.
Perhaps that is what drove Demara to run away from home at age 16 to begin his long journey to a better life.
Over the next 40 years, he used many stolen identities, always striving to be someone more important than the last person he was.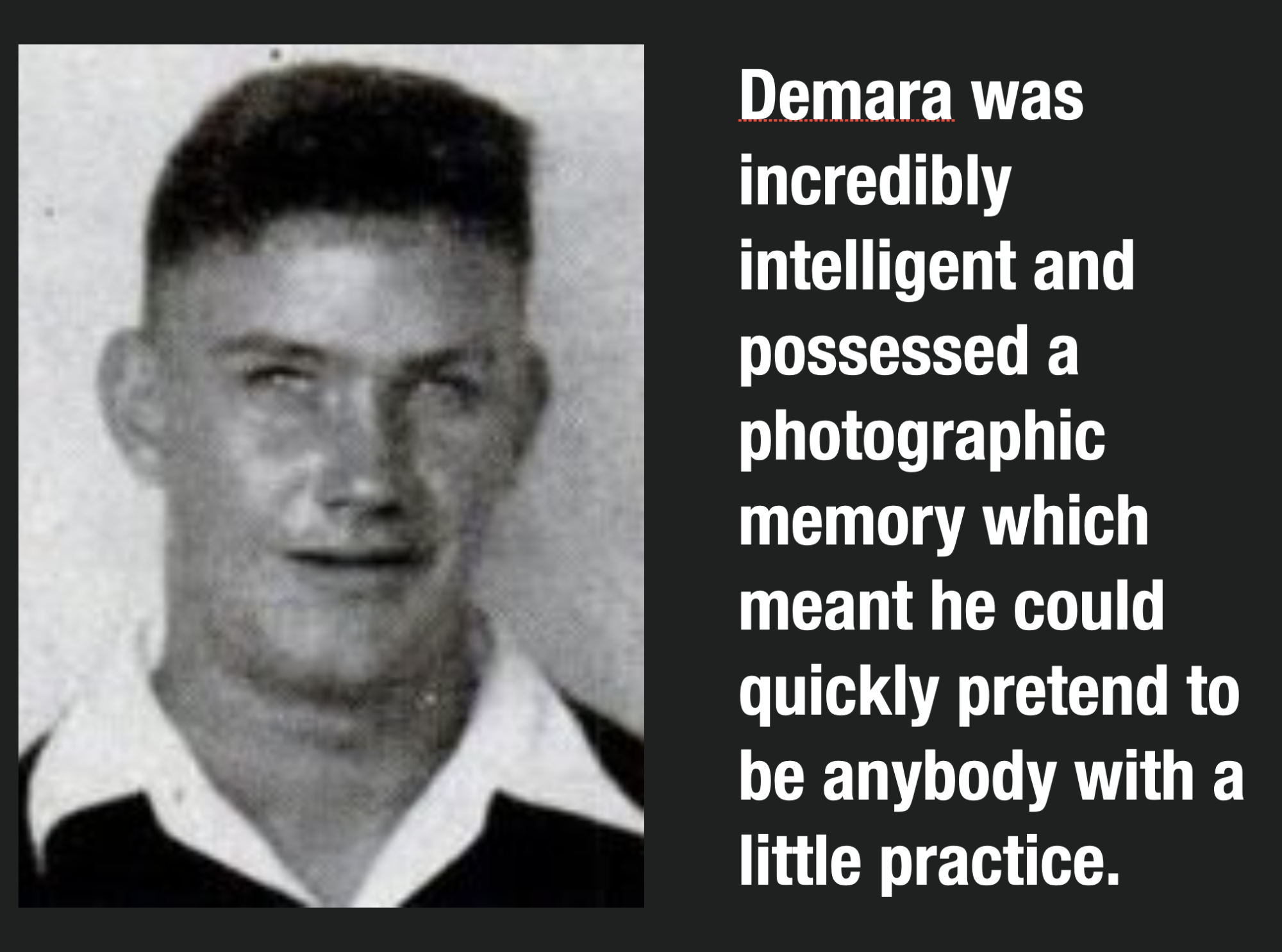 Demara worked as a civil engineer, a zoology graduate, a doctor of applied psychology, a monk on two separate occasions (Trappist and Benedictine), an assistant warden at a Texas prison, philosophy dean at a Pennsylvania college, a hospital orderly, a lawyer and a teacher — among other professions.
Demara was never satisfied, was said to possess an actual photographic memory, and was widely reputed to have an extraordinary IQ.
He Enlisted In The Army But Was Not Satisfied With His Job, So He Stole an Identity and Joined The Navy
Before World War II, Demara enlisted in the army as an infantryman. He absolutely hated it, and became a deserter one year later.
As part of his desertion, he took on a false identity – that of an army friend named Anthony Ignolia. This was the first time, that Demara stole an identity in his life.
Under that stolen identity, he quickly joined the US Navy instead. He was trained as a hospital corpsman, but he realized that this would mean he would have to serve on the front lines of the war, which he didn't want at all. So he forged some credentials to apply to become an officer in the Navy. But that forgery was detected, so he had to flee the Navy too.
He Continued Moving All Over the US, Assuming Identities
At that point, Demara shifted careers and assumed many different identities working as a teacher, a monk, a biologist, and a psychologist.
During this time, Demara took a job working with a famous biologist named Dr. Hamann and began learning about medicine and surgery.
After a few months, he became bored with the job and left to join a religious order called the Brothers of Christian Instruction, using the stolen identity of Dr. Hamann.
This was Demara's first real stint as a "Doctor" and he liked it since it brought him much notoriety. He was even written up in the local paper so he finally felt like he was "somebody".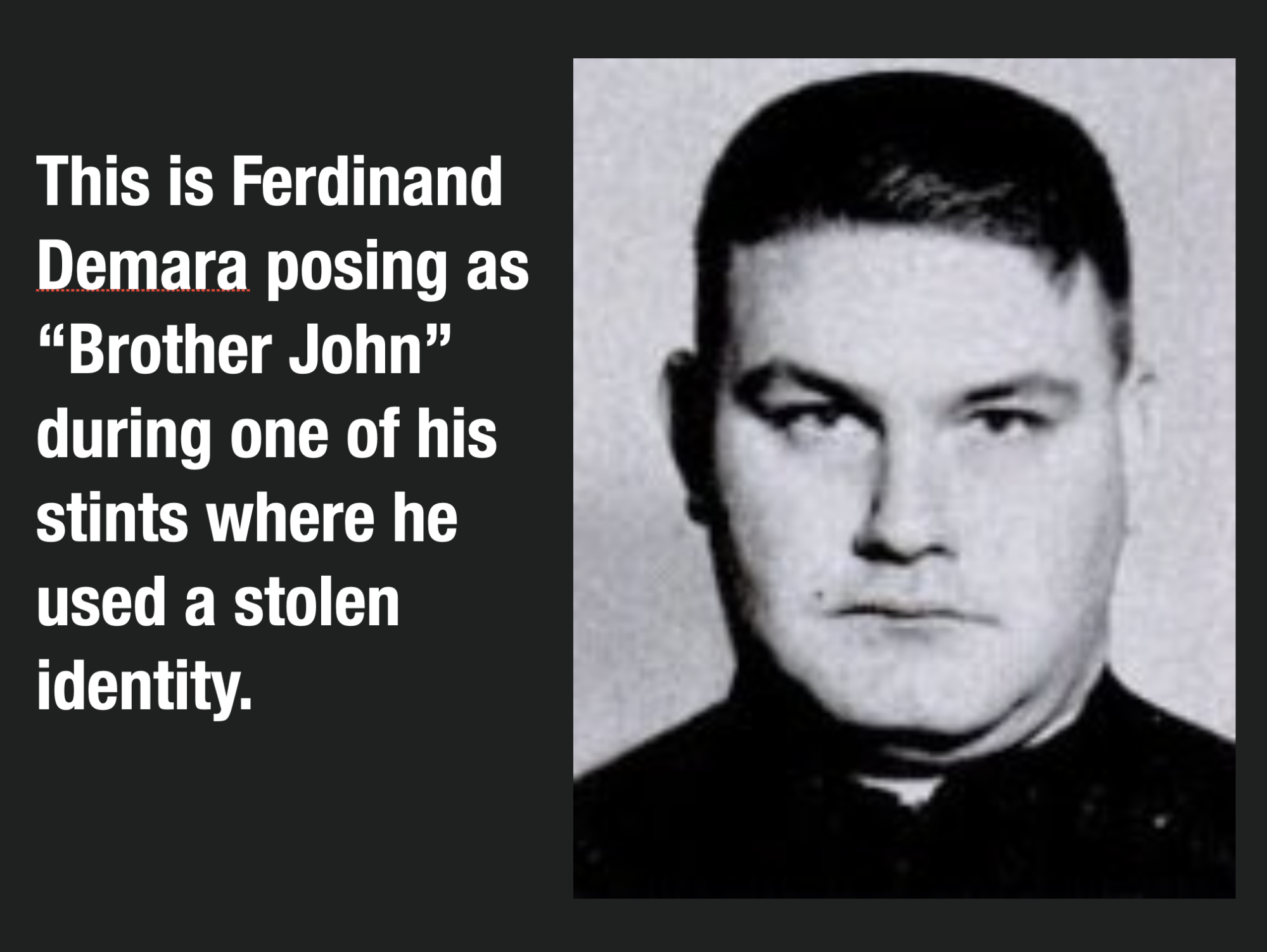 He Then Joined The Navy As A Surgeon and Became A Hero
It was in 1951 that Demara pulled off his most audacious stunt yet. Using the stolen identity of a Doctor named Dr. Cyr, he enlisted in the US Navy as a Surgeon-Lieutenant and was assigned to the naval hospital in Halifax on a ship called the HMCS CAYUGA.
Had the authorities done their due diligence, they would have found that he was not qualified to look after the health of the sailors in his charge. Demara had no formal training and had no idea how to operate on sailors in any way.
But this is where Demara's photographic memory served him well. Using nothing more than medical textbooks and photos that he had on the ship he would memorize procedures before he went in to operate on sailors.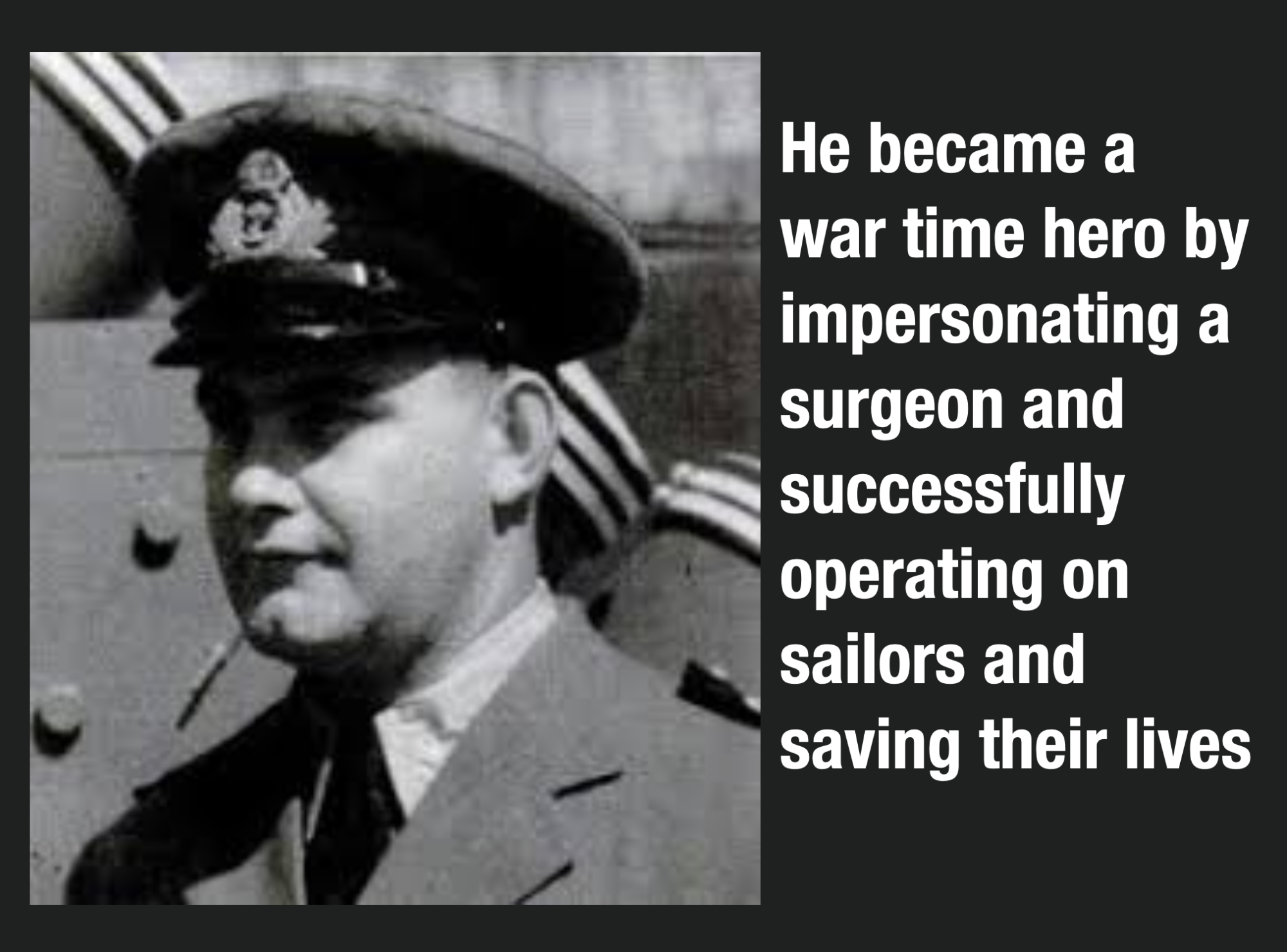 Posing as Dr Cyr, he performed numerous minor surgeries, including dental work on the infected tooth of CAYUGA's commander, Captain James Plomer.
Following a commando-style raid off the west coast of Korea, 3 seriously wounded sailors — all South Korean guerillas – were brought aboard the ship. Demara is said to have removed a bullet from a man's chest and amputated a foot. His patients not only survived, but Cyr's (aka Demara's) fellow officers were so impressed with his coolness that they planned to put his name forward for a medal.
But that is when things turned south for Demara.
The Canadian Navy apparently discovered Demara was using a false identity after the real Dr. Cyr's mother spotted a news report in her local paper. War correspondents had picked up the story of the CAYUGA medic and broadcast it far and wide.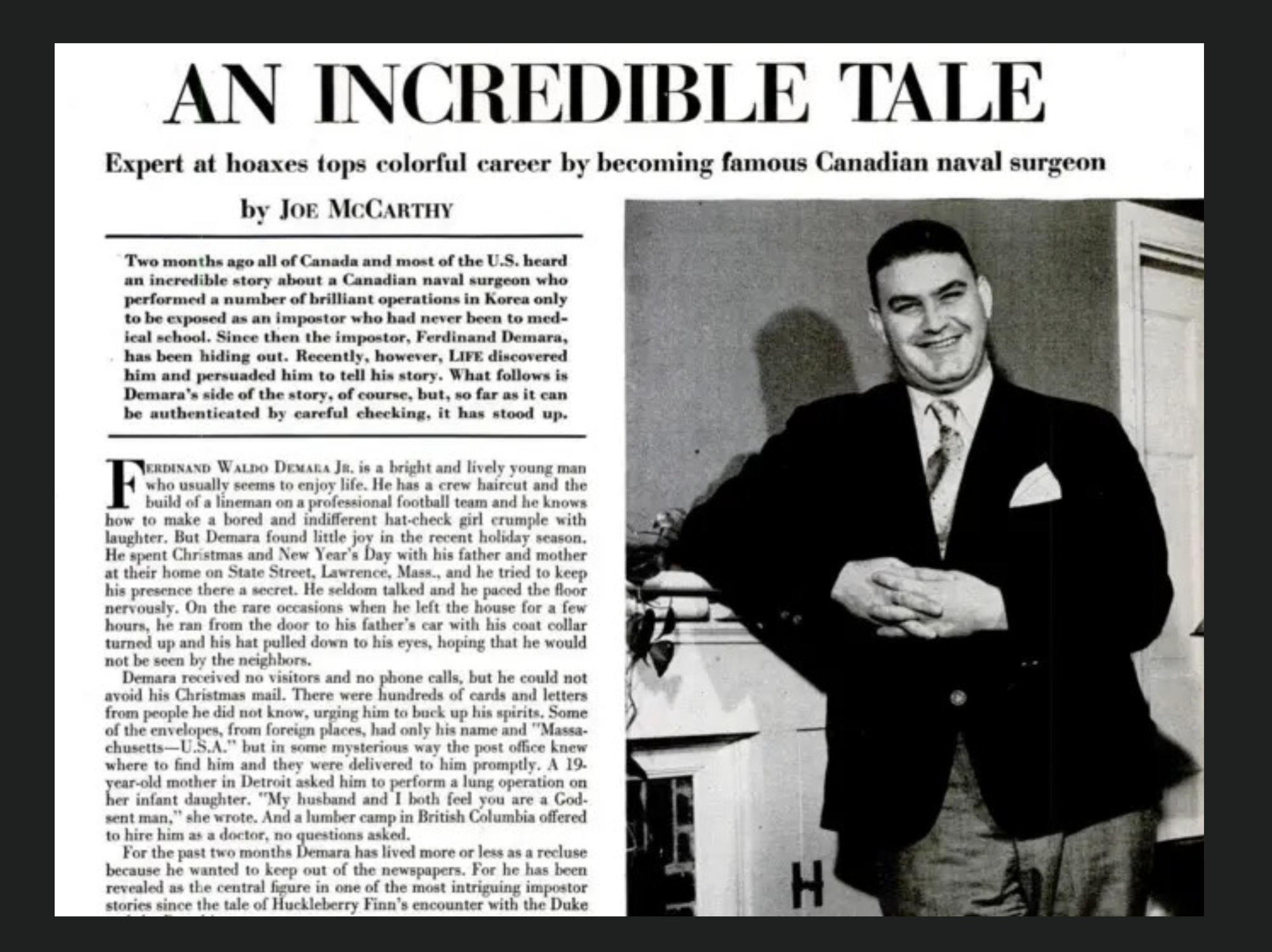 The genuine Joseph Cyr, practicing in Grand Falls, New Brunswick, realized the truth and showed up at the Navy Recruiting Center to report that his identity was being used fraudulently.
The Navy was so embarrassed by the fiasco that they declined to prosecute Demara but they released him immediately.
The subject of The Movie The Great Imposter
Demara's life story was so unusual and amazing that it was turned into a motion picture called "The Great Imposter," which starred Tony Curtis. It was released in 1960.
Demara eventually passed away in 1982 but his exploits during his life, might make him the greatest identity thief in history.