Hindenburg kept the assault on Block this week, saying that Block's response to their allegations actually confirms that they have inflated their user accounts for years.
They claim that instead of refuting the key issues, Block's response confirmed much of their analysis and avoided addressing many of the other claims.
Block Confirmed 44 Million Active Accounts – Close To 50% Less Than It Said Before
According to Hindenburg, Block's numbers point to the fact that they do not have nearly the users they claim.
"Block disclosed that Cash App users comprise 39 million unique Social Security Numbers (SSNs) and 44 million verified accounts. The verification process is done through Block's internal Identity Verification (IDV) program, which it also disclosed for the first time."
This number, according to Hidenburg, differs wildly from what Cash App's CFO Amrita Ahuja claimed in September of last year – 80 million actives.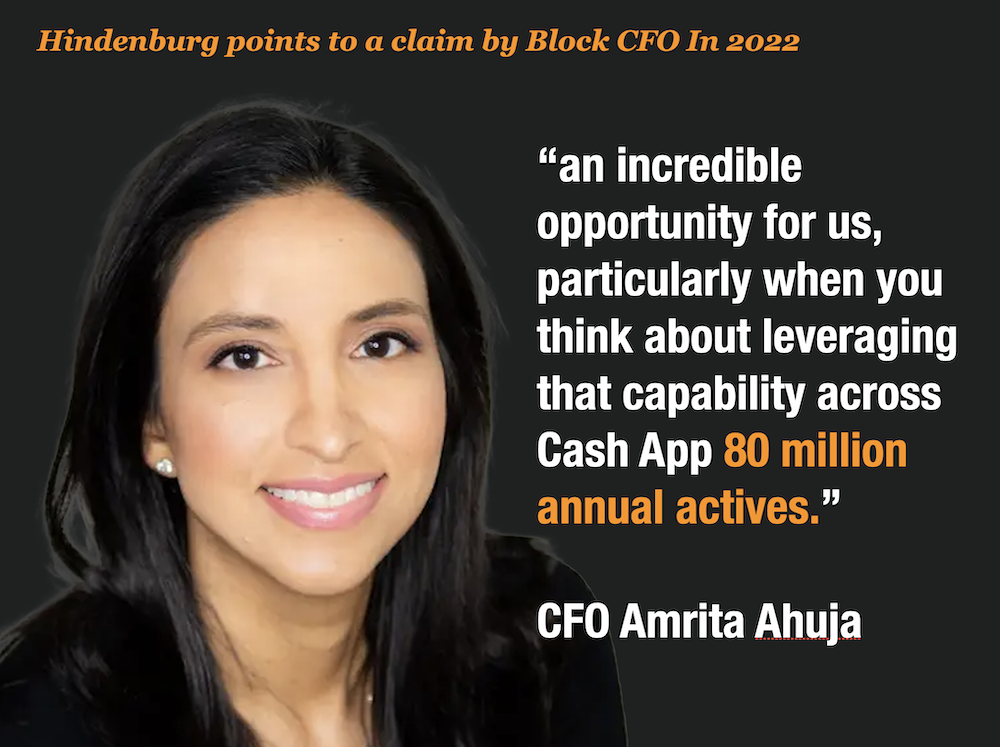 Based on these numbers, Hidenburgh claims that "based on the new 39 million to 44 million user counts reported yesterday, we now know that the cited 80 million annual user metric was inflated by 82%-105%."
Additionally, with only 39 million unique Social Security numbers across 44 million active accounts, it does suggest that there may be quite a few users with multiple accounts.
Does Hindenburg Have A Point?
The number of Cash App users is elusive but is Hidenburg on to something here? After all a drop from 80 million active accounts to 44 million active accounts is a pretty sizeable drop in 6 months.
Block claims that they will fight this out in court so I am interested to see what the outcome is.