How many time can the SBA get hit with fraud? It seems like the attacks will never stop. This week, fraudsters are all over the new SBA Restaurant Revitalization Fund.
That seems to be the case based on all the activity on social media and telegram channels focused on fraud.
The Program Launched Less Than 1 Month Ago And Is Already Depleted
The fund, designed to help restaurants, caterers and even food trucks recover from the pandemic provides them with funding equal to their pandemic-related revenue loss up to $10 million per business and no more than $5 million per physical location.
The fund which launched on May 3rd was enormously popular attracting over 266,000 applications in the first two weeks. Now the fund has clocked in over 362,000 applications and has almost depleted the $26.8 billion that was allocated.
But it also appears to have attracted fraudsters. As I always say, Fast Money = Fast Fraud. It wouldn't be surprising to find out that fraudsters have hit this loan program as hard, if not harder than the PPP loan program where it is estimated that fraudsters stole approximately 10% of all loan proceeds.
Telegram's Latest Wave is Hitting The SBA Again
You always know the latest fraud wave on Telegram, and the hottest new fraud is the SBA's Restaurant Revitalization fund.
Fraudsters are selling all the documents that you need including bank statements, CPA letters, fake payroll documents, outdoor seating expenditures and lender loan statements.
They have the fraud scheme dialed in and will tell you exactly what to do to steal from the government and taxpayers.
You can check out some of the many post here selling methods and urging people to take advantage of the loan program through fraud.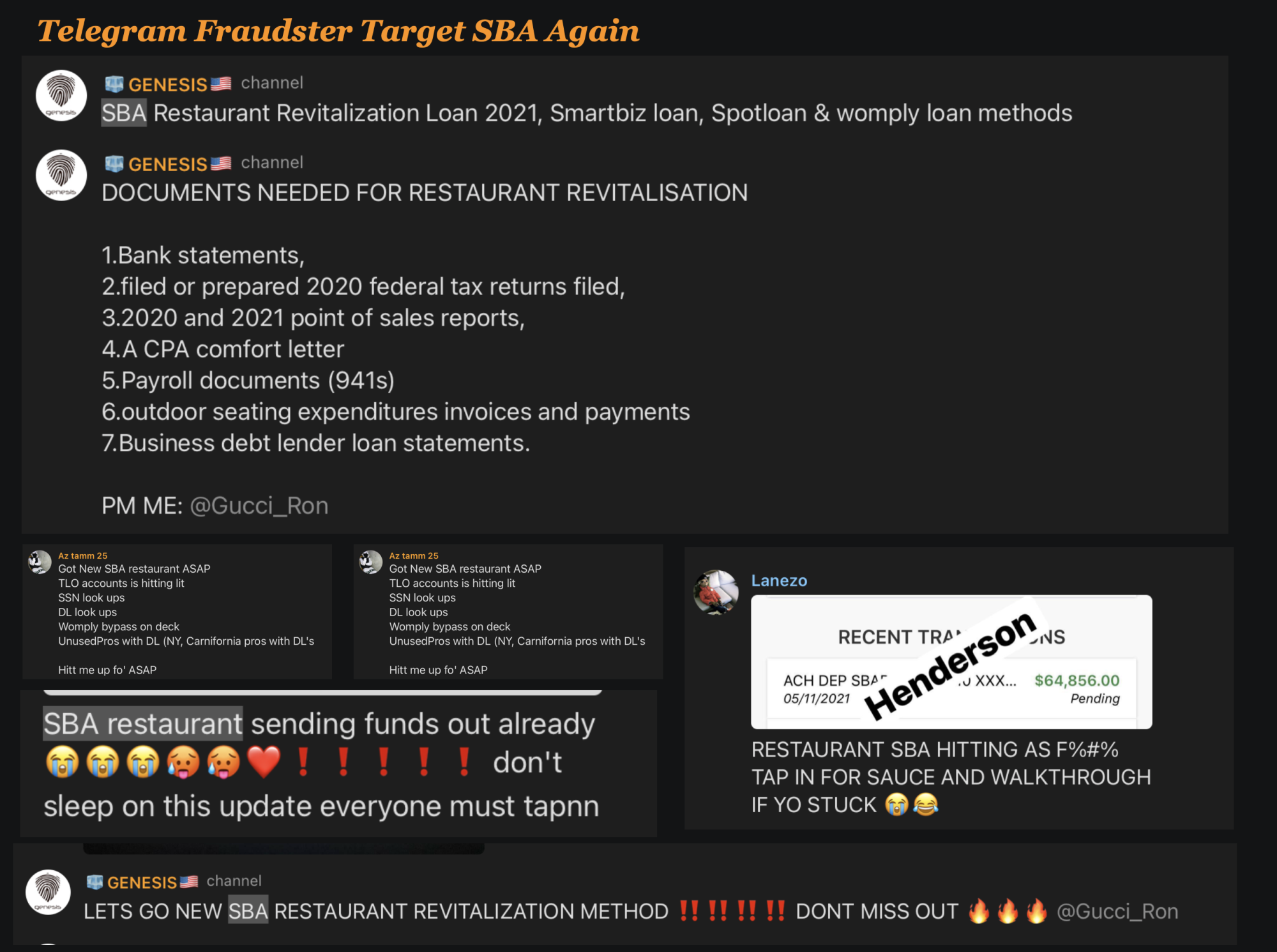 And some fraudsters don't even want to sleep, they are working day and night to defraud the loan program as fast as they can. They warn you that you shouldn't sleep on the program.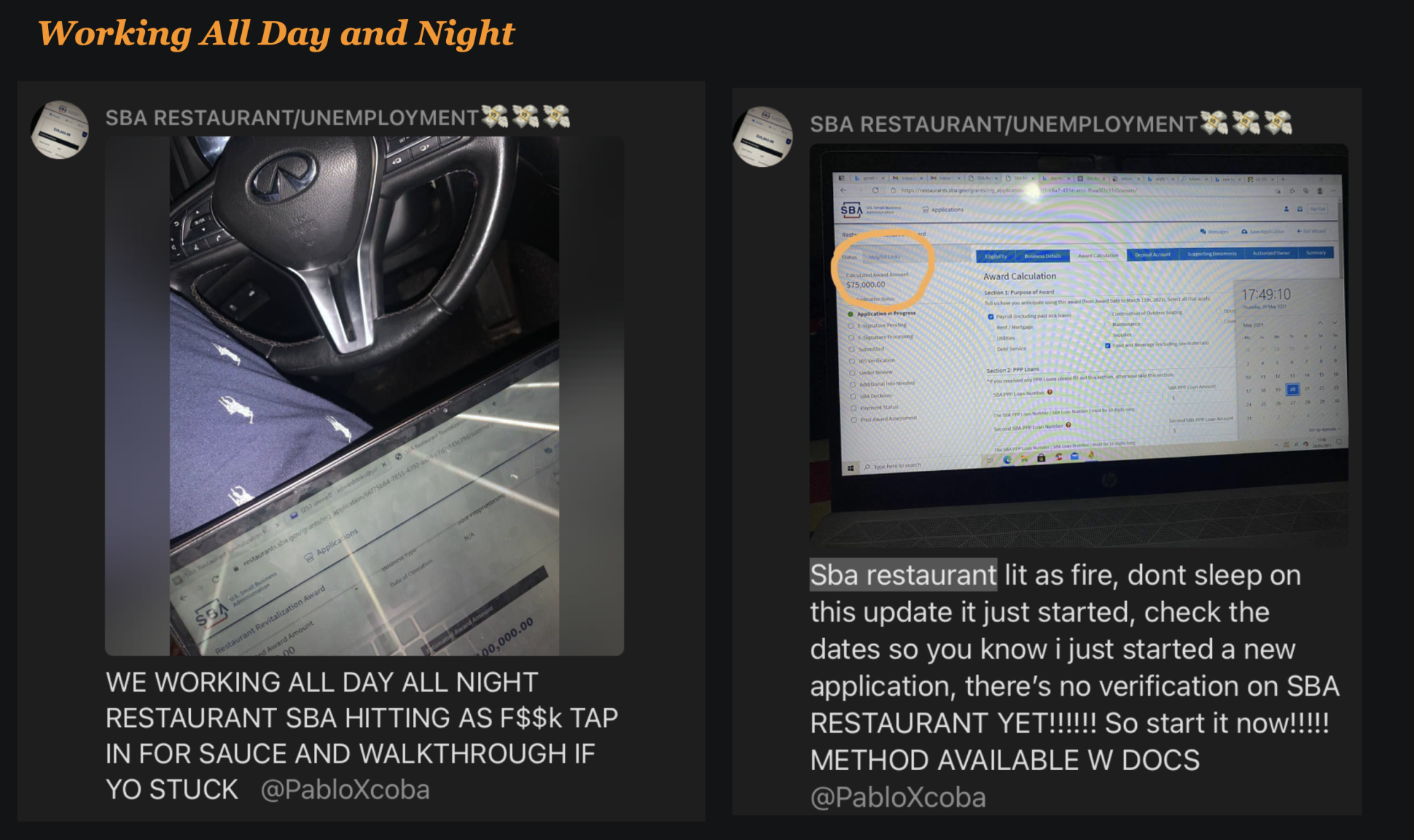 Companies That Can Apply For The Fund
The fund provides wide eligibility to lots of different businesses within the restaurant industry which may make it harder for investigators to verify the validity of the businesses.
They could include all of the following types of businesses:
Restaurants
Food stands, food trucks, food carts
Caterers
Bars, saloons, lounges, taverns
Snack and nonalcoholic beverage bars
Bakeries (onsite sales to the public comprise at least 33% of gross receipts)
Brewpubs, tasting rooms, taprooms (onsite sales to the public comprise at least 33% of gross receipts)
Breweries and/or microbreweries (onsite sales to the public comprise at least 33% of gross receipts)
Wineries and distilleries (onsite sales to the public comprise at least 33% of gross receipts)
Inns (onsite sales of food and beverage to the public comprise at least 33% of gross receipts)
Licensed facilities or premises of a beverage alcohol producer where the public may taste, sample, or purchase products
More Money On The Way
The program currently has over $75 billion in applications but only $28.6 billion in funds. Politicians are gearing up to refund the popular program.
But who actually knows how much of that $75 billion in applications is actually being submitted by fraudsters?