Fake Account fraud is growing. Late last year, Elon Musk tried to back out of buying Twitter because he said up to 20% of the accounts on the platform were fake – created by bots. He was unsuccessful.
And now Chase has just got stung by a major case of fake accounts that has them reeling in some major losses.
Yesterday reports emerged that Chase shuttered their website – Frank – after it learned of widespread fake account fraud on the platform.
They paid over $175 million to acquire the company in September of 2021 but allege that over 4 million fake accounts were created by the founder using synthetic data.
What's up with all of these founders, creating massive frauds and leaving others to hold the bag?
They filed a lawsuit which you can find here.
Chase Thought Frank Was A Fast Growing Company Serving Students
Fast Growth equals Fast Fraud. And there seemed to be some fakery going on with the user counts at Frank.
The founder Charlie Javice claimed that her platform had helped millions of students obtain billions of dollars in student aid. She claimed that her website had over 35 million visits and was enormously popular.
Her story was so compelling that she raised $20 million dollars and eventually convinced Chase to buy her company for $175 million in 2021.
At the time of the acquisition, she touted it on Linkedin, claiming that in just around 4 years the company became the leading and fastest-growing college financial aid platform serving 5 million students at over 6,000 colleges.
When Chase announced the acquisition of Frank, optimism was riding high. They were acquiring the ability to tap into the Student Financial Aid market, a chance for them to establish relationships with customers that could last a lifetime.
Jennifer Piepszak, co-CEO of Chase, touted the acquisition and what it would bring to the bank.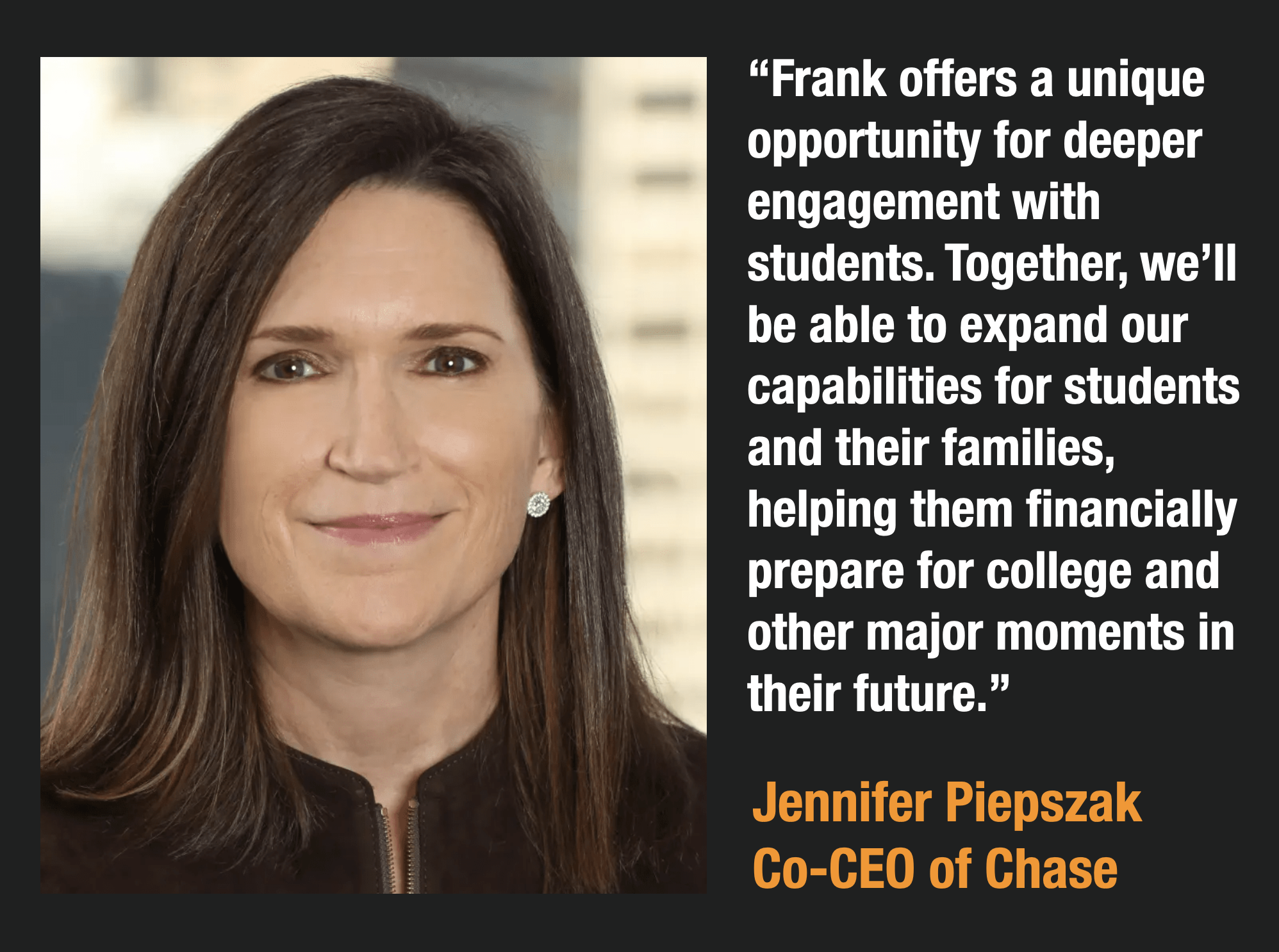 "Frank currently serves more than five million students at over 6,000 higher education institutions across the country. Their simple online portal lets students apply for financial aid in minutes and enroll in Frank's catalog of affordable online college courses."
Even the Frank website touted that 5.25 Million students had chosen Frank. The website has since been taken down, but a screenshot from The Wayback Time Machine from December 2021 is still available here.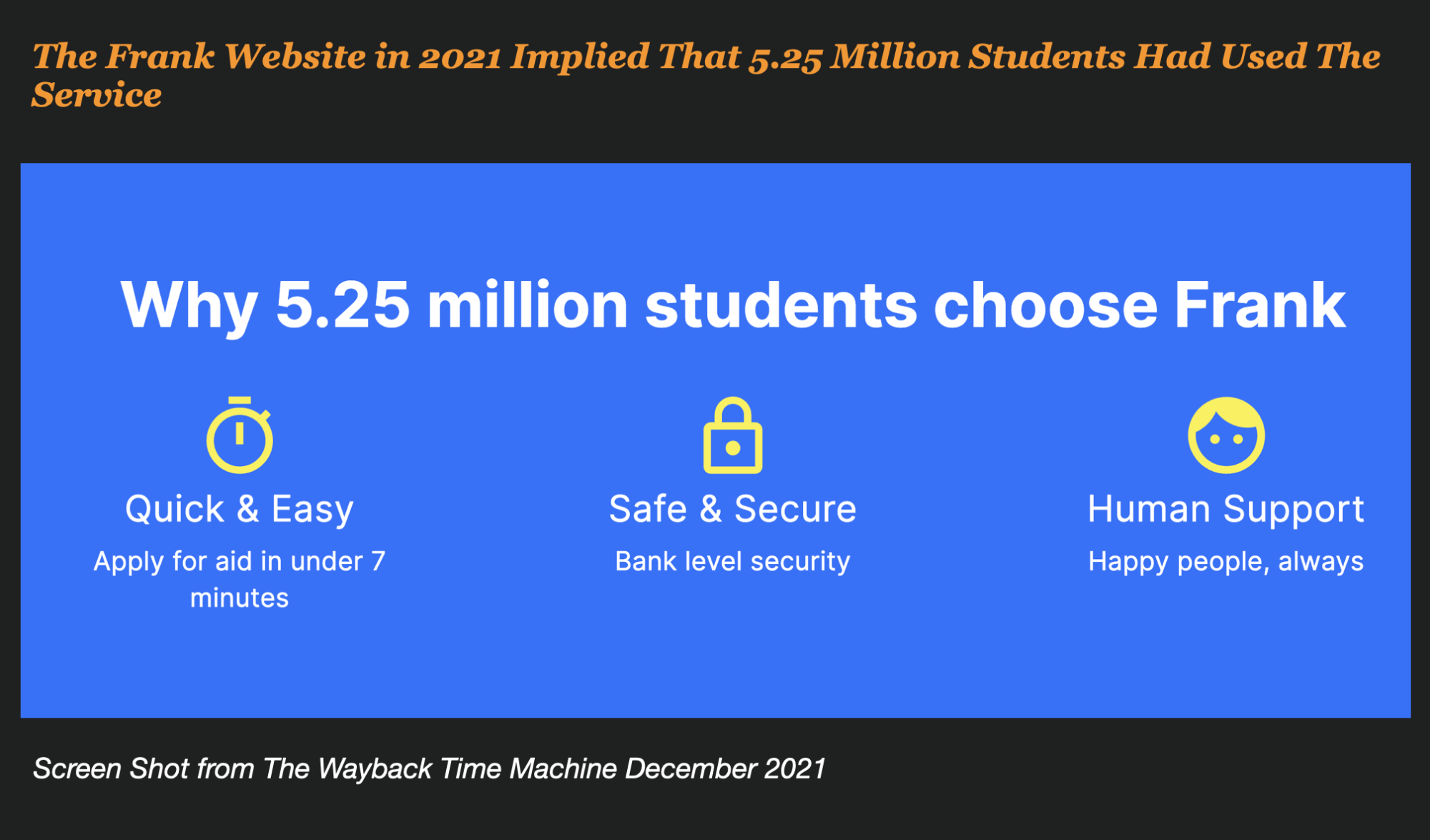 In another part of the Frank website, the company claimed that 4.25 Million students had used Frank – a glaring red flag that Chase should have probably picked up on.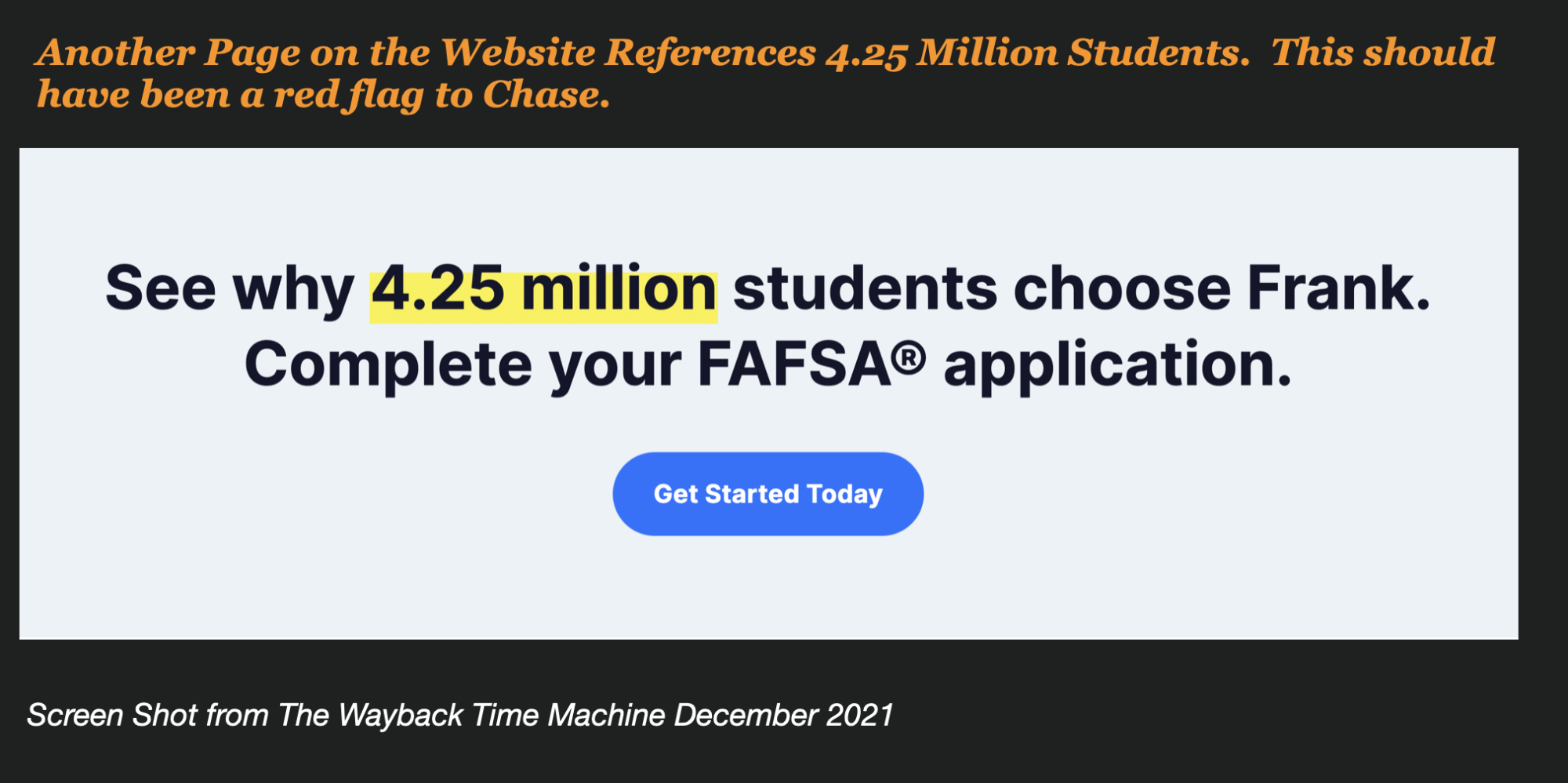 That Sickening Feeling Chase Got When They Tried To Run an Email Campaign
After the acquisition, Officials at Chase got sick when they did an email blast to 400,000 purported Frank customers, and 280,000 of those emails bounced. Chase had emailed the customers, hoping to offer the students checking and savings accounts but only 103 people clicked through to the Frank website.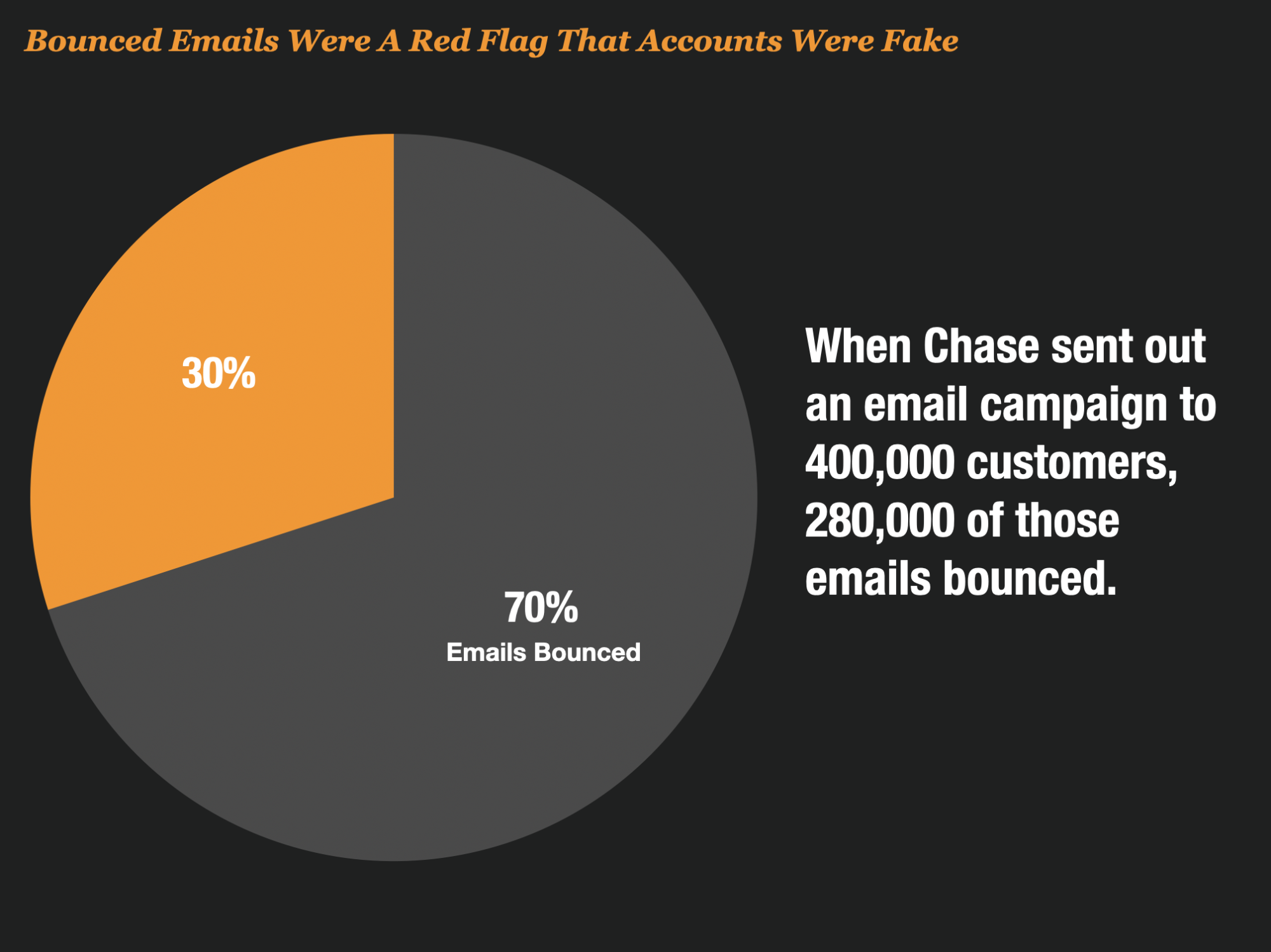 In the end, Chase determined that really only about 300,000 of the 4.2 million plus accounts were real. The rest were faked – created by a data scientist that worked for Charlie Javice.
When The Director of Engineering Balked At Creating Fake Accounts, She Found A Data Scientist To Create Synthetic Data For Her
The lawsuit detailed the scheme that they allege was perpetrated by Javice.
In the lawsuit, JPMorgan alleged that Charlie Javice first asked her Chief Engineer to create "fake customer details" using an algorithmic approach. According to a Bloomberg report, She provided her engineer with a link, "Generating Tabular Synthetic Data Using Gans" which was essentially directions on how to create synthetic data that mimicked the data on the true customers they already had.
He refused to do it, and would only send a list of the real customers, which was less than 300,000 true customers at the time.
After he refused to do it, she found a data science professor at a New York area college to create the accounts.
Chase could track email communications between Javice and the Data Scientist because they acquired the historical emails as part of the documentation and acquisition of the company.
And there were some really incriminating details in those messages. In one message, she asked the data scientist, "Will the fake emails look real with an eye check, or is it better to use a unique ID?".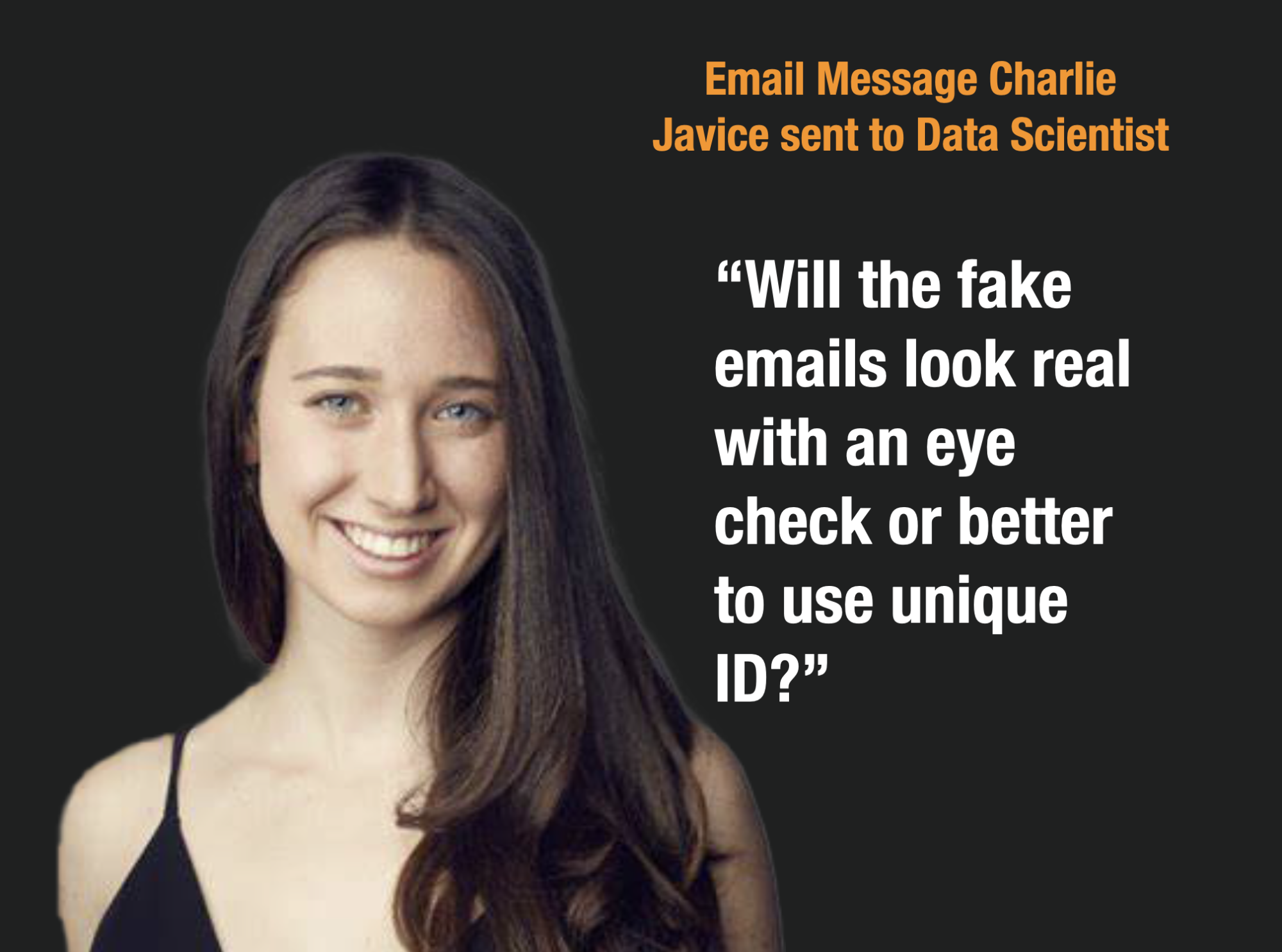 Lies and Misinformation During Due Diligence All Caught in Email Messages
The lies and deception were incredible in this case. And it was all caught in email traffic between the founder and the data scientist she hired to create the fraud.
Before the acquisition, Chase did due diligence with Frank and started asking hard questions about the customer base to learn if it was real.
Since Frank collected information like Name, address, email, and phone number Chase wanted to drill into that account information, so asked very detailed questions:
How many customer accounts have 100% of the below data?"
How many customer accounts have partial information?
Of partial records, what [percent] include each data field below
Frank did not have the accounts they purported to have when they asked these questions. This created a real problem for the founder, so she pushed back on the request and advised that she could not provide it due to privacy concerns.
So she allegedly went to her Director of Engineering and asked him to create synthetic data, but he refused and wanted to ensure that he was not doing anything illegal.
When the director of engineering denied her request to create fake accounts to fill the gap, she turned to a Data Scientist in New York. And this is where the trouble really started.
Javice provided the Data Science Professor a list of 293,192 individuals who had started or submitted a
FAFSA application through Frank. She then directed the Data Science Professor to use "synthetic data" techniques to create 4.265 million customer names, email addresses, birthdays, and other personal information based on the list Javice supplied.
The practice of creating synthetic data is routine but it is typically used just for testing purposes and not for the creation of real customer accounts.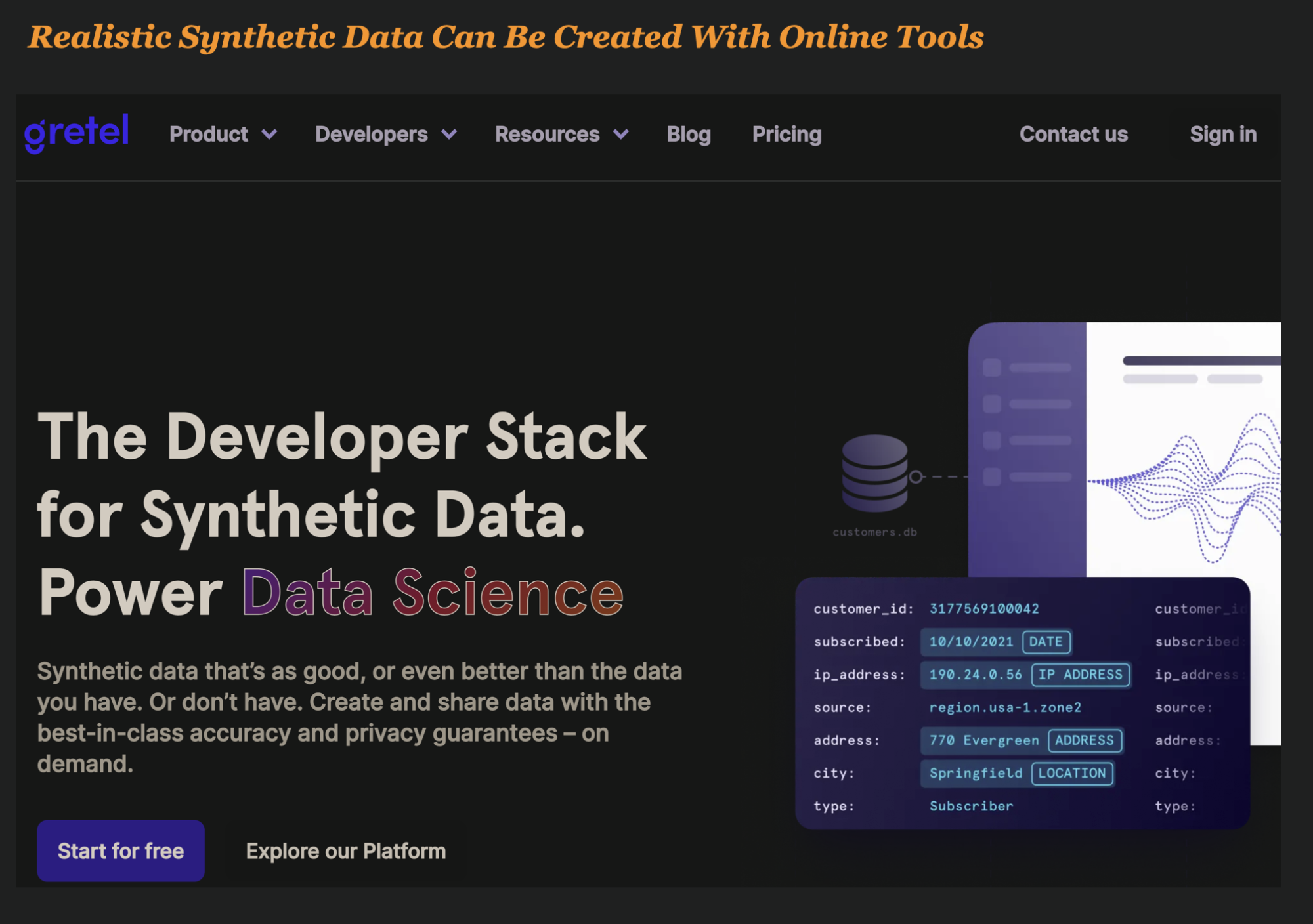 The Email Exchanges Are Damning for Charlie Javice
The emails between Javice and the Data Science Professor clarify that the customer list consisted of fake data. Here are some of the more interesting examples of exchanges that were captured on email conversations.
The Data Science Professor wrote Javice to confirm that for names, our plan was to sample first name and last names independently and then ensure none of the sampled names are real.
Regarding creating physical addresses, the Data Science Professor wrote to Javice, "I can't seem to find addresses in my raw files. Should I attempt to fabricate them?"
Javice responded, "I just wouldn't want the street to not exist in the state." Later, the Data Science Professor determined that "'real addresses' may not be doable," and Javice responded "If we can't do real addresses, what's the best we can do for that?"
When reviewing the fake data, the Data Science Professor noted that many entries confusingly had customers living, attending high school, and attending college in the same town and state, and concluded that the list "would look fishy to him if he were to audit it.
Javice was particularly concerned with the email addresses, asking the Data Science Professor "will the fake emails look real with an eye check or better to use a unique ID?" He responded "they will look fake," at which point Javice agreed to use a "unique ID" instead.
When the Data Science Professor struggled to add certain college names to the list, Javice indicated that the "perfect" solution was to "draw a school at random in the same state" as the college that could not be added.
And when the Data Science Professor informed Javice that the data she provided contained the same phone number appearing for 676 individuals, Javice instructed him to "double-check the duplication rate isn't more than 5%-7%" for the synthetic data, despite the fact Javice knew that JPMC was asking for a list of "unique customer accounts."
Chase was able to capture these conversations on the email system since they acquired the company.
The Cover Up Began Immediately
According to the lawsuit, the cover-up began immediately after due diligence. Within four minutes of receiving the analysis, Javice directed the vendor to destroy the Fake Customer List and not share "additional background" with JPMC.
"Next, the Data Science Professor sent Javice a $13,300 invoice for his work, which included line items for each fake data field he had created.
Javice immediately directed the Data Science Professor to resend the invoice with only one generic line item for "data analysis" and increase the invoice to $18,000. The Data Science Professor compiled and revised the invoice."
The Fraud Emerged After An Email Campaign
In January 2022, Chase wanted to test the new customer list they had purchased through the Frank platform. And it was a disaster.
Chase sent marketing test emails to what it believed were 400,000 unique Frank customers. Of the individuals contacted, only 28% of emails were delivered, compared to a 99% delivery rate JPMC usually sees with similar campaigns. Just 1.1% of the delivered emails were opened, compared to 30% for a typical JPMC campaign.
At this point, Chase knew they had purchased a company worth a fraction of what they had paid.
In November, Charlie Javice Was Terminated By Chase
As part of the acquisition of the Frank portfolio, Charlie Javice was hired on by Chase and given a $20 million sign-on bonus.
When the fraud was discovered, she was terminated in November and it's unclear at this point how Chase will be able to recoup their money.
Charlie Javice Refutes The Claim and Is Counter-Suing Chase
According to the New York Post, "Days after JPMorgan filed its lawsuit, "Javice countersued, claiming that the bank owed her millions of dollars in legal expenses that accumulated due to an internal investigation from last spring.
Javice alleges that the investment bank fired her from her position as head of student solutions in November. She claims she was let go by JPMorgan so that it could skirt a $20 million bonus payment that she was owed.
Not The First Trouble Involving Charlie Javice's Company – Department of Education Filed A Trademark Violation Action
According to Business Insider, this is not the first trouble involving Frank. In 2018, the company settled a trademark violation with the Department of Education.
"Years before JP Morgan Chase accused Charlie Javice of fraudulently inventing customers for her student financial aid platform Frank, the 30-year-old fintech founder settled with the federal government over claims that her company could be misleading students. The settlement documents, which Insider obtained, showed that Frank was forced to change the name of its website and disclose to consumers it was not affiliated with the federal government."
The core issue was that users that were visiting her website could be easily fooled that Frank was affiliated with the federal government, the Department of Education, which was not the case.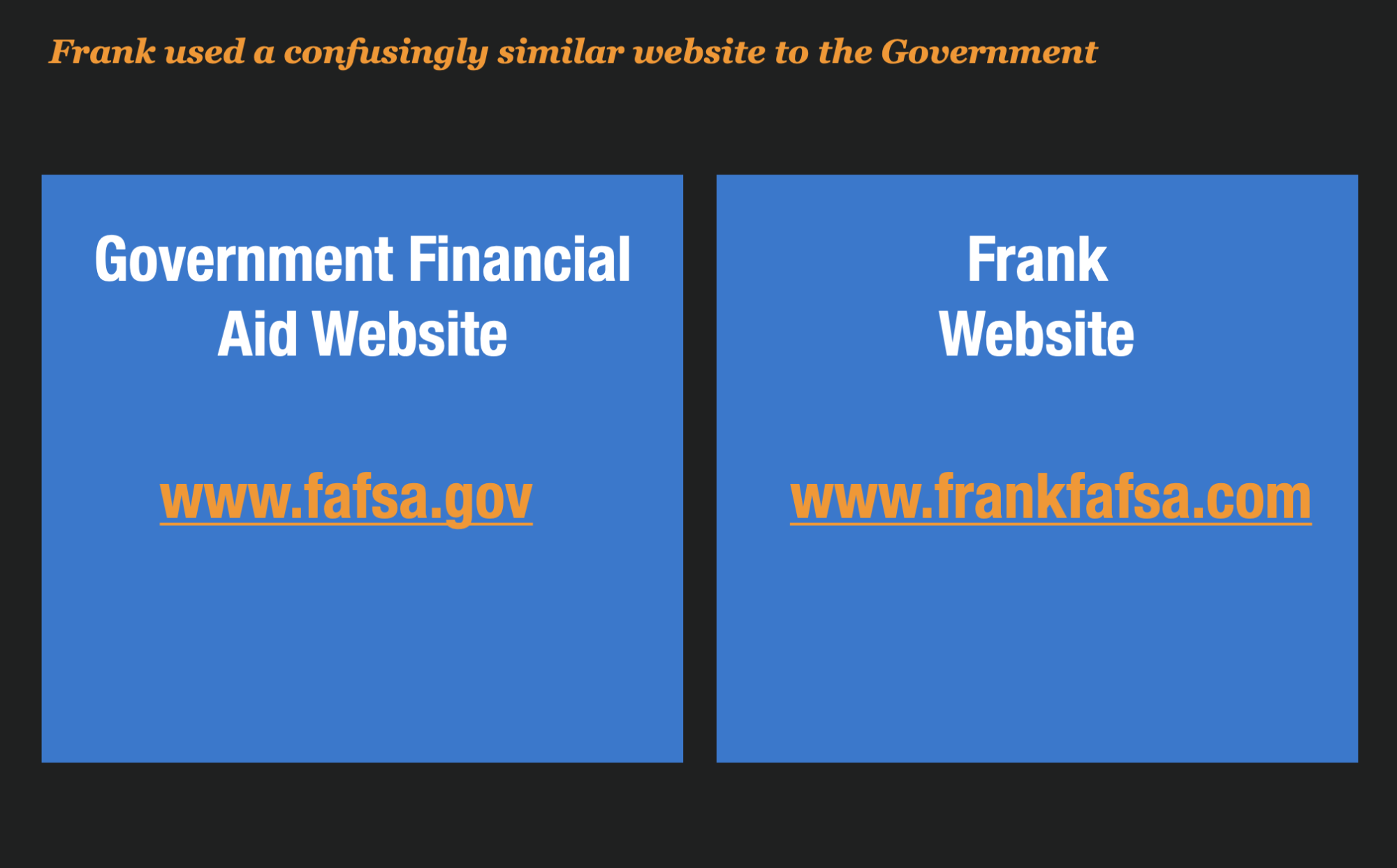 According to the settlement, Frank's 2017 website was frankfafsa.com. According to the settlement, Frank sometimes called the form Frank's FAFSA on social media. According to the settlement, the domain name "was confusingly similar to the Department's website, www.fafsa.gov"
At the time of the settlement Frank had touted approximately 300,000 customers, so after the settlement, they did not appear to grow that much which could be the reason the fake accounts were created.
Read the Lawsuit Here
You can read the whole lawsuit here. It is really a fascinating read.