According to a new Point Predictive Report, fast money equals fast fraud, and fast luxury cars are the new favorite target of fraudsters.
And the company reports that fraud is up. Over $8.1 billion in exposure to lenders this year. That's an increase of more than $400 million over the prior year.
Request the report here – 2023 Auto Lending Fraud Trends.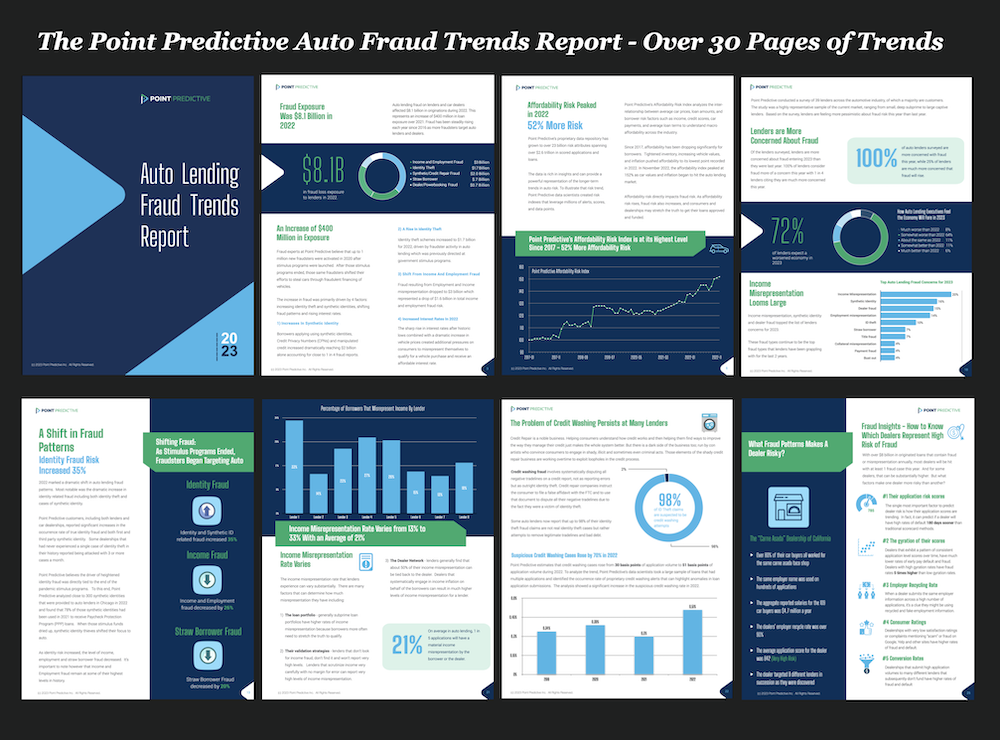 8 Insights Into Auto Lending Fraud Trends
The fraud report is chocked full of trends about the state of auto lending. Here are the top 8 trends that I gleaned from the report.
#1 – There Are 1 Million New Fraudsters. After The Pandemic They Have Shifted To Auto
Point Predictive believes that up to 1 million new fraudsters became active in 2020 after launching economic stimulus programs.
After those stimulus programs ended, those same fraudsters shifted their efforts to steal cars through fraudulent financing of vehicles.
In fact, fraud investigators at Point Predictive could tie about 76% of the synthetic identity auto loans in Chicago back to PPP loans that were taken out the prior year. These fraudsters are shifting to auto now.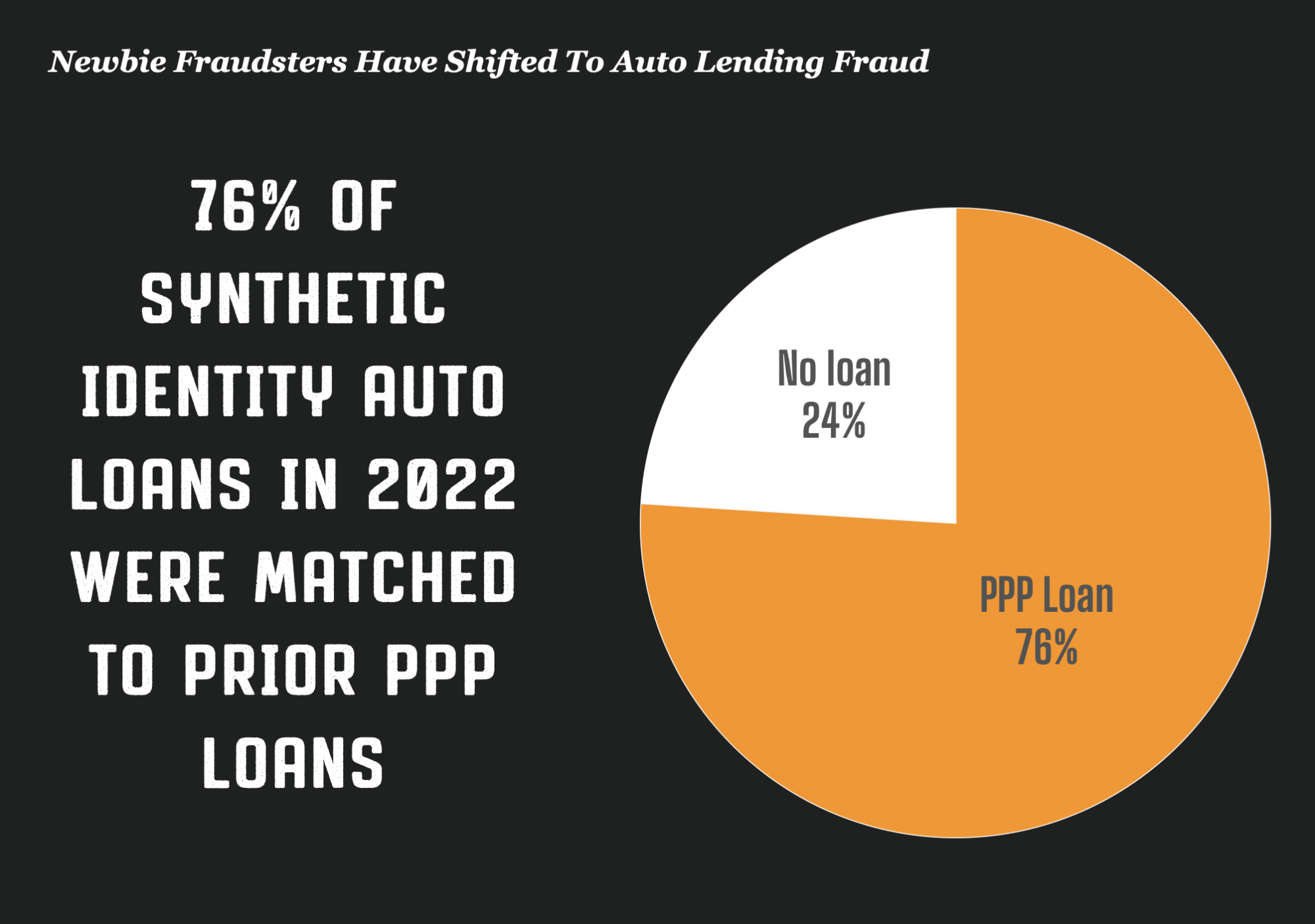 #2 – Affordability Risk Is At All Time High, Pushing More Fraud To Auto
Since 2017, affordability has been dropping significantly for borrowers. Tightened inventory, increasing vehicle values, and inflation pushed affordability to its lowest point recorded in 2022. In November 2022, the affordability index peaked at 152% as car values and inflation began to hit the auto lending market.
This lack of affordability is pushing more consumers and car dealers to fraud and misrepresentation to qualify for loans.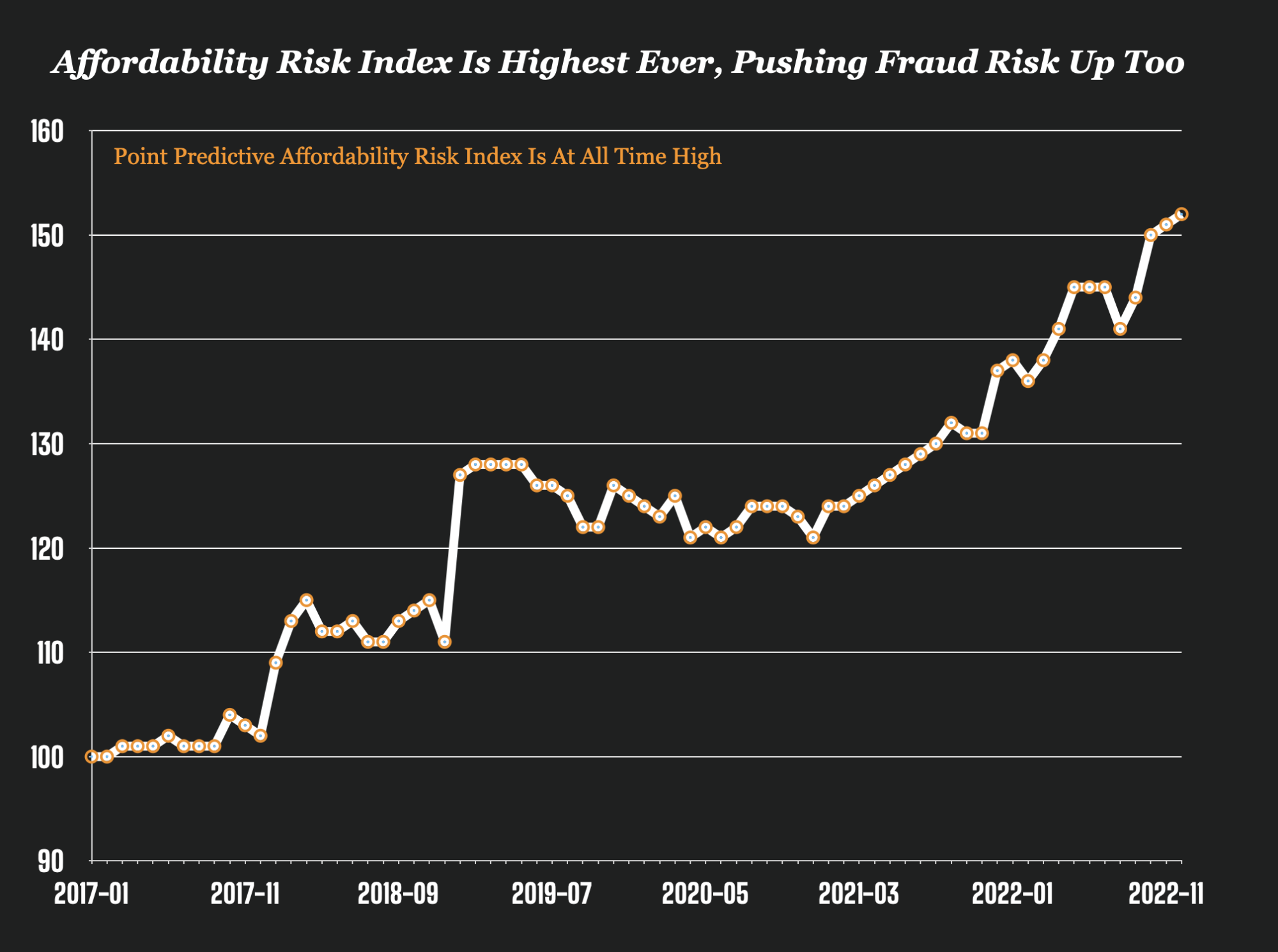 #3 – Auto Loan Fraud Has Shifted To Identity Risk
The last year has marked a dramatic shift in auto lending fraud patterns. Most notable was the dramatic increase in identity-related fraud, including both identity theft and cases of synthetic identity.
Point Predictive customers, including both lenders and car dealerships, reported significant increases in the occurrence rate of true identity fraud and both first and third-party synthetic identity. Some dealerships that had never experienced a single case of identity theft in their history reported being attacked with 3 or more cases a month.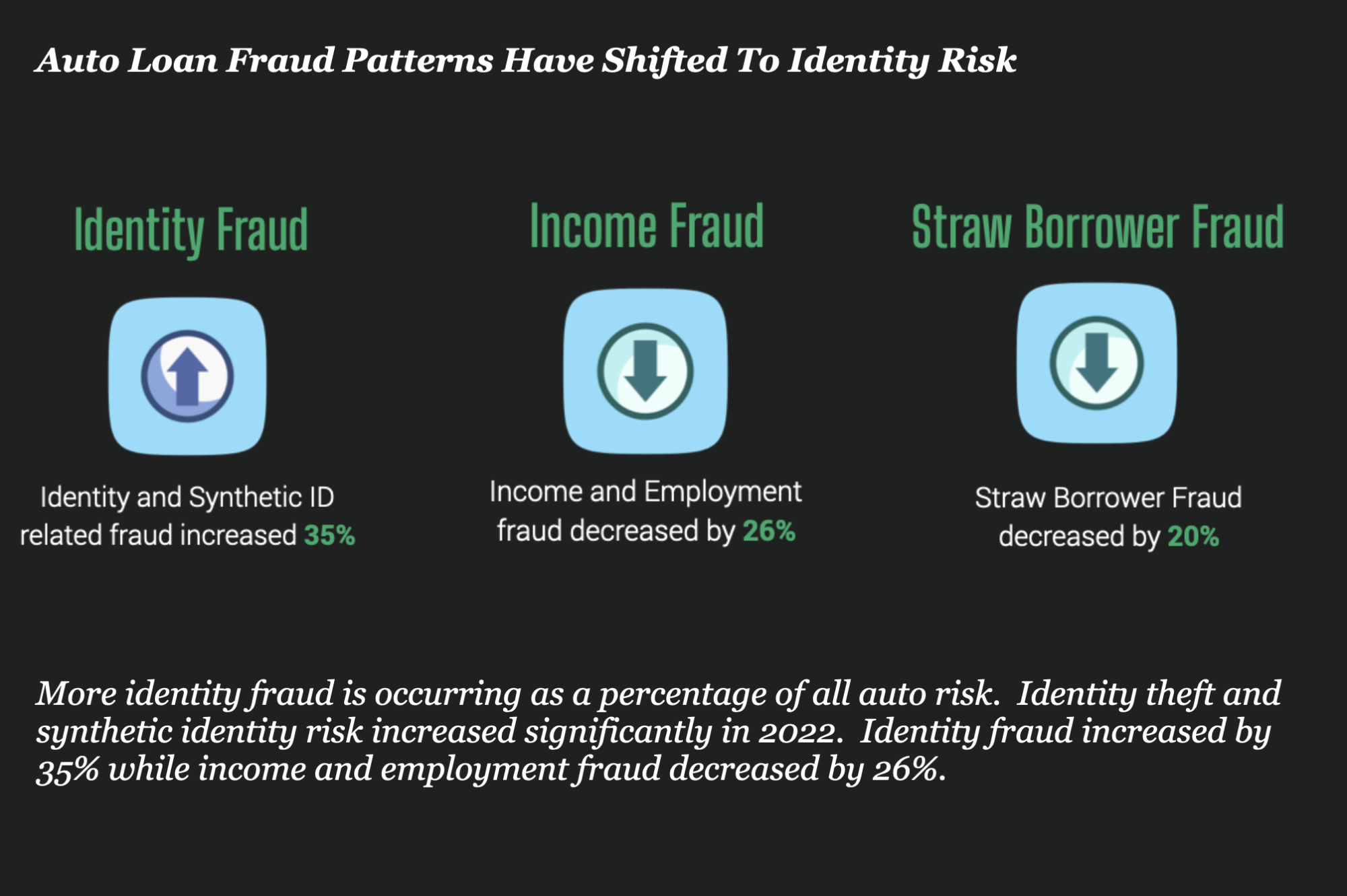 #4 The Identity Risk Index Is Flashing Red – Up 45% Since 2017
Point Predictive's Identity Risk Index tracks 37 separate identity risk signals on more than 130 million historical auto loan originations since 2017.
The increase in identity-related risk is consistent with the lenders' own fraud reporting which also indicates a substantial rise in both synthetic identity and identity theft over the last several years.
Since 2017, Point Predictive's Identity Risk Index has increased by over 45%.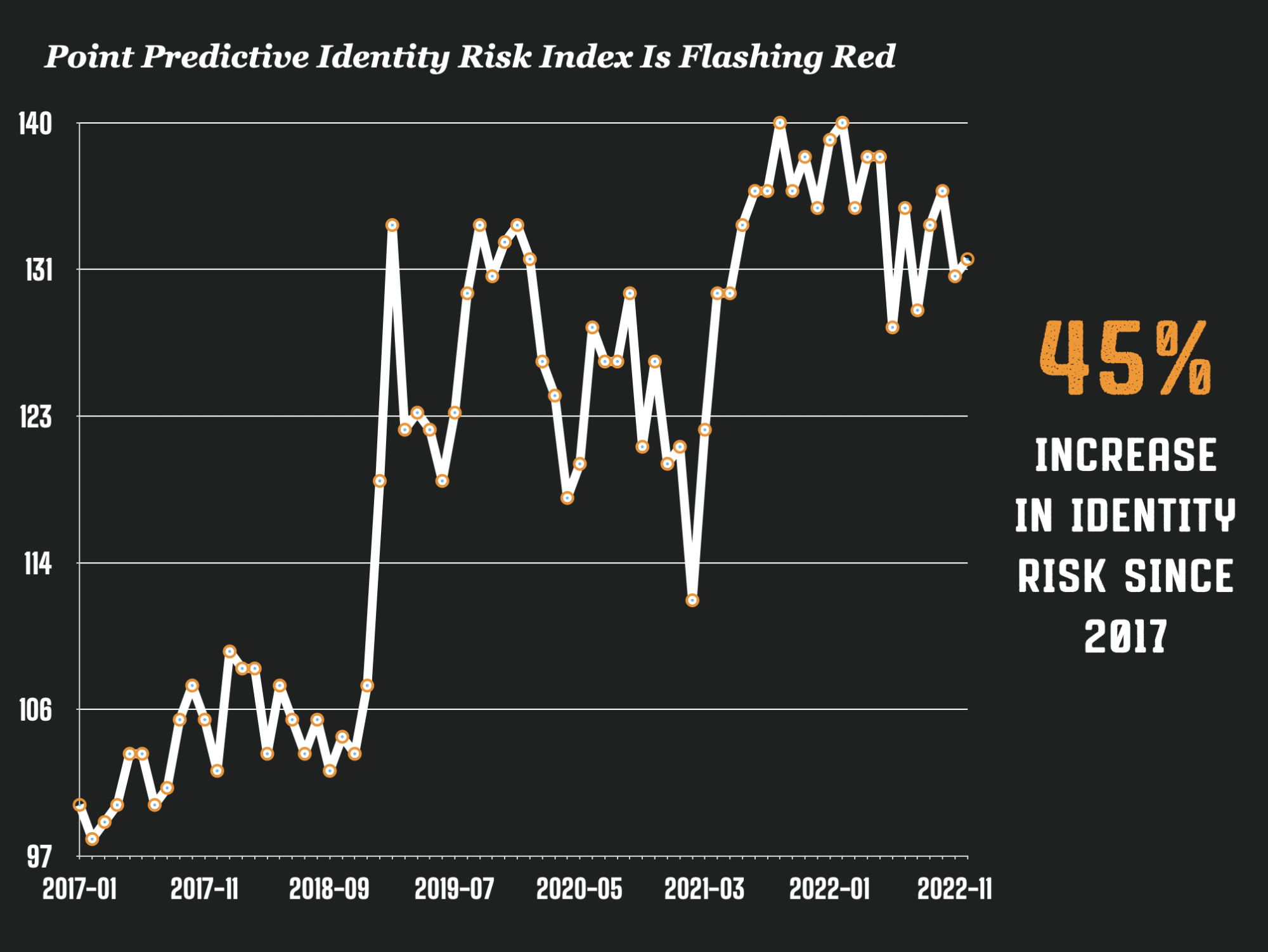 #5 – Use of Fake Employer Shell Companies Is SkyRocketing
Synthetic identity fraudsters will often use shell companies tied to fake paystubs, websites and employment phone numbers that can be used to create falsified verifications of employment.
Synthetic identity fraudsters will often use these shell companies, and Point Predictive fraud analysts have identified more than 10,000 shell companies being circulated across the industry that have submitted over $1.7 billion in applications.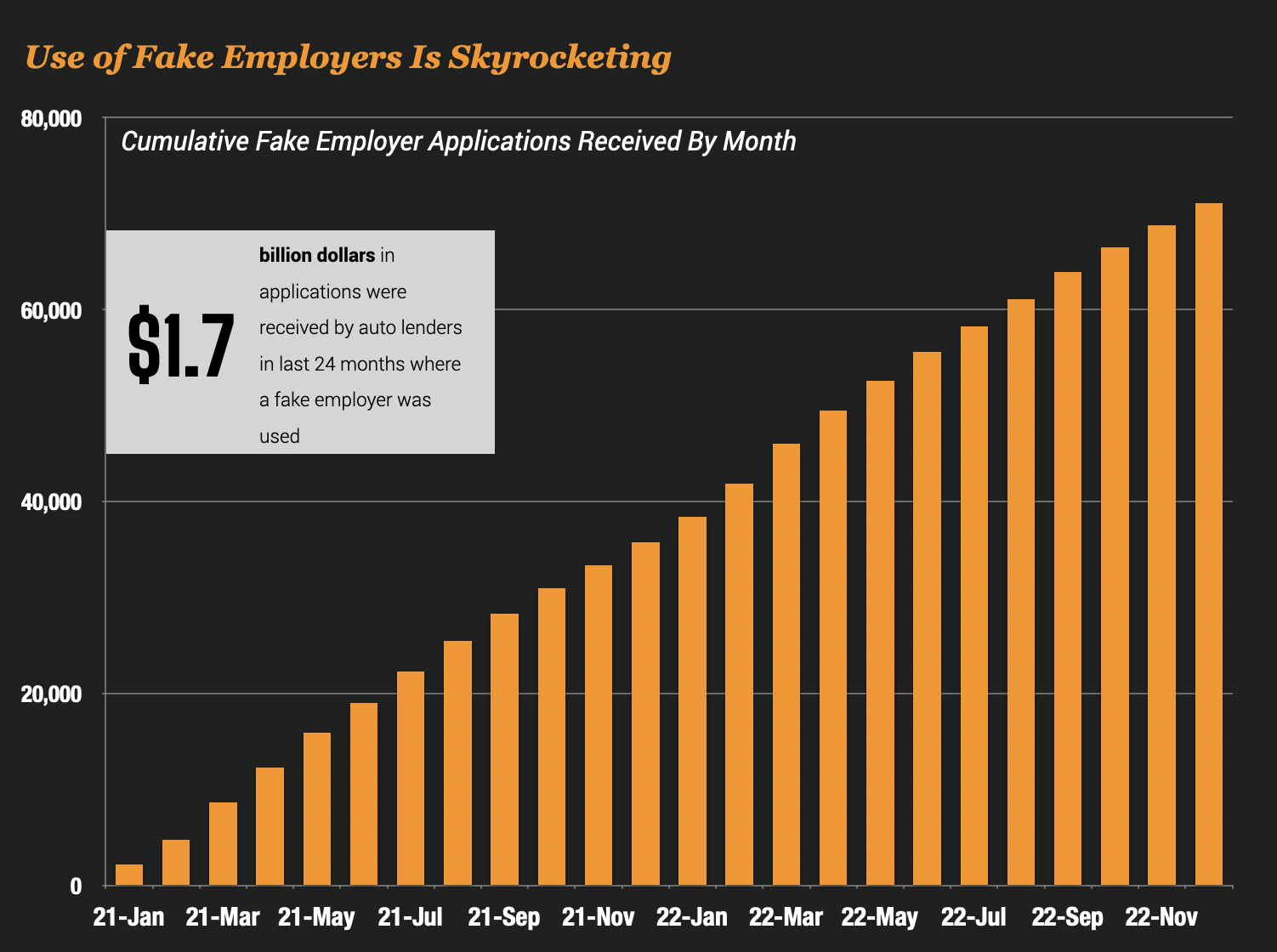 #6 – Fraudsters Prefer Luxury Cars
It's no secret that fraudsters have always liked living the high life. The list of highest vehicles with the highest true fraud rates is populated with enough high cars to make even the most hardened PPP loan fraudster jealous.
Mercedes, BMW's, Jaguars and Land Rovers top the list of most sought after cars by fraudsters.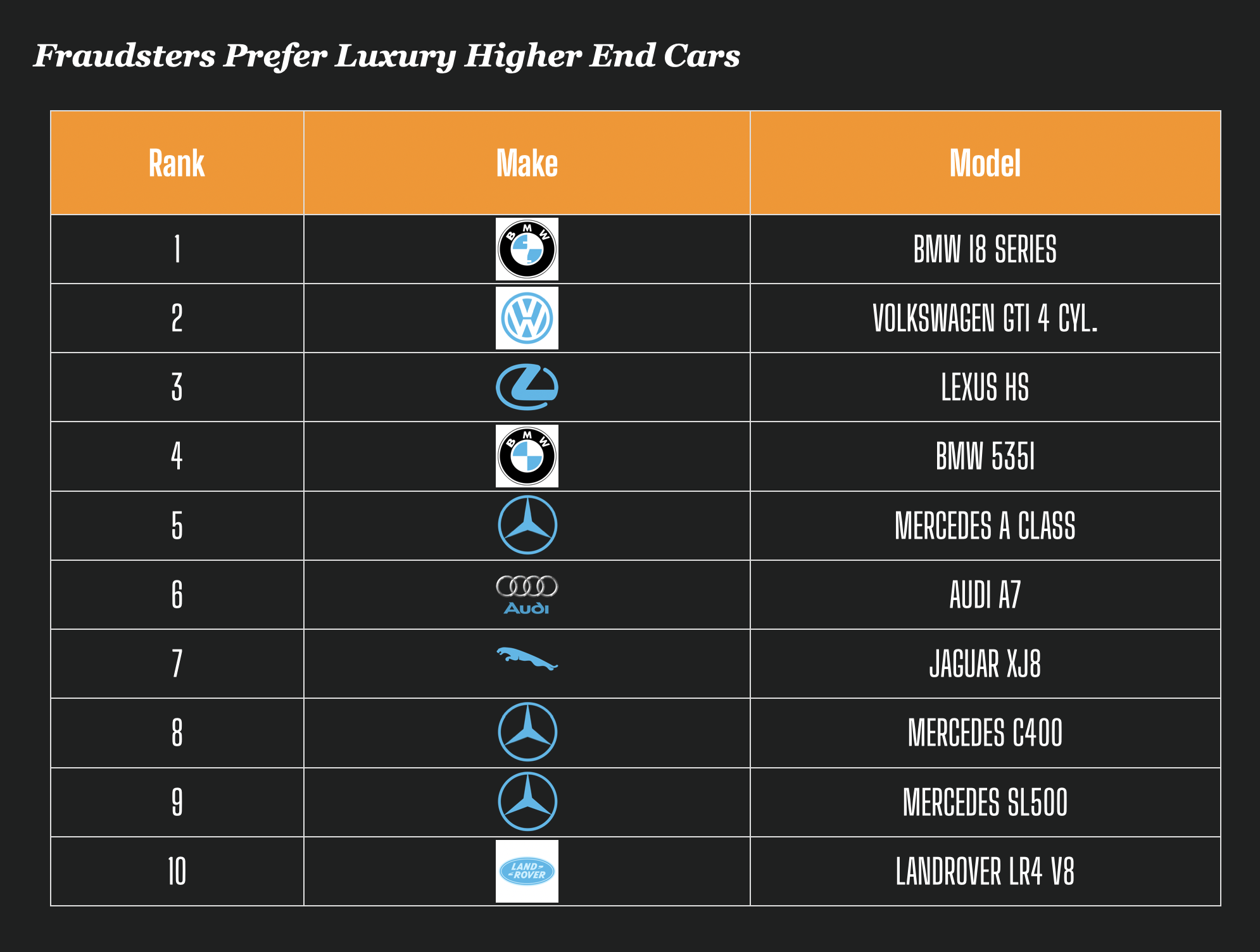 #7 – California, Illinois and Georgia Topped The Riskiest Places for Auto Loan Fraud
Fraud ring activity in Fresno California, and Hawthorne, California pushed zip codes in the states to the highest in the nation in terms of auto loan fraud.
Chicago Illinois has always been a hotbed of fraud ring activity but this year, more synthetic activity driven by pandemic era fraudsters pushed zip code 60611 to one of the top risky spots in the nation.
A Brazilian fraud ring operating out of San Pablo California in Zip code 94806 was responsible for pushing that city to historic highs measured.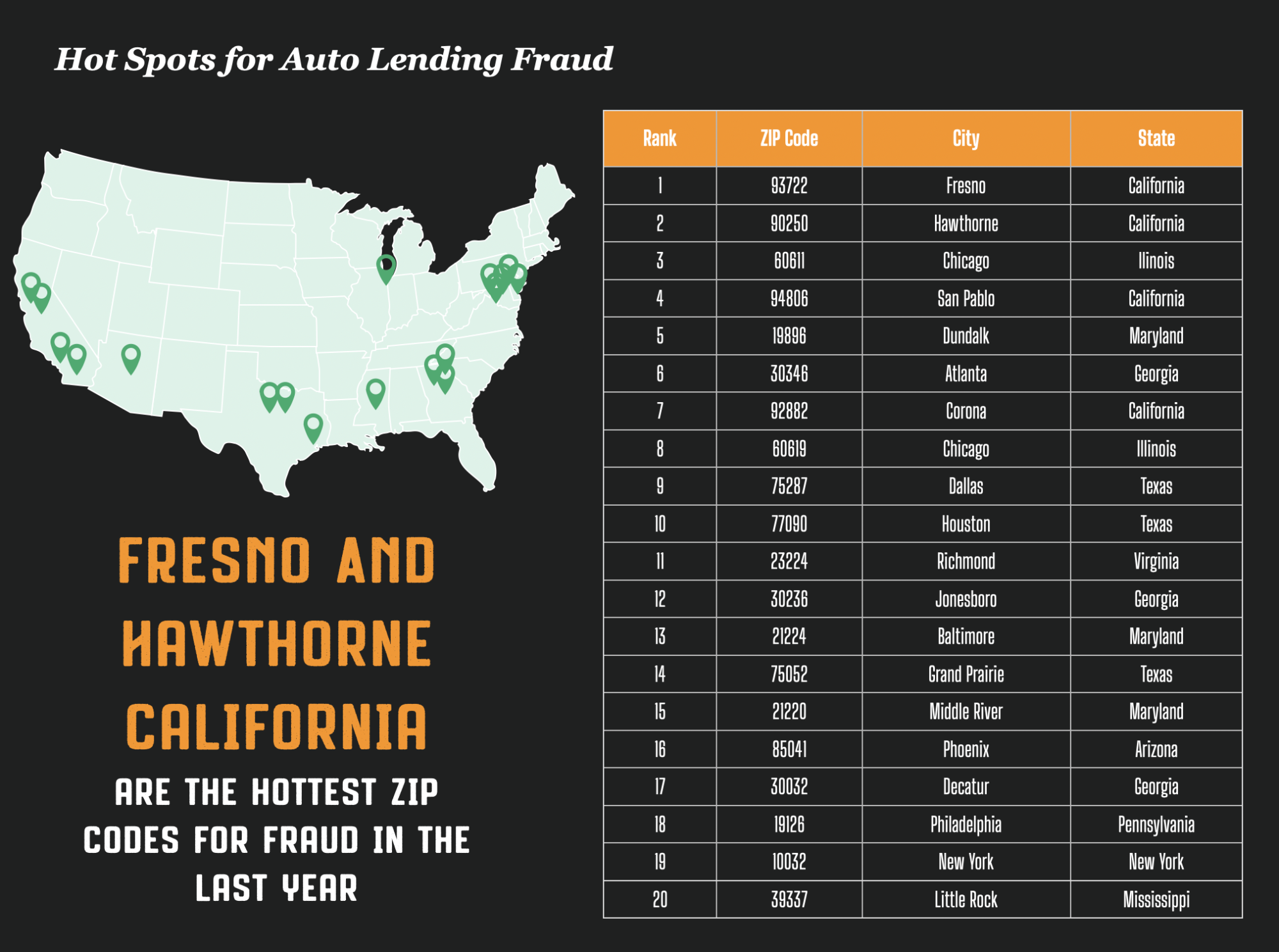 #8 – Suspicious Cases of Credit Washing Increased 70%
Point Predictive estimates that credit washing cases rose from 30 basis points of application volume to 51 basis points of application volume during 2022.
To analyze the trend, Point Predictive's data scientists took a large sample of loans with multiple applications and identified the occurrence rate of proprietary credit washing alerts that can highlight anomalies in loan application submissions.
The analysis showed a significant increase in the suspicious credit washing rate in 2022.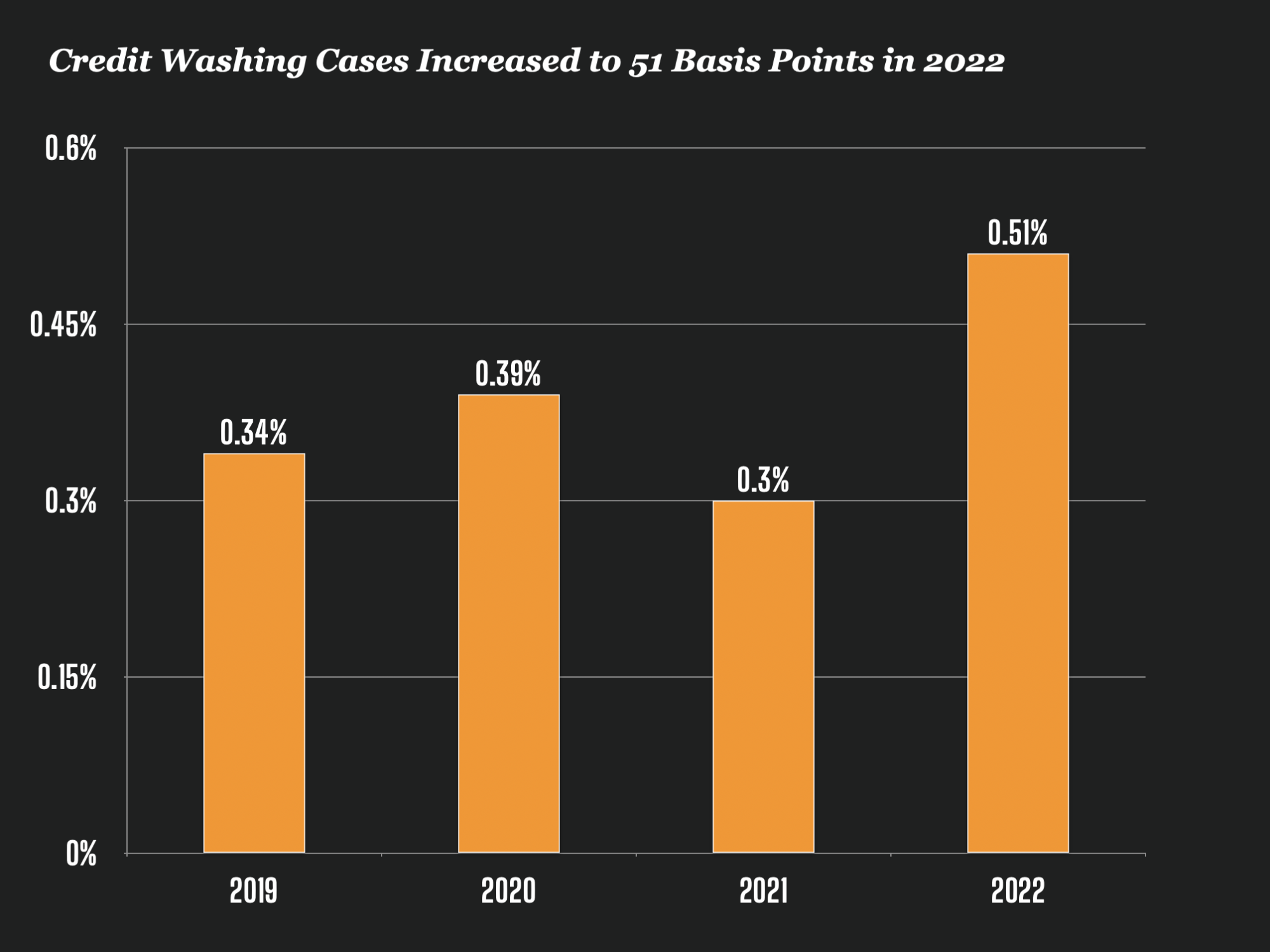 Download Your Copy of The Report Now
If you're interested in downloading a copy of the Point Predictive Auto Lending Fraud Report you can request a copy of the report here.