Check fraud is on the rise. A new survey by the American Bankers Association (ABA) reports that attempted check fraud ballooned to $15.8 Billion in 2018 as reported by banks.
But this number does not include fake check scams that impact consumers who deposit those checks into their bank accounts.
Since banks hold customers responsible for counterfeit checks that bounce, consumers are often the ones left holding the bag when they have been conned by fraudsters.
So I decided to research and determine just how much consumers lose in check fraud each year. This number is rarely reported but it does represent a significant part of the growing check fraud problem.
500,000 Fake Check Scam Victims A Year
The Better Business Bureau, which tracks complaints from consumers, estimated that approximately half a million consumers are victims of fake check scams each year.
If you consider that is a very conservative number, that means that at least 500,000 consumers a year lose money to fake check scams.
The average loss per fake check scam case is approximately $2,400. That means the annualized losses due to fake check scams is approximately $1.2 Billion Dollars each and every year.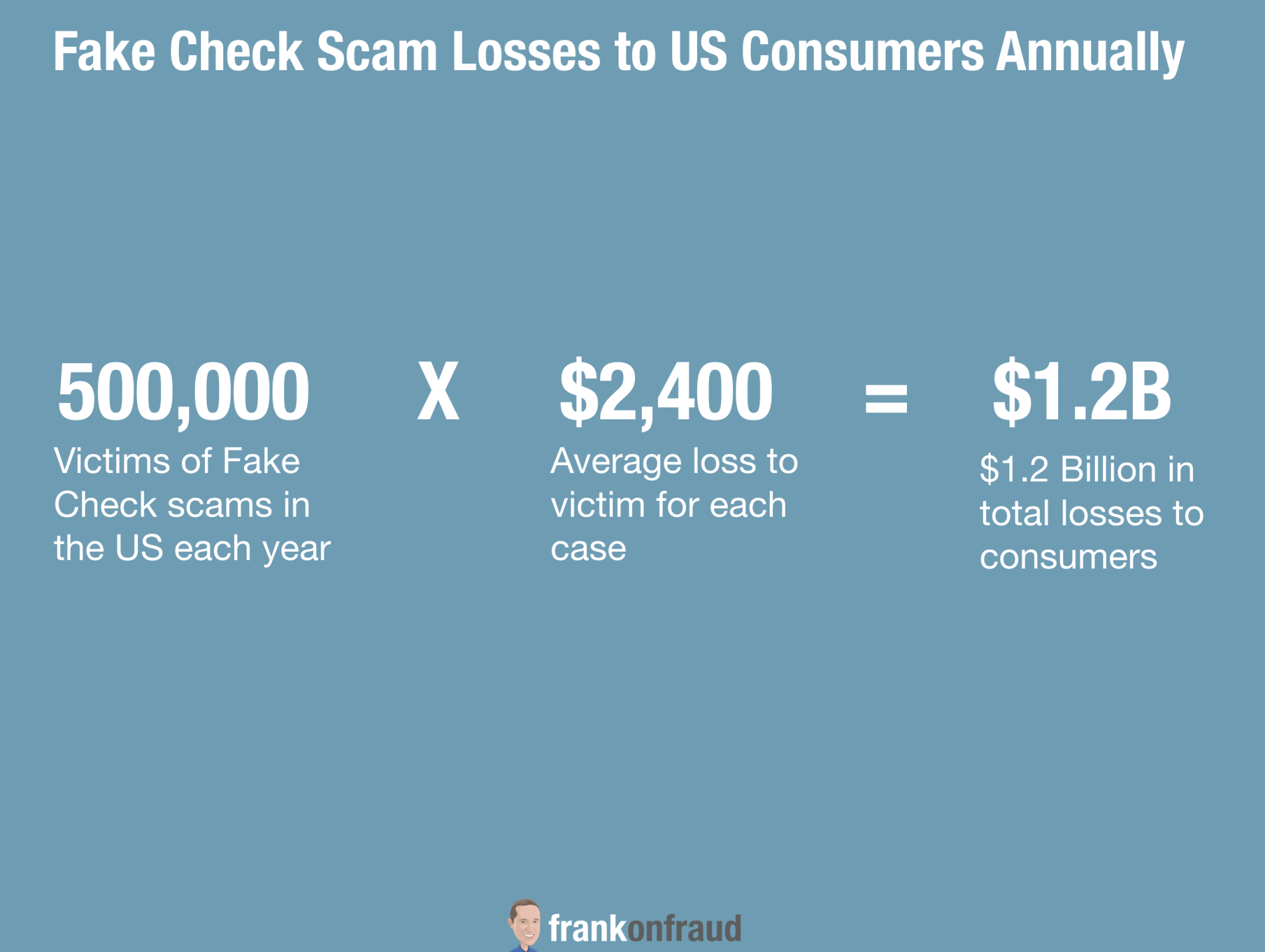 Most Common Fake Check Scams
The most commonly reported check fraud scams according to the FTC include the following:
Mystery shopping. Scammers pretend to hire people as mystery shoppers and tell them their first assignment is to evaluate a retailer that sells gift cards, money orders, or a money transfer service, like Western Union or MoneyGram. The shopper gets a check with instructions to deposit it in a personal bank account and wire it to someone else. But once the money is wired, the person on the other end can disappear.
Personal assistants. People apply online and get hired as personal assistants. They get a check and are told to use the money to buy gift cards or to buy equipment or supplies for their new client. Once the scammers get the gift card PIN numbers, they use them instantly, leaving the "personal assistant" without the money when the bank figures out the check is bad.
Car wrap decals. People interested in car wrap advertising are told to deposit checks and send money to decal installers — who don't exist.
Claiming prizes. Sweepstakes "winners" are given checks and told to send money to cover taxes, shipping and handling charges, or processing fees. But that's not how legitimate sweepstakes work.
Overpayments.People buying something from you online "accidentally" send a check for too much and ask you to refund the balance.
Watch This Story of A Fake Check Scam
What To Do If You Have Been Scammed
According to the FDIC, if you think you've been targeted by a counterfeit check scam, report it immediately to any of the following agencies:
In addition to notifying the bank whose name is on the check, you can notify the website or online service where you encountered the scammer (for example, the online auction website or job posting website), so they can block them from utilizing their services in the future.
For more help or information, go to FDIC.gov or call the FDIC toll-free at 1-877-ASK-FDIC (1-877-275-3342). Please send your story ideas or comments to [email protected]