If you have been waiting for a silver bullet against synthetic identity fraud, you might be interested to hear that the Social Security Administration is taking big steps to make that happen.
The SSA announced an initial enrollment period for the much anticipated electronic Consent Based Social Security Number verification service this week.
The SSA announced that they will roll out the service to a limited number of users in June of 2020, and then plans on expanding the number of users within six months of the initial rollout.
Will be Similar to E-Verify Type of Service
For those of you wondering how the service will work, it will be similar to E-Verify where banks, lenders and others can now verify that the name and social security number provided on an application matches what has been reported to the Social Security Administration.
Both Service Providers and Financial Institutions Can Participate
Financial institutions with any transaction volume can participate in the pilot. And service provider, and their affiliates can participate but the SSA is limiting them to provide the service to 20 or less of their customers and no more than 20 million transactions.
Limited to 6 Participants – First Come- First Serve.
Due to high demand, the SSA will be requiring "entities" to submit an application to participate in the pilot. They will choose the participants based on how early the application is submitted in the process.
The enrollment period to apply for access will open on July 17, 2019, at 6 a.m. Eastern, and will close on July 31, 2019, at 6 p.m. Eastern.
Pricing for The Pilot Period
For banks and lenders accustomed to free pilots, they will be disappointed to learn that there will be a cost to participate in the SSA's pilot program.
The price the lender pays will be based on their size and transaction volume. The SSA is using this pilot program to fund at least 50% of the total programs startup cost so pilot members will basically be funding future users of the platform if it gets off the ground.
The pilot members will be required to pay a startup cost of $3,693 to startup and then pay a tiered transaction cost based on their volume. That cost could range from as little as $3,000 and as high as $5,000,000.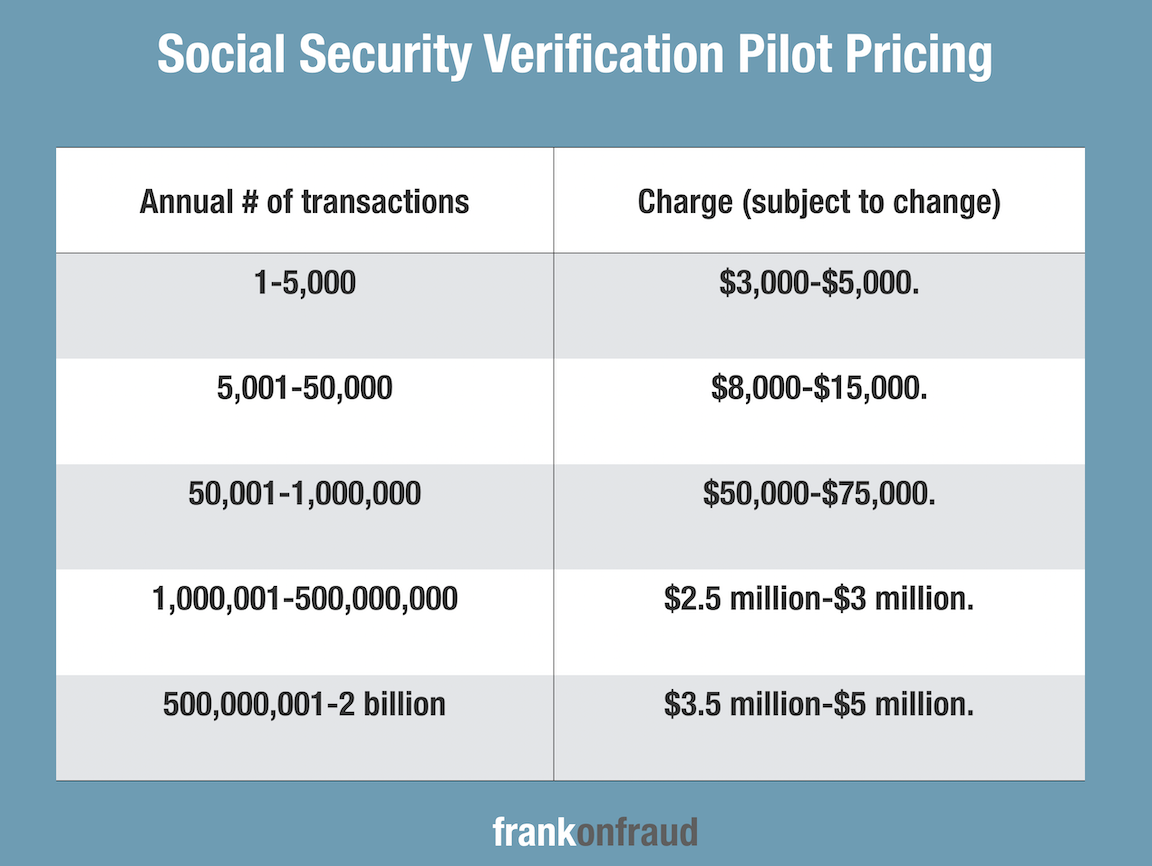 Still Requires Consumers Consent
For those organizations that want to ping away at the Social Security Administration database, that will not be the case. Access to the service will still require the borrower to consent to the check by electronically agreeing with their signature.
Completion of this additional paperwork by the borrower has often been the primary sticking point for banks and lenders that do not want to introduce additional friction into the lending process.
For more information you can contact Michael Wilkins, Office of Data Exchange, Policy Publications, and International Negotiations, Social Security Administration, 6401 Security Boulevard, Baltimore, Maryland 21235-6401, (410) 965-9360, email [email protected]