Adam Rogus has been arrested by the FBI. All along he was a faker and a fraud. And now we understand why the company he co-founded, NS8, essentially shuttered one week ago.
The FBI claims he used fraudulent financial data to obtain over $123 million in financing for NS8, of which he personally obtained approximately $17.5 million. He was arrested today in the District of Nevada and is expected to be presented before a judge there tomorrow.
Rogas manipulated the company's financial statements to make it appear that the company was generating millions in profit. But, in reality, the customers did not exist at all and 40% to 95% of the assets listed on the company's balance sheet were fictitious.
Prosecutors provided evidence of his forgeries which show the audacious fraud he had perpetrated. He altered bank statements which originally showed NS8 had $46,000 in the bank and changed the balances to $46,000,000. He shared those altered bank statements and many other documents with investors who then put $123 million into the company.
A Brazen and Ironic Fraud
Acting Manhattan U.S. Attorney Audrey Strauss said: "As alleged, Adam Rogas was the proverbial fox guarding the henhouse. While raising over $100 million from investors for his fraud prevention company, Rogas himself allegedly was engaging in a brazen fraud. Today's arrest of Rogas ensures that he will be held accountable for his alleged scheme."
FBI Assistant Director William F. Sweeney Jr. said: "It seems ironic that the co-founder of a company designed to prevent online fraud would engage in fraudulent activity himself, but today that's exactly what we allege Adam Rogas did.
Rogas allegedly raised millions of dollars from investors based on fictitious financial affirmations, and in the end, walked away with nearly $17.5 million worth of that money.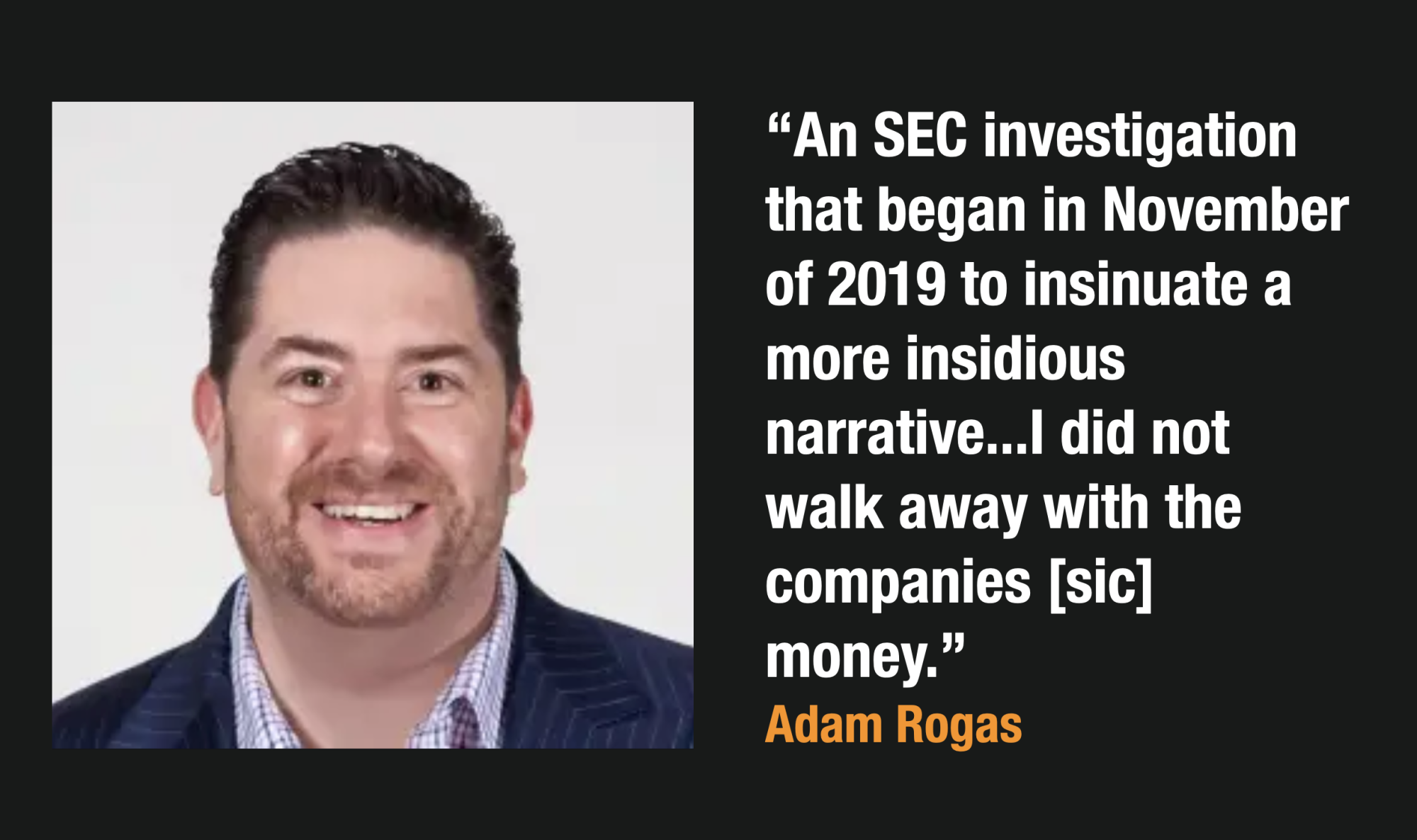 Rogus Controlled The Bank Accounts and Manipulated Bank Statements When Raising Money
Adam Rogus maintained control over a bank account into which NS8 received revenue from its customers, and periodically provided monthly statements from that account to NS8's finance department so that NS8's financial statements could be created.
He also maintained control over spreadsheets that purportedly tracked customer revenue, which were also used to generate NS8's financial statements.
ROGAS altered the bank statements before providing them to NS8's finance department to show tens of millions of dollars in both customer revenue and bank balances that did not exist.
In the period from January 2019 through February 2020, between at least approximately 40% and 95% of the purported total assets on NS8's balance sheet were fictitious.
In that same period, the bank statements that ROGAS altered reflected over $40 million in fictitious revenue.

ROGAS used these materially misleading financial statements to raise approximately $123 million from investors in the fall of 2019 and the spring of 2020.
During the fundraising process, ROGAS also provided the falsified bank records he had created to auditors who were conducting due diligence on behalf of potential investors.
Here is another example of bank records he manipulated showing large deposits from Shopify and Stripe. Figure A is the fake bank statement and Figure B is the forgery.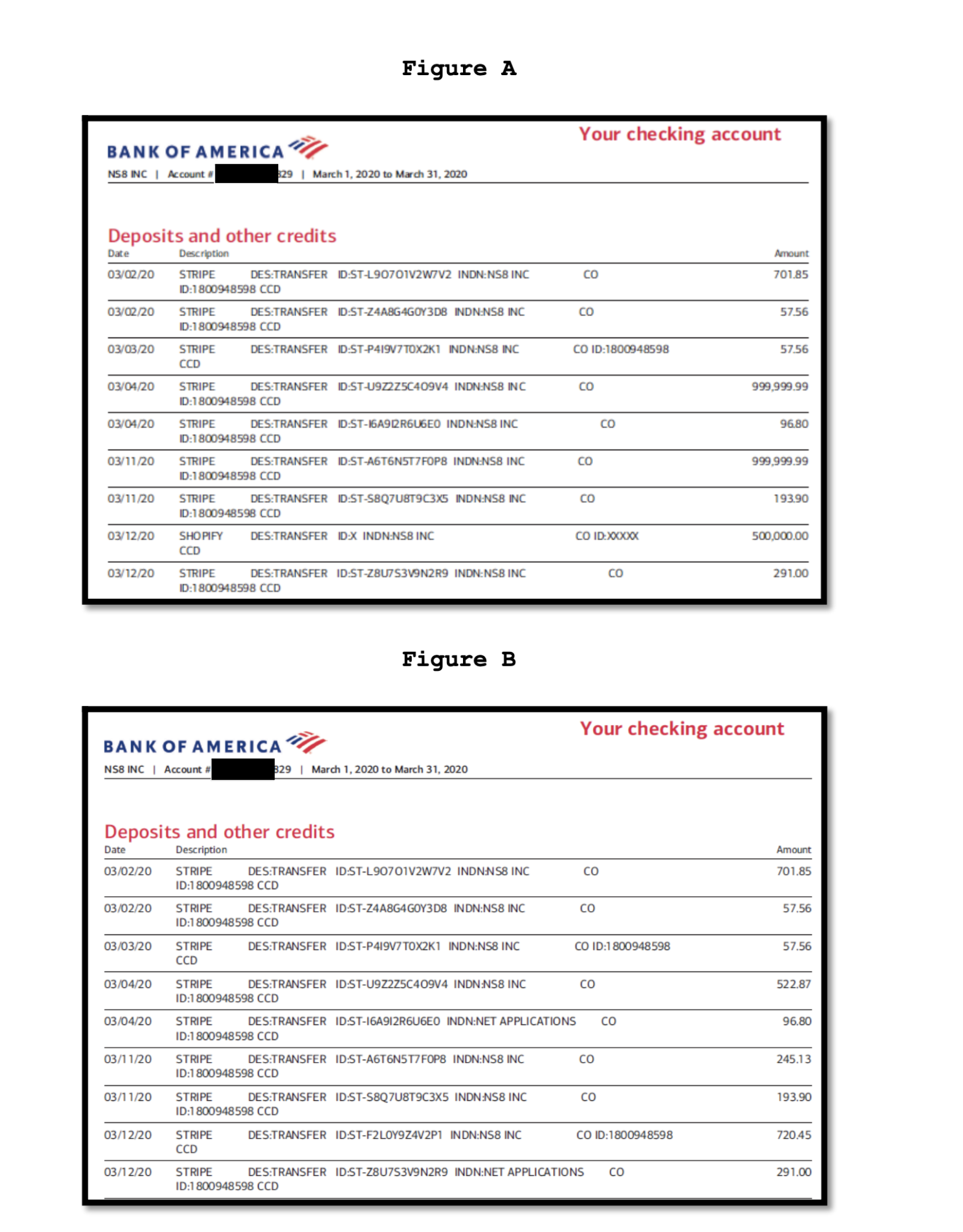 It's amazing that so little due diligence was done by investors who put so much money into the company.
Industry fraud experts and merchant groups had never even heard of the company NS8 before it was valued at over $400 million in June of this year.
For a company like NS8 to show millions in payments from Stripe and Shopify monthly when they were virtually unknown should have been a red flag for any investor.
He Personally Collected $17.5 Million as A Result of The Funding Round
After these fundraising rounds concluded, NS8 conducted a tender offer with the funds raised from investors, and ROGAS received $17.5 million in proceeds from that tender offer, personally and through a company he controlled.
The company was shockingly valued at $400 million.
NS8 Posted This Press Release on Their Website
Adam Rogas, the former CEO and Co-Founder of NS8 Inc. was arrested this morning and charged by the United States Attorney for the Southern District of New York in a criminal complaint with one count securities fraud and one count wire fraud. In addition, the Securities and Exchange Commission filed a parallel emergency action seeking an asset freeze and charging Rogas with defrauding investors by falsely claiming millions of dollars in revenue.
The government investigation and an internal investigation into this conduct are ongoing. At this time, no one else has been charged and the company is cooperating fully with federal investigators. The NS8 Board of Directors has learned that much of the company's revenue and customer information had been fabricated by Mr. Rogas. These events created significant cash flow issues for the company and required a significant downsizing impacting all of its employees. The remaining NS8 leadership and Board of Directors is working to determine financial options for the company and its stakeholders going forward.