A luxury car dealer in Boca Raton has shuttered it's doors. The showroom is empty. There is no one to be seen. And now many fear that they have been victim to a major fraud scam.
Excel Auto Sold Luxury Cars But ShowRoom Was Cleared Out
Excel Auto Group of Boca Raton is listed as permanently closed according to Google. The showroom which just months ago was filled with Lamborghinis, Ferrari's and other high end luxury cars is now deserted.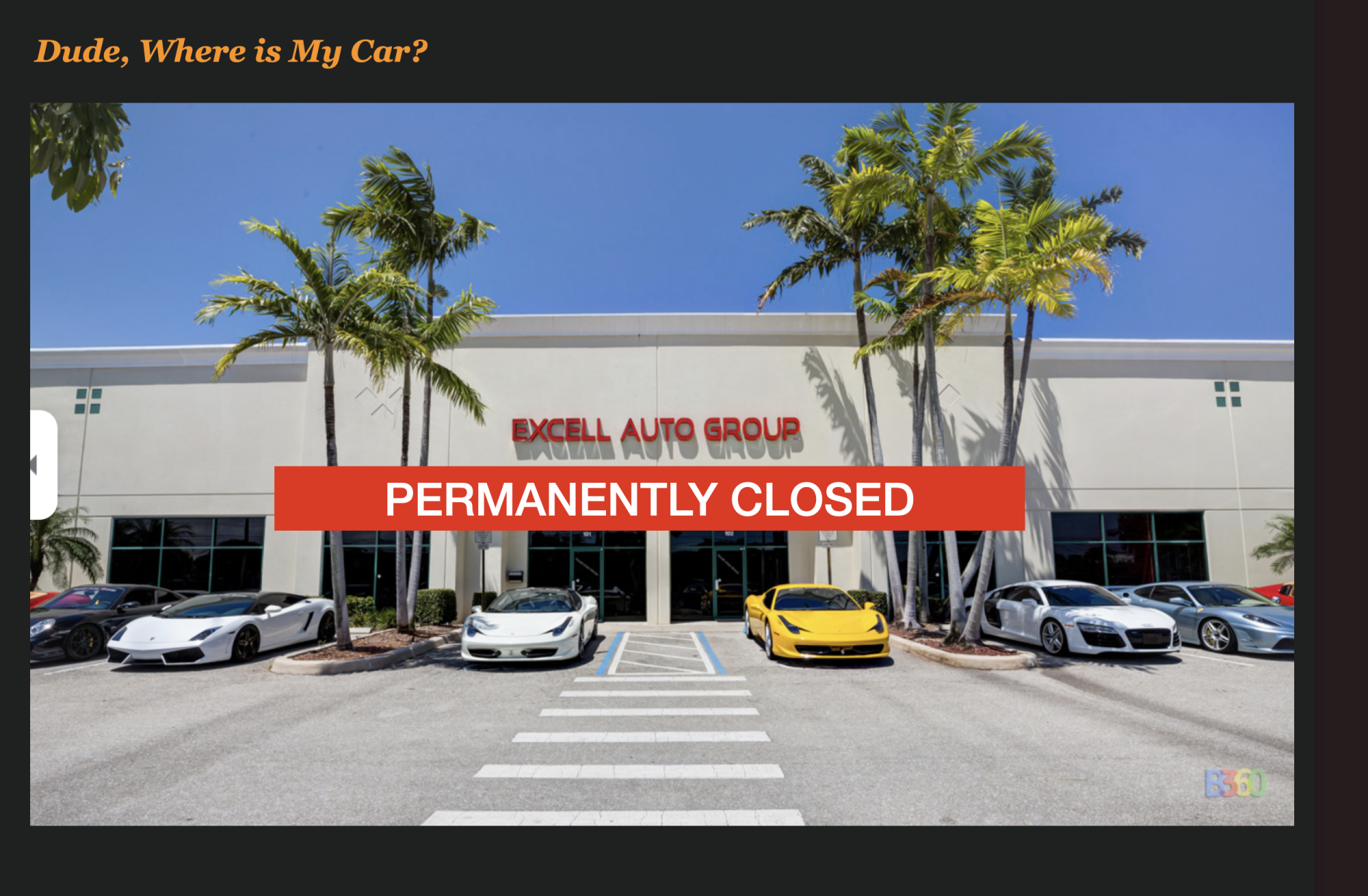 Problems appeared to occur at the dealership around 2 months ago and some bad reviews from consumers started to pour in.
In April, the dealership abruptly closed their doors and filed for Chapter 7 Bankruptcy protection, claiming that it has between $0 and $50,000 in assets but owes between $10M and $50M to creditors.
Consumers that had visited the dealership to get their cars fixed, or to put their cars on consignment with the dealership are fuming. Their cars are no way to be seen. The odds are very low that any of them will ever get their money back.
The owners Scott Zankl and Kristen Zankl claimed that the "landlord" took the cars illegally as part of a civil dispute. Attorneys for his landlord, however, denied the accusation and sued Excell.
Is This Deja Vu All Over Again?
Normal Guy Supercar – who runs a popular Youtube channel – originally uncovered a similar scandal last year with CNC Motors in Orange County.
At the time, Police and the California DMV confirmed that they are investigating a luxury car dealer – CNC Motors in Upland California – regarding complaints over cars that were sold on consignment by the dealer but owners alleged that they were never paid. In some cases, owners were paid with checks that later bounced.
This scheme looks eerily similar to what happened at CNC Motors.
Don't Consign Your Cars!
The moral of the story is Do Not Consign Your Cars. When you consign your car to a dealership, history has shown it is fraught with problems and fraud.
Consumers should be aware that these scams are out there.