Wire Fraud is a growing epidemic here in the US.  Fraudsters love it because they can con victims and get their money right away.
And Western Union has always been a favorite choice of fraudsters that want to get paid right away.   It always seemed like Western Union is a sure thing.  Fraudsters counted on Western Union because it seemed like there were no fraud controls to prevent the bad guys from scamming innocent people.
An Investigation Into Western Union Ended in A Settlement for Victims
Last year a joint investigation by the FTC, the Department of Justice (DOJ), and the U. S. Postal Inspection Service revealed that Western Union was not only negligent but that they were guilty of enabling Money Laundering.
The charges were brought by the Justice Department, the Federal Trade Commission, and the Treasury Department's Financial Crimes Enforcement Network (FinCEN).
They span activity at Western Union from 2004 through 2012 and occurred globally in US, Mexico, Peru, UK, China and other countries.
Authorities slammed Western Union for money laundering, failing to do due diligence on foreign agents, failure to terminate high-risk locations and failure to implement appropriate fraud policies.
To give you an idea, Western Union filed 2,000 suspicious activity reports from a single location in China without shutting the location down.
Because of that investigation, Western Union agreed to pay $586 million and admitted to aiding and abetting wire fraud. DOJ is now using that money to provide refunds to people who were tricked into using Western Union to pay scammers.
Hallelujah for the little guy!
How Do You Do It?
To get your money back from Western Union, you need to file a claim by February 12, 2018.  There are 2 ways to get your money back – 1) file a claim based on a pre-filled form you got in the mail from the attorney, or 2) file a claim at ftc.gov/wu.  File your claim here if you did not receive a form.
The process is outlined very simply below by the FTC.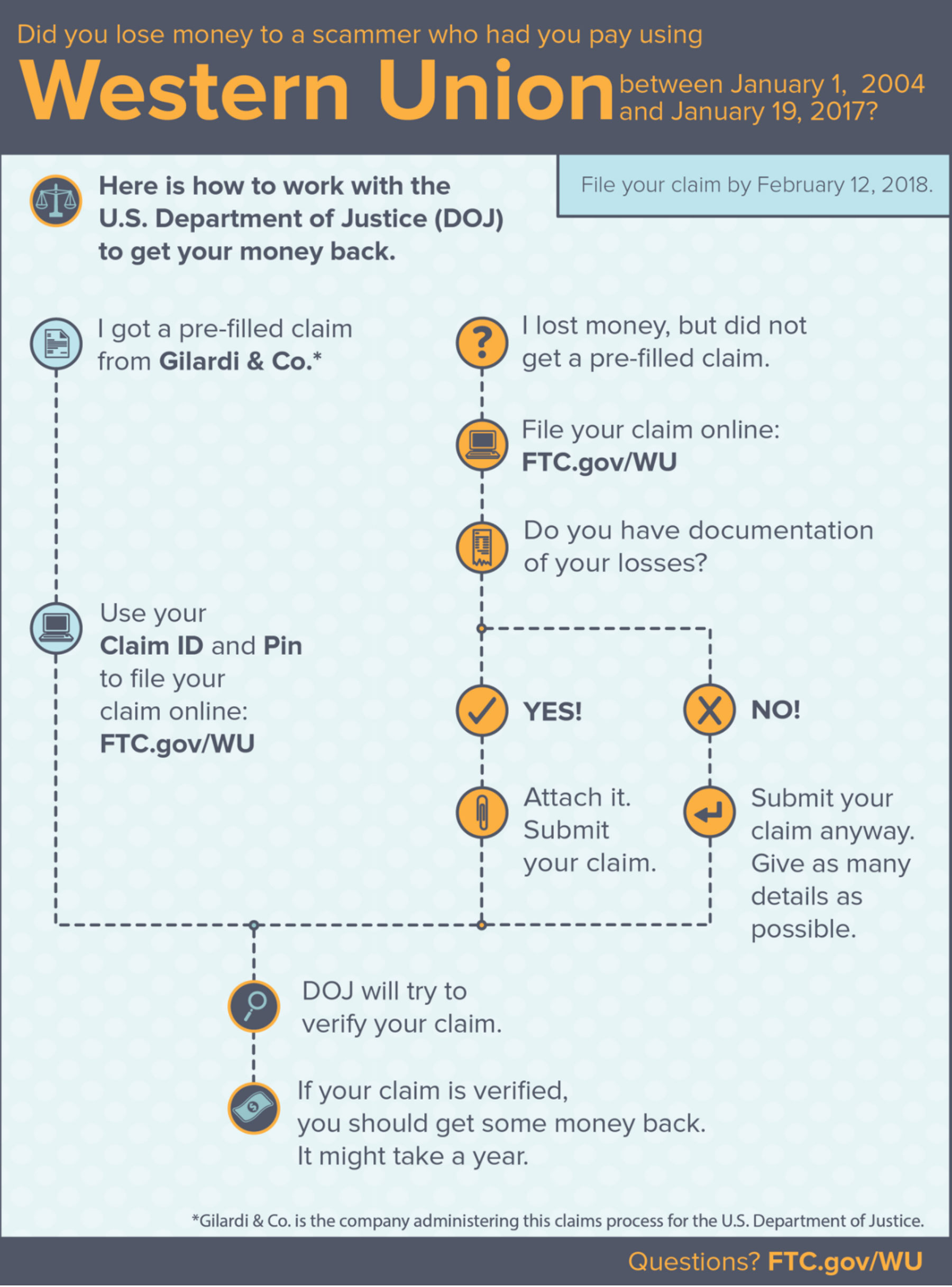 What Types of Scams Are Eligible?
If you were scammed and sent a wire transfer via Western Union between January 1, 2004 and January 19, 2017 you are eligible.  Even if you did not file a fraud report to Western Union or you lost your paperwork, you can still get your money back.
And a wide variety of scams are covered under the settlement with Western Union including:
Online or internet scams – you did not receive the items you tried to buy online
Lottery or prize promotion scams – you were told you won a lottery or sweepstakes, but never got the prize
Emergency or grandparent scams – you sent money to someone pretending to be a relative or friend in urgent need of money
Advance-fee loan scams – you paid upfront fees, but did not get the promised loans
Online dating or romance scams – you sent money to someone who created a fake profile on a dating or social networking website.
Be Patient, It Might Take a Year To Get Your Money Back
Many millions of people may file claims, so the FTC is going to take a long time to investigate them and get people back their money.  It's unlikely that people will get all their money back but they should get a little at least.  I hope for the sake of those poor victims that they get most of their money back!