3 employees of the now-defunct Reagor Dykes car dealership have pleaded guilty to participating in a check-kiting scheme which caught the attention of the FBI and ultimately killed the entire dealership.
New details emerged in this notorious dealer fraud case which reveals that the FBI knew about the fraudulent scheme as far back as 2018 – about 6 months before the dealership closed and filed for bankruptcy.
The check kiting was so extensive at the car dealership that an entire headquarters was established to float funds to keep the dealership operating.
Two employees – Sheila Evans Miller, 52, and Diana Herrera Urias, 53 cross deposited checks across 19 different banks to float funds so that it appeared the business was solvent.
Due to the kiting, RDAG checks that should have bounced instead cleared during banks' float time, the period between the deposit in the recipient account and the deduction from the payer's account, according to their plea papers,"

US Department of Justice
19 Banks Involved and Over $23 Million in Losses
The banks that were victimized in the check kiting scheme included BB&T, Aim Bank, First Bank and Trust, IBc Bank, Vista Bank, and Peoples Bank. Over $23 million in kiting losses were sustained in the massive scheme.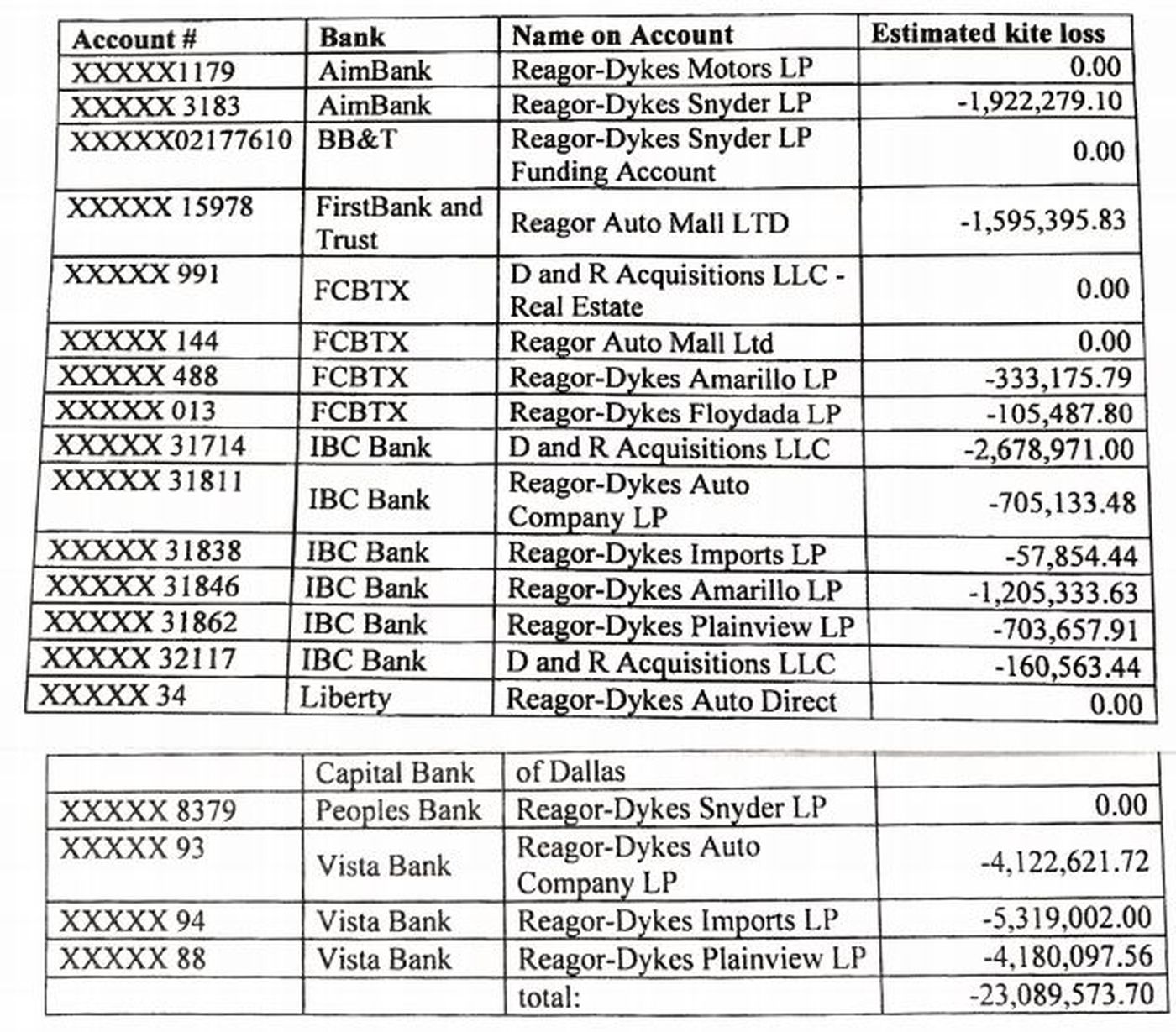 Dealership Had Too Much Overhead
The motive behind the extensive check kiting scheme included 3 reasons.
Massive overhead at the dealership that was unsustainable.
Above market compensation for the employees of the dealership
To fund the rapid growth of the dealership itself.
During the interviews,  the FBI interviewed witnesses who said because Reagor Dykes was under-capitalized, they kited intercompany checks to falsely inflate its account balances. The scheme grew over time and by the time it crashed the entire headquarters was dedicated to check kiting just to keep the business afloat.
Owner of Dealership Claims He Knew Nothing of the Scheme
In a video released earlier this year, Bart Reagor claims that his CFO perpetrated the scheme without his knowledge. He explains teary-eyed how he wished he could have stopped the trio from destroying his company.